Hello everyone, It's high time to sum up the Three D Guns 2 Competition.

First place is Porcelain 1911 by Yi Sun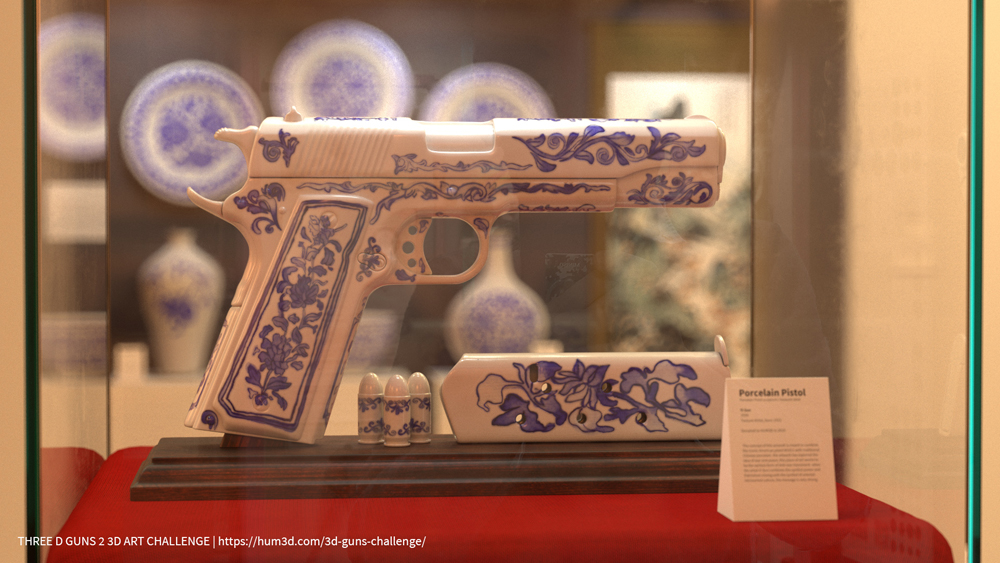 Made with using Maya, Mari, Redshift Render, Substance Source and Photoshop.
What our jury says:
Jeremie Noguer: "Original idea and flawless execution".
Yurii Lebediev: "I love it! When I look at this render I remember feeling when I held porcelain mini figurines of animals of my granny. This is so nice and so good done!"
Zacharias Reinhardt: "What a combination! Combining a hard and deadly weapon with something filigree as porcelain. The shape and materials with all the painted details, totally sells it".
Dominik Capodieci: "Interesting idea and nice shading and lighting".
Tom Grimes: "I have a soft-spot for juxtapositions, putting two things together that would never normally be found together. A porcelain gun! With beautiful patterning just like on the fine China that only gets used on Sundays. Almost surreal!"
Remi Arquier: "I love the concept and the detailing – a lot of work went into taking this outside the box".
Quick interview with Yi Sun:
– How long have you been into 3D modeling? Please, tell us about yourself.
Hello, my name is Yi Sun, I'm a student from China, I'm currently studying Master of Design in Sydney, Australia. I'm looking forward to working in the VFX industry after I graduated. I'm been teaching myself 3D for 5 years now, I actually participated in the first Hum 3D weapon challenge back in 2014, the first year I start learning 3D. I found it very meaningful and special to receive an acknowledgment from Hum 3D this time.
– How much time did it take you to create your work? Did you face any difficulties?
I almost started working on it as soon as I heard about the Three D Guns 2 Competition and submitted two days before the deadline. because I was working on three university assignments at the same time, I barely have time to actually work on it. I think it took me about 120 hours in total to finish it.
The challenge I faced in this project is to create the hand paint graphic of the Chinese porcelain, I tried to import vector into Photoshop apply filters but the result looks very fake. I realized it's not possible to create realistic paint mark on the computer, so I decided to create the texture physically, I realized even though we had so many presets, filters and plugins to helps us create digital works, but they can never replace traditional mark making, as a digital artist, I should always remember to respect the physical material.
– Do you have any advice for future participants in the competition?
I'm not very good at giving advice, I still have a lot to learn. but I would like to share something that I found very useful. The first thing is I will work on the idea I really love so I will enjoy every second perfecting it. Second, I always show my work in progress to my friends along the way, feedbacks can help me push my work to the limits. The last one is being very patient, I used to spend 7 months making a photorealistic antique coffee grinder until I was happy with the result, any good work requires devotion.

Second place is Under Cover Paranoia by Nicolas Berger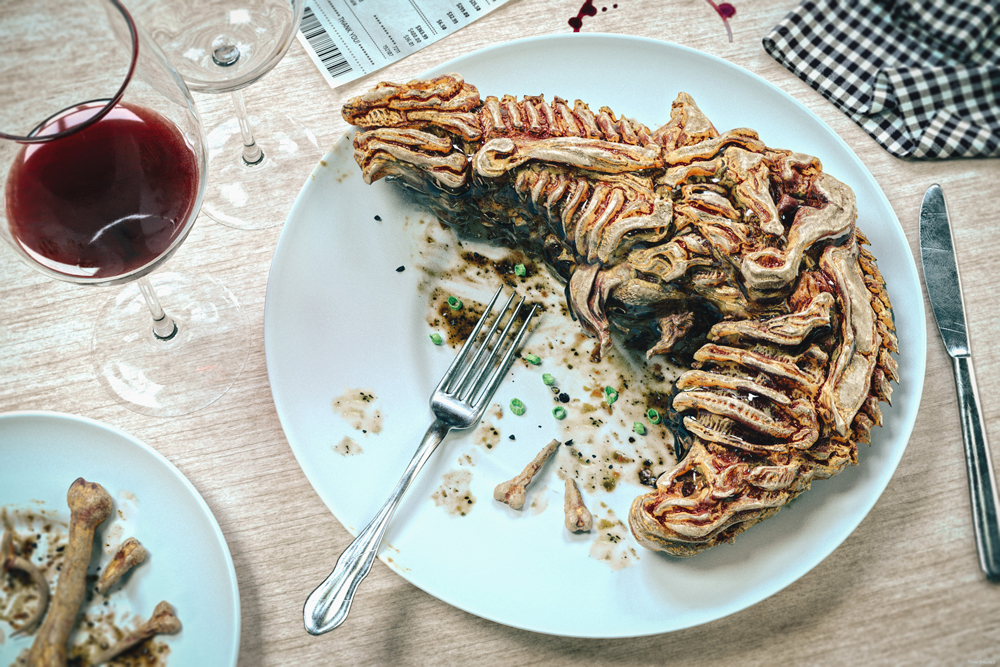 Made with using 3Ds Max, V-ray, ZBrush, Substance, Houdini and Photoshop.
What our jury says:
Yurii Lebediev: "Absolutely unique 'gun'! Very nice render! Enormous attention to details!"
Zacharias Reinhardt: "This is probably the most disgusting weapon I have ever seen, but that is what it makes so great! The weapon design is great (in a weird way) and looks like it is straight out of an alien movie. The image is technically well executed and I especially like all the tiny realistic details. Now I know hat will haunt me in my nightmares ;)"
Remi Arquier: "You don't see much Cronenberg fan art these days, and this one stood out in concept and execution".
Quick interview with Nicolas:
– How long have you been into 3D modeling? Please, tell us about yourself.
My name is Nicolas Berger, originally from Switzerland, and actually living in Berlin. I am a self-taught 3d artist and graphic/motion designer.
I started my journey into 3d quite some time ago, at the beginning of the 90s, using an old version of 3ds max (3d studio at this time), running on MS-DOS, and P.O.V. (Persistance of Vision), an amazing text-based ray-tracing engine.
I always was fascinated by 3d imagery, since I was a kid and saw these technologies emerging, making possible to create whole fantastic new universes. I was hooked directly and knew I wanted to do something with it.
I then diversified my experiences and played with a lot of different media, from music/audiovisual experimental projects to more straightforward graphics and motion design, a bit of arch-viz, but always coming back for some new 3d experimentations.
I'm actually mostly exploring Houdini and a procedural/algorithmic way to generate shapes, textures, and movements.
I'm always enjoying trying new techniques, discovering new software, playing with ideas, and seeing where it can lead me.
I think that's the point that makes me love 3d creation so much, this feeling of being a mad scientist constantly exploring the unknown!
– How much time did it take you to create your work? Did you face any difficulties?
I basically cut the working process in some blocks depending on my available time between other running projects, pushing as far as I could until the deadline, doing a few hours in the evenings there and there in a period of 1 month more or less.
I wanted to try to mix this videogame modeling/universe theme with a very clean arch-viz style render to create a weird contrast. It was probably the biggest challenge I had, to find a satisfying balance between these two very different styles.
I'm also in a period when I'm enjoying learning Houdini, and I wanted to include a part of it in the render. The "slimy sauce" I did with flip fluid simulation was a very nice "real world production" exercise, going a bit outside of tutorial stuff.
Even if the final effect is not that visible, I'm quite happy with the results and the integration of it.
– Do you have any advice for future participants in the competition?
I think everyone has his personal way of working that fits himself, but for me, I would say the most important points for 3d creation (and probably a creation in general) are:
– To stay patient and not rush things out, as it will never bring anything satisfying. Taking the time to develop and enjoy each step of the creation process.
– To be curious and feed your curiosity, and not only with inspiration sources directly 3d related.
– To not be afraid to try out new ideas and new techniques and see where it can go, better to try something new even if the results are not directly satisfying, it will always provide a good learning experience.

AND

Third place is The Stopper by Kimmo Kaunela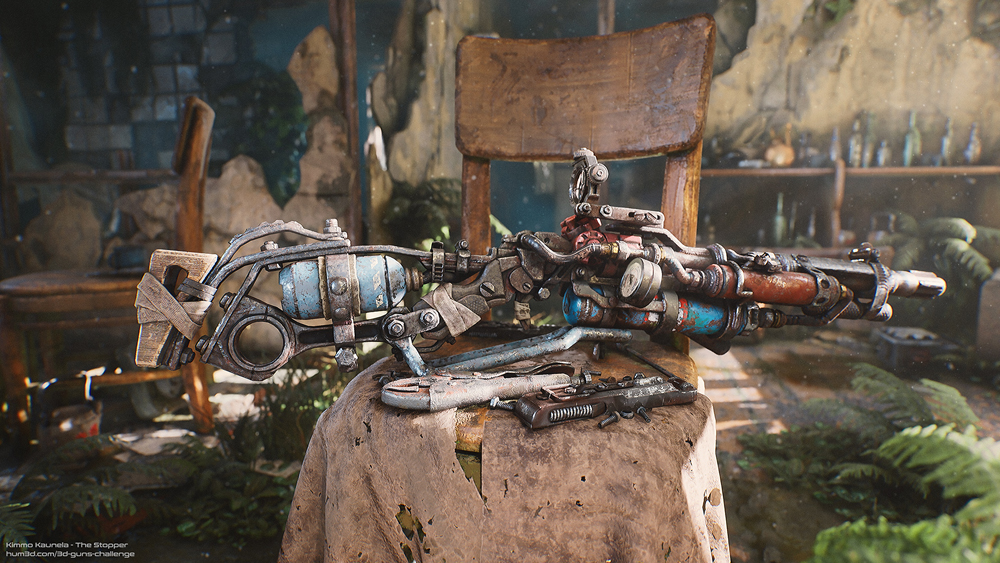 Made with using Unreal Engine, ZBrush, Blender and Substance Painter.
Also Kimm gets Special prize from the Teya Conceptor for the most high detailed and unusual weapon.
What our jury says:
Arseniy Korablev (Teya Conceptor): "My favorite artwork in the competition. This nomination is needed at least to highlight such authors. Beautiful colors, interesting weapon. I want to pick up it and run with it :) The only thing that bothers me is a slightly blurry render, possibly due to DOF, antialiasing or image interpolation settings".
Jeremie Noguer: "The slight stylization works well, lighting and environment are on point".
Deuce Bennett: "I'm a sucker for post-apocalyptic, kitbash, and steampunk. This weapon tells me a story, and I love it".
Quick interview with Kimmo:
– How long have you been into 3D modeling? Please, tell us about yourself.
My name is Kimmo and I am a self-taught 3d artist from Finland, Turku. I've been working in the 3d industry for over 10 years now and I spent most of that time making game art. I started to learn digital art when I was 14 years old and soon after that, I found 3d graphics to be something that I loved to do because it was very hard but rewarding at the same time. 3D art for me means a medium where I can create different designs that I have in my head and then share them with others. It can be still images, game environments or anything between.
– How much time did it take you to create your work? Did you face any difficulties?
I started to concept the idea in my head when I heard about this competition. I figured out the back story first and then I focused on blocking out the weapon design. It was a lot of iterating and I had many different ideas I wanted to test. Texturing took a lot of time and once again even more iterating.
I spent about 50% of the time for the weapon and rest for the background environment because that was important for the story. It was very difficult to get the right feeling for it. Also, it was a huge challenge to use real-time rendering engine like Unreal Engine to match the results with other works where they mostly used offline renderers. That's why I needed to spend time making complex materials and get the lighting to highlight key parts of the work. I´m grateful for this because it helped me to learn a lot of new things.
– Do you have any advice for future participants in the competition?
My advice is that focus on the story first because that will be the base and something that will glue everything together. It will also help later on to understand what ideas might work in that scenario. I personally enjoy adding details that support the story and that might be hard to find at first.
Blocking out ideas is crucial I think. Don´t be afraid to try your wildest ideas because sometimes you need to go off limits in order to find something interesting. Don´t rush this part because in this stage iteration doesn´t take too much time but that might have a huge positive impact on the final results.
Last but not least I would like to add that enjoy the process. Try to learn new things, test new workflows and tools because that way you already won some knowledge and experience.
We congratulate the winners!

Special prize from RebusFarm team gets "Sci-fi laser gun" by Kolya Ogre.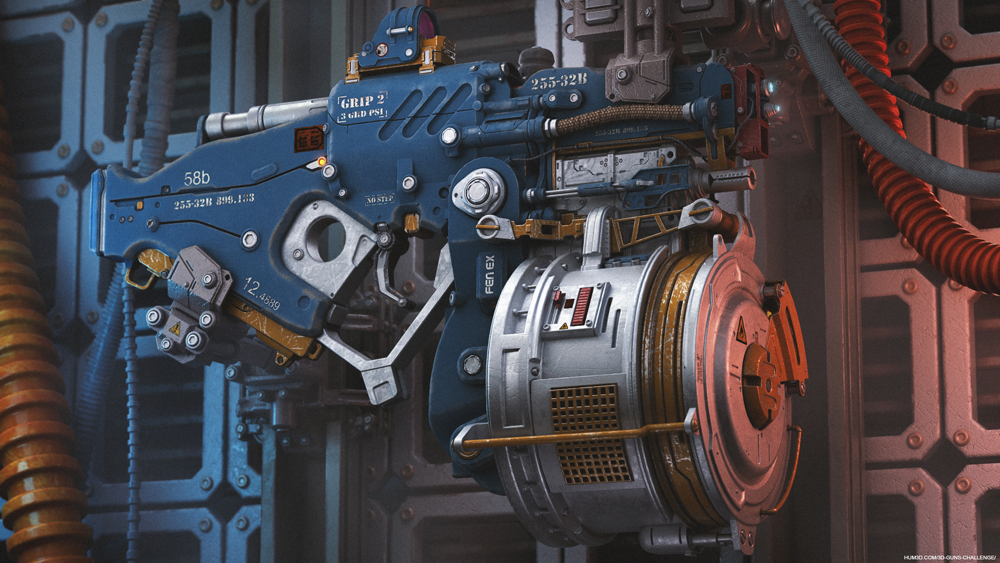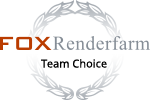 Special prize from FoxRenderfarm team gets "Decimator MK1" by Malchus.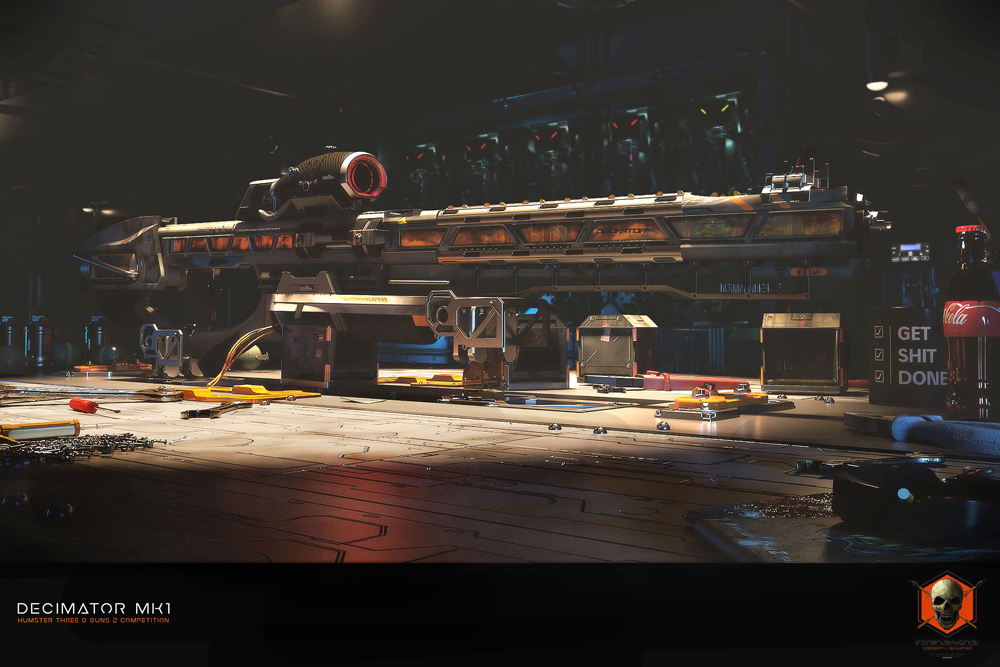 FoxRenderfarm: "Great lighting, overall atmosphere is good, warm and cool colors contrast highlights the theme, so that viewers would instantly focus on the main object at first glance. The gun is perfectly blended into the picture, but still manages to stand out. Model, texture and lighting, overall is perfect".

Special prizes from the Exlevel team for the best environment gets "The end of war is the begninng of life" by Ako Ghadermarzi.
Eduard Danilov (Exlevel): "In the work the environment looks very realistic and natural".

Best render made with Corona is "M1 Garand" by bART.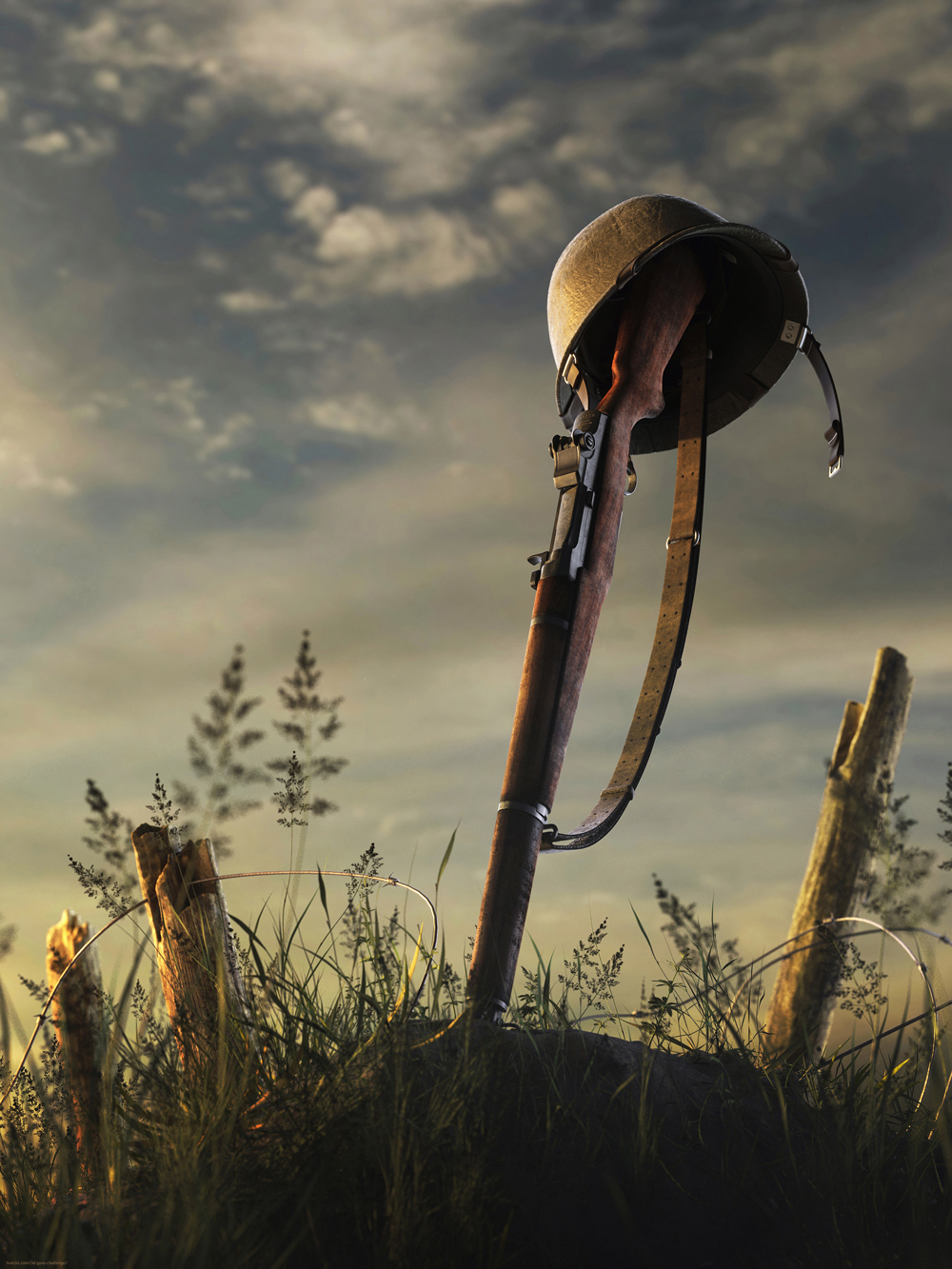 Tom Grimes (Corona Renderer): "This one has mood and atmosphere to it, and tells something of a story, things that were rare in this challenge, but things I always like to see in the images".

Special prize for the best work made with using Marmoset gets "The Terrier" by Marcus Johnston.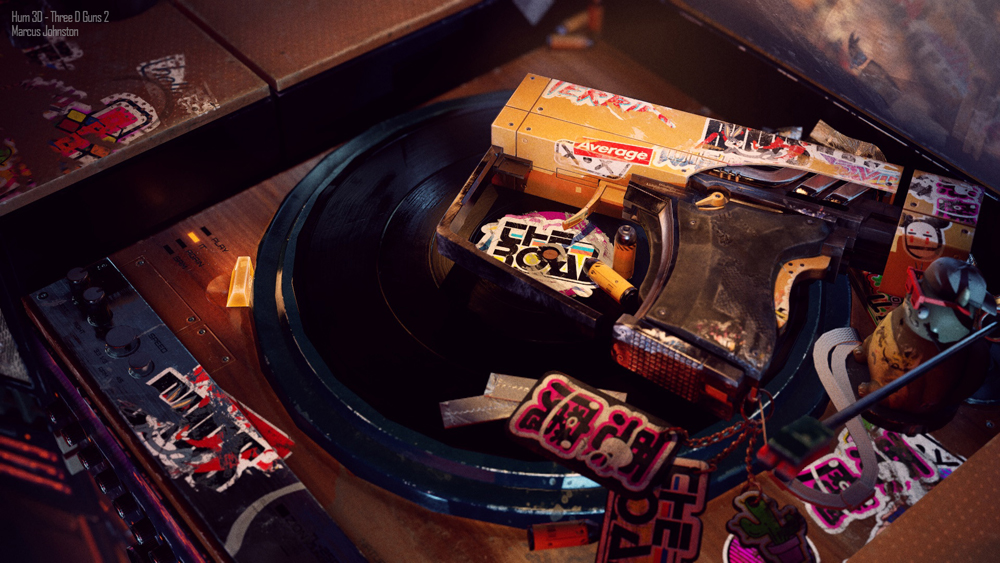 Mark Doeden (Marmoset): "While all of the entries we chose for our top 5 have excellent lighting, clever design, and an overall scene presentation that starts to paint a good background story. This entry tugged at the nostalgic heartstrings of music from years past and allows you to easily imagine the world just beyond the frame".
In addition, we'd like to point out the works of other finalists, which we can't just ignore and slide round.

"The Warden – Competition Particle Cannon" by John Governanti.
"NZ Army Rifle" by Lex Wayne.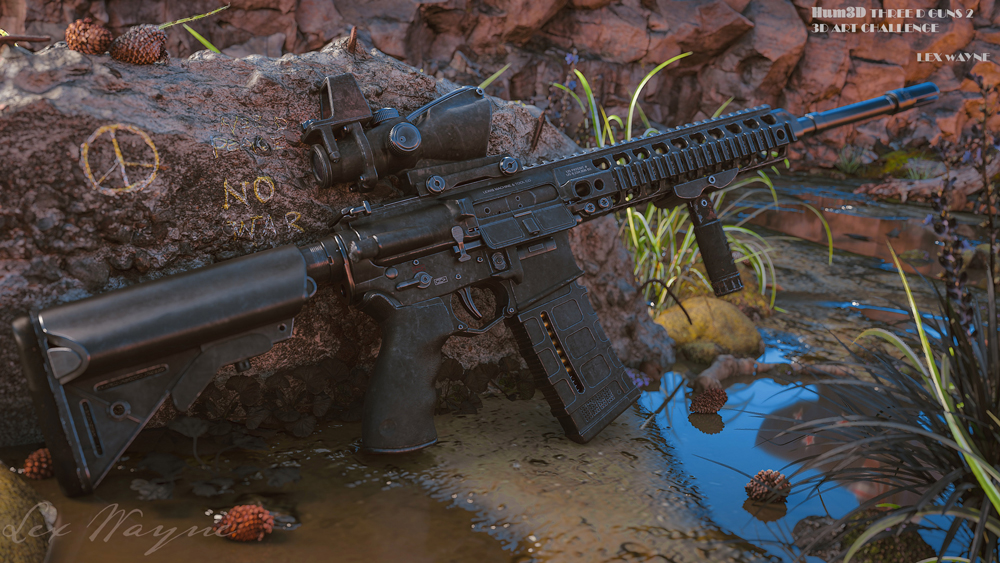 "Frank's favorite toys" by Arseny Lavrukhin.
"Survive" by Gabriel Cervantes.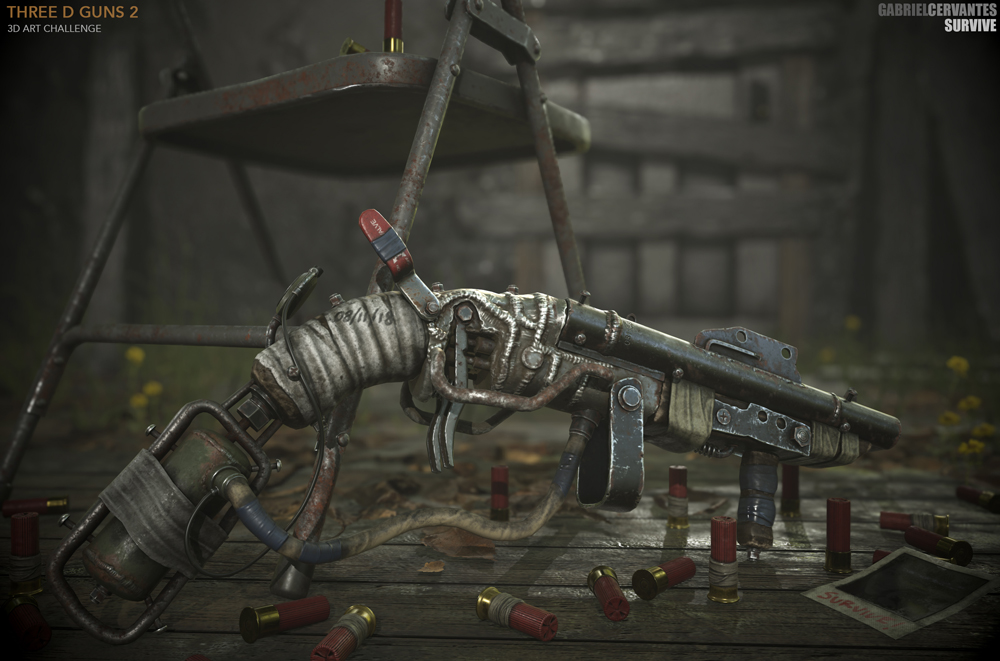 "Sniper of Future's Past" by Alex Senechal.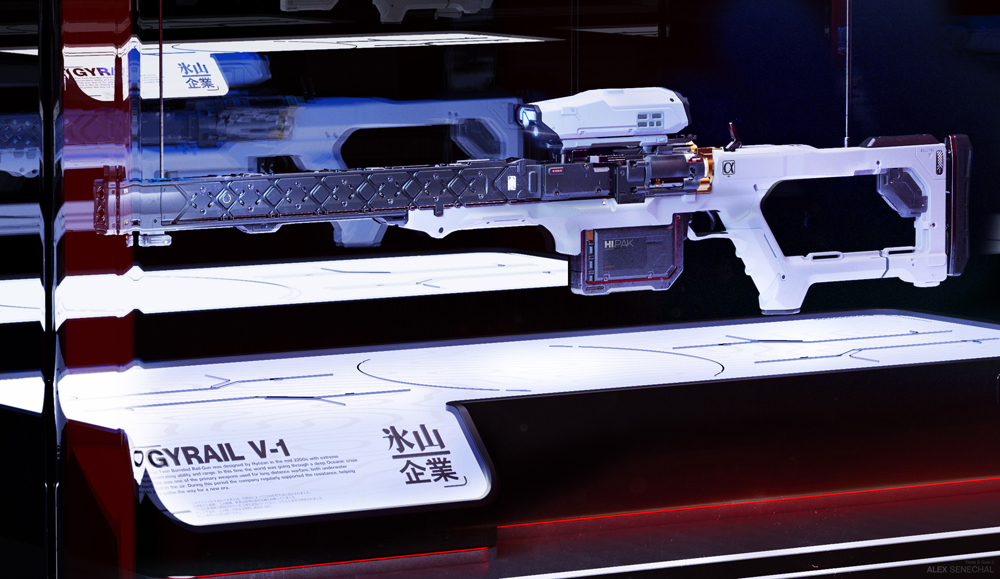 "A Grave Mistake" by Kieran Ashley Russell.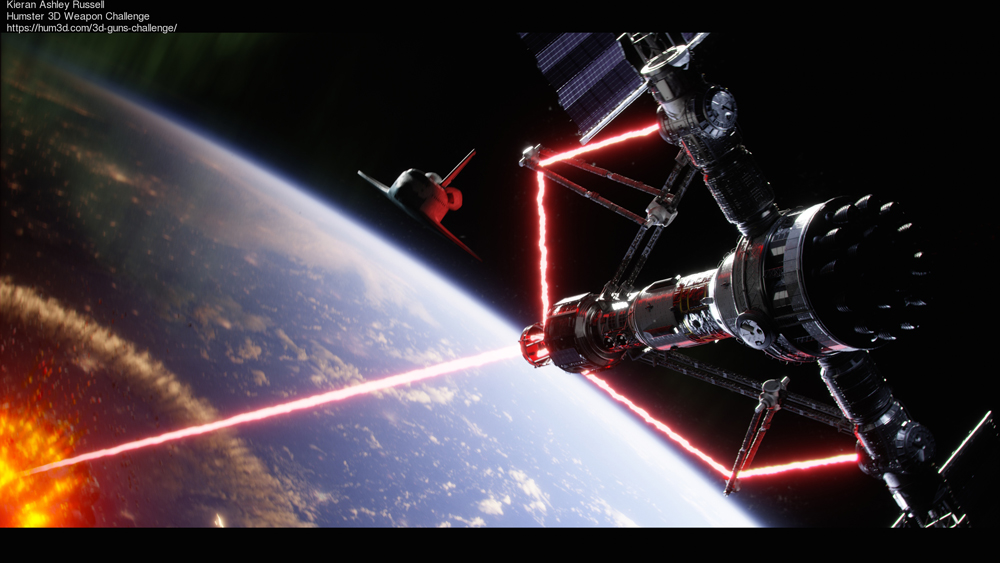 Related searches: Kriss Vector 3d model, P90 3d model, M249 3d model.
For those who like statistics (which software were used by participants):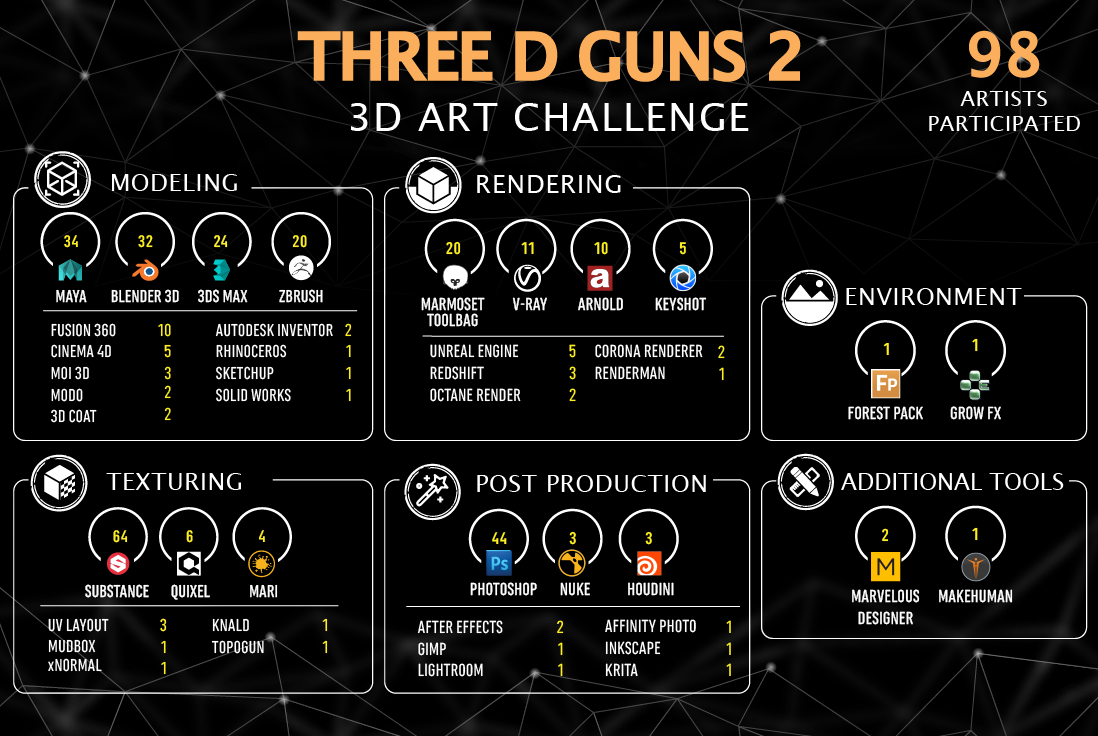 Special thanks to the sponsors who support our event and help 3D artists to create their masterpieces. Each of them is the best in their field. You can always count on their quality service, and so we are happy to recommend you their products.
Would be great to see your comments and thank you all for amazing challenge.