This time we decided to write an article about an emerging but prospective 3D industry, that only a privileged few know about. Nevertheless, this business is quite in demand these days and highly paid, to be sincere. We're talking about medical visualization.
It all began with medical illustrations that exist since the beginning of medicine and biology. From the time that we became interested in how the world that surrounds us is built, we depict and record the structure of plants, animals and human body. The works of artists of different times, beginning with the Renaissance and to the end of the 20th century, stagger our imagination with the painstaking work, that required a huge amount of time and effort.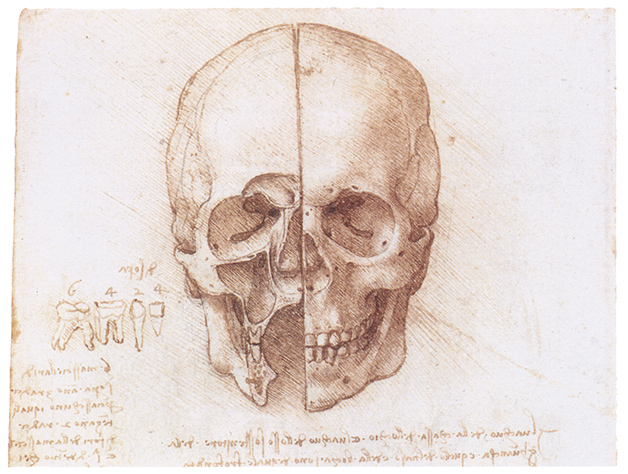 Human skull by Leonardo da Vinci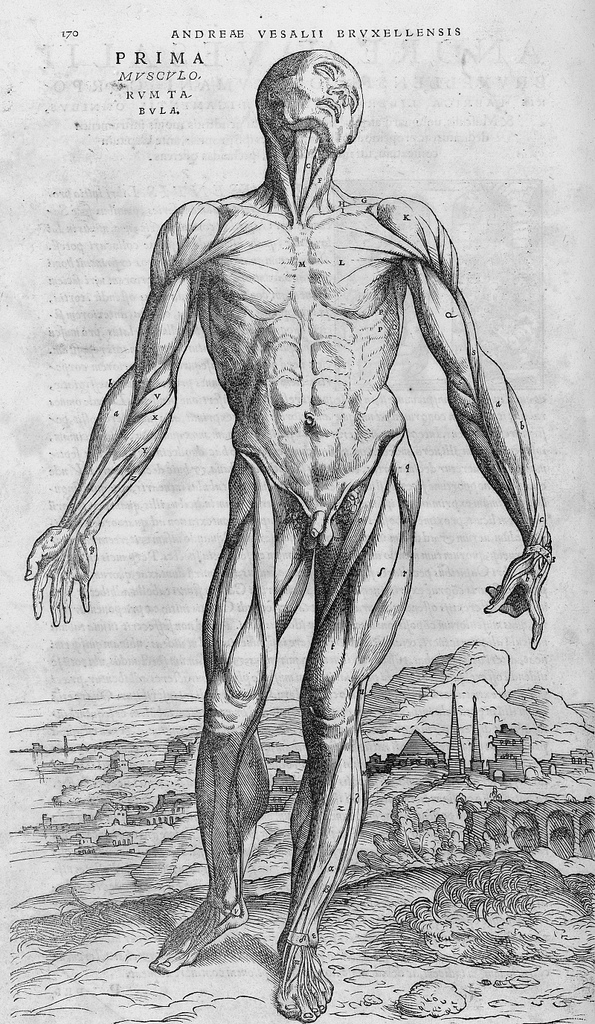 Andreas Vesalius, 1542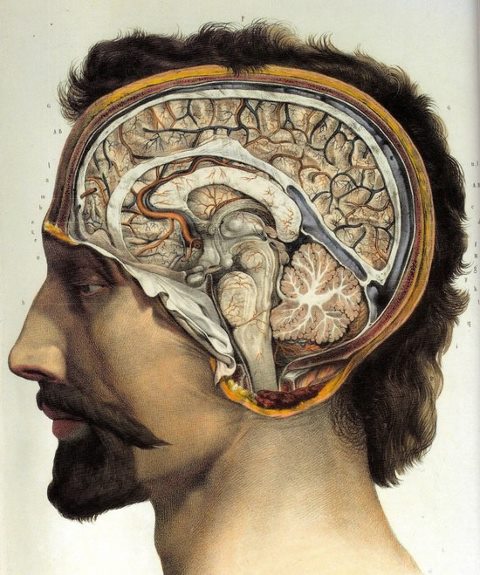 Human brain surgical anatomy poster, 1831
Medical illustration is widely used in our days, but it has many drawbacks in its original form of drawing: the work takes a lot of time, while the results are usually needed as quickly as possible. With all the skill of the illustrator, the images usually are far from being accurate. Moreover, it's impossible to take it in hands and feel it. The same applies to the educational process: it is important to see the medical process in real time, under a microscope or in a movie, and not in pictures.
That's why 3D visualization quickly found its place in medicine: it has no equal during various conferences, symposiums and educational process. 3D animation became irreplaceable in all kinds of presentations when one needs to give a demonstration of biological processes and explain biological structures. Now, even 3D mapping is actively used during speeches at medical conferences.
3D visualization opens also new frontiers of medical research. Despite the fact that this process is time-consuming and resource-intensive, a well-knit team of specialists can accomplish much more in the shortest time. It has also become possible to represent in detail the complicated structure of viruses and bacteria, as well as examine their mechanism of action.
We browsed the internet and found the most interesting studios and individual artists that work in this direction. Please, enjoy: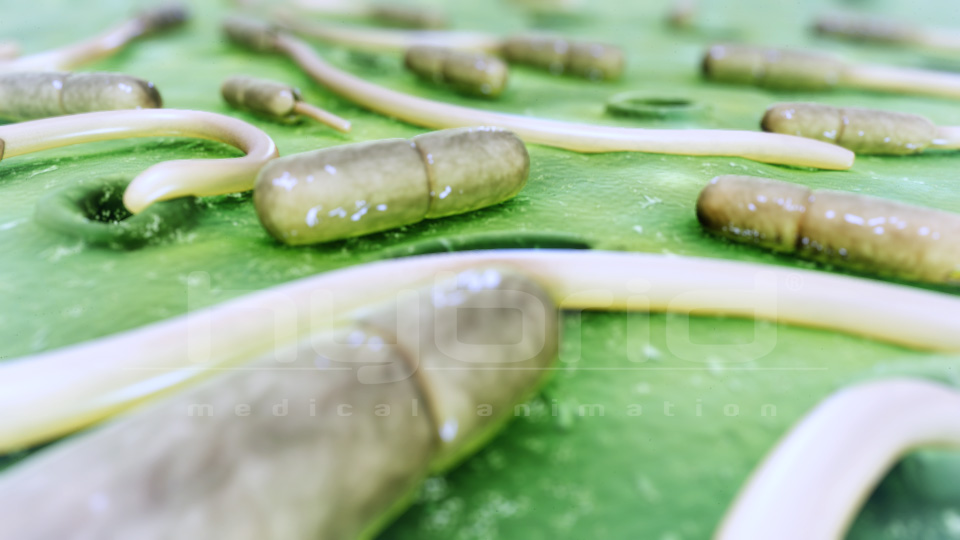 Fungal spores by Hybrid studio
These guys are from Minneapolis and they call themselves "Hybrid". Working for more than 18 years this studio provides a big variety of services, including animation and visualization of complex surgical procedures and writing scripts for different processes as well. If anybody wants to make sure they're awesome, this is their website. Be sure also to watch their demo reel, where you can see how various medical devices work:
And here comes another quite famous American studio "xVivo". They are in the business for about 13 years and specialize mainly in animation. Still, they create a lot of other interesting things. Your can always check them on their website.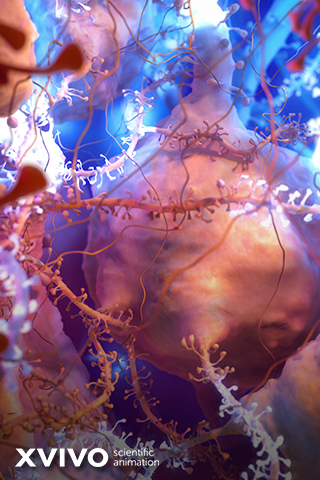 Neurons by xVivo studio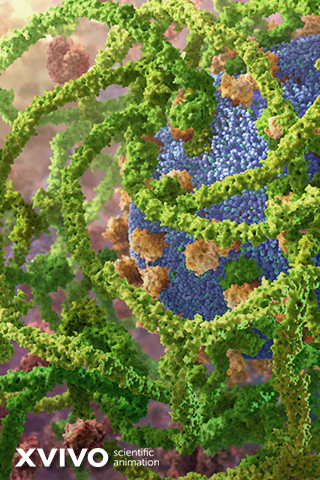 Clathrin by xVivo studio
Check also xVivo's Demo reel.
There are also their almost namesake, award-winning studio "inVivo" that exists already 17 years, since 1998. Nowadays they are specialized in producing various games on medical subjects (a kind of travelling inside the human body), as well as specialized mobile applications for physicians.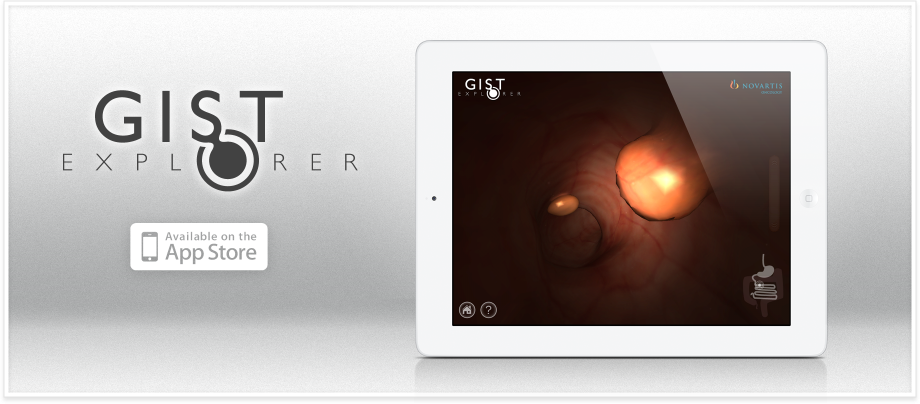 GIST Explorer application by inVivo studio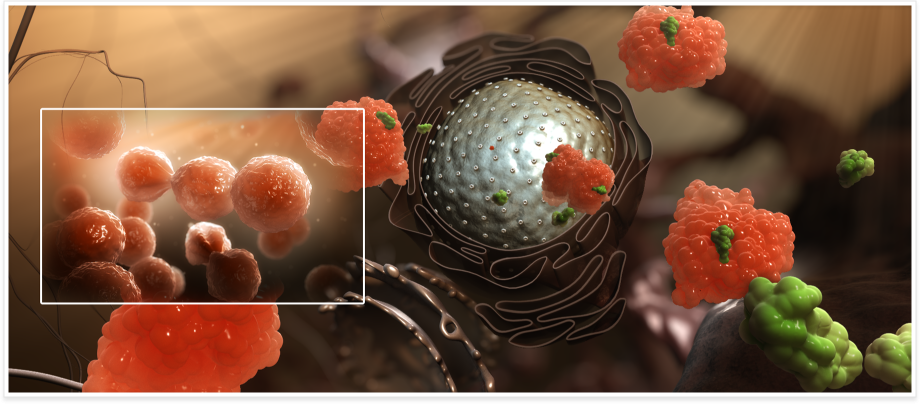 Prostate cancer by inVivo studio
Here are now the works of Visual Science studio. Established in 2007, they have their central office in Moscow, Russia. In addition to 70 permanent members, the team cooperates with a lot of professionals from all over the world. Among them 50 PhDs in the relevant field. We strongly recommend you to have a look at their website. You'll find a lot of awesome works there!
Visual Science studio claims to have created the most scientifically precise 3D model of the influenza virus. Well, let's check it: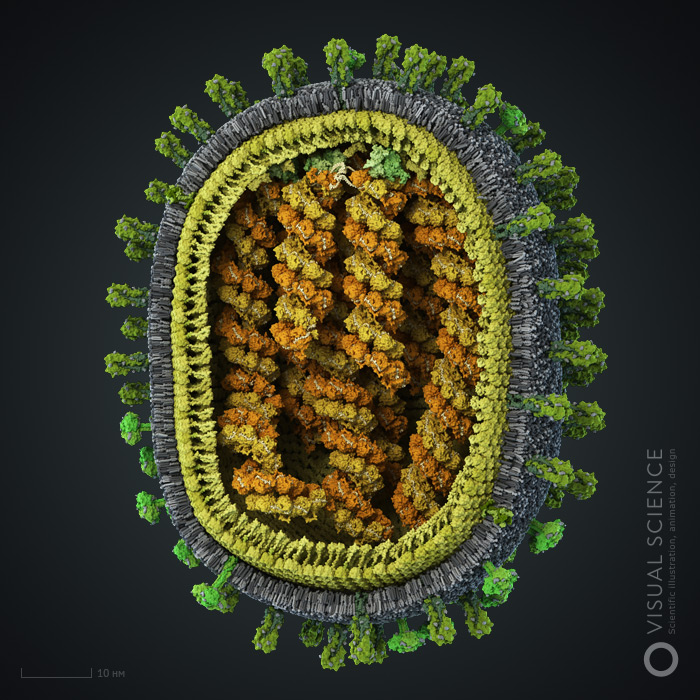 3D model of the Influenza virus by Visual Science studio
Ebola virus by Visual Science studio
LeFort fractures animation by Visual Science studio
And these guys are from Canada. They call themselves "AXS" studio and are very proud that their employees undergo training on medical courses or have a medical degree.
AXS Studio Showreel 2014
Let us look also through the stunning works of James Archer, a real professional and very talented 3D artist. James works in 3DsMax and renders with the good old MenthalRay. Only he can present in artistic way all these various medical instruments, needles, brains and other stuff. You will find much more on his website.
Lumbar spine by James Archer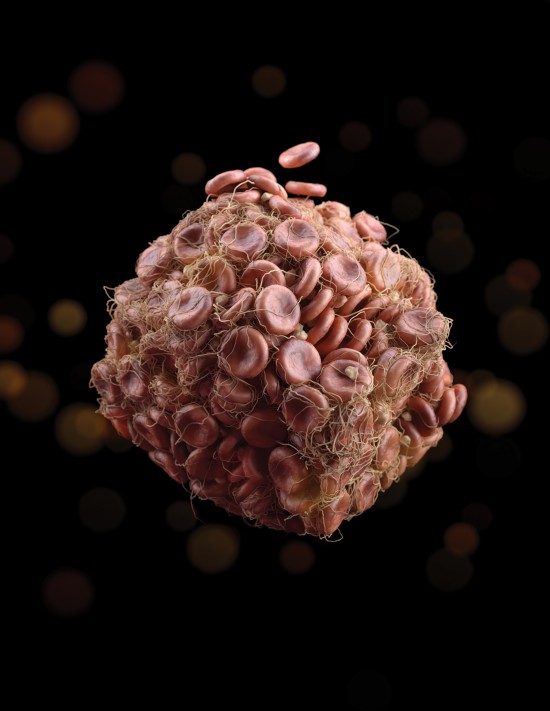 Blood Clot by James Archer
Finally, we browsed Artstation and found a couple of interesting works of freelancers that you can see below: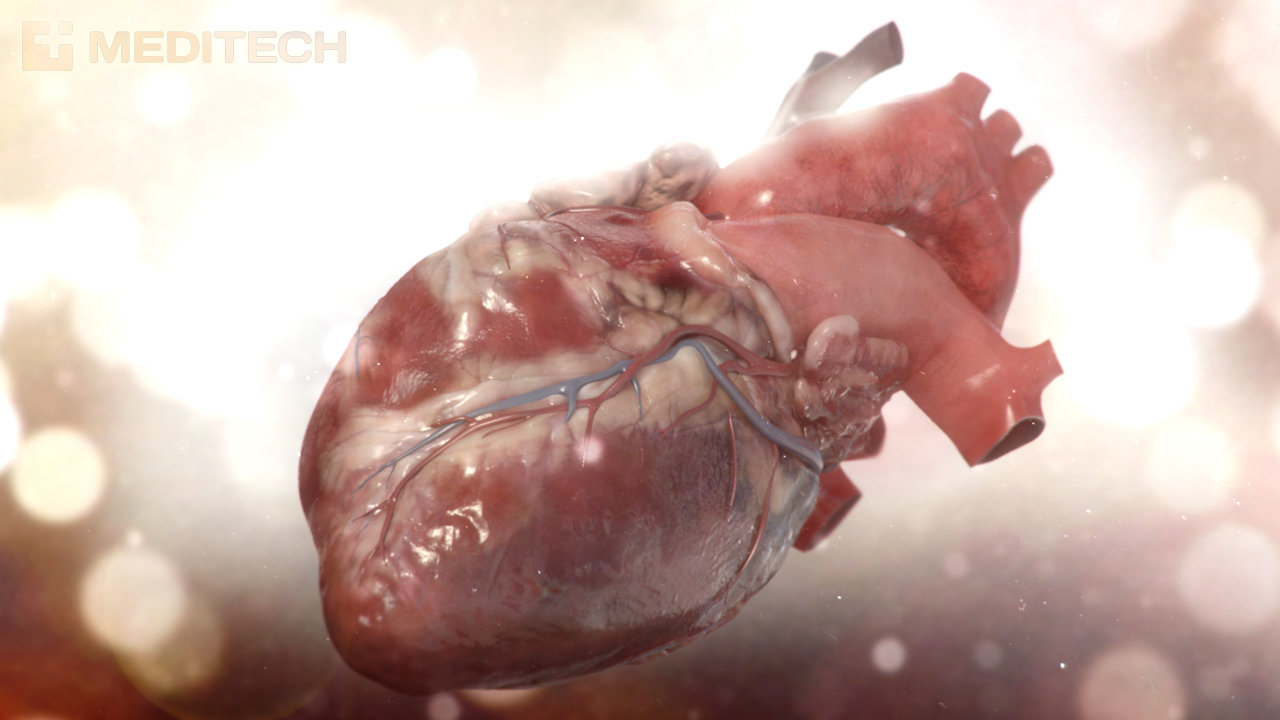 Heart by Joel Erkkinen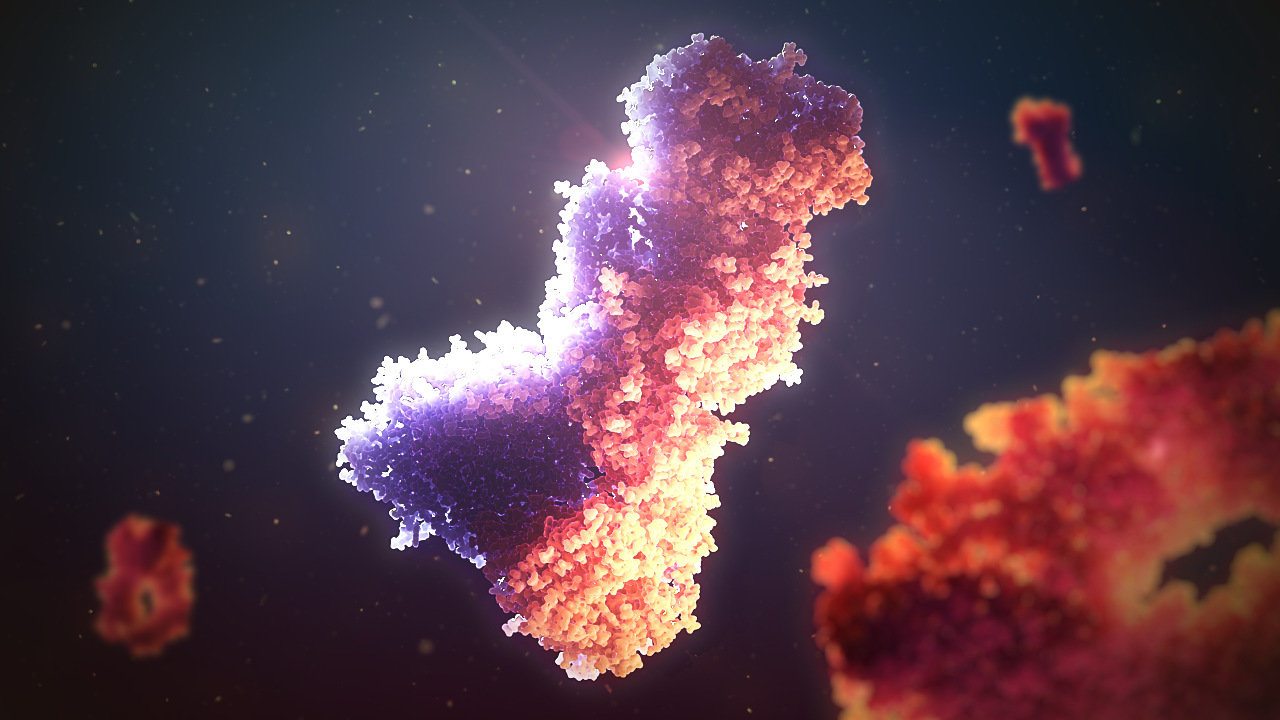 Proteins by Hugo Bodoukian Meyrant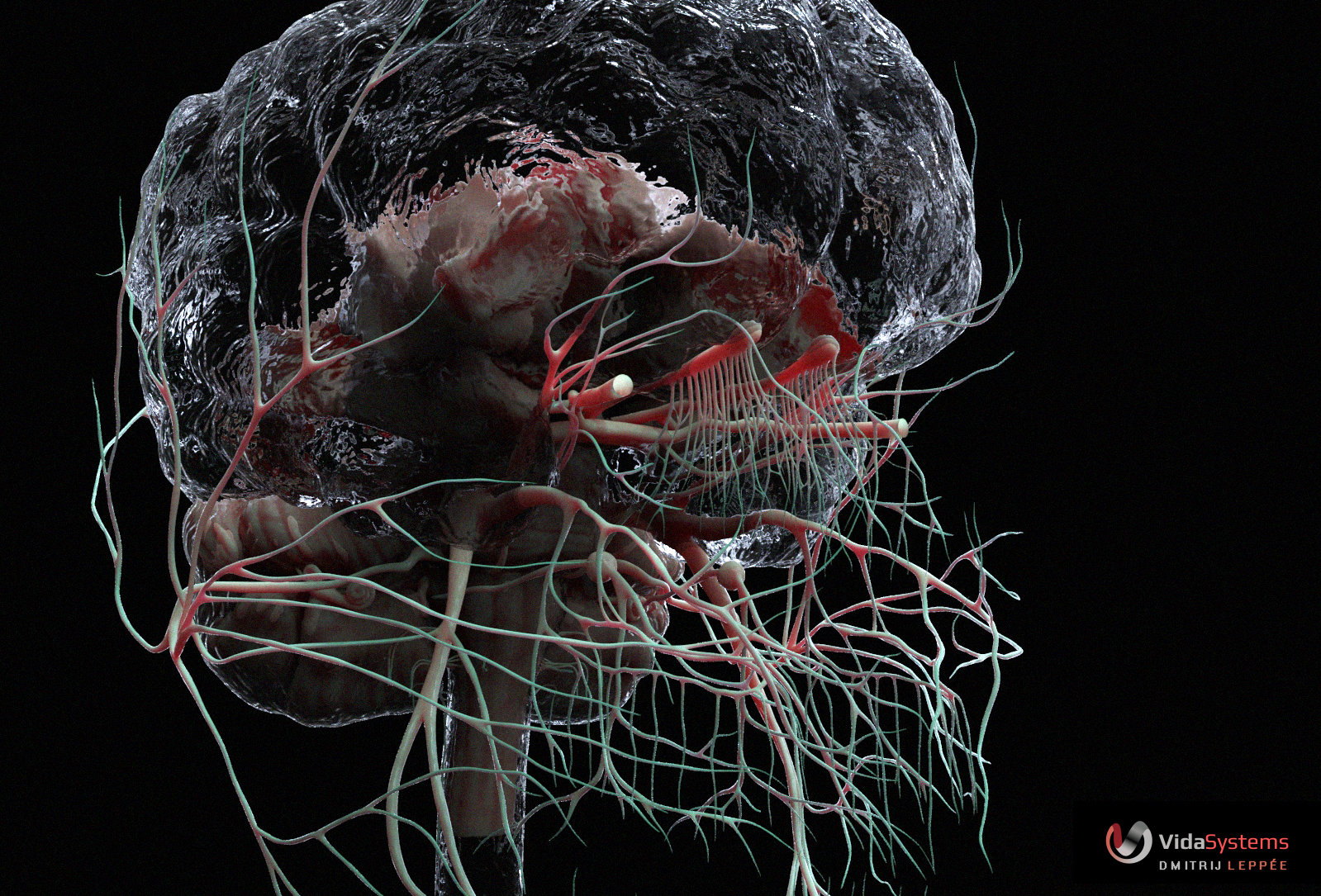 CNS – Nerves of the cranium by Dmitrij Leppée

Human skull by Dmitrij Leppée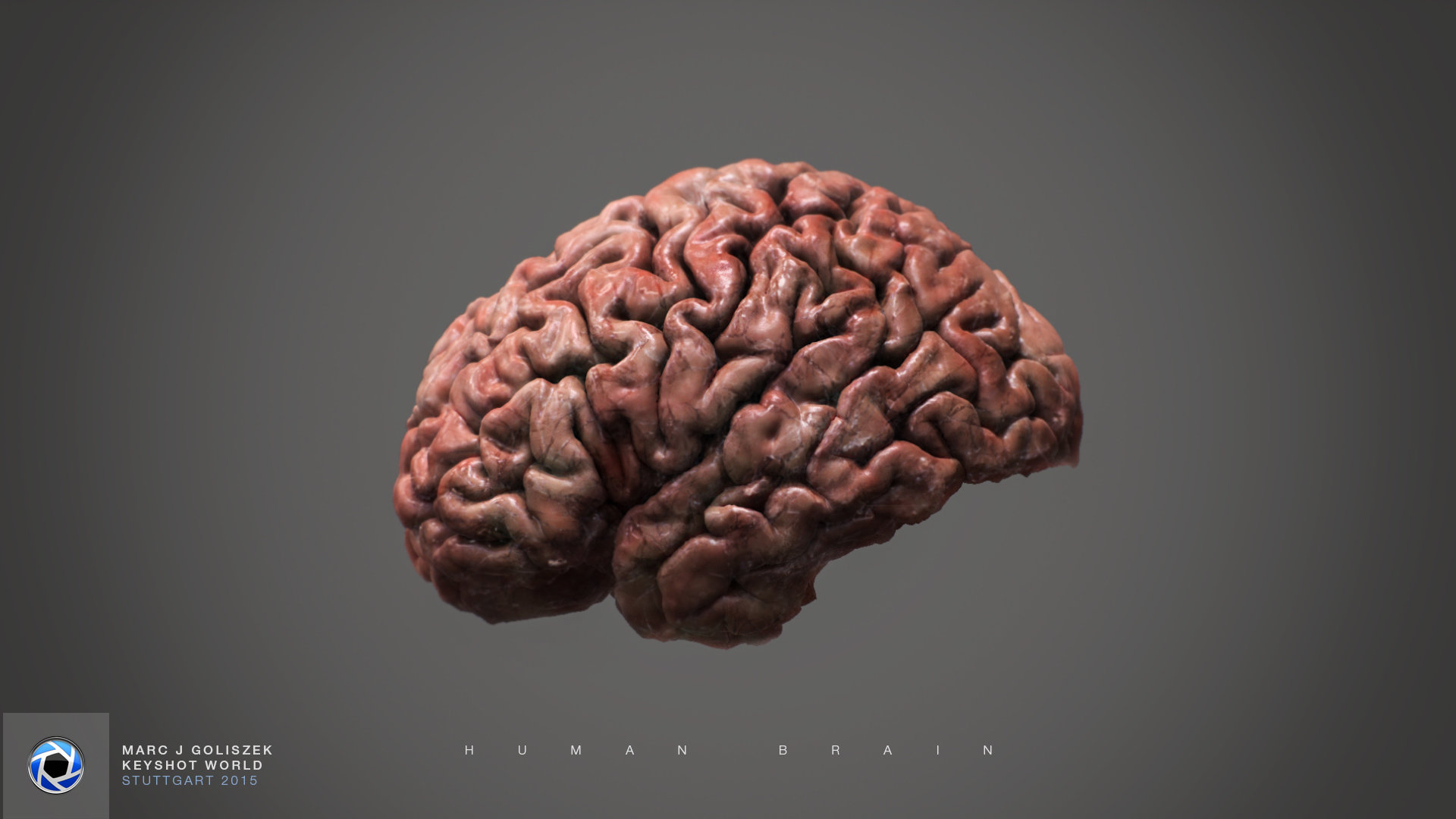 Human Brain by Marc J. Goliszek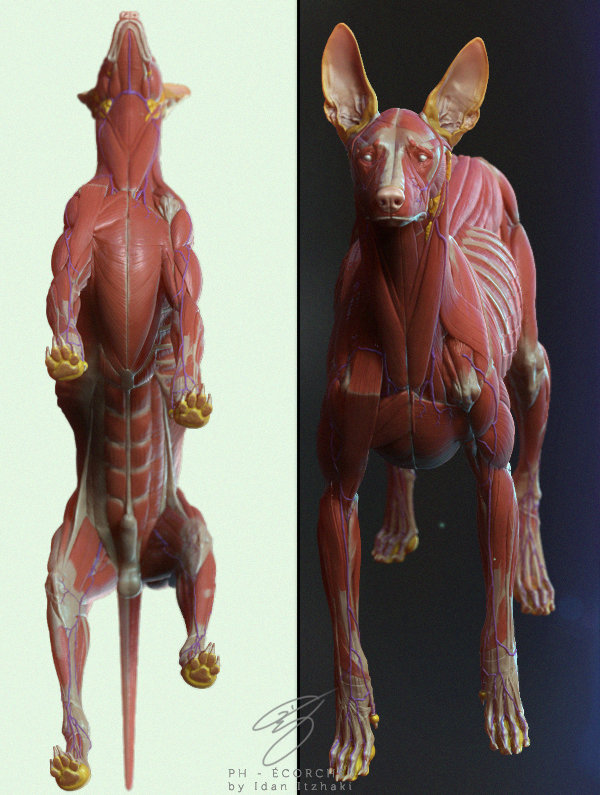 Canine Écorché by Idan Itzhaki
And that's it for today.
Enjoy, comment, post…
And have a nice render!