Hello everyone! The competition on the best Ancient Rome render came to an end and this is the time to sum it up.
Let us remind you that participants were to create something that they associate with the times of Ancient Rome.
There were plenty of strong works sent to the competition, many in our team had this WOW effect when you open the letter and realize that this is one hundred percent the first place, and then comes the next work, that is even better, and then another and so on and so forth… All in all, the jury once again had a very difficult time choosing the winners.
When selecting the finalists and the winners, the jury paid attention to the visual component of the work and to the absence of obvious errors in anatomy and physics. It was also important for us that image should have an atmosphere or some interesting idea. So…

First place is Restoration by
Sergey Smereka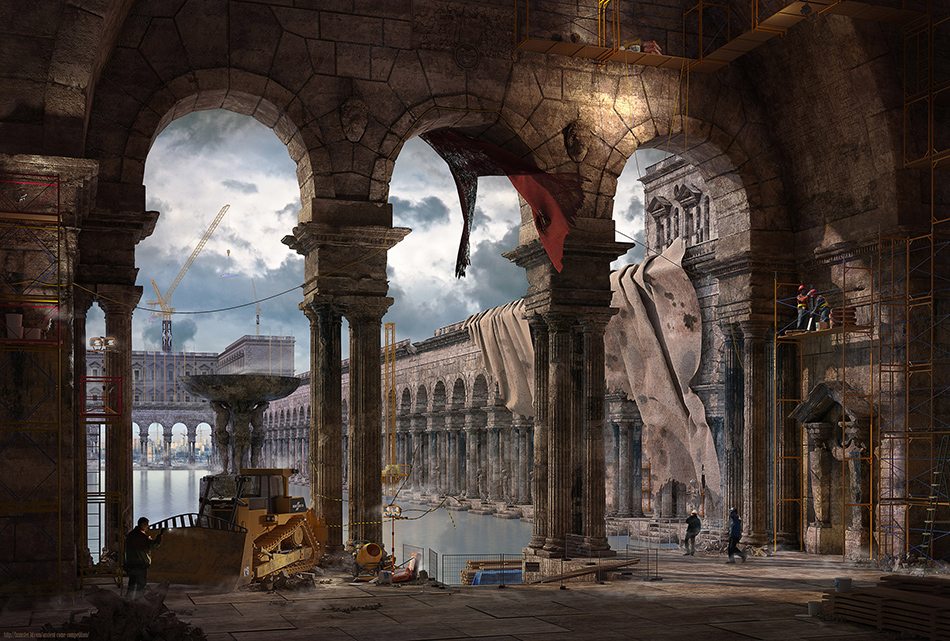 Nice and extensive work with an unusual idea. The author used 3ds max 2014, Corona render, Zbrush and Photoshop.
Quick interview with Sergey:
– How long have you been into 3D modeling? Please, tell us about yourself.
During the last year I'm working in a professional architectural and design studio RStyle (rs-3d.com). And to be honest, the main experience in 3d I earned during this last year! I'm an artist, I love drawing in any kind of technics – pencil, oil paintings, Photoshop. Also I'm working as a Tatoo master. But now, mostly, I'm doing a lot of architectural 3d visualizations for clients from all over the world – Australia, USA, Germany, Izrael, Great Britain.
– How much time did it take you to create your work? Did you face any difficulties?
All together it took around a month, working only in the evenings. The first main difficulty was to learn a Zbrush from scratch!)) Also I spent a lot of time on unwrapping and textures, diffuse and normal mapping. The idea to add contemporary construction elements came only in the last few days!) I paid a lot of attention to the correct proportions of the columns, arcs and other architectural elements – it was a very time consuming topic, but very important!
– Do you have any advice for future participants in the competition?
Here is what I would advice:
1) Idea. Don't be too serious about the work. Make a joke or something that is extraordinary about the topic of a competition! Do something unexpected!
2) Composition. Pay a lot of attention to the main composition of the shot. I went thru a ton of old paintings to find tha balance of the geometry and light.
3) Foreground. When you have many details in terms of textures and geometry in the foreground of the scene – the rest looks very detailed too!
4) Post production. Color correction and Zdepth pass can change the overall impression a lot!
I wish a lot of luck and fun to the future participants!

Second place is Conspiracy by
Luis Lara Osorio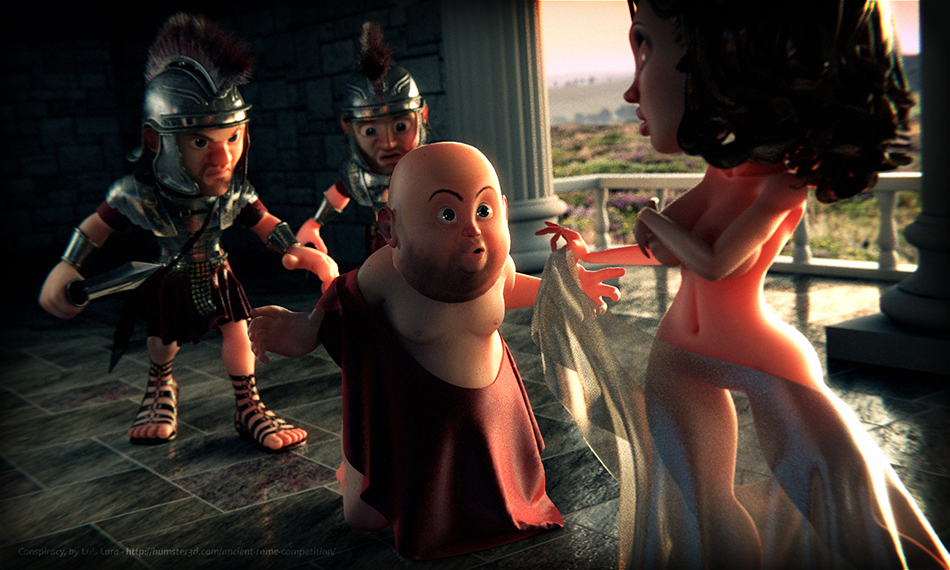 Unusual and funny work! It would be interesting to look at it as an animation cartoon. The author used 3ds Max, Mental Ray and After Effects.
Quick interview with Luis:
– How long have you been into 3D modeling? Please, tell us about yourself.
I'm in the 3D world for over fourteen years, when my computer teacher gave me a 3D Studio Max 2.5 demo. At that time there were not many places in Madrid where to study 3d modeling, and a fast internet connection was a luxury I can't afford, but I liked it so much I purchased a little manual of Max in Spanish (I still didn't speak English) and since then I have not stopped learning. Today I'm professional, but I don't forget the time when Edit Poly didn't exist, or the first time I saw VRay computing global illumination… My passion for 3D is growing every day, I can hardly wait to see what lies ahead!
– How much time did it take you to create your work? Did you face any difficulties?
This project took me a few weeks to complete, and yes, I had to face too many difficulties. I knew this contest was best suited for digital sculpting and Zbrush users set out with a little advantage, so I had to try something different. The idea of a cartoon scene instead of a realistic one was good, and I wanted to show something common during Roman times but not always represented, so their love for conspirations and orgies were a perfect topic! After so much Mental Ray SSS apprenticeship, "Conspiracy" was born.
– Do you have any advice for future participants in the competition?
You can win wonderful prices in a competition, but the best award is what you learn meanwhile. Don't be afraid to try different things, even if you don't have experience with it. If you do your best, the result will be amazing!

Third place is Circus Maximus by
Maciek Ptaszynski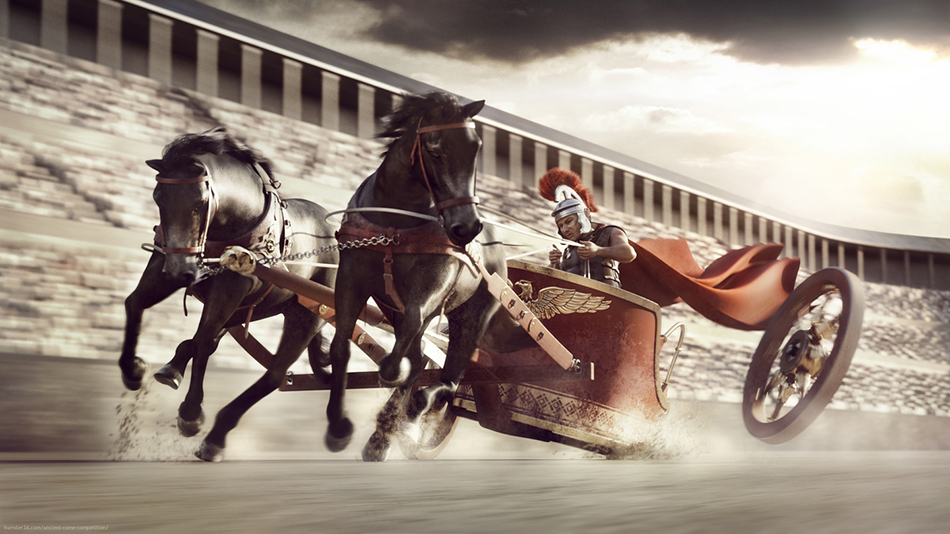 Good models, nice render, dynamical image. The author used Blender, Maxwell Render and Photoshop.
Quick interview with Maciek:
– How long have you been into 3D modeling? Please, tell us about yourself.
Hello :) My name is Maciek and I started my 3D adventure around 2002 when I was 20 years old. I remember I made few simple 3D animations and also some very simple visualizations. Then I left CG for about 3 years and in that time I was studying at Technical University (not for long;). After that I was doing military service as truck driver and later I went to Ireland to work as a van driver. I was delivering fruit and vegetables :))). One day I think in 2007 I had a chance to touch 3D software again and that was it :) I totally felt in love. Since then CG is my biggest passion. I love to do all the steps while creating the image, from modeling to final retouching. Anyhow when CG was my biggest hobby I decided to make Landscape Architecture studies. There were no CG schools in my area in that time. I was trying to study Product Design at Academy of Fine Arts, but I was not good enough. I think I was the only one who failed and it was really demotivating. Anyway on the Landscape Architecture I met my lovely wife :* and also that time I found the job as junior CG Artist. Then I knew I can work as CG Artist and I do it until now. I'm working in automotive company from Munich and I love my job! I do mostly shading and rendering and this is my favourite part! :)
– How much time did it take you to create your work? Did you face any difficulties?
This image took me about 6 weeks. At the beginning I decided to model and texture the horse. I thought it would be the hardest part, but actually it went quite smooth. The hardest part for me was to pose the horses and to find a good angle for the image. I did hundreds of tries even when the modeling was not completely finished. The only one boring part was to model harness with all details like stripes, buckles etc. I also don't feel very comfortable with characters, but this time it went quite fast and without big issues. Hair for the horses and for the helmet I did with Hair Particle System. To create the image I used Blender with Maxwell which I started to learn few weeks ago but I already love it.
– Do you have any advice for future participants in the competition?
Just have fun and remember that the devil's in the details. Try to always go one step further than you would normally go because you can! :)
We congratulate our winners and will get in contact with them very soon to hand over the prizes and take the information which is necessary for the publication in the magazine.
Special prize from Maxwell Render gets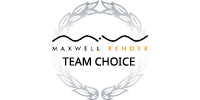 Oculus by Victor Hugo Hernandez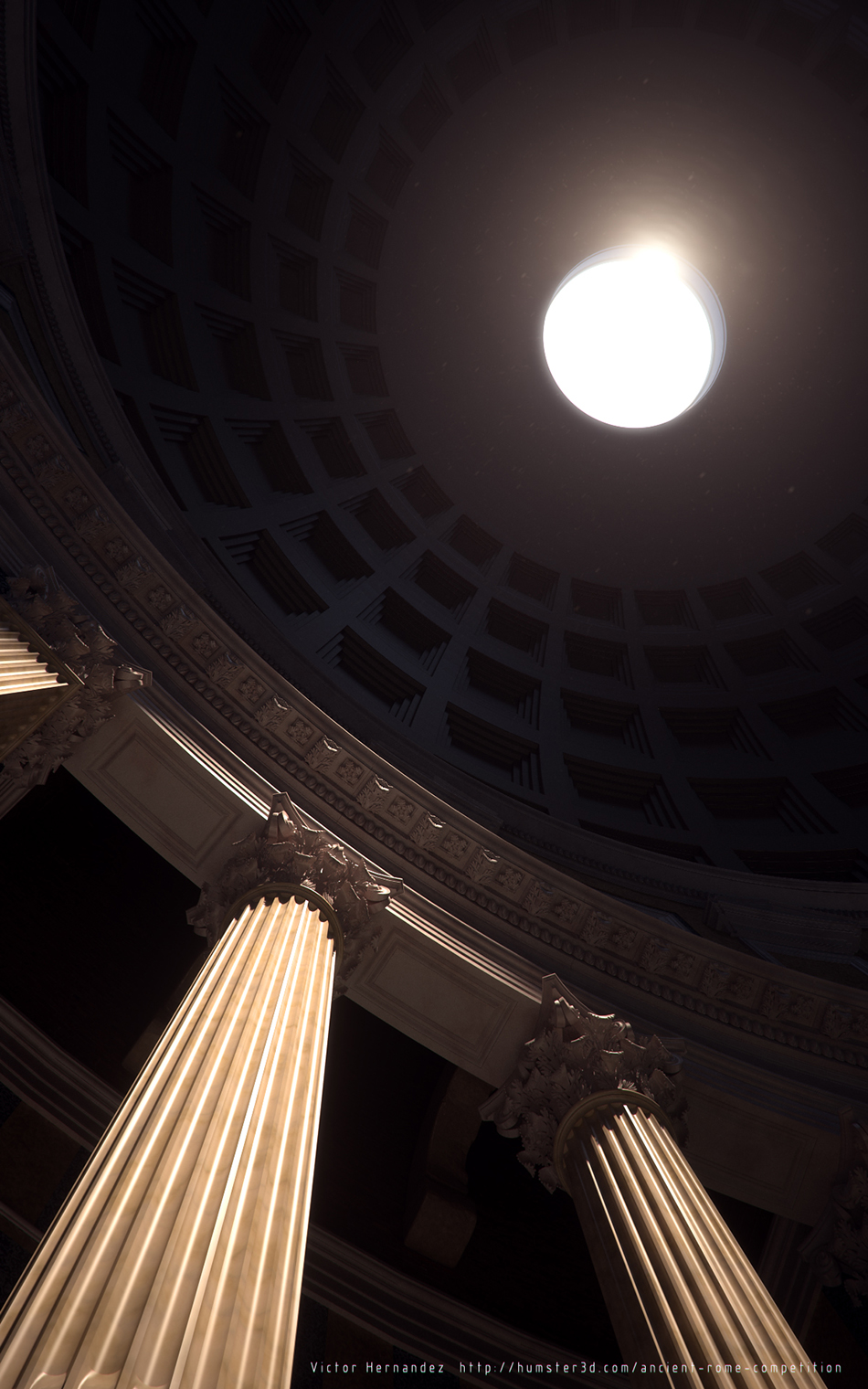 Nice and photorealistic render with a good atmosphere. The author used Sketchup, Blender, Maxwell Render and Photoshop.
Quick interview with Victor:
– How long have you been into 3D modeling? Please, tell us about yourself.
Hello, my name is Victor Hugo Hernandez, I am a graduated architect based in Lund, Sweden. I have been into 3D modeling since around 1995, and have been working with Architectural visualization as a tool on my work as an architect in a number of architectural and engineering offices in Juarez, Mexico and Barcelona, Spain and more recently in Malmö, Sweden.
Along all these years I have used several 3D packages, starting with Autocad, 3D Studio Max, Sketchup, Blender and rendering software: Accurender, Vray, Maxwell Render, Corona.
Currently I am unemployed and starting to set the basis to start my own Architectural visualization practice http://hdzarkitektur.wordpress.com/.
– How much time did it take you to create your work? Did you face any difficulties?
I started around 2 months ago when I saw the competition on Facebook, I faced 3 difficulties:
One was to decided which render engine I was going to use, finally I opted for Maxwell Render after some feedback with Simon Edwards (a talented Maxwell Render user and participant as well on the competition).
Two, being this the first time I do serious organic modeling, I faced technical difficulties to model the decorations (Acanthus leaves, volutes, etc.) for the capitals and cornices in the Corinthian order.
Three, finding the time to work on the competition, most of the time I worked with one hand on the mouse and keyboard and with the other hand holding my baby daughter (now 3 months old) sleeping on my chest.
– Do you have any advice for future participants in the competition?
As advice I can tell to grab inspiration and reference material (photos, drawings, etc) as much as you can; study, learn and investigate about your subject, I learned a lot about ancient roman architecture while doing the competition; model in detail and accurate as possible to reality; try to get a photographic approach to the lighting and composition of your image.
In addition, we'd like to point out the works of other participants, which we can't just ignore and slide round. They are arranged in random order; therefore don't think that it's a kind of top or anything like that.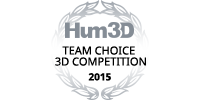 The Fall of Rome by Bartosz Domiczek. Great detailed elaboration and nice lighting. Separate small details – such as sword in the foreground and visible sunrays – perfectly complement the atmosphere.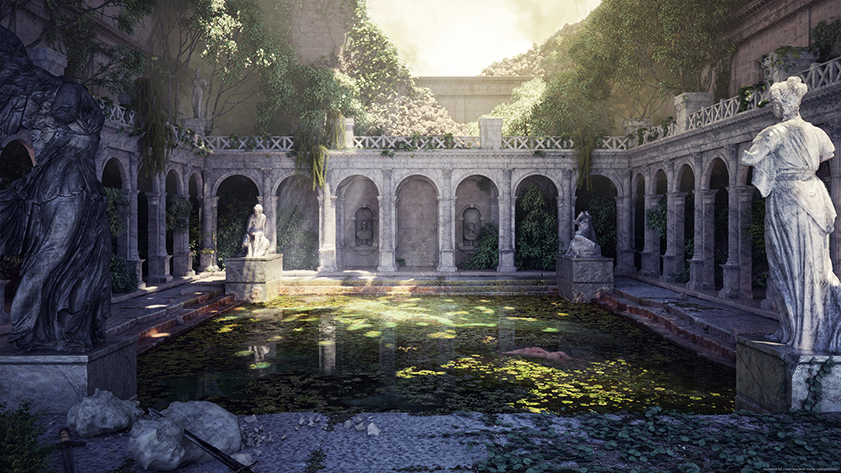 Favor of the Gods by David Aguero. Excellent render with different types of work (nature, man in armor, smoke simulation).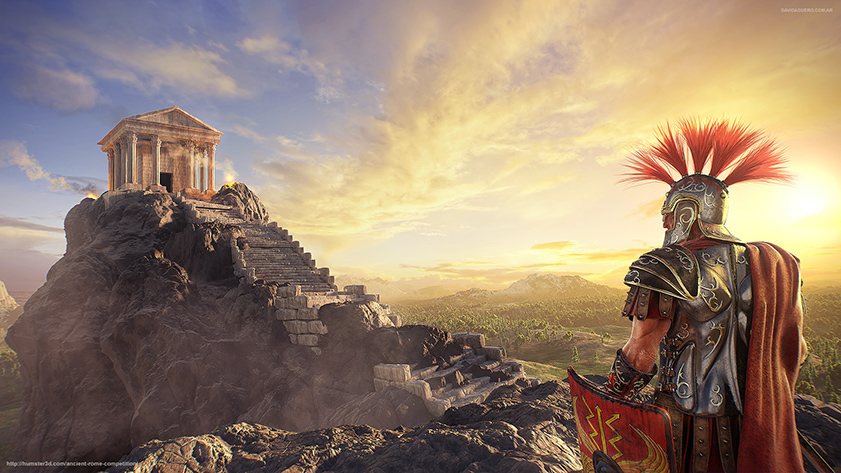 Romulus: Blood and Marble by Duncan Foster and Kevin Van Den Oever. Good and detailed model with great dramatic atmosphere.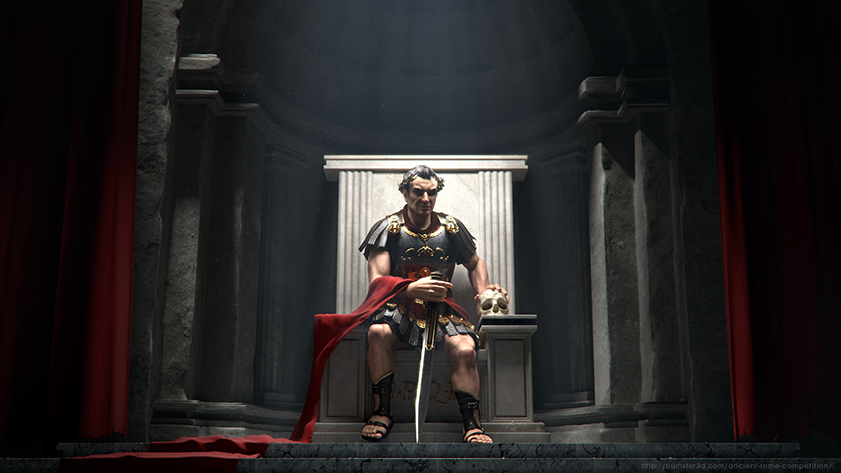 Ancient Rome by Arseniy Korablev. Good idea, a lot of work was done. It's evident that soldiers are not just a copy-paste: each of them has his own face and head turning. Great atmosphere and excellent location.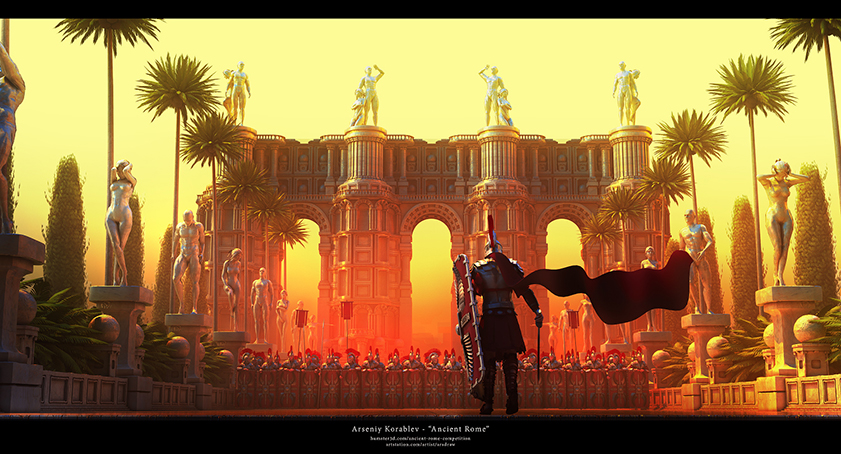 Roman leggionaire by Fernando Huelamo Garcia. Detailed and realistic model, impressive amount of work.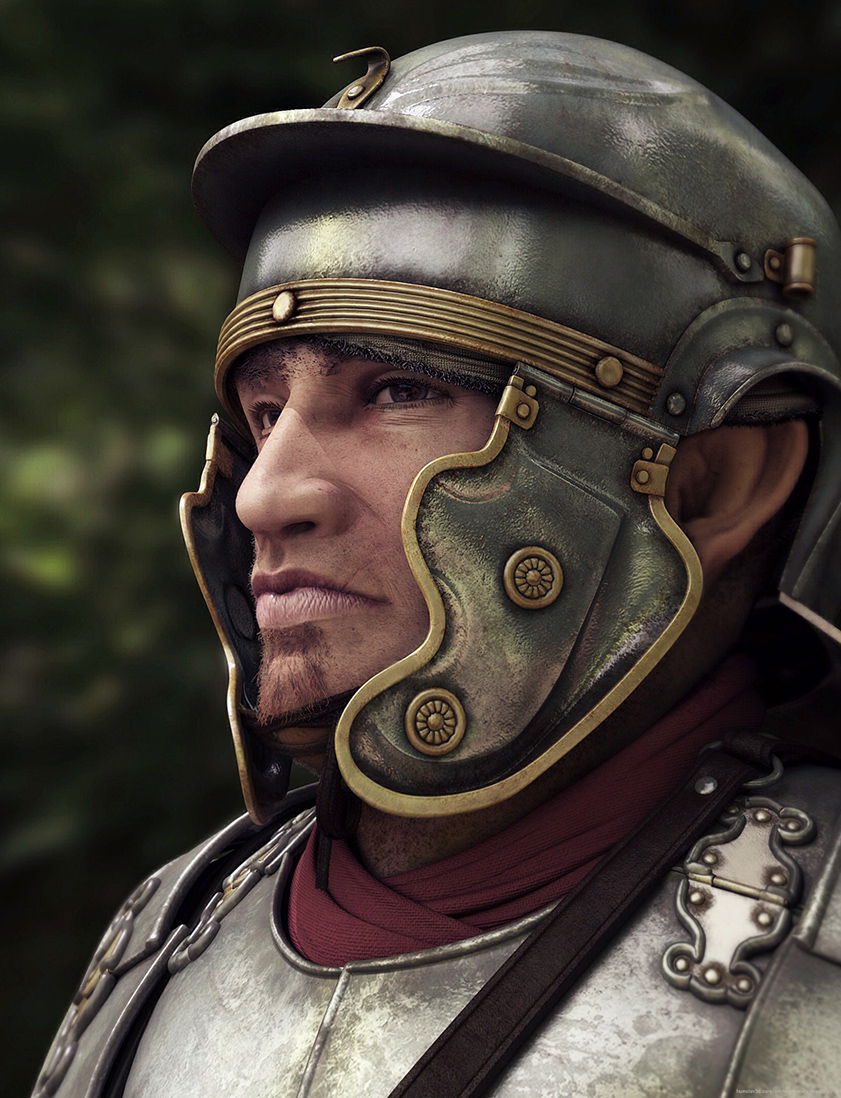 Each participant is a talented 3D artist. We have nothing to say but "guys, you are awesome".
See you this fall on our traditional autumn best vehicle render competition.
Special thanks to the sponsors who support our event and help 3D artists to create their masterpieces. Each of them is the best in their field. You can always count on their quality service, and so we are happy to recommend you their products.
Related searches: Rome 3d model, Ancient weapon 3d models.
For those who like statistics:
Most of the works were created in Zbrush – more than 21. 3ds Max is the second most popular software among our participants (although with a large backlog) – 12 works. Besides, there are 4 works in the competition performed in such remarkable software as Blender and Sketchup. Other products: Maya – (7 works), Cinema4D – (3 works), Mudbox – (2 works), Lightwave 3d – (1 work), Sculptris (1 work).
V-ray and Maxwell Render are in the lead among renderers, 6 works were created using each of them. As you can see Maxwell gives stunning results, the works that were performed in this software are the best advertising. 4 participants used Marmoset Toolbag. We were very glad to see the work that was done in Corona render – excellent image. You must try: this program has very comfortable settings. Other renderers: Keyshot (3 works), Arnold (1 work), Mental Ray (1 work), Octane Render (1 work).
The most popular software for creating textures was Substance Painter (4 works) and Quixel Suite (3 works). And again: this is not advertising, bare statistics – professionals choose quality products :) What else was used: Mari (1 work) and Marvelous Designer for clothing (1 work).
Enjoy, comment, post…
And have a nice render!