Hello everyone, It's high time to sum up our car render challenge 2018.
It was a fantastic contest – 148 artists took part in this competition. There was a bunch of awesome works, creative ideas and hours of modeling.
It was very hard to determine the winners as usually. Twenty nine members of jury had different views on the top-3. Each of them had own favorite works – about thirty five renders got votes (really different opinions). We feel sorry that there are only three awards in our contest. Guys, you are all awesome!
We are deeply grateful to everyone who supported our participants.
Well, let's go!

First place is Golden Trophy by Amaru Zeas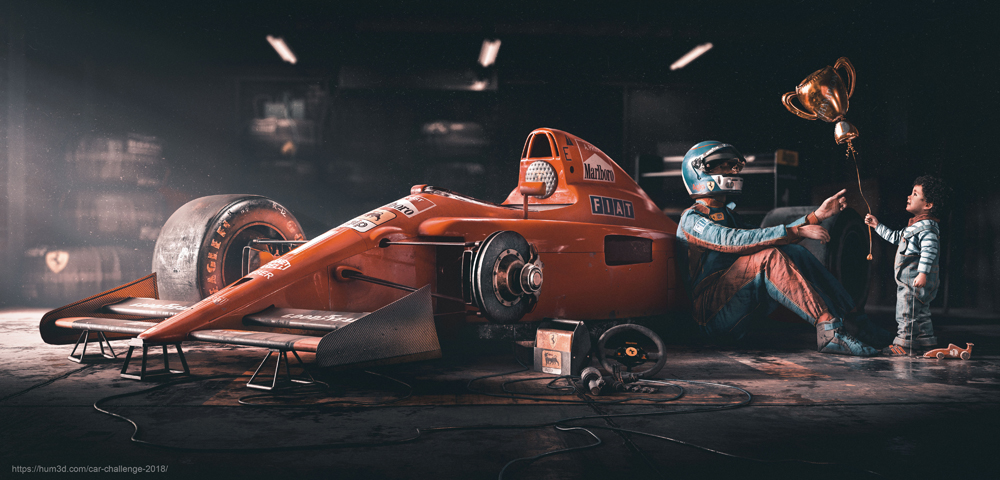 Also Amaru gets Special prizes from Autodesk team, Substance team, RedShift for the best lightning, and from the Textures for the best use of materials.




Made with using Maya, Substance Painter, Marvelous Designer and Arnold Render.
Quixel: "Amaru gives us an evocative piece with wonderful little details".
Substance: "Beyond the huge amount of work and the high technical skills, this image is telling a story. This is probably what is the most striking in this 3D rendering scene. Bravo Amaru!".
Carrie Mok: "This is a beautiful scene, it's emotive but subtle".
Yuriki Lebedev: "Nice colors. Nice touch with kid and balloon as trophy. Good attention to details (like that wooden toy-car). Even skin and hair are not weak points of this realistic render".
Guilherme Henrique: "Amazing storytelling, backed by competent technical execution. All the hard work put into textures, fabrics, shaders and lighting doesn't outshines the main emotional plot present in the image. This is what makes a great image, and it's done extremely well here. This artwork showcases in detail why texturing matters: Everything is subtle enough to not be distractive, but still highlighted to the point it improves the render in a meaningful way. From the tires to the wet floor and race suit; balance, cohesion and mood are the high points here. Beautiful work!".
InstaLOD: "Golden Trophy tells a beautiful story with some amazing texturing work. High quality details and great lighting move this render into the top 4".
Jim Thacker: "Another beautifully detailed and executed render, and an image with an appealing human story".
Autodesk: "A beautiful piece with great lighting, nice atmospheric effects, and a heart-warming story".
Maciej Ptaszynski: "It's a beautiful image with great atmosphere! Modeling and texturing is just WOW!".
Zacharias Reinhardt: "The entry represents top-notch work in both technical and visual aspects, as well as storytelling".
Stephanie Schenck: "A fun scene full of emotion, with gorgeous details".
Fernando Tella: "This image is a great example of telling a full story with a single image. If you have kids you will probably feel that balmy effect they can produce after a bad day at the adults' world. Also, the image is perfectly executed, even though it combines hard surface modelling with organic one; it also shows great texturing, illumination, composition and finishing".
Marco Traverso: "the contrast between the extreme, tough emotions associated with racing and the tenderness of a man-child (maybe dad-son?) relationship made for a really engaging and compelling story that was hard to beat. Then, when the story is told through a picture that is thoughtfully crafted in every detail, you have a winner".
Arseniy Korablev: "100% winner. excellent render, plot, pleasant lighting, the necessary details. very beautiful and interesting work".
Quick interview with Amaru:
– How long have you been into 3D modeling? Please, tell us about yourself.
My Name is Amaru and I am originally from Cuenca- Ecuador. Currently living in the United States and working at Amazon Games. I have been doing 3D art for about 7 years professionally. Since I was a little kid I always had interest in building things like legos or miniatures. As a teenager I used to spend hours watching the behind the scenes of VFX of movies. When I started to learn 3D art I was amazed that I could build anything I want. And now I can say that what I do for a living is more than work, is actually true passion.
– How much time did it take you to create your work? Did you face any difficulties?
I started with the concept back in September. Then I began working on the project in October until the very last day. Working full time always makes it more challenging to create a good piece of art. I worked 2 hours every day after work and about 10-12 hours on the weekends. The most challenging part for me was the story and the composition. I wanted to add a great story knowing that the car has to be the focus. I studied composition and color balance for a couple of days and that definitely helped.
– Do you have any advice for future participants in the competition?
Do what you love and great things will come. Try to create a story behind your render. Once you have the idea set spend some time researching real life reference and composition. Try different camera angles before you render final. And the most important thing is ENJOY the process and give and receive constructive feedback from the community.

Second place is The Ultimate Ride by Cyprian Chojnacki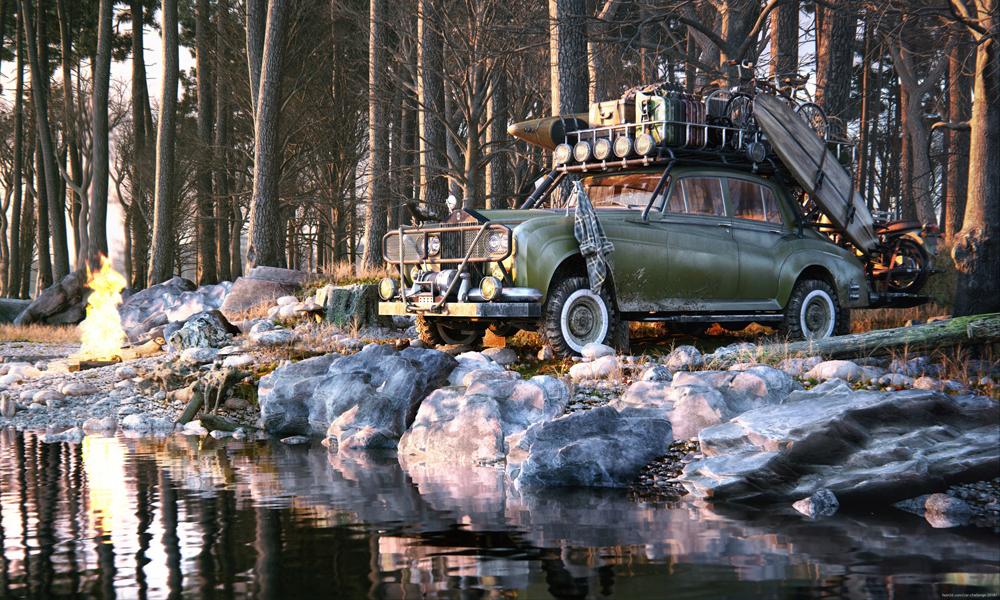 Made with using 3ds max, Vray, Richdirt, Itoo Forest Pack, Raiclone and Photoshop.
Fernando Tella: "It's a pleasure to look at the WIP of this project; the artist for sure enjoys modelling and loves cars otherwise, he could not have done that terrific amount of detail. The resulting image is up to the level of the model and the mood of the image gets you ready for adventure. Awesome job!".
Marco Traverso: "An image full of details that evokes the spirit of pure adventure: the peculiar choice of the car makes you wonder who the driver is, what he/she is up and in what year this is taking place".
Quick interview with Cyprian:
– How long have you been into 3D modeling? Please, tell us about yourself.
I started my journey with 3d modeling about 6 years ago during my architecture studies.
I'm an architect who became a 3d artist by passion and decided to do it professionally. Nowadays I'm working as 3d artist for several architecture offices in Paris doing architecture renderings. In my free time I like designing cars and I would love to do it in the future professionally for game companies as a vehicle artist or as an environment artist.
– How much time did it take you to create your work? Did you face any difficulties?
I spent afternoons and evenings after work it took me almost one month. In the process of creation every detail was playing an important role. I tried to focus on every single car piece.
One of the difficulties was the time but apart from that it wasn't easy to find the reference images showing the details of both cars. Also it was quite challenging to adapt Range Rover frame to fit the body of Rolls Royce.
– Do you have any advice for future participants in the competition?
Before starting any project it's good to gather all the references and inspirations also check the works of other 3d artist.
Challenge yourself. Everything you do should be considered as a lesson helping you to reach a higher level.
If you don't have enough time, try to think in advance where you would like to position the cameras. It is a timesaver and will help you to focus on the details that you want to represent in the image.
Ask for advises, opinions in every phase of your creation process. It will enrich your design and might save you hours when searching for solutions on your own.

Third place is On Her Majesty's Secret Service by Taylor Cooper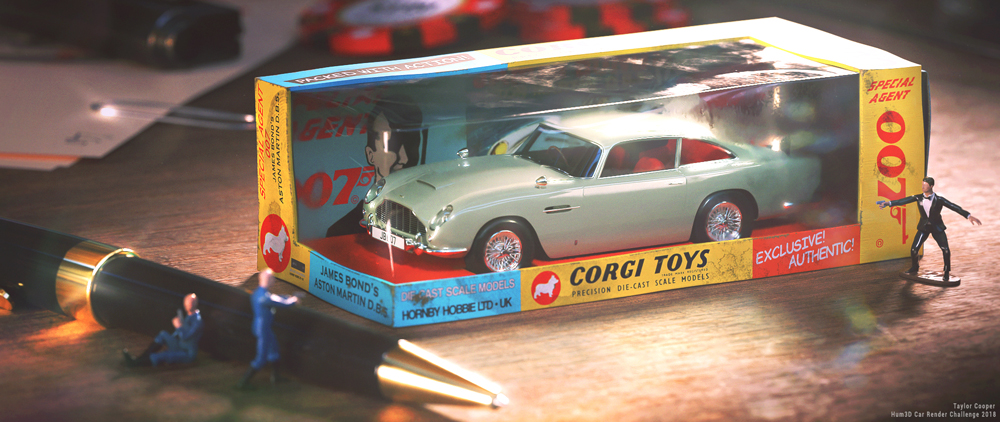 Made with using Maya, Substance Painter, Pixar's RenderMan and Photoshop.
Substance: "Composition is great, theme of toy car is really cool linking it to James Bond universe is awesome. Attention to detail is also crazy: Figurines paint, fingerprints, wood table… Congratulation Taylor".
Carrie Mok: "What a great concept! Especially love the texture details on the box".
Yuriki Lebedev: "I love this idea with toys acting like actors in movie around toy car. Also render looks realistic and pleasant: I can clearly see main object and read main idea".
Zacharias Reinhardt: "The retro feel in this one is great. Storytelling combined with great visuals. The lighting and shading is flawless".
Quick interview with Taylor:
– How long have you been into 3D modeling? Please, tell us about yourself.
I have always had an interest in 3D animation and VFX from a young age, though I first began studying 3D modelling tools and techniques when I started college around seven years ago. I am now 23 and have since completed a course in Computer Animation and VFX, and it was upon completing this course that I began to develop a further interest in attempting to create photorealistic imagery for my own 3D modelling and VFX projects.
– How much time did it take you to create your work? Did you face any difficulties?
This project took around 3 – 4 weeks to complete. I first began by developing the model of the Aston Martin DB5 car, then continued to create the toy box and other items for the desk. It was later while trying to put together the final scene that I considered modelling the figures for the foreground of the shot.
I learned a lot creating this work, however the biggest difficulty I faced was trying to compose the final shot in a way that could both represent the story I was trying to convey but also keep the car model as the main focus. The difficulty was trying to maintain the scale of the toy car with the other items on the desk without it getting lost in the scene. I needed to consider real world camera techniques such as focal length and depth of field, along with lighting and overall composition of the shot, in order to achieve the final image. This stage of the project took a lot of time, changing things around, moving lights and objects, until I felt the shot looked complete.
– Do you have any advice for future participants in the competition?
My advice to future participants of the competition would be to work hard on the story of your final image and have that in place before you begin to work. I think with this competition it is also important to think outside the box with your concept. Finally I think a competition like this can offer you a unique opportunity to work to a set brief and deadline, and therefore it's a great opportunity to challenge yourself to work with new tools and techniques to help develop your work for future projects.
We congratulate the winners!
Special prizes

Special prize for the best work done with using Corona Renderer gets "Big Sur" by Jamie Holmes.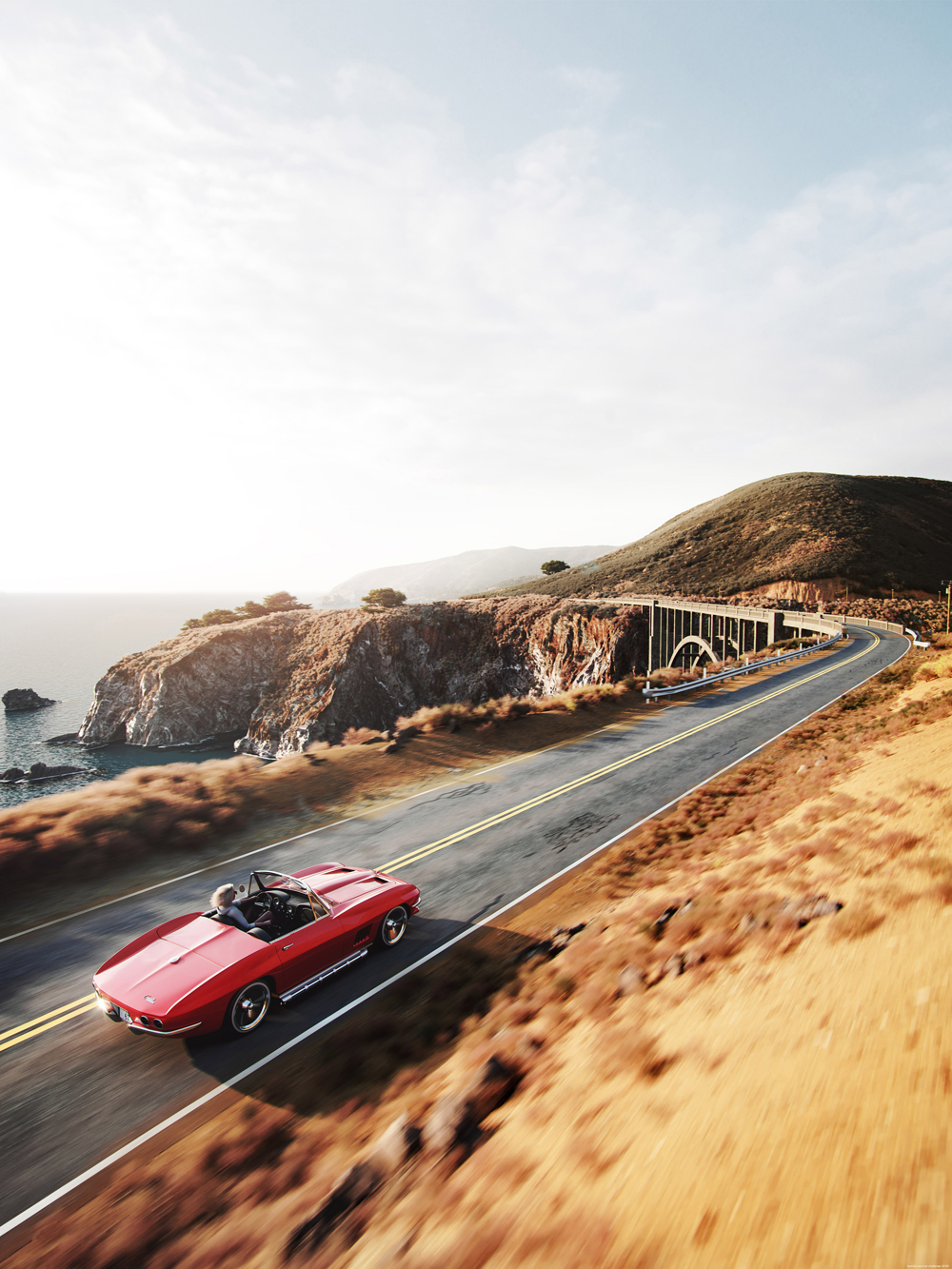 Tom Grimes (Corona): "Nice sense of movement, and makes me think of a postcard that you'd see advertising California – you'd know this was California even if you didn't know where Big Sur was! That sense of freedom, the open road – all very appealing! And it lets the mind start to conjure stories, which I always like in an image".
Quixel: "Jamie beautifully balances environmental elements with his hero in this well-rounded scene".
Jim Thacker: "My favourite among the more conventional car renders entered for the contest. I loved the sunbleached, 80s-magazine-advert quality of the image".
Zacharias Reinhardt: "Great perspective and composition. The lighting and environment stands out on this one".
Arseniy Korablev: "Excellent finished work. Qualitatively, but not boring. Car and environment both are looks realistic".

Special prize from InstaLOD for the Most detailed model gets "A Hard Days Work" by Alex Bowen.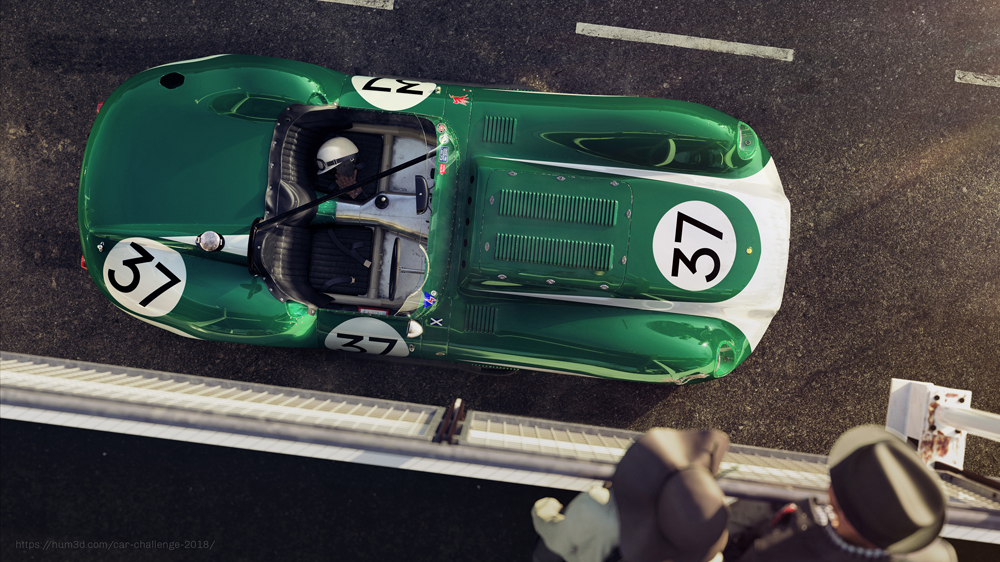 InstaLOD: "A beautiful high quality model with lots of chipped paint on the car hood, great decals and wrinkles on the leather seats. Overall a fantastic piece of art with a huge amount of detail".
Quixel: "Alex delivers a picture-perfect scene with great accents, lighting, and mood".
Substance: "Love the lighting and the atmosphere of the scene. Adding a beautiful color for the carpaint and you have a masterpiece. Don't hesitate to check high res image and you will discover so many great details (Fire extinguisher, stocker, rust on the flagpole). GG Alex!".
Guilherme Henrique: "Super clean work, with a really interesting composition. I can almost forget it's a render and get drown in the feelings this car evolves in the viewer. Well done!".
Stephanie Schenck: "Great composition and colors. Unique".
Marco Traverso: "The great camera angle, the textures and details, the extreme photorealism make you feel like you are up there in the stands, smelling motor oil and gasoline and waiting for something exciting to happen".
Arseniy Korablev: "This work also stands out from many of its style and completeness. Made neat and harmonious".

Special prize from RebusFarm team gets "BMW M8 GTE" by Paul Haase.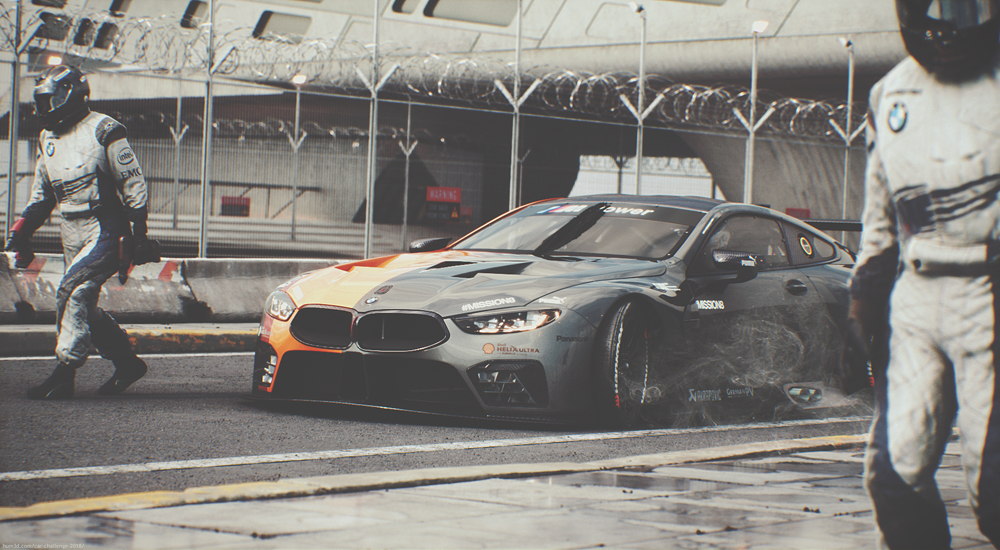 Rémi Arquier: "I would love to mention the realism of the whole scene, the smoke, the ultra HQ car and the atmosphere".
Carrie Mok: "Lovely mood here. Feels like we're right in the middle of the scene with the BMW".
Fernando Tella: "This image makes you feel the thrill of the races; it seems to be part of the final epic scene of a cars movie. The modelling detail that can be seen in the WIP images is awesome, even though most of it cannot be seen in the final image; also the smoke effect, texturing and general mood are very convincing".

Special prize for the best work made with using LightWave3D gets "Desert Gas Station" by Alessio G. Santino.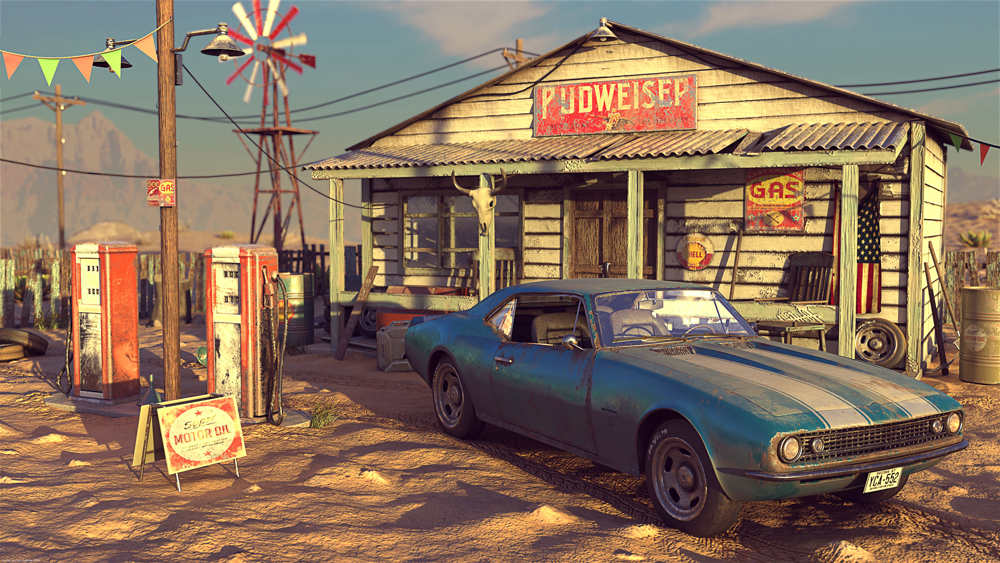 Deuce Bennett (LightWave3D): "Lots of details, the whole image is used. Enough 'dirt' to tell the story".

Special prize for the best work made with using Marmoset gets "Old Dump Truck" by Michal Mierzejewski.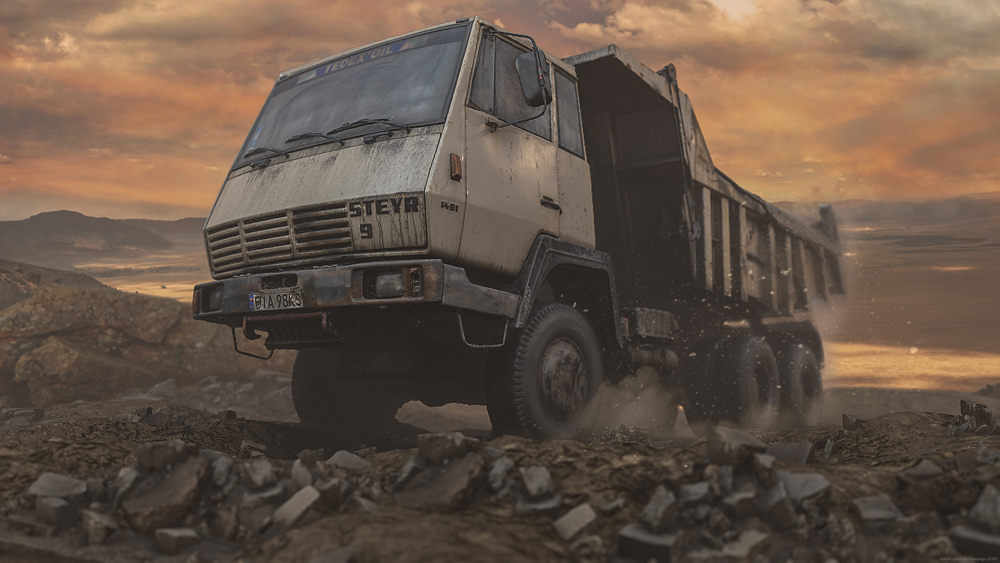 Special prize for the most unusual design of a car from Teay Conceptor gets "Floating" by Rashed Abdullah.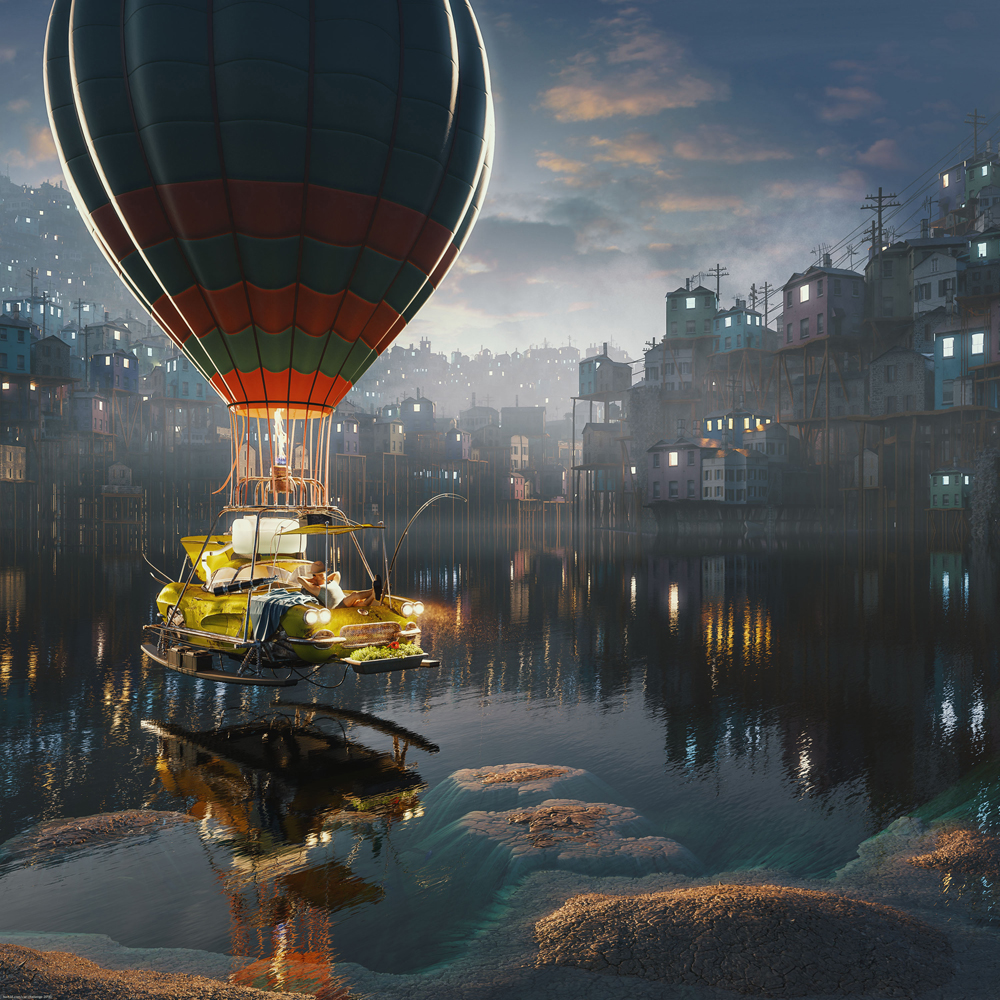 Arseniy Korablev: "Unusual and harmonious car. In addition – an excellent illustration, the city looks very cozy and beautiful. The feeling that I see old-school illustration from award gallery. But this competition is primarily about creating cars, so here a separate special prize ;)".
Yuriki Lebedev: "I love mood very much! I like this feeling of water, that depth of scene. Amazing lighting and composition".
Jim Thacker: "The car itself plays second fiddle to the balloon and surrounding enviroment, but it's a beautiful, serene image with an appealing painterly quality".
Stephanie Schenck: "Whimsical, with beautiful lighting and lots of interesting detail".

Special prize for the best work made with using Silo3D gets "Back of the City" by Ahmet Salih.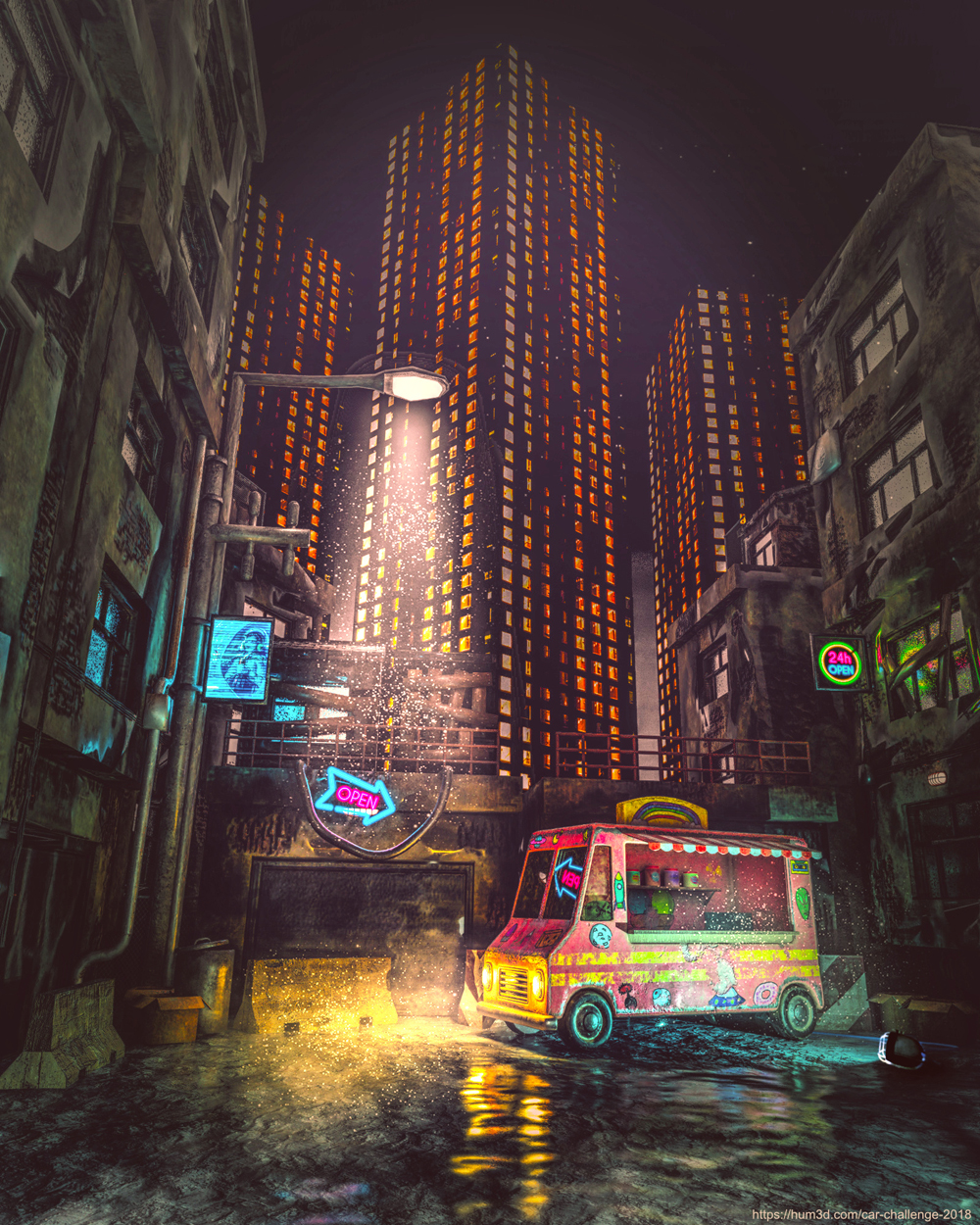 In addition, we'd like to point out the works of other finalists, which we can't just ignore and slide round.

"Aero City" by Batjin.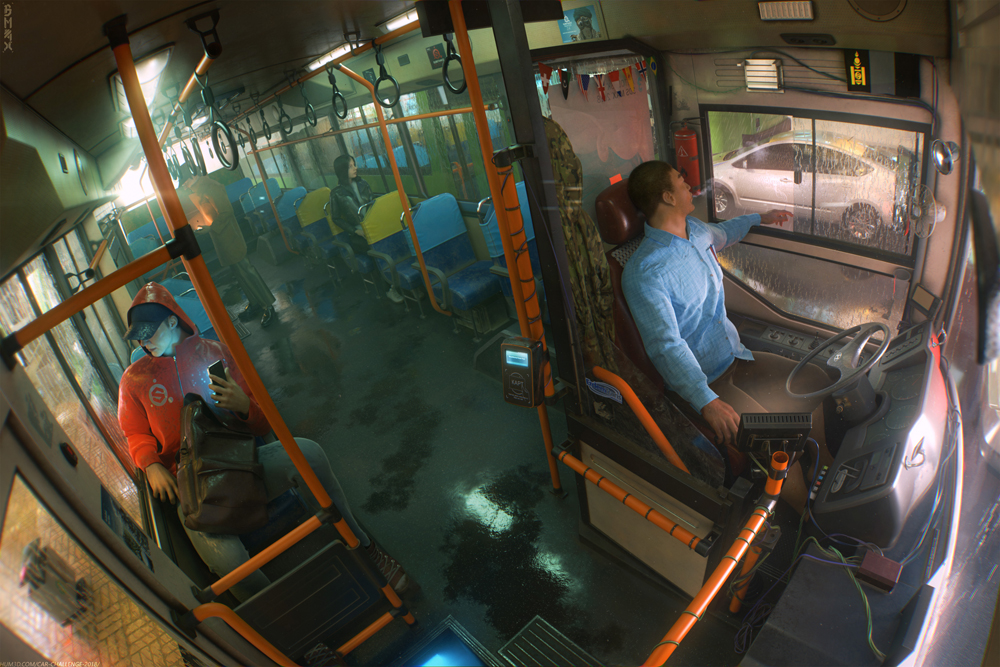 Carrie Mok: "An interesting inside look that's captured the mood perfectly, and love the story behind this".
Guilherme Henrique: "Audacious scene! I love all the hard work put in the modeling, shading and camera layout. This environment has lots of depth, all the small details and relatable theme creates a really enjoyable experience, the chaos and complexity of an urban environment is depicted with majesty here. Excellent!".
Jim Thacker: "Part of me feels that it should lose points for the car being only partly visible outside the window of the bus, but it's such an unusual composition, and there are so many little details to take in. I'd probably looked at the image three times before I spotted the Substance Painter logo on the hoodie of the passenger on the left".
Maciej Ptaszynski: "Superb! I love the mood of this image. Modeling is a piece of art!".
"Travel to calm" by Mohammad Mansouri.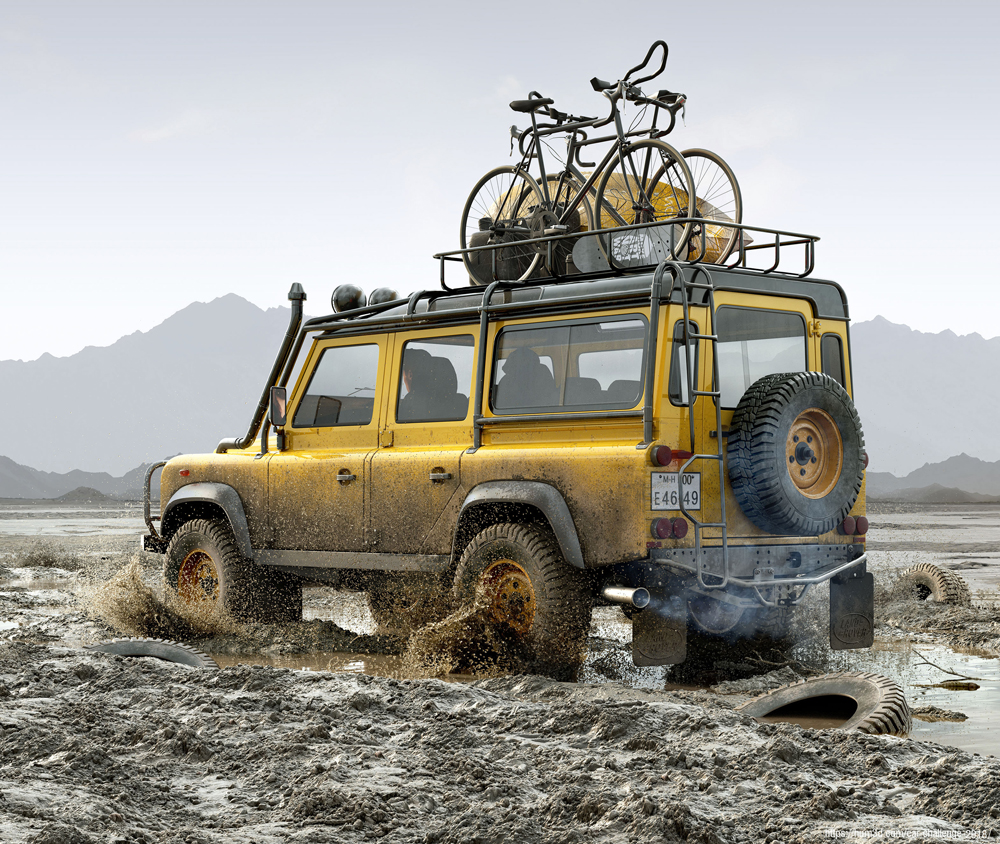 Deuce Bennett: "Love images that tell a story. Images that see the WHOLE image, is part of the story. Also, doing "clean" is easy, dirty is another concept".
Zacharias Reinhardt: "The texture and simulation details in this rendering are exceptional good. Going on a muddy adventure".
Fernando Tella: "Clean job, neat render, dirty car! Nice work with the simulation of the splashes, the modelling of the car and the environment".
"Honey, I'm gonna be late for dinner…" by Strahinja Drazic.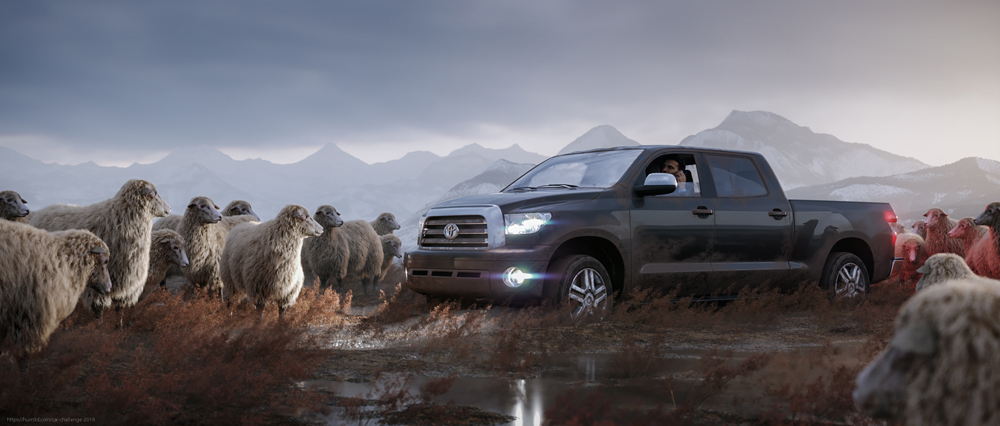 Guilherme Henrique: "Straight from a car commercial! I can pretty much imagine watching this on TV! – Love the sheep, it balances the composition in a very clever way. Everything flows nicely and it's very pleasing to look at. Nice work!".
Arseniy Korablev: "I really like this artwork. And strange that it went unnoticed by users. Despite the rather simple performance, it look finished and have an interesting plot. Rams look very natural, image looks like a shot from the video".
"Amber Roadster" by Mario Piercarlo Marino.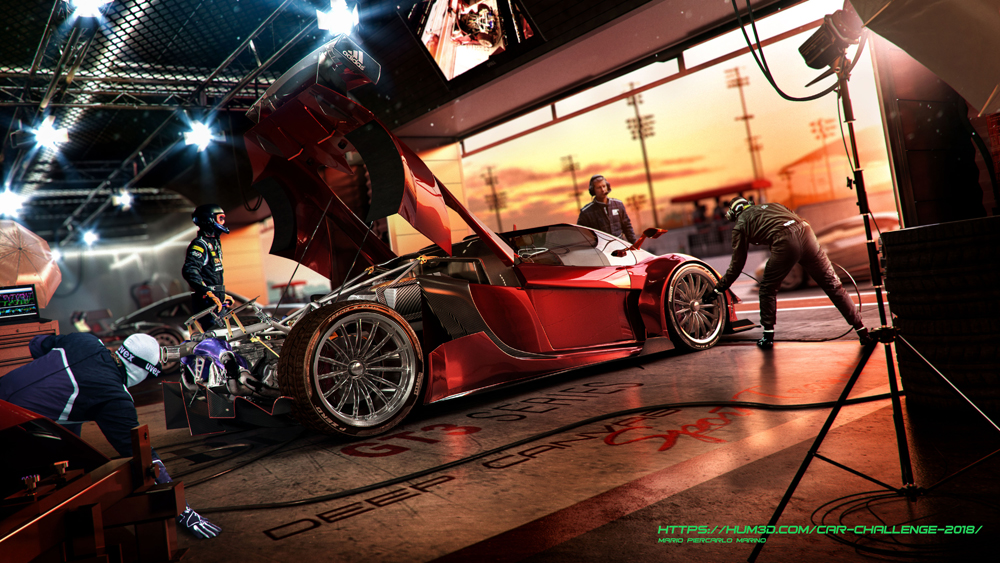 "Breeze" by Marcin Karkowski.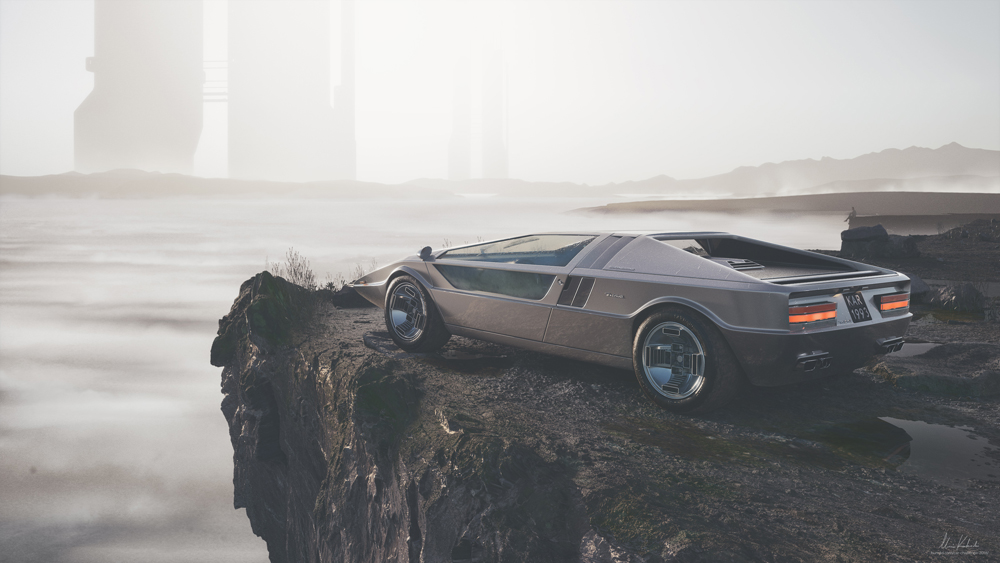 Maciej Ptaszynski: "I love everything about this image. The mood is just amazing! Drops of rain, fog, puddles, futuristic car, city in the background and also the car looks great! It's just perfect! Congratulations!".
Marco Traverso: "Combining one of the most iconic dream cars of the past with a futuristic scenario always leads to interesting results. In this case the mood and the landscape are able to fully transport the viewer into this desolated yet fascinating world".
Related searches: bmw x5 3d model, ferrari f40 3d model, mclaren p1 3d model.
For those who like statistics (which software were used by participants):
Special thanks to the sponsors who support our event and help 3D artists to create their masterpieces. Each of them is the best in their field. You can always count on their quality service, and so we are happy to recommend you their products.
Would be great to see your comments and thank you all for amazing challenge.