We are very happy to announce the winners of the Car Render Challenge 2019.
Participants were to create a car 3D model, add 3D environment and then create a beautiful 3D render. Jury paid attention to the idea, the quality of performance, time and efforts spent on the modeling, and to the overall impression created by the work.
We are deeply grateful to all the participants for their works and hours of modeling – it was a great pleasure for us to follow the creative process. It was a fantastic contest!

First place is Chevrolet Corvette 1960 by Ehsan Darvishi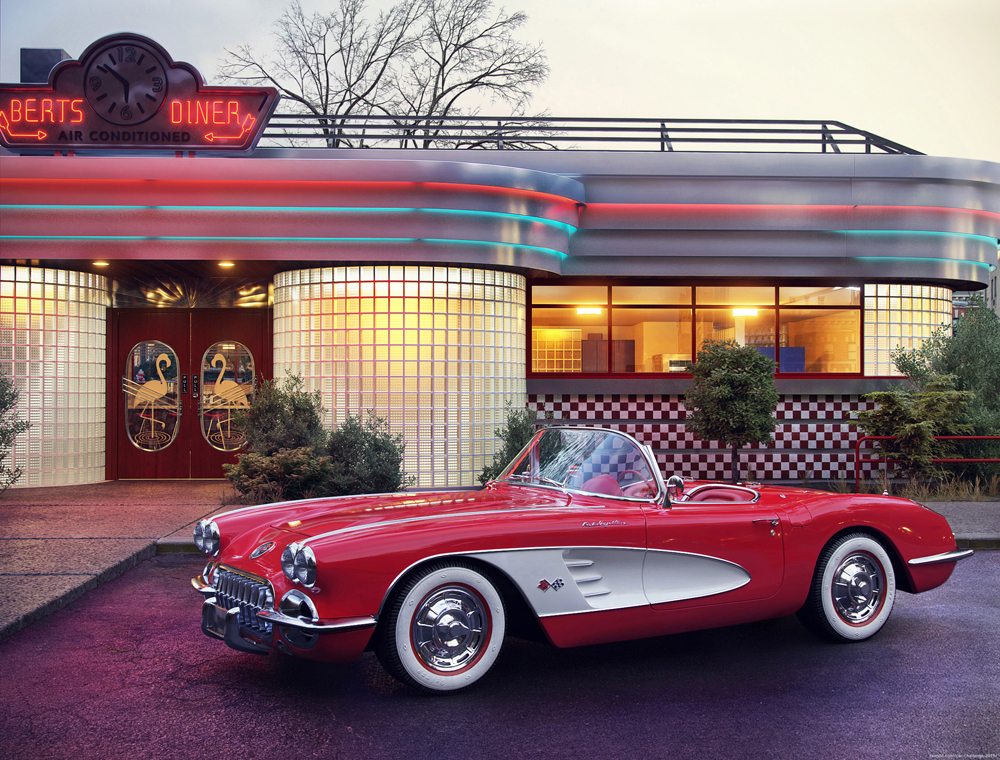 Also Ehsan gets Special prizes from Substance team for the "Best render that made with using Substance" and from Pulze team for the "Best architectural environment".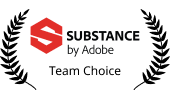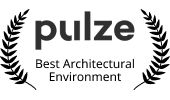 Made with using 3Ds Max, Substance Painter, Corona Render and Photoshop.
Substance: "Great texturing from tires to dinner and road".
Pulze: "When interpreting any image, we build on existing experiences. The recipient scans and looks for matching patterns in their memories. The harmony between the main theme and the background in the picture enhances and facilitates interpretation for the recipient.
With this picture, there is a perfect harmony between the legendary Corvett's elaborate detail and the world in which this car lived. Scenes of American Graffiti float in front of our eyes and crave for an unbridled age that we will never be able to live.
Maybe technically the image could have been better but it has a smell that can be understood without any description. Well done!".
What does jury say:
Pierre Maheut: "Love it! The car as much as the environment. That's is great 3D artistry!".
Calvin Bacon: "A fantastic photorealistic render that recreates a snapshot of the past. The story, image quality and continuity between the car and environment make this my top pick".
Gleb Alexandrov: "Reminds me of the hyperrealistic muscle cars paintings by Cheryl Kelley, I'm in love with that style. Awesome!".
Tom Grimes: "I love the colors, lighting, and realism in this one, and then it taps into a soft spot I have for old Corvettes and the 1950s/60s style in general – not to mention the building reminds me of one of my favorite (1960s themed) pizza restaurants!".
Mark Segasby: "This is a very accomplished piece, the car is perfectly modeled and beautiful. It feels straight out of the 50s, with the authentic diner in the background. As an image, the whole things work really well and has a very photographic feel. I feel the framing of the shot feels like a photograph from that period. There are certain bits of this I would improve that I have issues with. I'd love to get a bit clearer visual separation between the car and the background…the shot kind of feels a bit busy. I'd love to see different lighting treatments, maybe dusk, with a darker sky. I think the white sky above the diner is pulling your eye up, whereas a dark sky would help you focus on the car. In the end this is a car modeling and render competition and this classic hits the spot for me. This image is like a time capsule, a perfect piece of America".
Maciej Ptaszynski: "Great photorealistic image! I just miss some people inside the building".
Jonathan Holmes: "Who doesn't love the classic retro-era autos? This Corvette is beautiful and the scene it belongs to is picture-perfect."
Stephanie Schenck: "This feels like a well-composed and well-edited photo; great color tones and attention to lines and curves".
Jim Thacker: "An appealing image, evoking a feeling of warmth and nostalgia".
Quick interview with Ehsan:
– How long have you been into 3D modeling? Please, tell us about yourself.
Hello, I`m Ehsan Darvishi and so happy with this interview. Thanks a lot, Hum3D.
My interest in CGI began during early adolescence. When I was around 15 (now I'm 31), I started working with 3D software myself. However, learning was everything but easy back then. There was no one who could teach me and educational resources were hard to come by. Fortunately, passionate as I was for CG, I was able to learn a lot on my own. Of course, after many years of learning resources became available. I did not restrict myself and learning 3D modeling, texturing, lighting and rendering I even learned animation. I always tried to update myself and learn more. Because I love 3D!
– How much time did it take you to create your work? Did you face any difficulties?
When I decided to start, only was 10 days left and time was short. However, in nine days I was able to finish it. In addition to the time, I didn't have good hardware.
– Do you have any advice for future participants in the competition?
My advice is to work with love. Love works miracles. In addition, do not forget learning. Learning is never-ending.

Second place is Courage by Daniel Vesterbaek
Made with using Blender, Cycles, MakeHuman, Marvelous Designer and Photoshop.
What does jury say:
Arseniy Korablev: "Very high quality. The plot and attention to such details as tire tracks and warm air harmonize perfectly together".
Eric Smith: "I know this moment, for any fan, and it's not just a render of a car, it's a recreation of a moment and a beautiful render".
Calvin Bacon: "A single image can tell stories and this one says it all. A great act of kindness and selflessness showcased in a beautifully composed render".
Gleb Alexandrov: "Crisp, realistic and really well done, definitely one of the best car renders in the competition".
Guilherme Henrique: "Such a strong backstory, this is what true artworks are made of. Bravo!".
Alessandro Maniscalco: "I love this image for the story itself. A crashing F1 with an injured pilot who will be saved from another pilot. Great picture with stunning details and environment. Character perfectly integrated into the image. Definitely an awesome picture!".
Fabio Allamandri: "The image perfectly takes a snapshot of a dangerous moment where everything has to be done quickly. Modeling, lightings, colors, rendering and composition are perfect".
Zacharias Reinhardt: "This render has all it needs. A good story, the composition captures the dramatic nicely and the technical quality is top-notch, especially on the damaged car".
Lebedev Yuriki: "Boom! And I'm instantly there. On that track. Watching this terrible crash. Listening to the buzz of anxious voices. I believe. What else can you say?".
Quick interview with Daniel:
– How long have you been into 3D modeling? Please, tell us about yourself.
In 2014 I discovered 3D modeling when one of my friends introduced me to Blender. Right away I wanted to model cars and got very frustrated when I realized how hard it was. From 2014 to 2017 I was studying for my "studentereksamen" (the danish equivalent to a high school diploma) at a scientific/creative school. I got introduced to 3D printing and was starting to work as a freelancer for other students, helping them model and render their conceptual product designs. After I finished school, I spent a year freelancing before I went to work at an animation company in Hamburg, Germany. It was a huge challenge for me as it was my first job in the industry, and I learned a lot about structure, pipeline, (simple) color science and project management. Now I am back in my home country, working as a motion designer at a small studio in Aarhus.
– How much time did it take you to create your work? Did you face any difficulties?
I spent the first couple of days of the challenge just reading about Ayrton Senna and getting to know the character. Doing this research somehow got me even more engaged and excited about the project, and it gave me a clear idea about what feelings I wanted the viewer to have. After that I quickly blocked out the scene in 3D so I knew what I had to model and which parts of the cars I needed to detail the most. Then I started modeling the car and adding in details in the scene starting with the most important objects working my way to the background with the people, the trees and the birds in the sky. I tried to make every detail in the image contribute to the story. I spent almost all the time after work refining the scene and adding smaller and smaller details until I literally couldn't fit more geometry into the memory of my computer. The biggest challenge was to make the composition easy to read and not make the image come off as too chaotic. To get rid of some of the visual noise and unnecessary background details, I used a lot of mist that separated the foreground from the rest of the scene. I was also struggling a lot with the colors and I don't think I ever really got them right.
– Do you have any advice for future participants in the competition?
First of all, it's a good idea to make something that you care about and that sparks some emotions in you. Try to focus on what you want the viewer to feel when they look at your image. Telling a story in your image is a great way of making people feel something when they look at it. Secondly, spending more time in pre-production saves you a lot of work later in the process. Try to think about the decisions you make early on in the process and find out if that decision benefits, or goes against the vision you have for the project. When if doubt, try out multiple options and see what works better. Try to learn as much theory as possible. Theory about colors, composition, silhouettes – even movements – will help you with decision-making and make the entire process less of a guessing game. And remember to enjoy the process. Some days might be tough, but overall – if working on the projects makes you happy, you are definitely on the right track.

Third place is Stratus by Carlos Colorsponge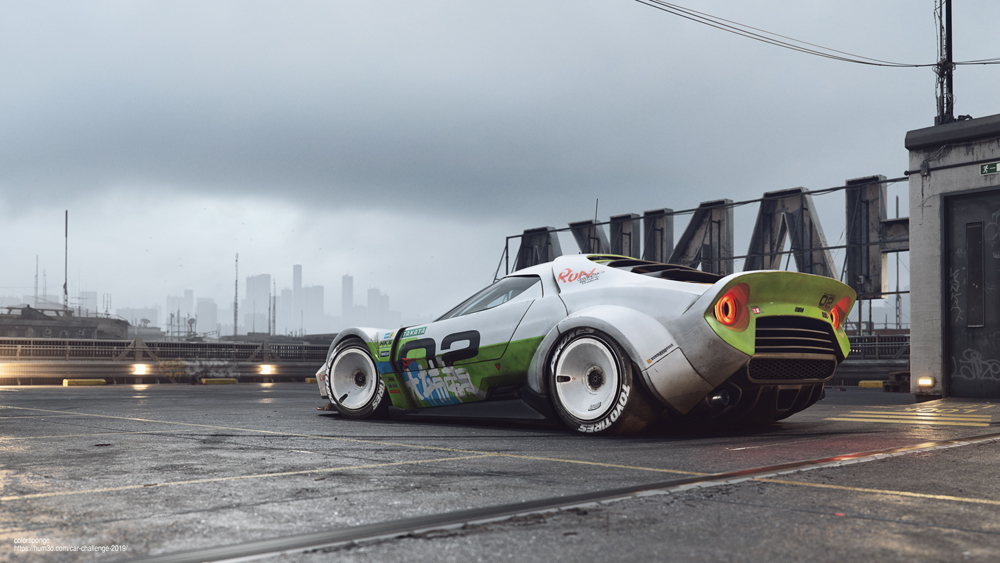 Made with using Maya, V-ray, Substance Painter and Photoshop.
What does jury say:
Arseniy Korablev: "It looks like a poster for a racing game. Fresh and spacious work. The car looks futuristic :)".
Pierre Maheut: "Love the attention to detail and the retro futuristic treatment of the car".
Kirill Tokarev: "Really like the texturing on the wheels".
Jules Urbach: "The atmosphere is perfect and overall the piece looks great and the rendition is flawless".
Gleb Alexandrov: "I love the unbeatable center of interest and the overall minimalism (although the details are certainly there!). A calm color palette is also something that I appreciated".
Guilherme Henrique: "Great render, all-around. The shading is spot on, a cloudy lighting-scheme is a challenge by itself – and you nailed it!".
Maciej Ptaszynski: "Great mood, amazing execution. It's a perfect image. Congrats!".
Zacharias Reinhardt: "I really love the somehow futuristic but used design and feel of the car. The environment and atmospherics add to it greatly".
András Vida: "This convinced me on many levels. It's visible that the person behind this picture has knowledge of how to visualize an element. It has a beautiful and realistic depth, background, middle-ground, and foreground. Additionally it's intelligently set up that the bright car should be contrasted with the dark letters behind it. The color palette is great, the textures and details are fantastic, meanwhile still achieving realism. The only thing missing is some sort of story/something that catches our fantasy. Great job overall".
Lebedev Yuriki: "No people. No story. Just a render of car. But damn good render! So many small details. I love colors and composition!".
Jim Thacker: "A beautifully realistic image. Both car and environment feel authentically grimy".
Quick interview with Carlos:
– How long have you been into 3D modeling? Please, tell us about yourself.
My name is Carlos Pecino, and I've been involved in the CGI world around 16 years, but only in the last 4 working professionally as an automotive CGI artist.
As long as I remember always I've been fascinated about car-design and sci-fi movies. I guess… do CGI came naturally.
– How much time did it take you to create your work? Did you face any difficulties?
In this project, I spent around a few days to finalize the design, 1 week modeling the car and 4 days the environment.
Definitely, the main challenge to me, as usual, is the lighting and composition. The crucial process where doesn't matter how good could be your idea and design if your lighting and composition are wrong.
– Do you have any advice for future participants in the competition?
Maybe because I'm getting older but… I would say that make sure you are having fun during the job and put in practice new tools and workflows.
We congratulate the winners!
Special prize from Autodesk team for the "Best render using 3ds Max or Maya" and Fox Renderfarm team gets "The Retro Masterpiece" by Surjendu Das.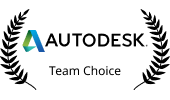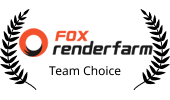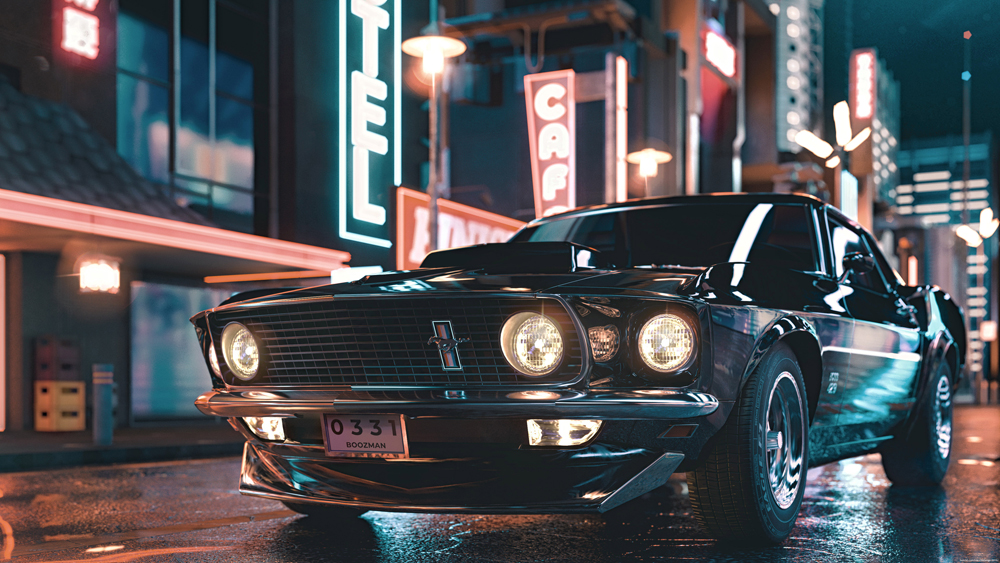 Fox Renderfarm: "Everything about this work is just well designed, from composition and mood to modeling and materials, making the eye-catching vintage Mustang look strong and smart".
Special prize from Corona team for the "Best render that made with using Corona" and Exlevel team for the "Best environment with plants" gets "My Precious Journey" by Anupam Das.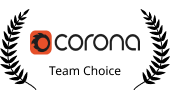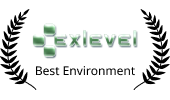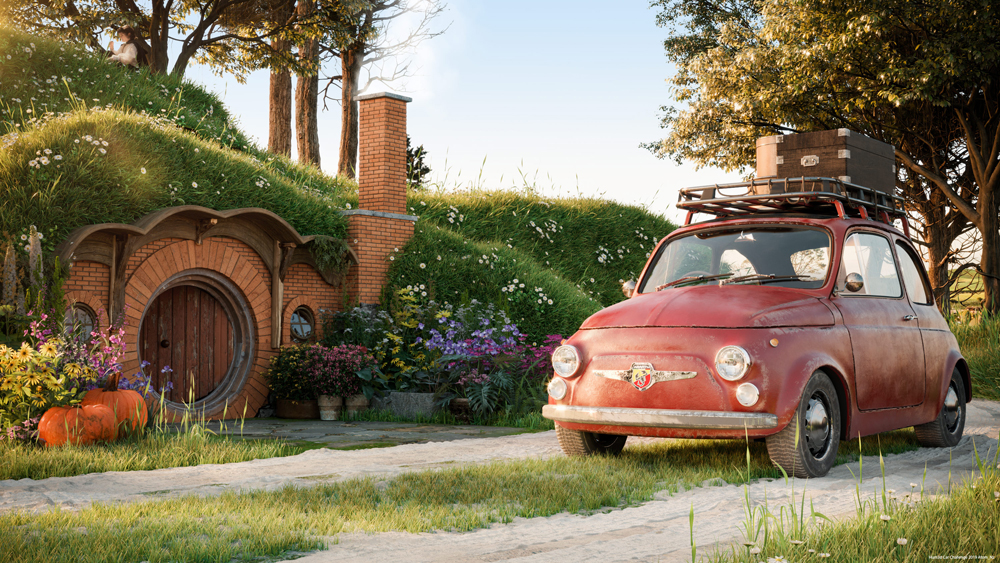 Corona: "We love the colors and lighting, and here that extra subjective appeal comes from the stories it suggests, in particular with the juxtaposition of a car and a house that seems to belong to some hobbits! What kind of car would hobbits drive? :)".
Exlevel: "Very realistic environment! The grass looks amazing in the sunlight".
Special prize from Otoy team for the "Best render that made with using OctaneRender" and Rebusfarm team gets "Mixed weather conditions" by Volodymyr Borovkov.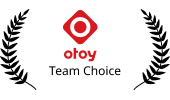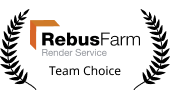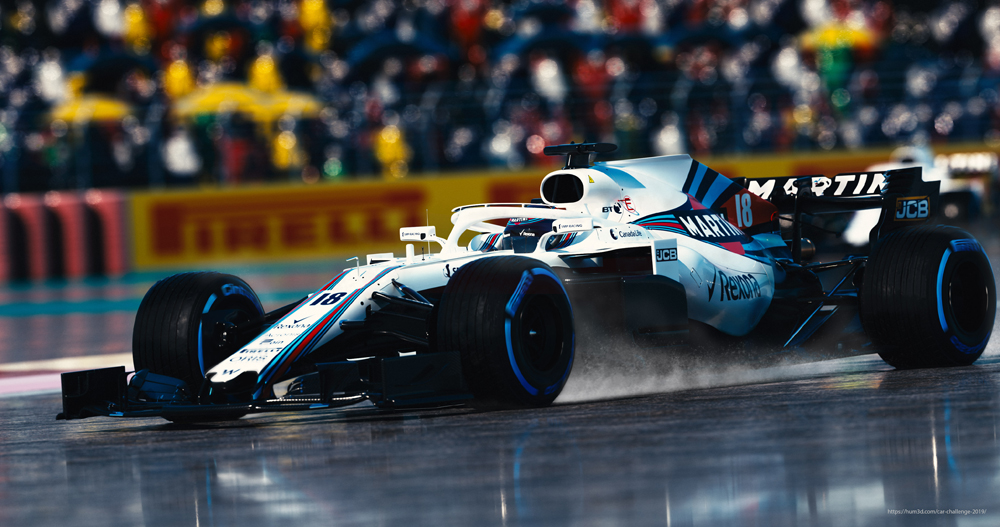 Otoy: "The render has it all: details, story, composition – it is a dynamic image that captures not only the object, but also the mood and atmosphere of the thrilling moment in a race when anyone can win".
Rebusfarm: "We chose this image because we love how real the racing car looks. The artist paid a lot of attention to all the details on the car as well as the water on the racing track. Furthermore, we like the clear and bright colors in this image.".
Special prize from Maverick Render team for the "Most attractive illumination" gets "Choose your prize" by Popescu Tiberiu.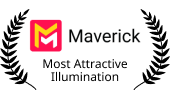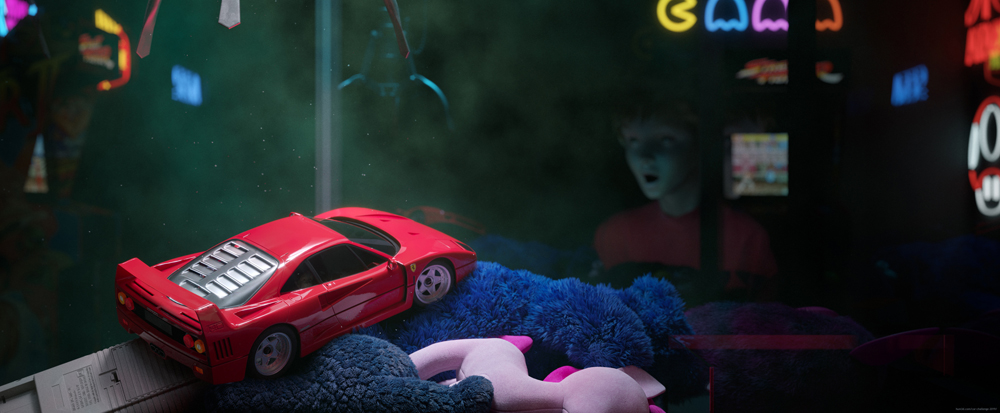 Maverick Render: "It is a magnificent example of how to tell a story through the lighting. The composition is perfectly well cared for and thought out, with an emphasis on the car but subtly telling many other things that happen in the background, from the neon, the stuffed animals, the child's face…
Also note that being an artistic image, has not sacrificed photorealism, and as a negative point, the child is too creepy, although it introduces an interesting point of terror that surely is not intended but opens the mind of the viewer to other stories. Great job!".
Special prize from Teya Conceptor team for the "Most unusual design of a car" gets "Steampunk is Back" by Alper Yenice.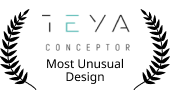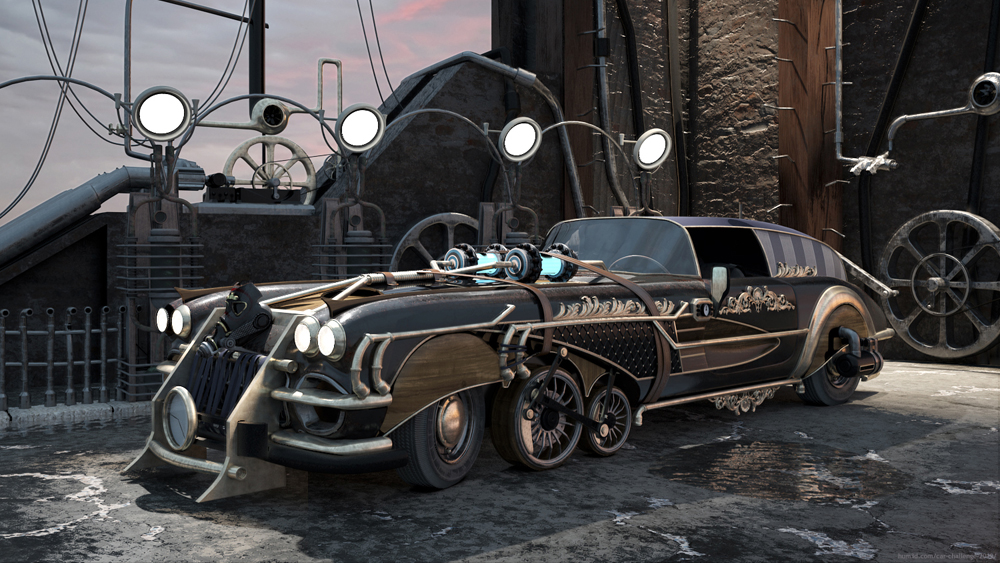 Teya Conceptor: "We love steampunk and such long cars.
Perhaps it was worth paying more attention to the render and a more harmonious (and less chaotic) design, but we like the idea.
We think Teya Conceptor will be useful to the author".
Special prize from InstaLOD team for the "Most detailed car model" gets "Instagrammer" by Vlad Hladiyevskyy.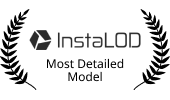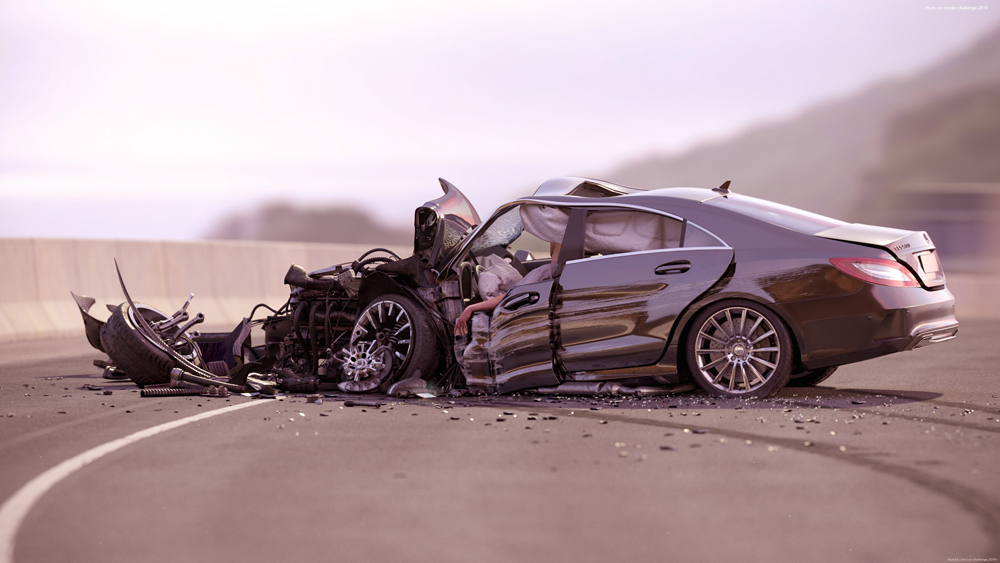 InstaLOD: "Compared to other models where vehicle interiors don't need modeling because they are not visible, this render is completely exposed and shows it all. Almost every part of this car is damaged, bent, broken, ripped apart or has been completely shattered. The amount of detail that went into this shot is crucial, to get it to look as realistic as it does.
The detailed modeling and texturing convey a horror scenario within a powerful image".
Special prize from HDR Light Studio team for the "Best Lighting" gets "Cyberpunk Streets" by Todor Vladev.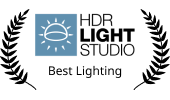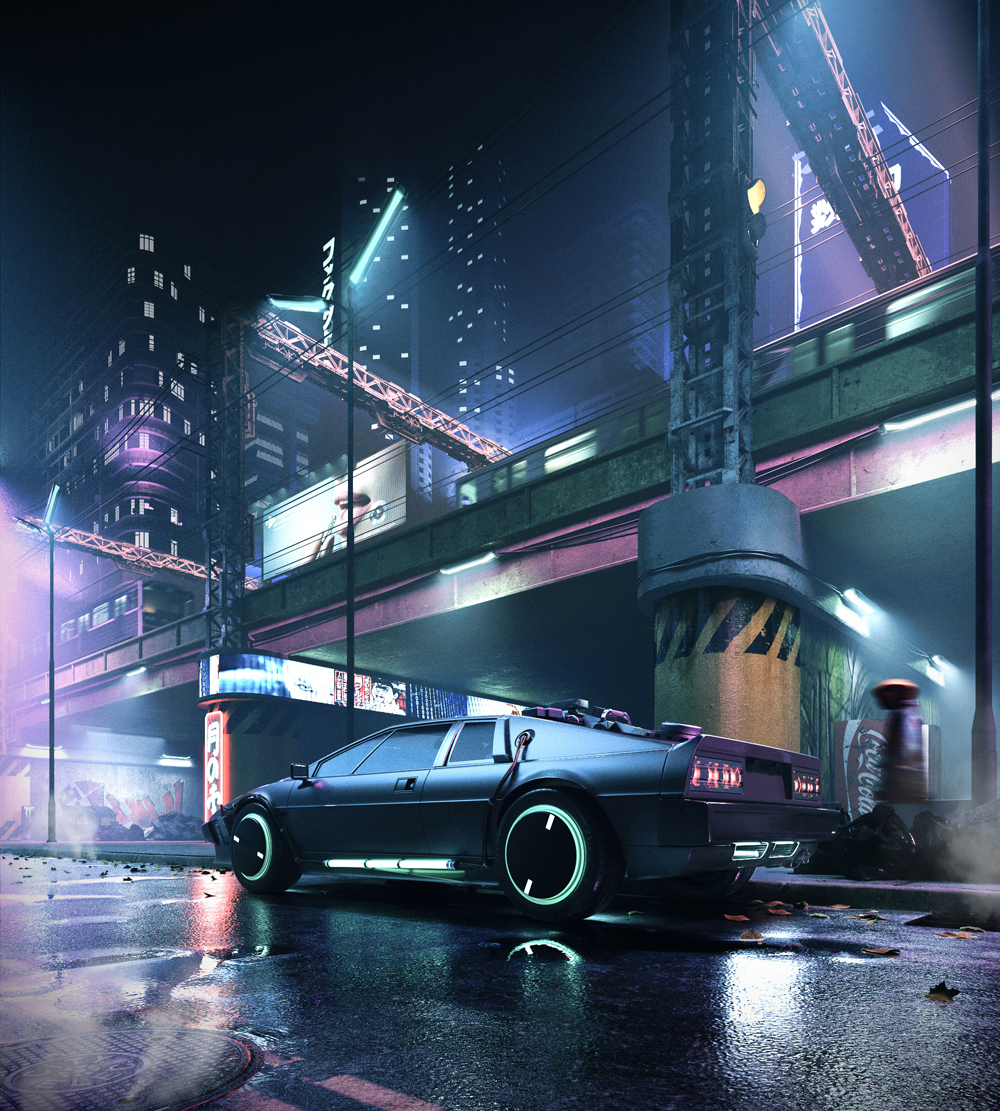 HDR Light Studio: "It's the entry for us where the lighting has played the largest part in the success of the final image. We like the feel and coloring of the pink and green lights in this night time shot. The black satin car is described only with reflections of this lighting. We would like to see a bit more separation of the car from the background, with some rim lighting around the front of the car maybe. Plus we find the sign at the front of the car competing with it, and would maybe have had the car further to the right in the shot to avoid overlapping the sign. We increased the saturation on this image and found we loved it even more with more colorful lighting".
Special prize from Marmoset team for the "Best render that made with Marmoset" gets "The racer of the year" by Artem Zaytsev.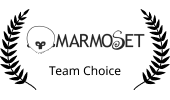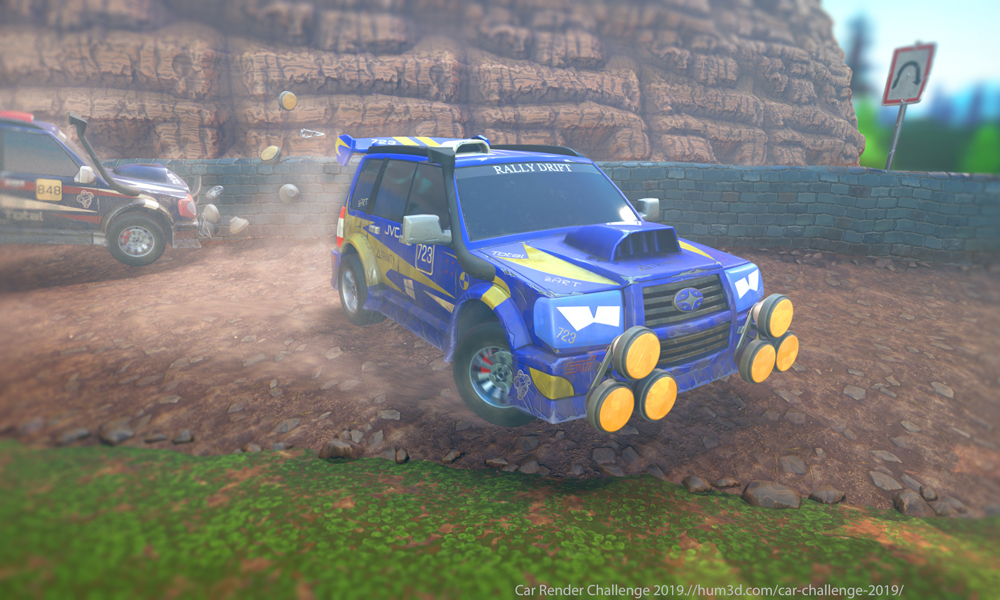 Marmoset: "We chose this for the nostalgic gaming feel it gives off. Great action through a tough fought turn. Rally racing around or getting out and doing some good old platforming. This one certainly brings back various memories!".
Special prize from LightWave3D team for the "Best work that made with LightWave3D" gets "Terra 2" by David Aguero.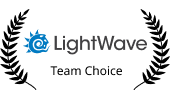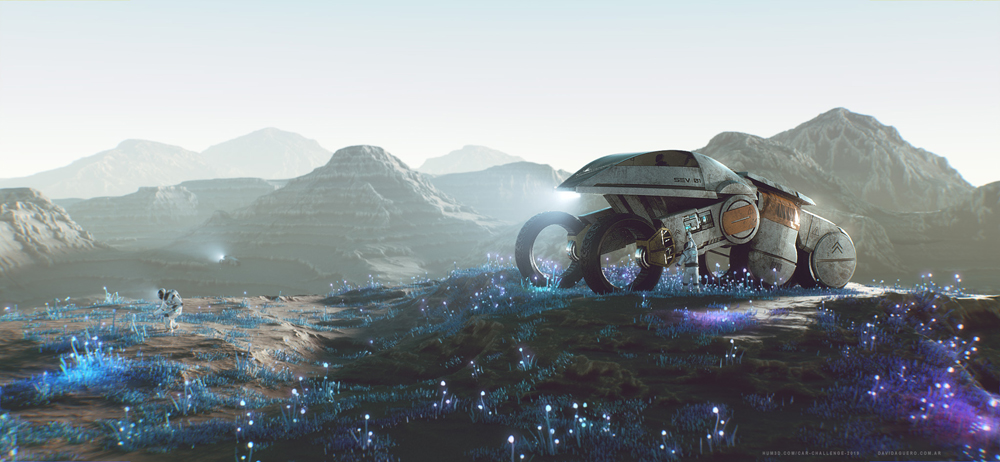 LightWave3D: "Environment, atmosphere, story – for us it's all here. Love the future concept, and that as we keep looking at this image we keep finding new things to discover".
In addition, we'd like to point out the works of other finalists, which we can't just ignore and slide round.

"Contrasts" by Christian Ewert.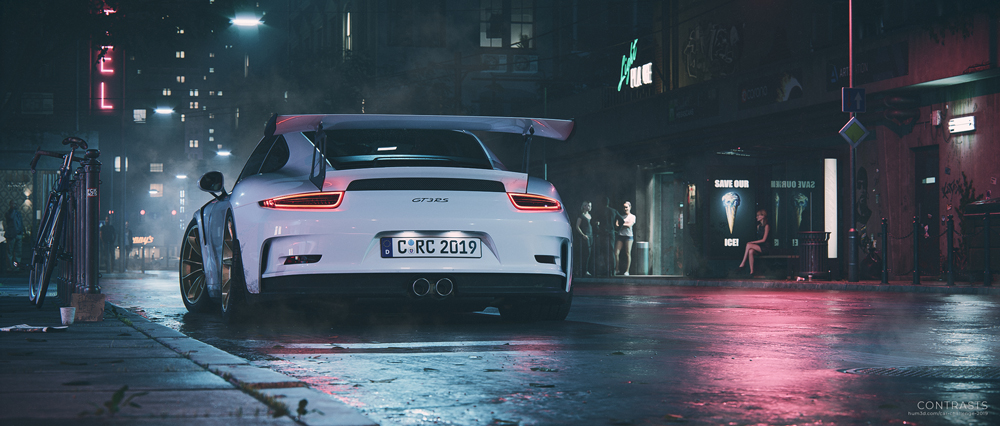 "Road Rash" by Arseny Lavrukhin.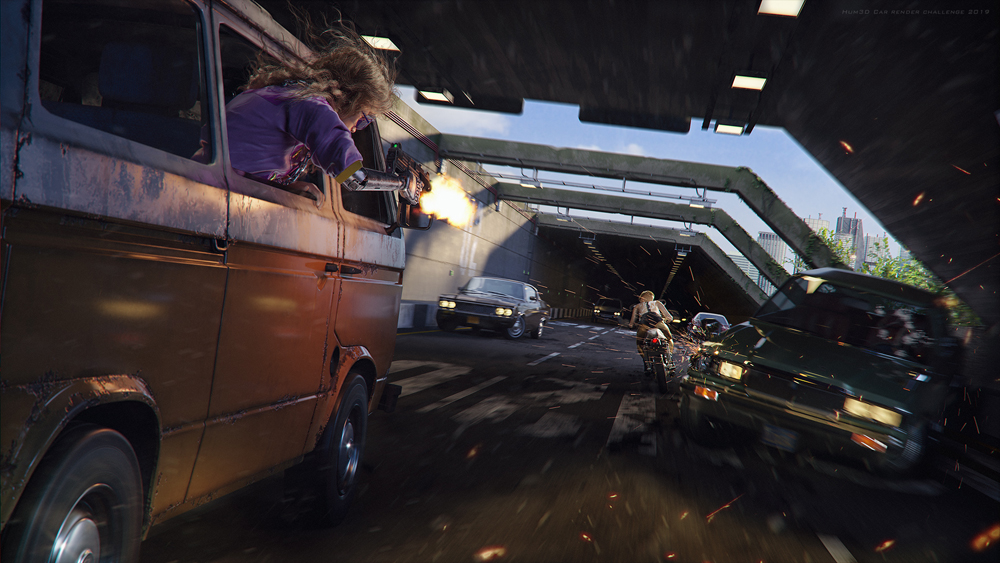 "Neon Car" by Lukas Walzer.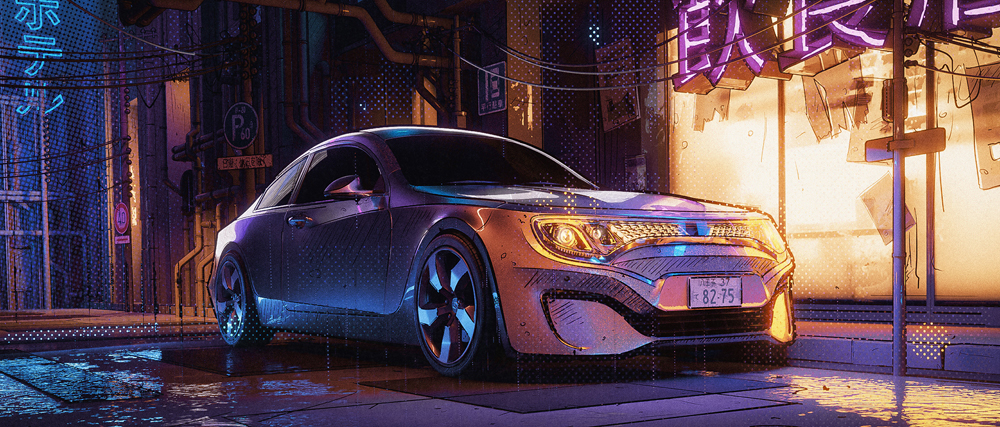 "The Miura Jota prototype takes over Targa Florio" by Mihai Tarus.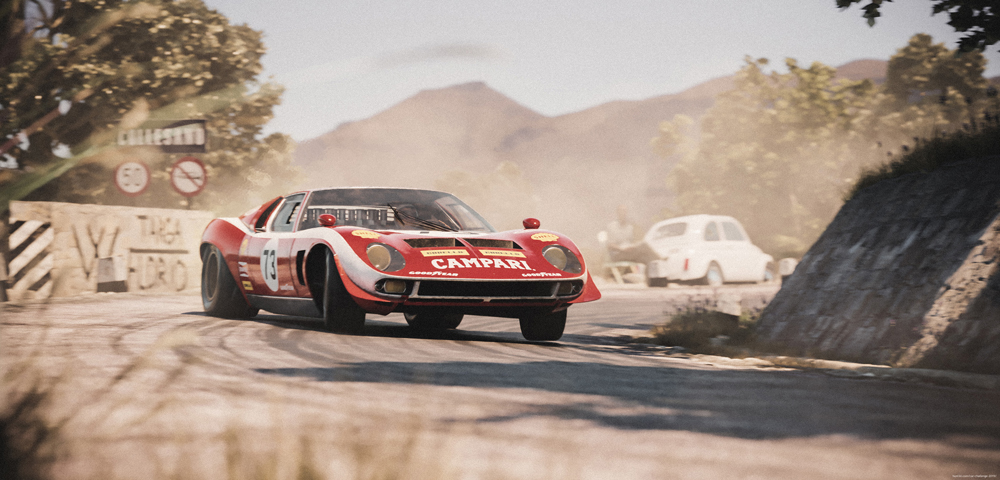 "A Grand Sport" by Alex Bowen.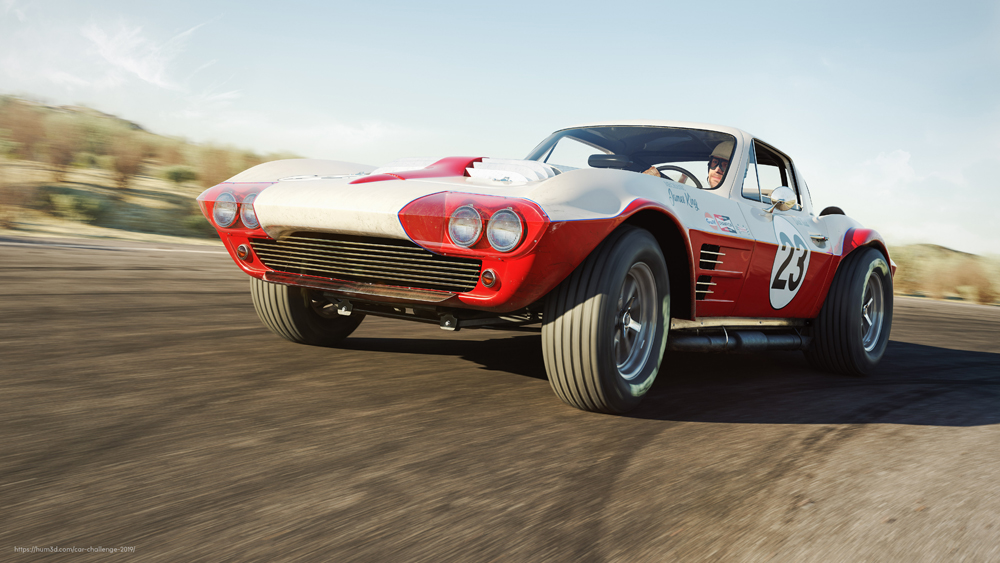 "Tire Slaying!" by Sergio Loza.
For those who like statistics:
137 artists took part in the competition. Twenty seven members of jury had different views on the top-five – thirty seven renders got votes (each place in top-five gives special amount of points: first place – five points, fifth place – one point. All points/votes are sumup).
Which software were used by participants: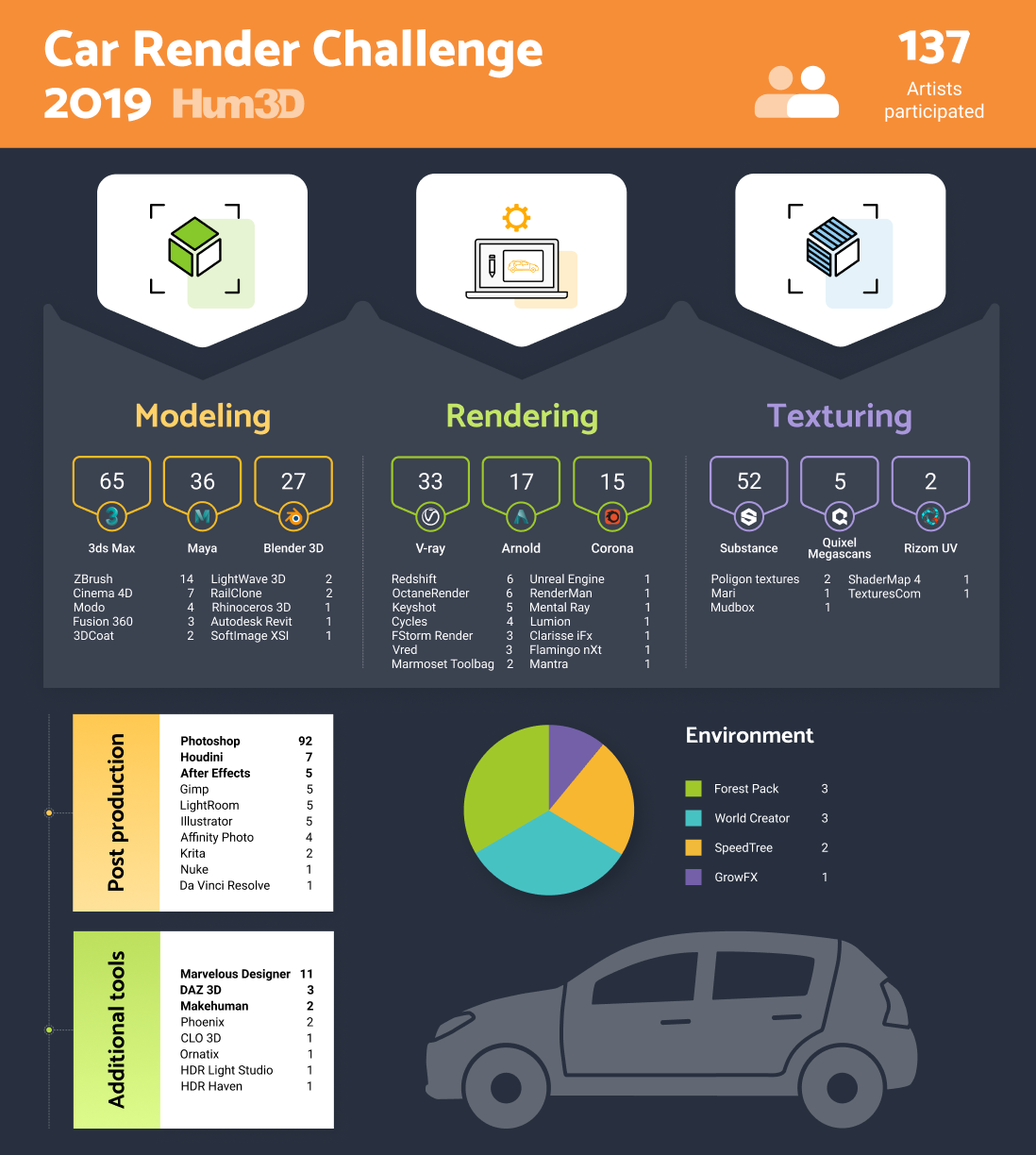 Special thanks to the sponsors who support our event and help 3D artists to create their masterpieces. Each of them is the best in their field. You can always count on their quality service, and so we are happy to recommend you their products.
Would be great to see your comments and thank you all for amazing challenge.