Hello everybody, our challenge for the best character of explorers of new worlds came to an end and it's high time to sum it up.
It was a fantastic contest – a lot of interesting ideas and ways to develop a theme. It was very hard to determine the winners as usually. Each artist has his or her own unique style, and we are sure that any of the submitted works is worthy to decorate the cover of a magazine.
In particular, we want to thank all the participants for their very interesting WIPs – it was a great pleasure for us to follow the creative process.
We are deeply grateful to everyone who supported our participants.
Well, let's go!

First place is Voyager by Luis Lara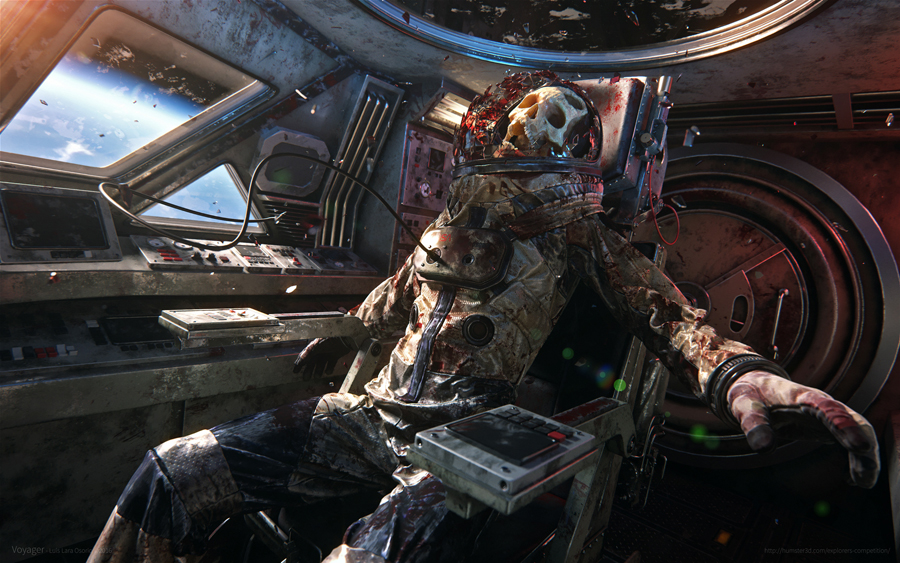 Amazing work with powerful mood. The author used 3ds Max, Zbrush, Substance Designer, Corona and After Effects.
Quick interview with Luis:
– How long have you been into 3D modeling? Please, tell us about yourself.
It was 2001, when I began my adventure in 3D world using 3D Studio Max 2.5. Right now I'm a professional CG FreeLancer in G24 Studio, working on many fields such as automotive, architecture, medics or product design; in projects all over the world. I'm also Aeronautical Engineer, but my true passion is 3D and I hope to stay many more years around here!
– How much time did it take you to create your work? Did you face any difficulties?
Yes, of course! What I really like of the contests is that I have a freedom that work doesn't gives to me, and I can approach the project as I prefer and try different things. But not only that, a challenge push me to my edge, doing my best and learning new techniques.
This work has took me about 300 hours, including all the learning process of ZBrush, Substance Designer and Marvelous Designer, and I'm very glad with all the knowledge aquired! That alone is worth the effort.
– Do you have any advice for future participants in the competition?
Be original! An original idea is very important to face a contest, but original or not, don't content making a nice scene, try the scene tells something. Best pictures are not the most spectacular o eye-catching, but the ones which you can see the history behind, not a simple image. And don't restrict yourself to your actual knowledge! Think of it as a chance to learn new things.

Second place is Child dream by
Evgeniy Shatohin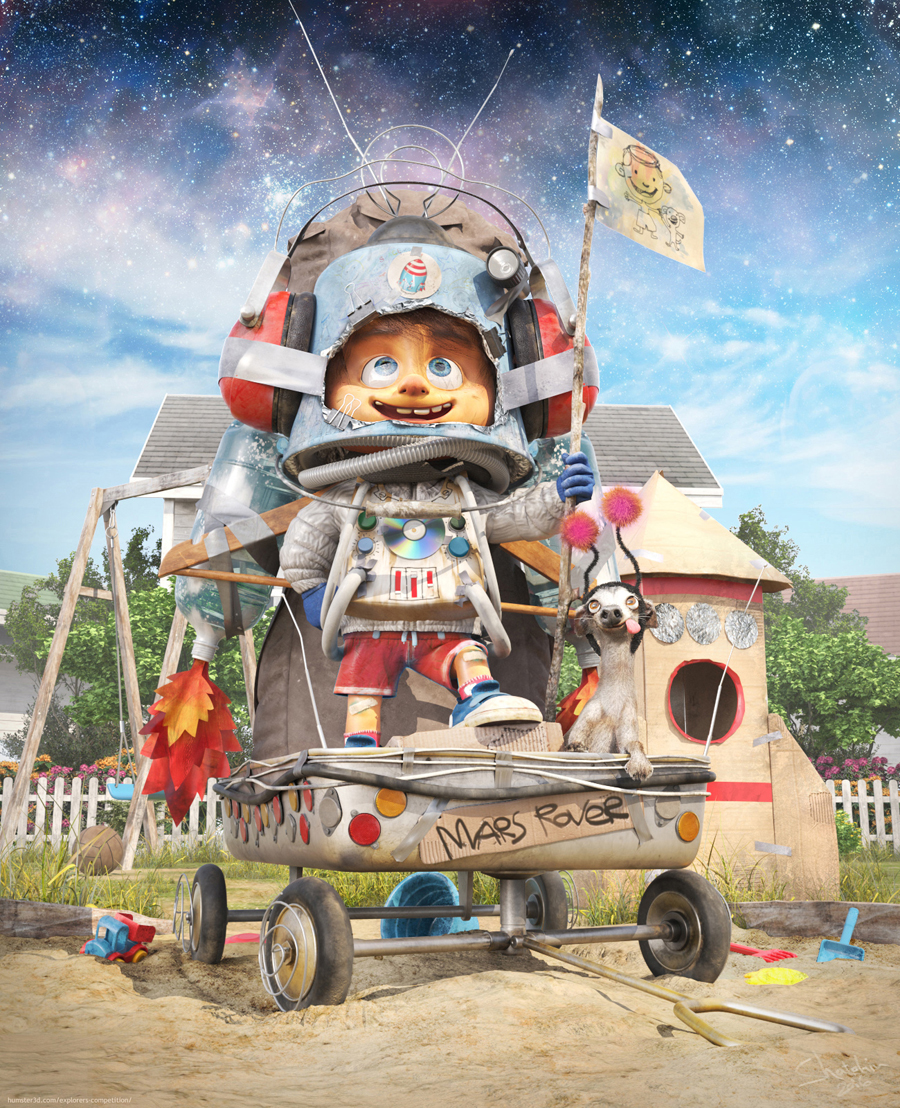 Nice idea, tells a great story through the many details and hidden gems and render looks great. The author used 3ds max, Mudbox, Corona renderer, Marvelous Designer and Photoshop.
Quick interview with Evgeniy:
– How long have you been into 3D modeling? Please, tell us about yourself.
My name is Evgeniy Shatohin. I started my 3D adventure like a hobby in last classes of school and continued at the Academy of Design and Arts. There 3D knowledges helped me to present my educational projects of architecture and interiors. Professionally I work in this area 5 years in different architectural and design companies.
– How much time did it take you to create your work? Did you face any difficulties?
The idea of the work came to me in the first week of the competition. But I started to implement it in the second month.
It took 4 weeks to finish this work from sketches to the final render.
There were many research moments, because I wanted to bring the mood of childhood, carefree and joy.
Basically I had difficulties with the creating of rig for characters, their poses and final understanding how they are going to look like.
– Do you have any advice for future participants in the competition?
Don't be afraid to try different things, even if you don't have experience with it.
This is a great opportunity to face with new challenges, get new experience and lift up skills. And most important, enjoy what you do.

Third place is Space Child by
Andrea Bertaccini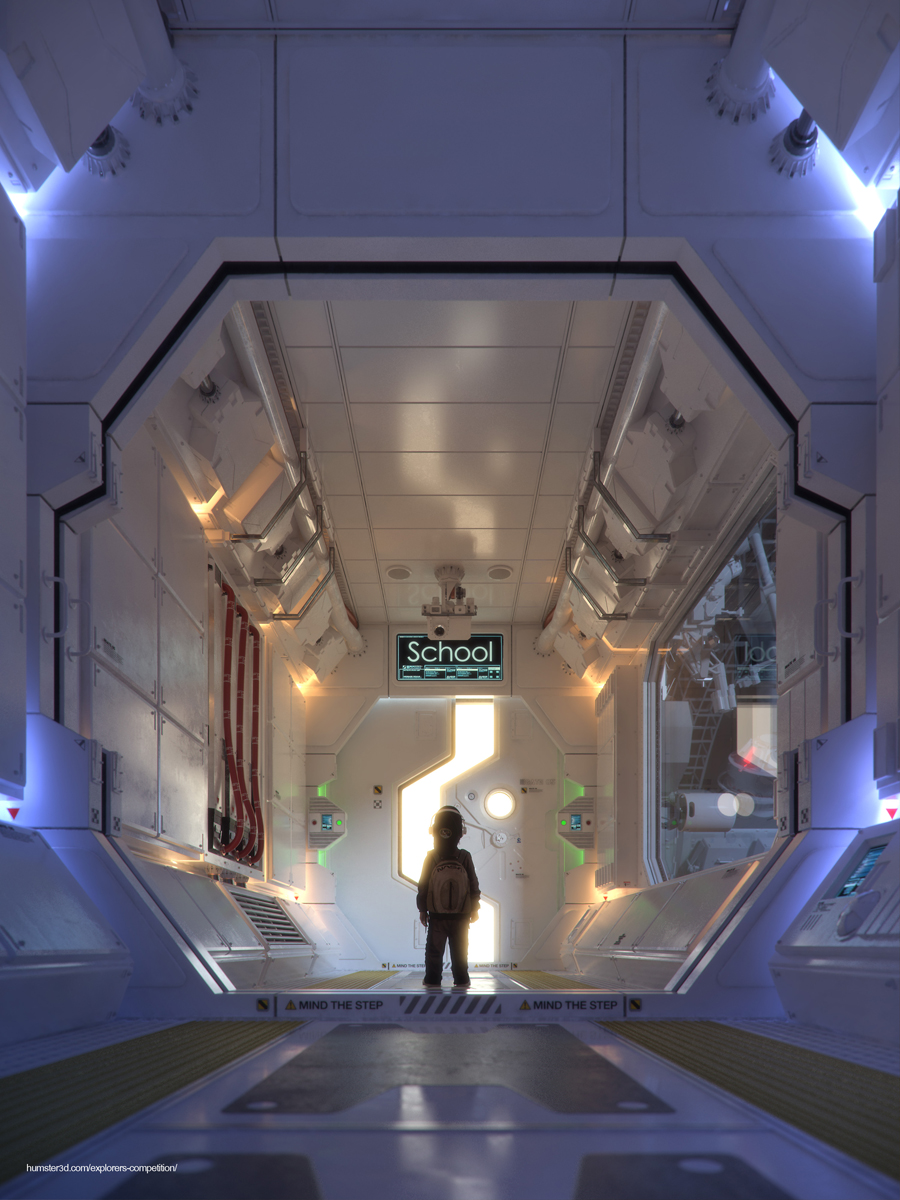 The work has a neat idea, a good camera angle that tells the story well of that scary first day at school, amazing mood, concept and result. The author used 3DsMax, Vray 3.3 and Photoshop CS4.
Quick interview with Andrea:
– How long have you been into 3D modeling? Please, tell us about yourself.
I studied architecture at the University of Florence. In the 1996 I was given a computer "and love has bloomed ", attracted by the possibility of giving life to everything was in my mind. As a consequence there was the passage to the three-dimensional world.
After a short period of suffering and much time spent on the computer I got passionate, then I casually began to collaborate with an architectural studio and from that moment I understood that my passion could give me also some economical satisfactions.
In the 2000 we gave life to TREDISTUDIO ©. We work in architectural visualization, concept design, advertising, animation and everywhere we can use our creativity.
Despite my work keeps me busy most of the working day, I continue to participate in the competitions that I consider interesting, especially because I like to compare myself with other artists.
Sometimes I laugh when I call "digital artist", it's just what I like to do, luckily my work is my PASSION and when I get home, I turn on the computer again, this is probably the most rewarding thing.
– How much time did it take you to create your work? Did you face any difficulties?
I started thinking about the project, as soon as I received the invitation, but I could not think of any good idea. The inspiration is difficult to describe if you can't explain it yourself. Sometimes I look at an object and I immediately have a spontaneous idea and other times I am concentrating for hours, but I am not able to realize anything.
After that I had a full time job (fortunately) and I have not had time to think about the competition, up to about ten days before the deadline. I opened the email, I got back on the site and while I reread the Mood of the competition …. Bam! The idea, I try to focus it in my mind, then I sketch it with the pencil, then I develop it adding the details.
I modeled the first child and I built around the corridor, at the beginning very crude and schematic, then I started to add details, even it based on a search for Shi-Fy ambient, made on the internet.
As you can see I was very inspired the Mood of the film MOON, for the style of the portals, but also by Prometheus and The Autland (old movie with Sean Connery).
Also I spend a lot of time for the point of view, I tried different setting, mostly with horizontal image, at the beginning I would like to keep "the rule of Third", but the scene doesn't work, then I remember a scene of the MASTER Kubrick, The child on the tricycle in the corridor (Shining)….a perfect Prospective should be the way.
Another point on which were the lights have been a long time, I wanted the look was focusing on the child and to do that I used two colors of light, a cold in the corridor away and warm in the corridor close to the child I never been fully satisfied of my final work, sometimes, after my works are finished, I look at them and I realize that there is still something I could have changed or added, but I hope that's one you like.
– Do you have any advice for future participants in the competition?
I do not feel able to give advice, I can talk about how I approach things, but it is not necessarily the right way. The best thing about creating digital art is to give life at something that you have in mind and give you some kind of emotion, I think is the same for the Painters or Photographer.
The initial motivation was always the wish of creating a high level project (it does not always happen). Then there is the inspiration; for me a good idea is a big part of a project.
We congratulate our winners and will get in contact with them very soon to hand over the prizes and take the information which is necessary for the publication in the magazine.

Special prize for the best environment gets Snail Quest by Sergey Smereka.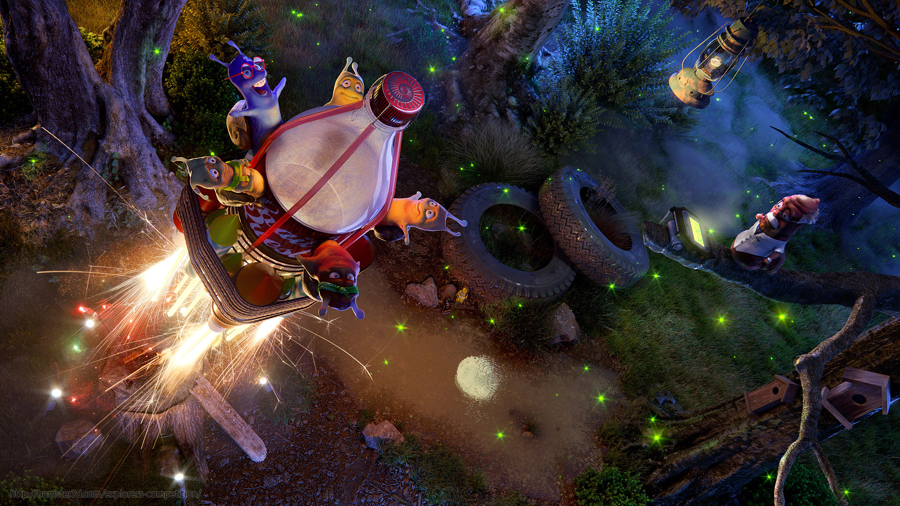 In addition, we'd like to point out the works of other finalists, which we can't just ignore and slide round.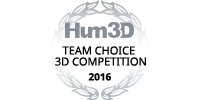 Exploring The Forbidden Door by Ecem Okumuş. Really great work with fun and original idea.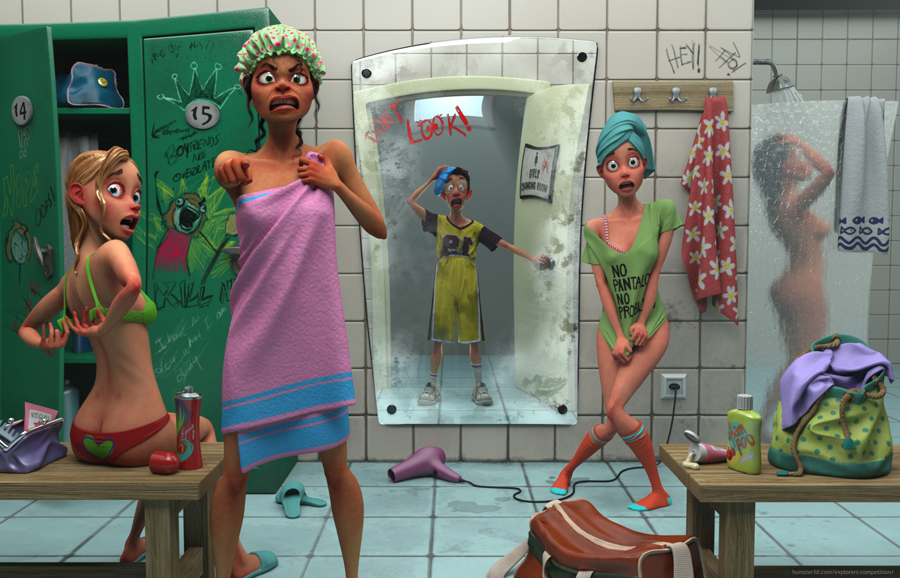 The Space Kid by Patrick Evrard.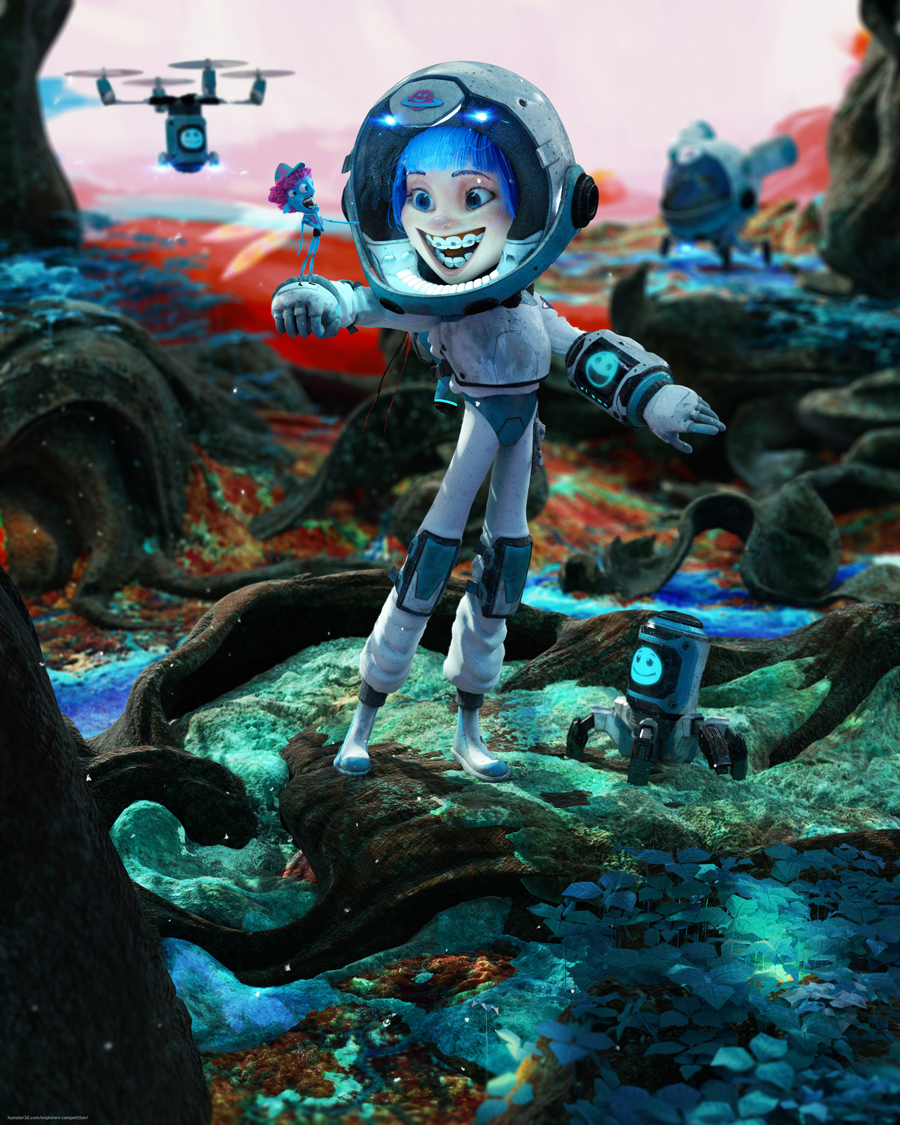 Amanita Muscaria by Bartosz Domiczek.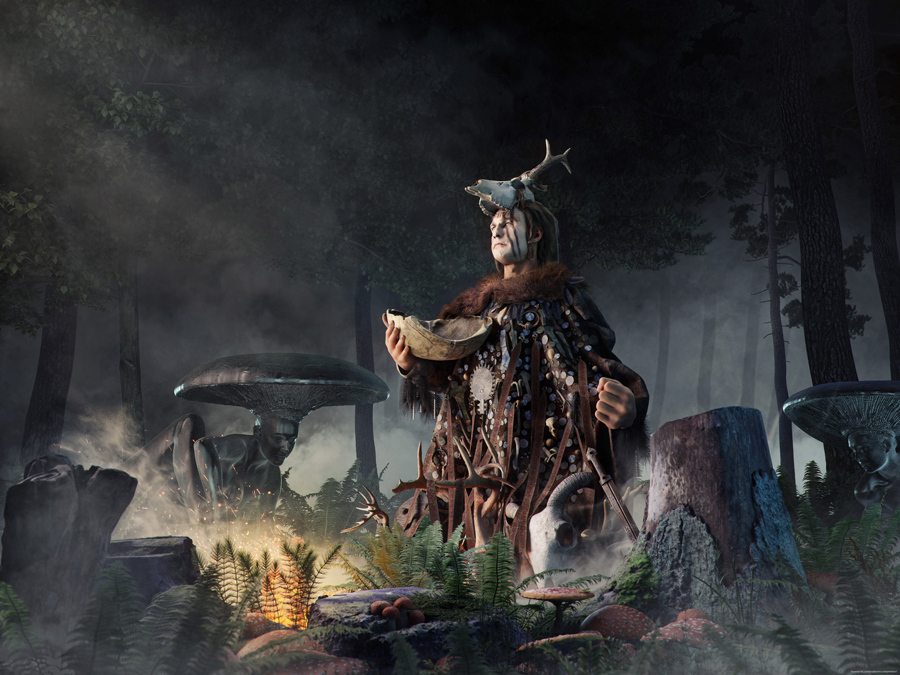 Exploring the Rat Kingdom by Sedat Açıklar.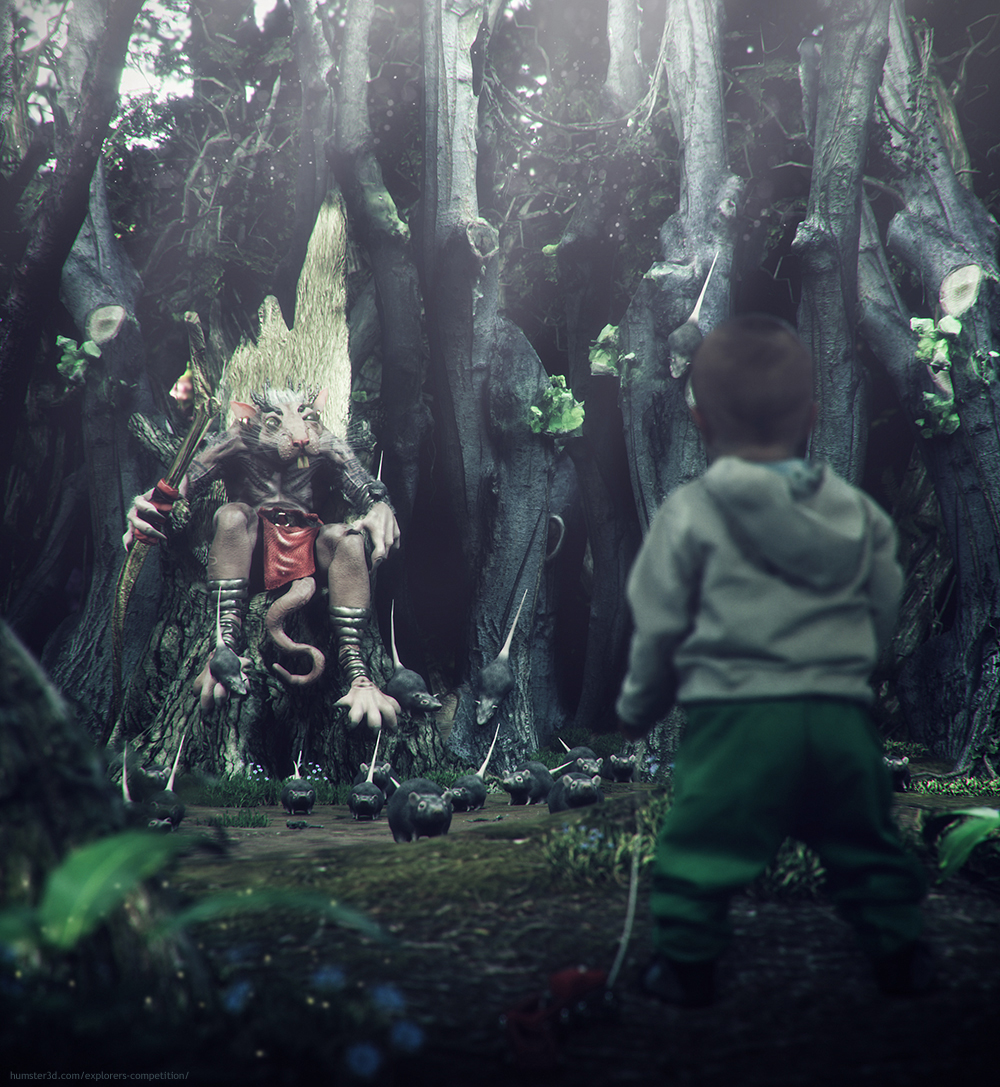 Holographic freerunner by Joachim Jensen.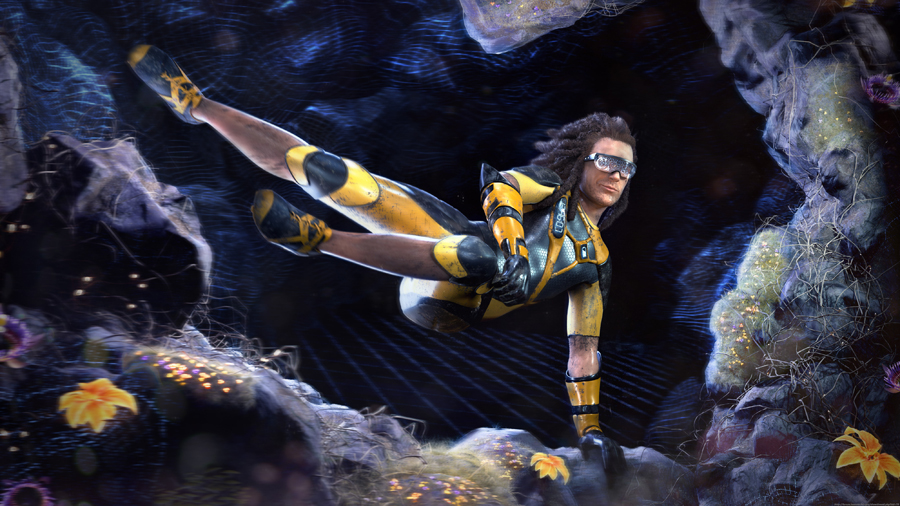 Each participant is a talented 3D artist. We have nothing to say but "guys, you are awesome".
Special thanks to the sponsors who support our event and help 3D artists to create their masterpieces. Each of them is the best in their field. You can always count on their quality service, and so we are happy to recommend you their products.
Enjoy, comment, post…
See you this Autumn on our traditional the best car render competition.
And have a nice render!