Hi everyone! We continue a series of short interviews with the best artists from Hum3D competitions.
Federico Ciuffolini, the winner of the Survival Car Challenge, will answer on six questions and give us a look behind the scenes of his winning entry.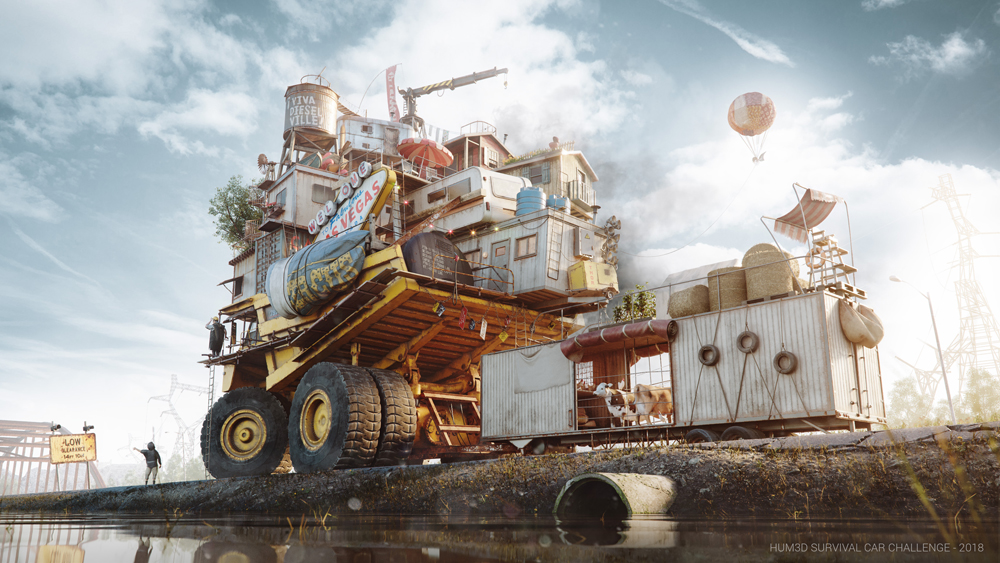 – Tell us a little bit about yourself. How did you become a 3D artist?
I started to tinker with 3D softwares when I was 16 years old. From that point on the passion just grew and grew. When I was 18 I decided to study Computer Science as a backup plan, but I knew what I really wanted to do. A lot of practice and a bit of luck made the dream possible. Right now I'm working on interactive apps, augmented and virtual reality.
– What's your favorite aspect of creating 3D art? Is there something you specialize in and enjoy the most?
Modeling and shading, in equal measure. I'm a keen hardsurfacer and I love big mechanical grungy things. High poly modeling has been a huge passion of mine for years, and I really enjoy the whole process, from sketching up the volumes to adding the last details. Lately my biggest passion has been procedural shading. Substance Designer has been revolutionary for my workflow. You need a bit more time to start, but after that tweaking the textures is a breeze and you have an awful amount of control.
– What or who inspires you today?
I think that we, as 3D artists, are very lucky. We have a broad, open and passionate community and watching other people's artworks is an unbelievable flow of inspiration. When I browse others artists' works I frequently find myself awestruck, and after that I always feel a real need to work on my own projects, to try new things, to create. I think that the creative process is one of the most fundamental needs of us human beings.
– Please tell us your five short tips for creating realistic renders?
These rules won't be ground breaking to anyone, and you probably have heard them a thousand times. But there's a reason! They tend to work :)
A. Work with references! Always. Even if you are working on abstract objects, surreal things, alien beings: search for similar objects or other artists' works and keep them nicely ordered in a folder, look at them, study them.

B. Lighting is fundamental. A mediocre model can appear convincing if the lighting is right. An awesome model will appear dull in a bad lighting.

C. No object is perfect. Add noises, dents, grime, chamfers, break the symmetry. Think about where the grunge should land and stay, and where it would be wiped away. Be savvy and don't overdo it.

D. Stick to PBR rules. No full white, no full black, always full reflections. Play with gloss and normal maps. Search online, it's a small set of simple but powerful guidelines.

E. Look away from your work every once in a while. Ask other people what they think. I find that comments from people outside of the CG field can be often fresher and less biased. Ask your friends!
– Could you please show us any images from the work process with a short description.
I used a lot of cloth simulations in this work. Once I got the hang of them, both MassFX and the Cloth Modifier proved to be quick and powerful.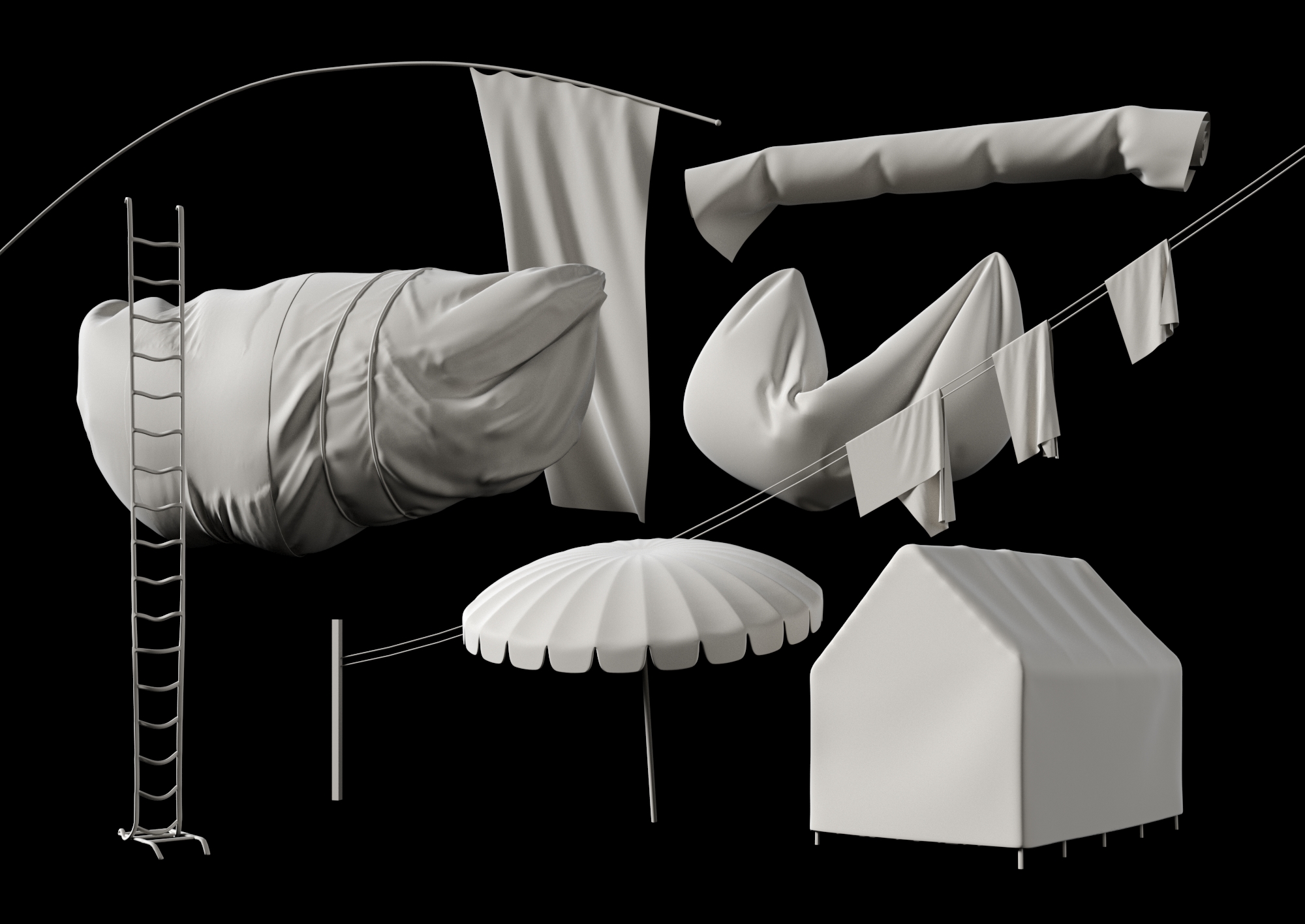 When adding grime, dirt and rust, I relied as much as I could on procedural maps like ambient occlusions and curvature maps. You have to change your mindset and give up a bit of control on the smaller details, but I found this approach to be fast and effective, since I could reuse a lot of procedural stuff and I didn't have to go crazy with unwrapping.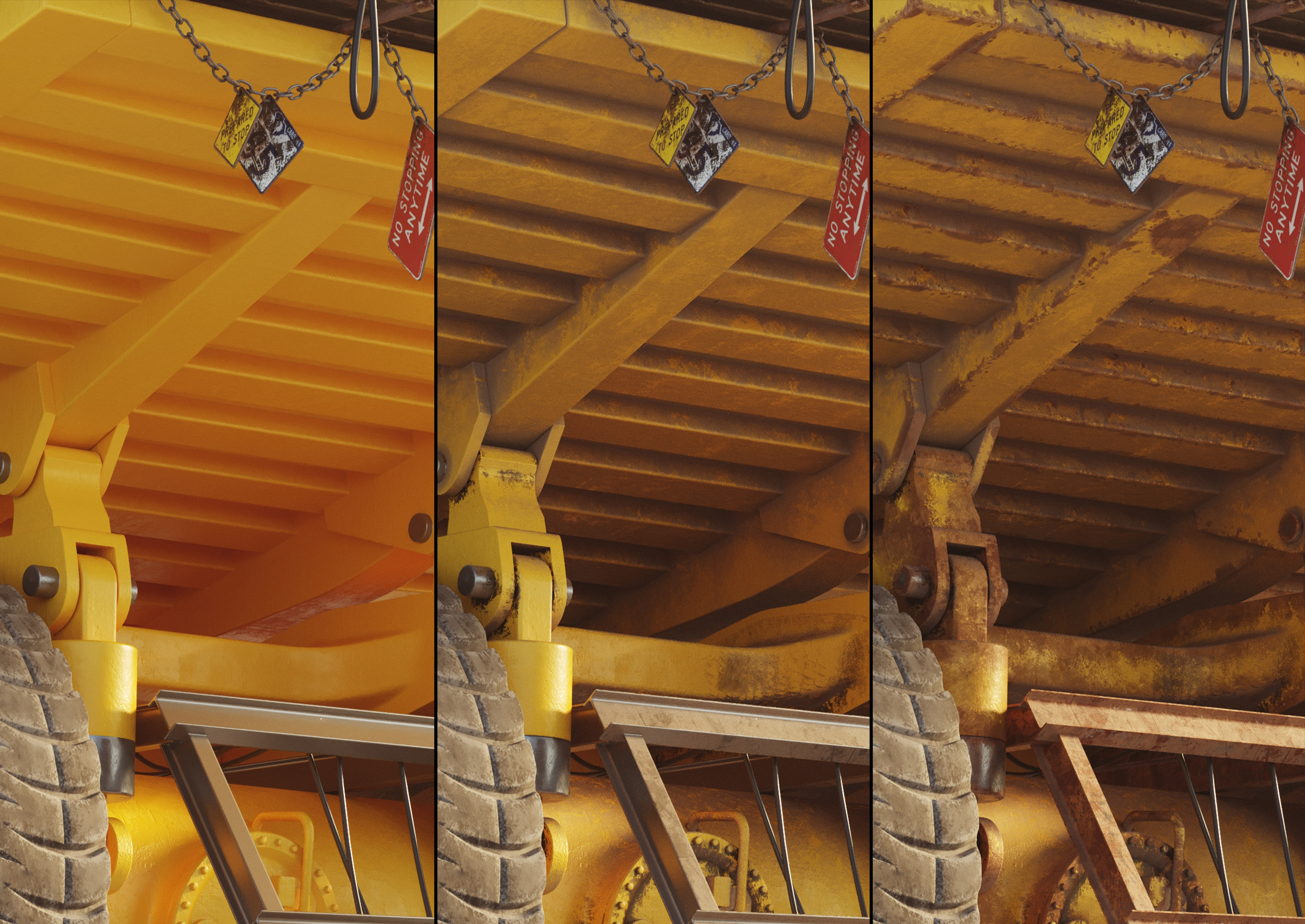 Some materials needed more work than others – for those I used Substance Designer. Really powerful and flexible software!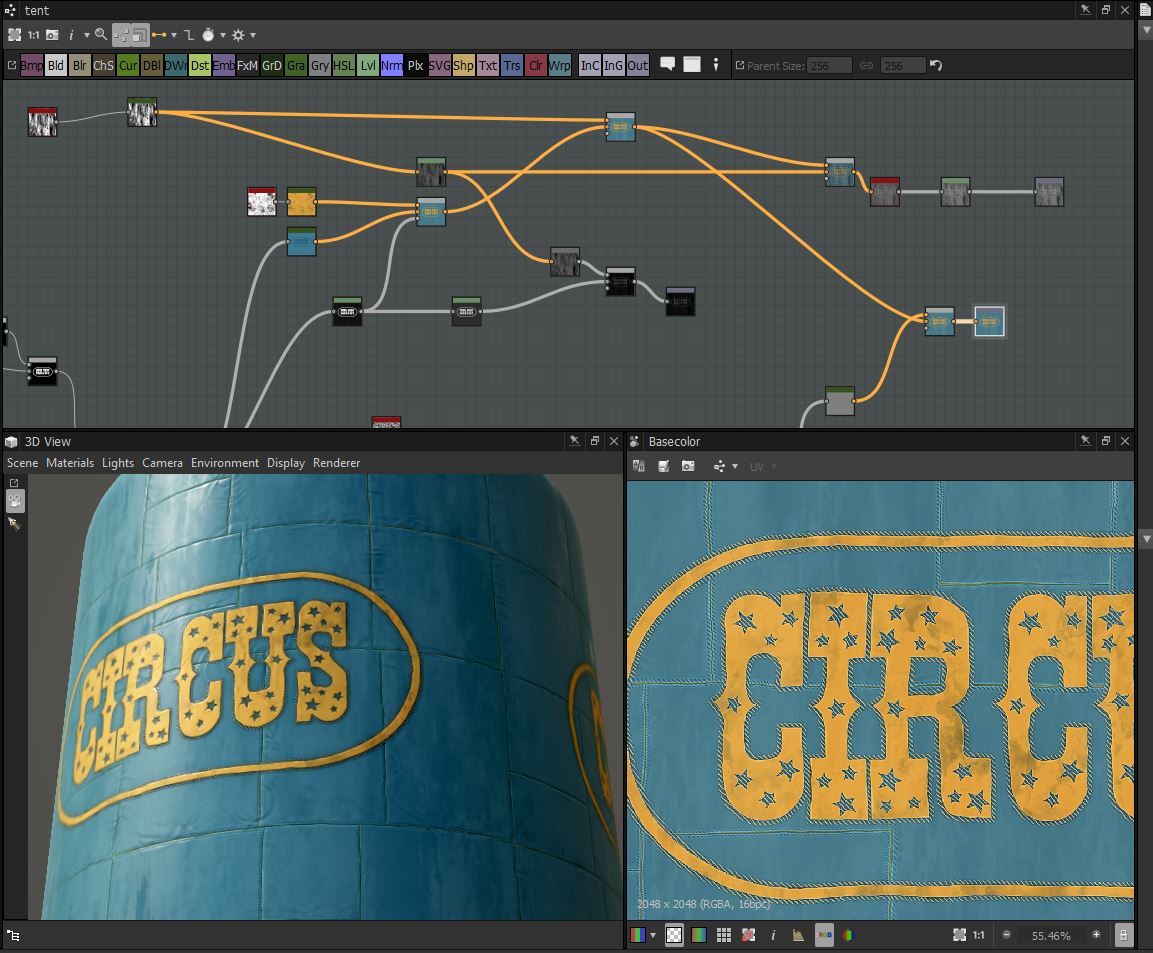 Personal works can get pretty big. I split this work in smaller, manageable tasks, planned a rough time schedule and I tried to stick to it as much as possible.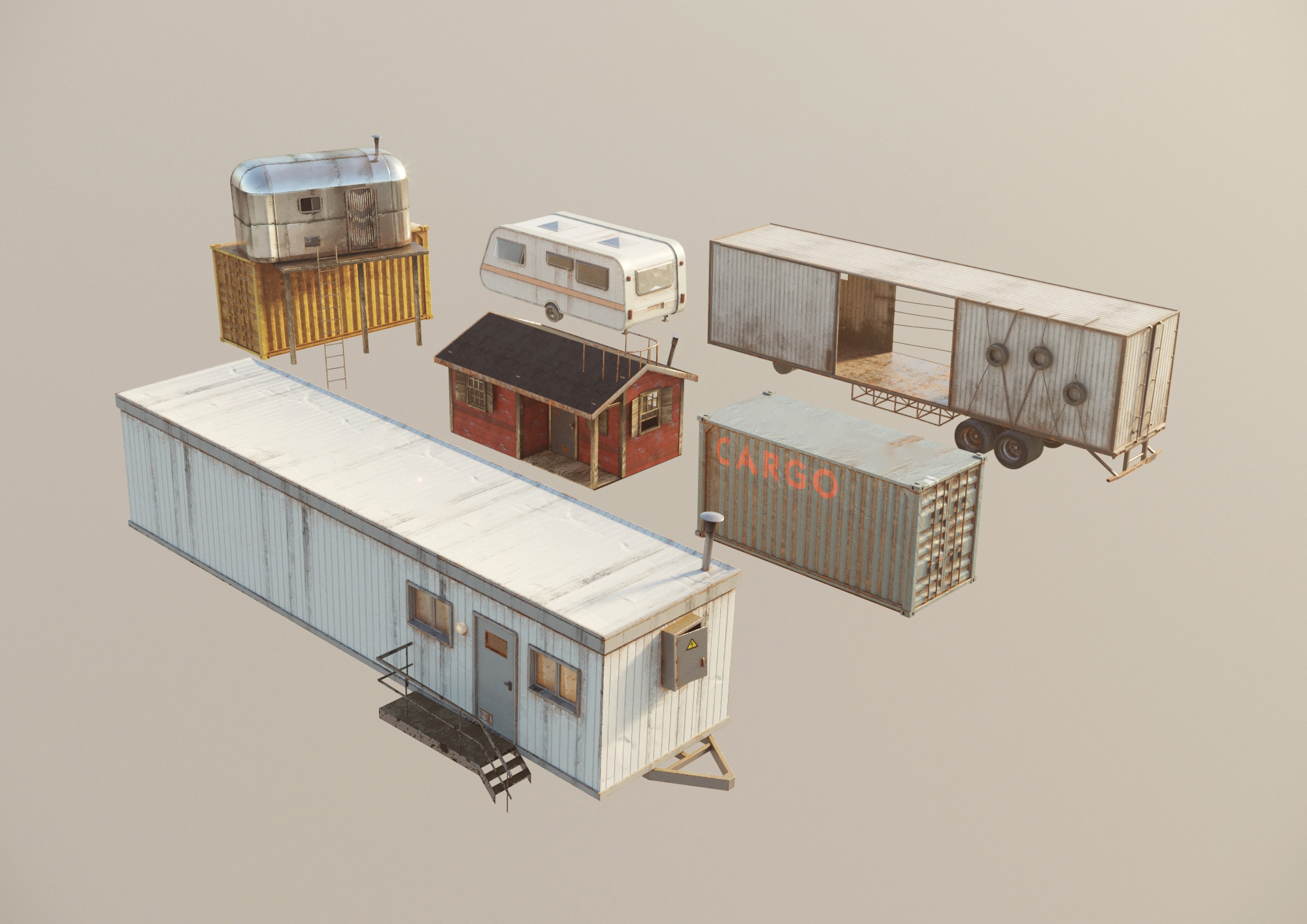 – Which of your designs are you most proud of and why?
Dieselville is one of my biggest personal projects and it got some lovely feedback, so I'm obviously proud of it. But lately I've been fascinated with small 3D realtime dioramas like my "Death from Below!" (Sketchfab model). I find them technically challenging, but way less overwhelming. I have some interesting things in the making and I cannot wait to publish them!
Thanks Hum3D! This has been an amazing experience to me.