Aloha! Aloha is mainly associated with Hawaii. And Hawaii is mainly associated with the sun and a fruitful work, which is necessary if you want to go there. If you are not in Hawaii already. For us the sun and the light are already parts of the render.
The company Caustic Professional released a beta version of Caustic Visualizer™ 1.1 for Autodesk Maya 2012, Autodesk Maya 2013 and Autodesk Maya 2013 Extension 2 what actually helps us to carry out productive work right in the viewport. And the productive work will let us to go to Hawaii.
Caustic Visualizer is used as a rendering engine for the viewport, but with a function of ray tracing. Since this product supports mental ray shaders you can greatly save your time on lighting setting and rendering.
Among the possibilities, we want to admit:
– Neat realistic reflections
– Soft shadows
– Diffuse reflection
– Indirect light
– Global illumination
– The effect of the depth of definition
– Support of mental ray shaders: "mia", "metallic paint, and "car paint"
– Supported types of geometry: polygons, NURBS and subdivision surfaces
The company cebas Visual Technology, which produces plugins for 3DS Max and other programs expands its support of new versions of Autodesk packages. In particular, support received: thinkingParticles 5 (updating to SP3) volumeBreaker, scalpelMax and StairMax.
But do not forget that most of the plugins of 2013 version will work under 2014 version without recompiling.
We want also to mention finalRender 3.5 SP13 that includes following updates:
– The installer of finalToon and finalRender was optimized for 3ds Max 2014 and 3ds Max Design 2014
– finalToon: Were fixed problems with parameters of the local verges and sub-materials
– CAM: Support of the Camera map modificator in 3ds Max
– Server: Added an option of the launch in the maximized mode
– A&D: Fixed some artifacts and hotspots in the interpolated motion blur
– IES lights  were complement with a number of improvements
But soft is not the only thing which is interesting for CG artist! Our favorite company Wacom surprised us again! A new updated Cintiq 22HD has been recently presented. The main thing that now it maintains multi-toch! And this is besides the fact that there is set a 21.5 inch Full HD display, it has an ergonomic stand and 16 configurable keys. Now the 22-inch model maintains intuitive control where you can use two hands at once. Now you don't have to hide your arm in a pocket, because now you need it! Besides that, now because of high integration with applications of Adobe, Autodesk, Corel and other software you can easily zoom, rotate and move the canvas just with your hands. We've been already thinking about selling our monitors and replacing them with new Cintiq.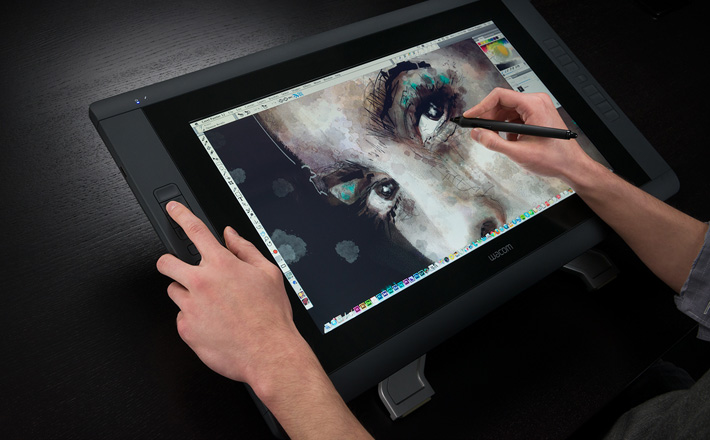 Terragen 2.5 is now available free for non-commercial use! However, of course there is a fly in the ointment, which can be a big problem for someone. The free version has following restrictions:
– Maximum image resolution: 800 x 600
– Maximum detail level : 1.0
– Maximum smoothing quality: 3
– Maximum number of visualized population: 3
– Maximum detail level for export of micropolygons: 0.1
Of course if you need more you can always buy a full version of the program.
The company DAZ Productions, Inc., which is also known as DAZ 3D starts public beta-test of DAZ Studio Pro 4.5.2.40. As usual, it's becoming easy to create digital characters with more impressive results.
Changelist:
1) Updated the embedded CMS client to Valentina 5; fixes several crashes, particularly on Mac.
2) Updated the 3Delight render engine to 10.0.125; see 3Delight Change Log for more details.
3) Added support for TriAx to TriAx Auto-Fit.
4) Added support for OpenSubdiv subdivision algorithms; Catmark, Bilinear, Loop; adds support for edge and/or vertex weights/creasing.
5) Added support for Ptex.
6) Added support for independent UV set selection on Geometry Shells.
7) Added support for Gamma Correction.
8) Added support for Surface Selection Sets.
9) Added the ability to Spot Render to a New Window.
10) Added support for Hierarchical Pose Presets.
11) Made improvements to various CCT tools/actions.
Adobe represents the updated Creative Cloud. The trump card of Adobe® Creative Cloud™ lies its name – this is a cloud package. You can keep and synchronize files or share your works through Creative Cloud on the Mac OS, Windows, iOS and Android, and through Behance Network.
Within this update was also represented a new Photoshop CC, which maintains all the "new features" of the desktop version, including Camera Shake Reduction. But it's not the point! Adobe has promised to increase productivity in 100 times. "In 100 times" it means 10000%, right? Have we heard that right? Well, we need to wait until June and see it for ourselves.
So as you can see there's a lot of news this spring. We should learn all the innovations without hesitating if we don't want to stay behind.
Let the successful render be with you!