Hello everybody!
Today we would like to present you our new car 3D model. You may ask: "Why here, in the blog, and not in the store?" And it would be the right question. The truth is that this is a very special car; we'd like to mark this 3D model out from the others and tell you a couple of interesting things about it. We hope you are going to like this model as much as we do.
Let's begin with some curious facts about its creation. The idea to make a 3D model of this car arose once during lunchtime in our office over a portion of donuts. It is a little bit different from other our 3D models. While drawing, it was hard to find sources, we had no blueprints – only photos and our own imagination. The reason is that, unlike other cars, models of which we've made, this car wasn't designed by engineers. That's why this 3D model has a special place in our collection.
So, what car we are talking about, actually? Yes, this is a car from our favorite animated sitcom "The Simpsons", the famous Pink Sedan. It is one of two automobiles that belong to the Simpson family. In particular, the Pink Sedan belongs to the head of the family Homer Simpson and it's also widely known as "Homer's car".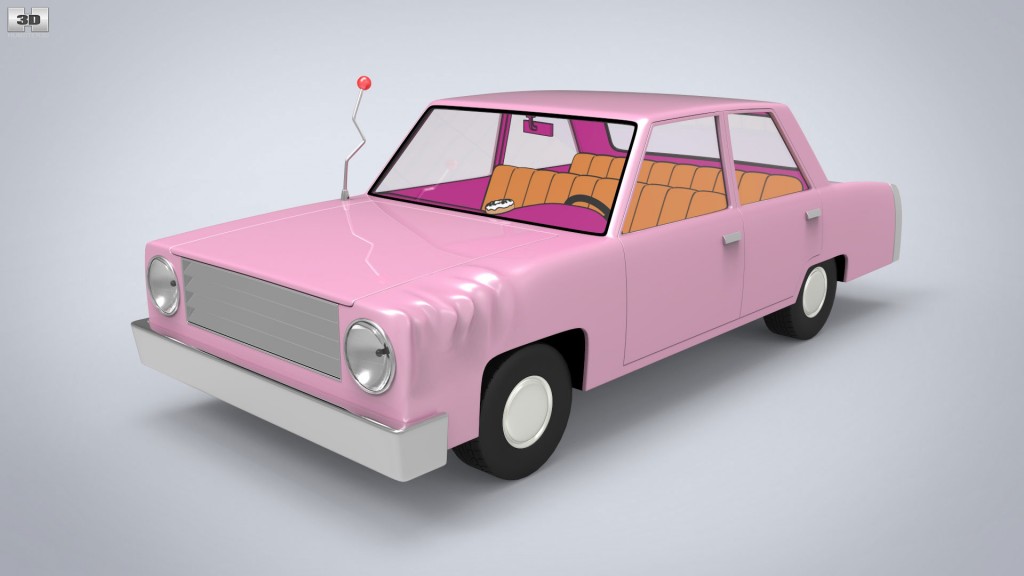 Why did we decide to draw this car? Well, apart from donuts, Pink Sedan is a unique and fantastic car. And saying that it is fantastic we really mean it. In several episodes, the car ends up completely trashed, yet is back to normal the next week demonstrating the miracle of regeneration. But as far as we understand, this feature doesn't work with left front fender and aerial, because these damages are always there. In addition, from episode to episode the car changes colors like a chameleon. Definitely, Pink Sedan has hidden superpowers and deserves to be drawn by Humster3D :)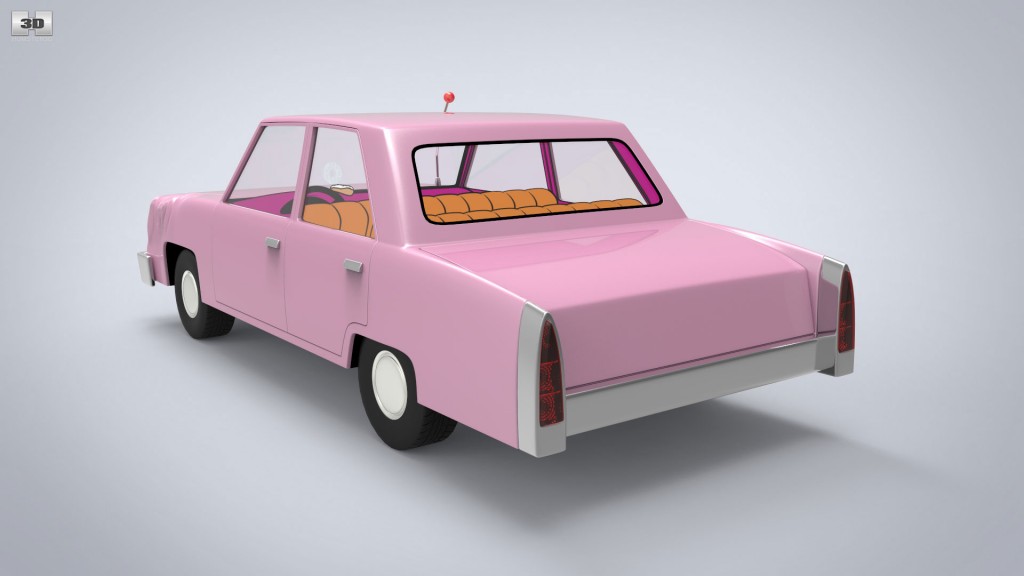 Can we think about the source of these superpowers? In one episode, Homer tells his car was built in Guatemala. Although in another episode Homer's mechanic states that the car was built in Croatia, made from Soviet tanks. We are sure, there's something fishy and the truth is much more serious. We suppose that Pink Sedan is a Transformer which came on the Earth from Cybertron to help a unique human being change the world. Maybe we are wrong, but, jokes apart, the unique human being Homer Simpson indeed has changed the world from the moment he had appeared on our screens.
One of the secrets of such popularity is that the authors of "The Simpsons" strive to resemble the reality as closely as possible, with all its nuances – both good and bad. The compliance of the animated cars with the real ones helps to achieve this effect. There is a lot of discussion about what car is a probable prototype of Pink Sedan. Among the "candidates" are: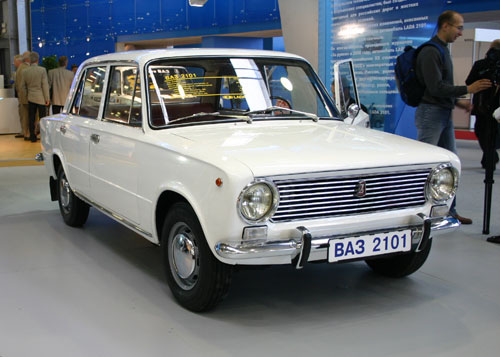 1. Soviet Lada 2101.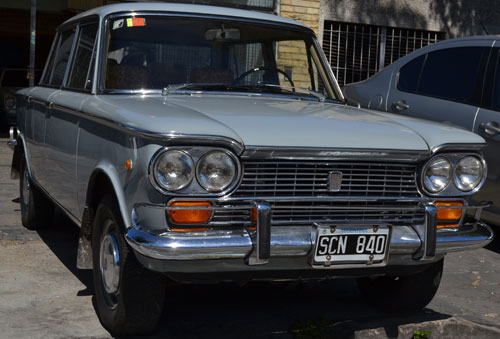 2. Fiat 1500 L. Its form of the bonnet resembles Pink Sedan's bonnet a lot, but this car and the previous one are rather small while Gomer's car is too big to be a European car.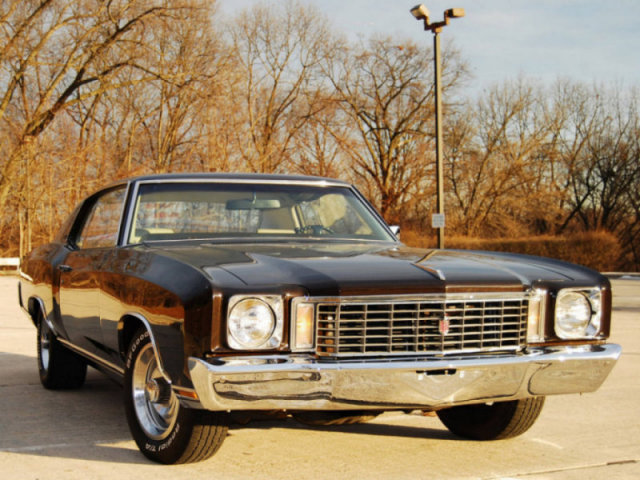 3. Chevrolet Monte Carlo. This car suits more if we are talking about the size of the car and the headlights. But it has only two doors instead of four.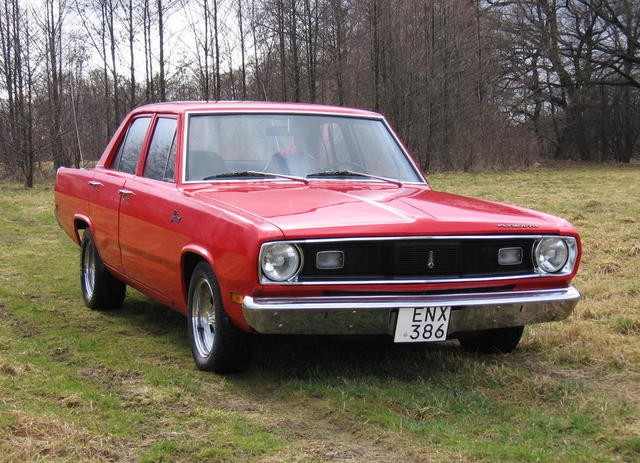 4. And the most common opinion is that Pink Sedan looks to be Plymouth Valiant, typically American car, "loser's car", as people call it in US. Maybe, just because of this it was chosen to be the car of Gomer. What is more: while in high school Homer had a Plymouth Road Runner.

(And again these bent up aerial and damaged left front fender! Maybe, it is a family tradition or, even worse, an unknown heritable disease called "congenial left front fender damage"? Something very serious, anyway, because we are sure, that Bart will have damaged-since-the-dawn-of-time car as well).
The correspondence of the animated car with the one on the picture is hard to put in doubt. So, we can assume Homer's devotion to the brand and affirm that Plymouth Valiant is likely to be the prototype of Pink Sedan.
We couldn't have missed while drawing the model the damage on the left front fender and the bent up radio aerial. We have also added a donut on the front panel as an integral part of Gomer, one of the symbols of this sitcom and one of co-authors of this 3D model.
So, this is it. Enjoy our new 3D model! You are also welcome to buy. Homer's car is available on our site.
Comment, post and…
have a nice render!