Hi everyone! We continue a series of short interviews with the best artists from Hum3D competitions.
Kimmo Kaunela, the Third place winner of the Three D Guns 2 competition, will answer on six questions and give us a look behind the scenes of his winning entry.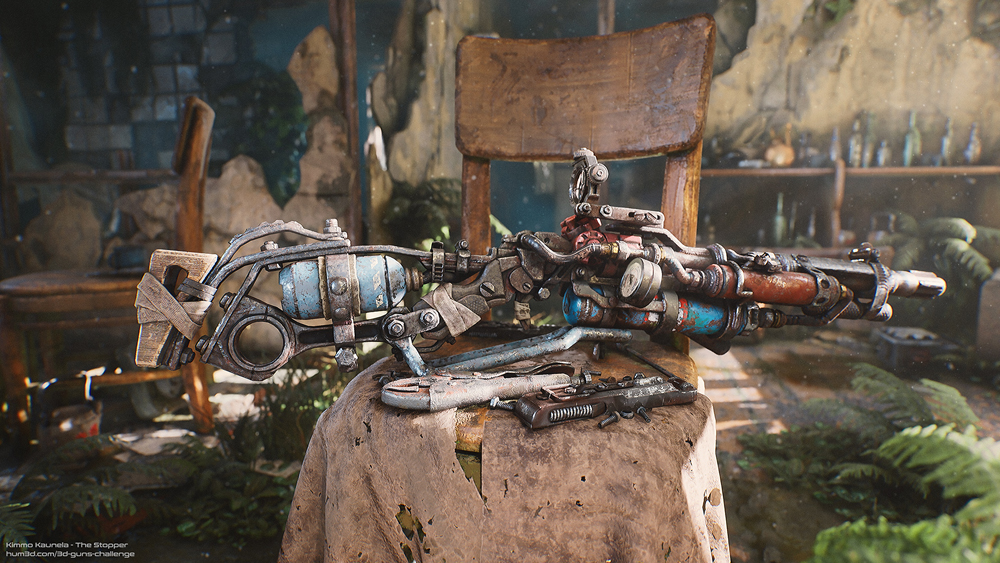 – Tell us a little bit about yourself. How did you become a 3D artist?
My name is Kimmo and I am a self-taught 3d artist from Finland, Turku. I've been working in the 3d industry for over 10 years now and I spent most of that time making game art. I started to learn digital art when I was 14 years old and soon after that, I found 3d graphics to be something that I loved to do.
– What's your favorite aspect of creating 3D art? Is there something you specialize in and enjoy the most?
3D art inspires me because it is very hard but rewarding at the same time and a medium where I can create different designs and then share them with others. There is always room to improve and try different workflows that motivates me to keep going forward. I´m a 3D generalist so I do all sort of content from environments to props and characters but most of the time I find myself working with environments and texturing. I like to solve technical problems and working with real-time graphics in games is a huge challenge.
– What or who inspires you today?
There are a lot of artists that I find inspiring and push me to learn new things and evolve. It's hard to give any names because I mostly focus on the art instead of artists so I spend a lot of time on Artstation looking awesome artworks. I really like original ideas and artists that are using tools in a clever way and are also open to sharing their knowledge with others.
– Please tell us your five short tips for creating realistic renders?
– For realistic renders, I usually spent a lot of time with the lighting to showcase the best parts of the scene.

– Materials and textures are also very important for breaking the artificial and flawless look that renders usually have.

– Object placement is also something that has a huge impact when aiming to the realistic look.

– Depending on the rendering engine you should use settings that give the best possible results with the resources you have.

– Last but not least is the camera options like depth of field and chromatic aberration that will help to mimic the real-life camera lenses.
– Could you please show us any images from the work process with a short description.
I iterated a lot with the weapon design until I managed to get something that I was happy with.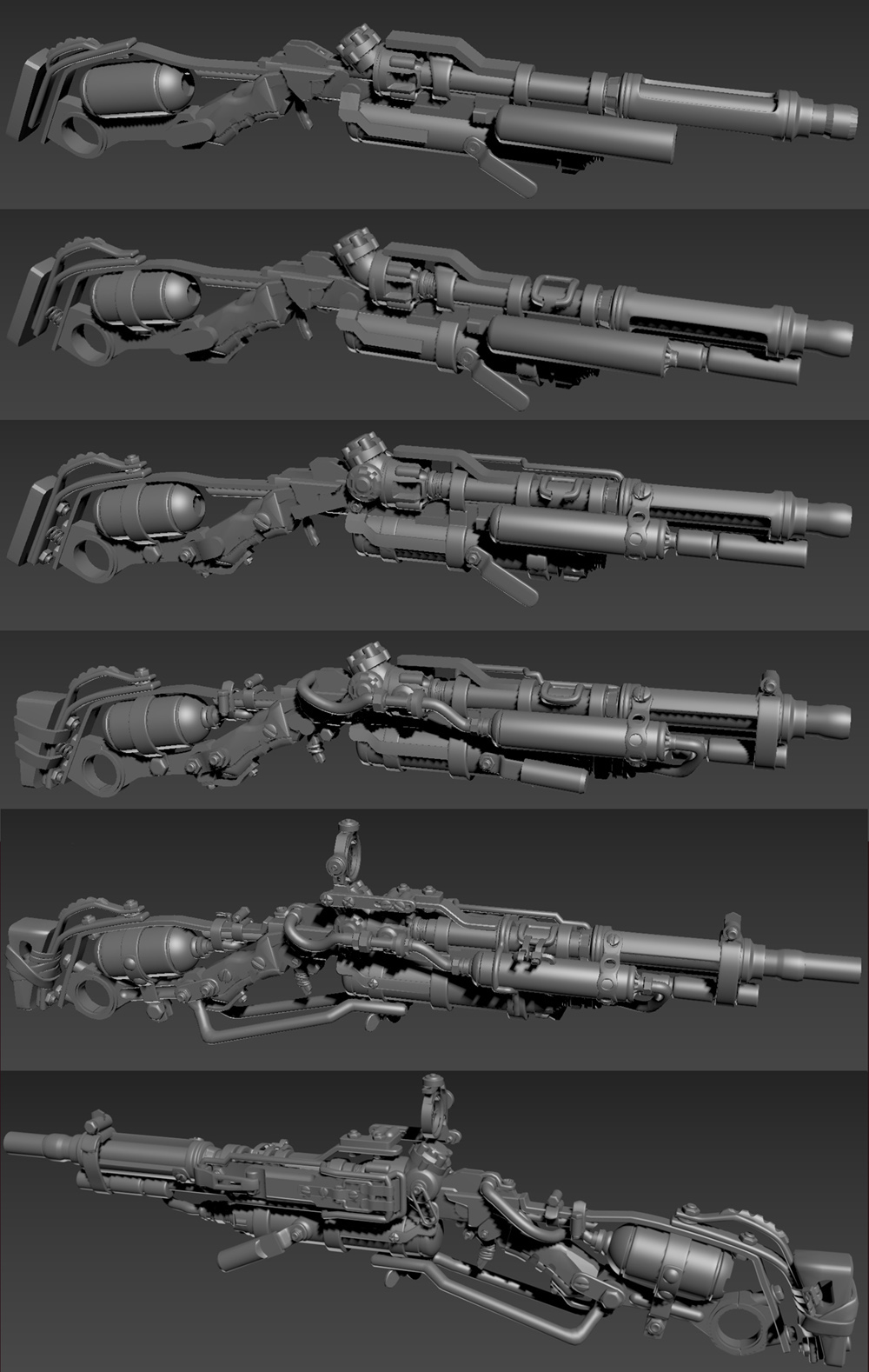 Weapon texturing took a lot of time and effort.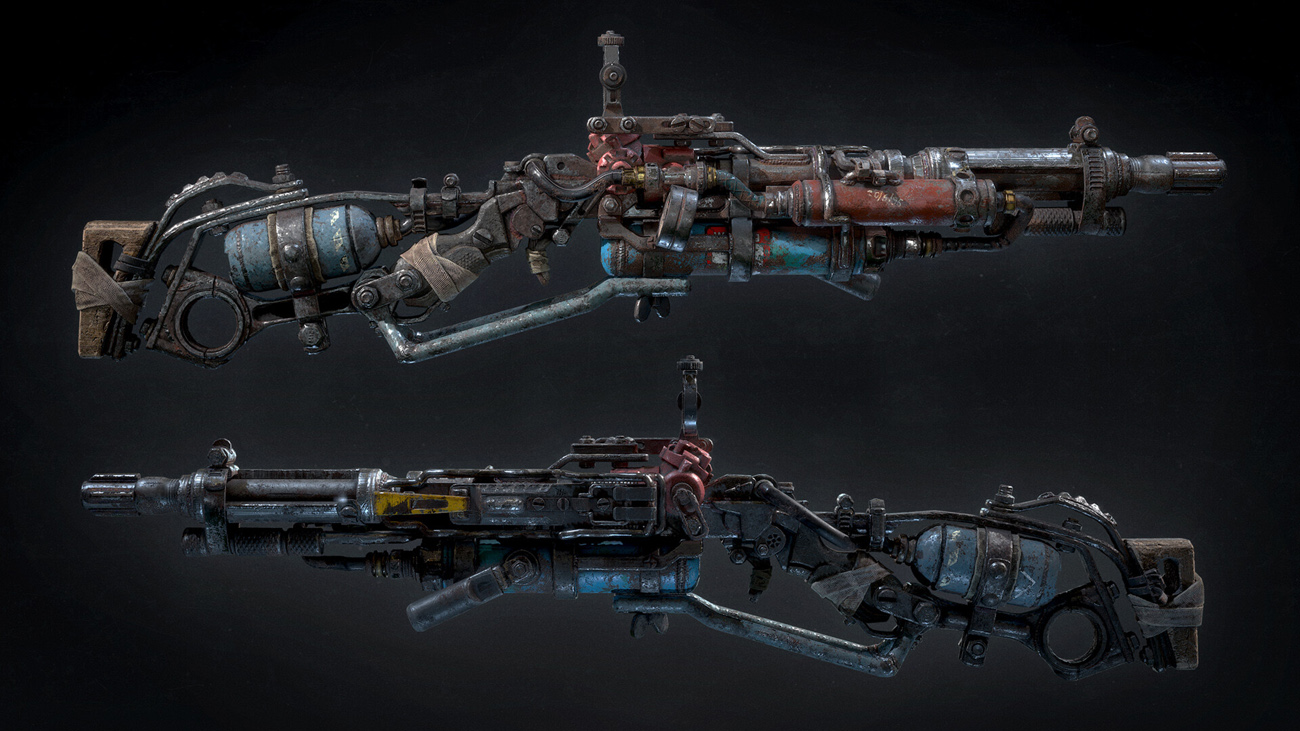 I wanted to keep the weapon as functional as possible so I designed some core parts that should be visible in the final design.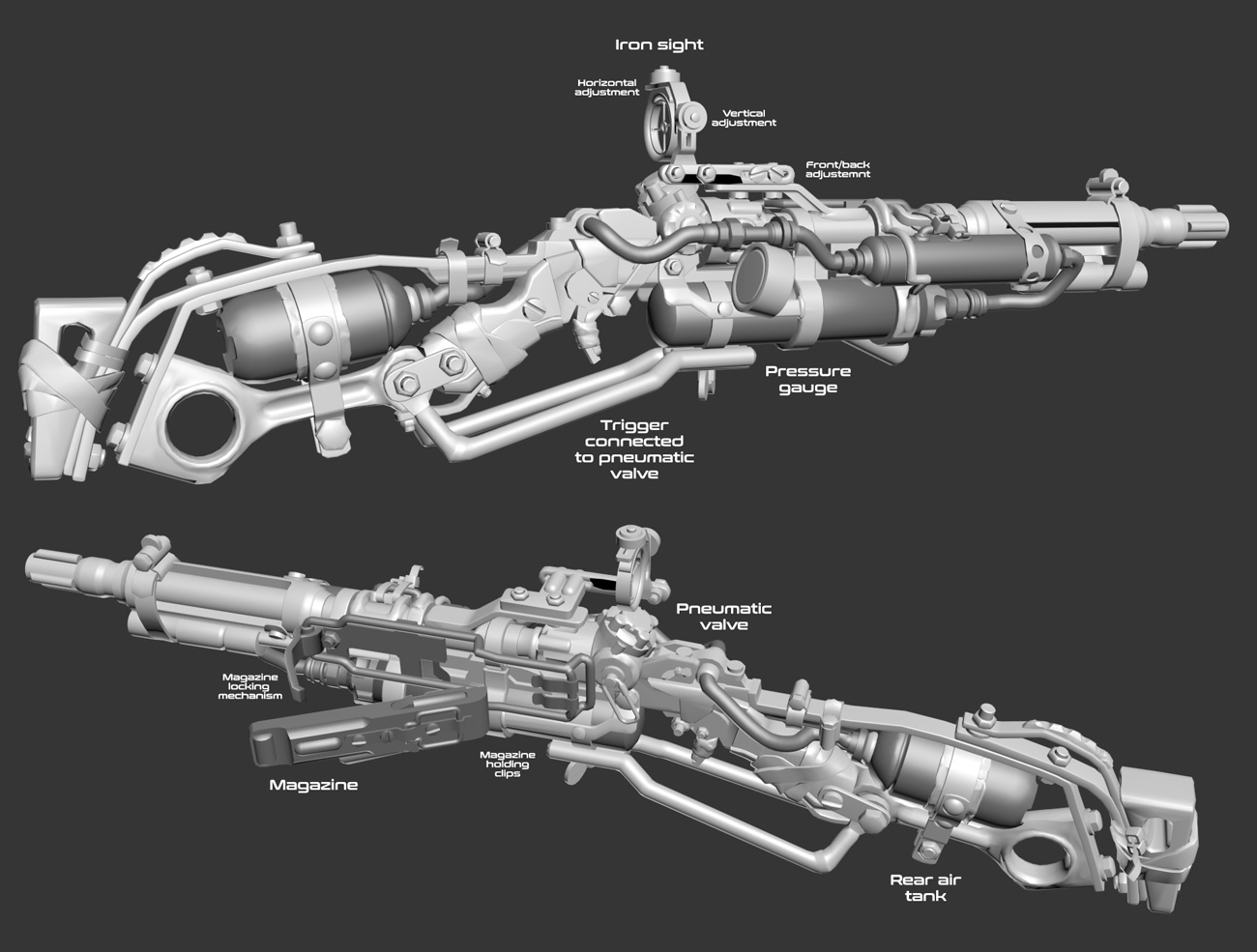 Because the environment is supposed to be a part of an abandoned house interior I needed to model a lot of different props to sell that feeling.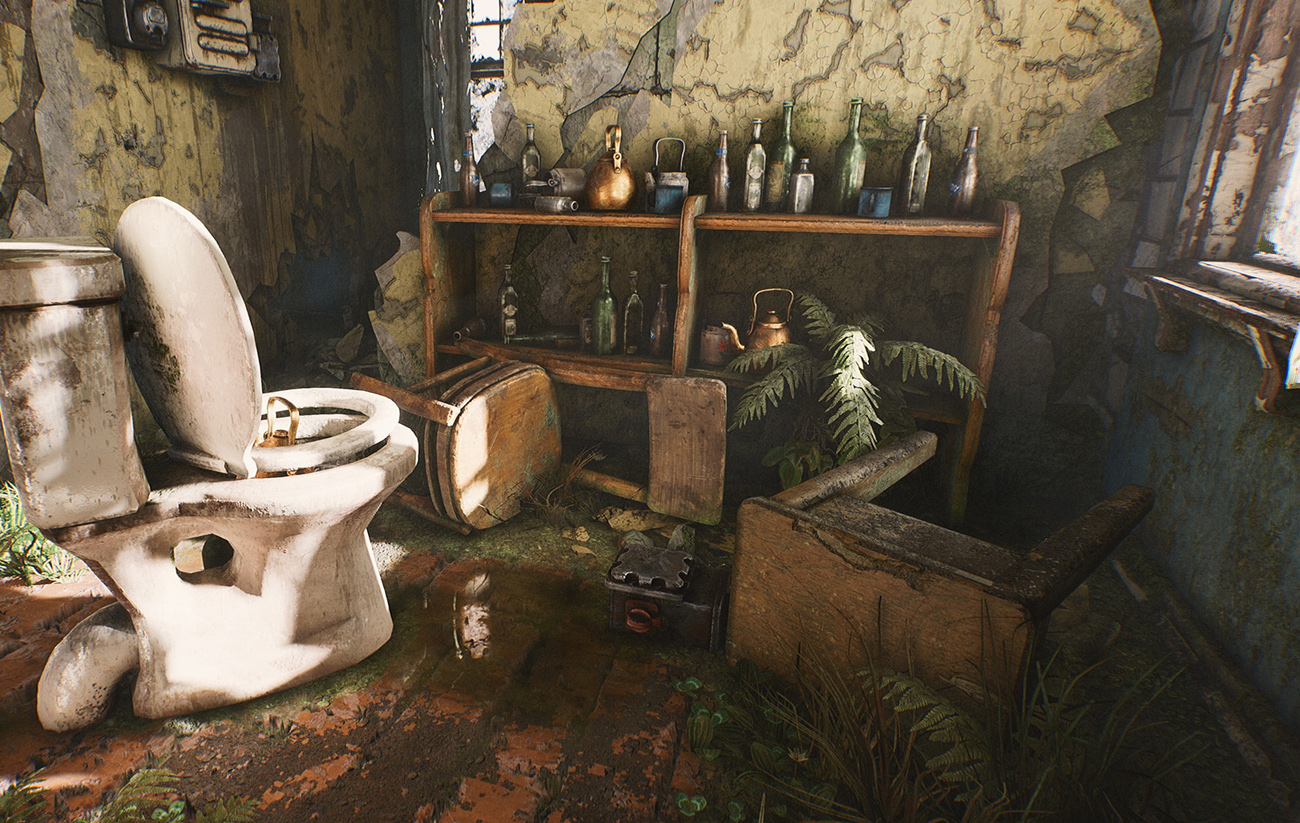 A lot of time went into creating different materials for background elements.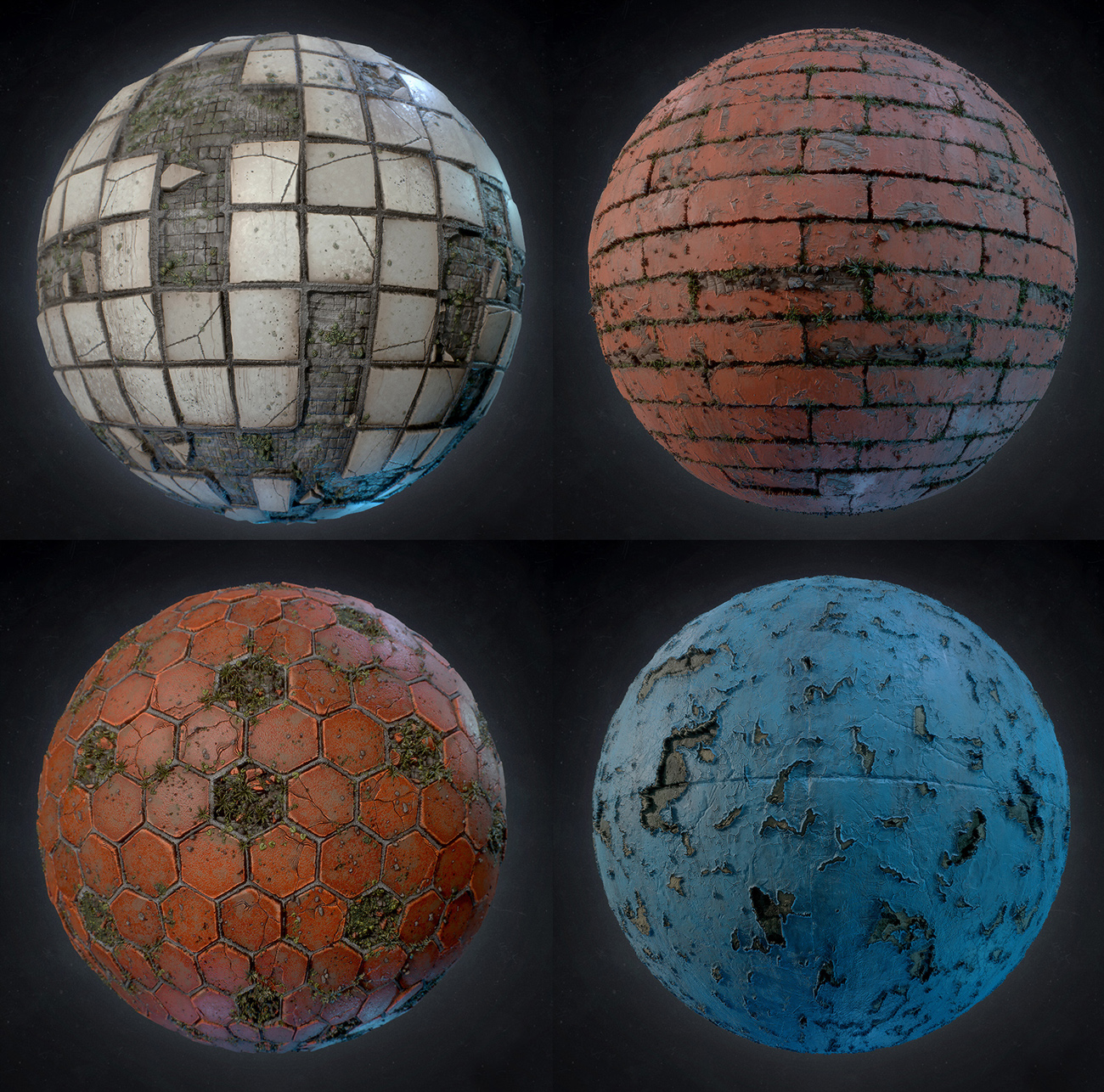 – Which of your designs are you most proud of and why?
I´m very happy with the weapon stock. That was the area that I had the most issues with and I used a lot of time for testing different ideas. I ended up modeling a connecting rod that acts as a frame and then some metal bars that are holding the back tank.
I also like how this project end up looking. Because I used Unreal Engine that is a real-time rendering engine I needed to solve a lot of things in order to get a good render out of it. Thanks to that I was able to test a lot of ideas and it was a fast way to iterate because I didn´t need to wait for renders to finish. You can find more shots and view the weapon model here.