Hi everyone! We continue a series of short interviews with the best artists from Hum3D competitions.
Luca Veronese, participant of Hum3D competition, will answer on five questions and give us a look behind the scenes of his amazing entry.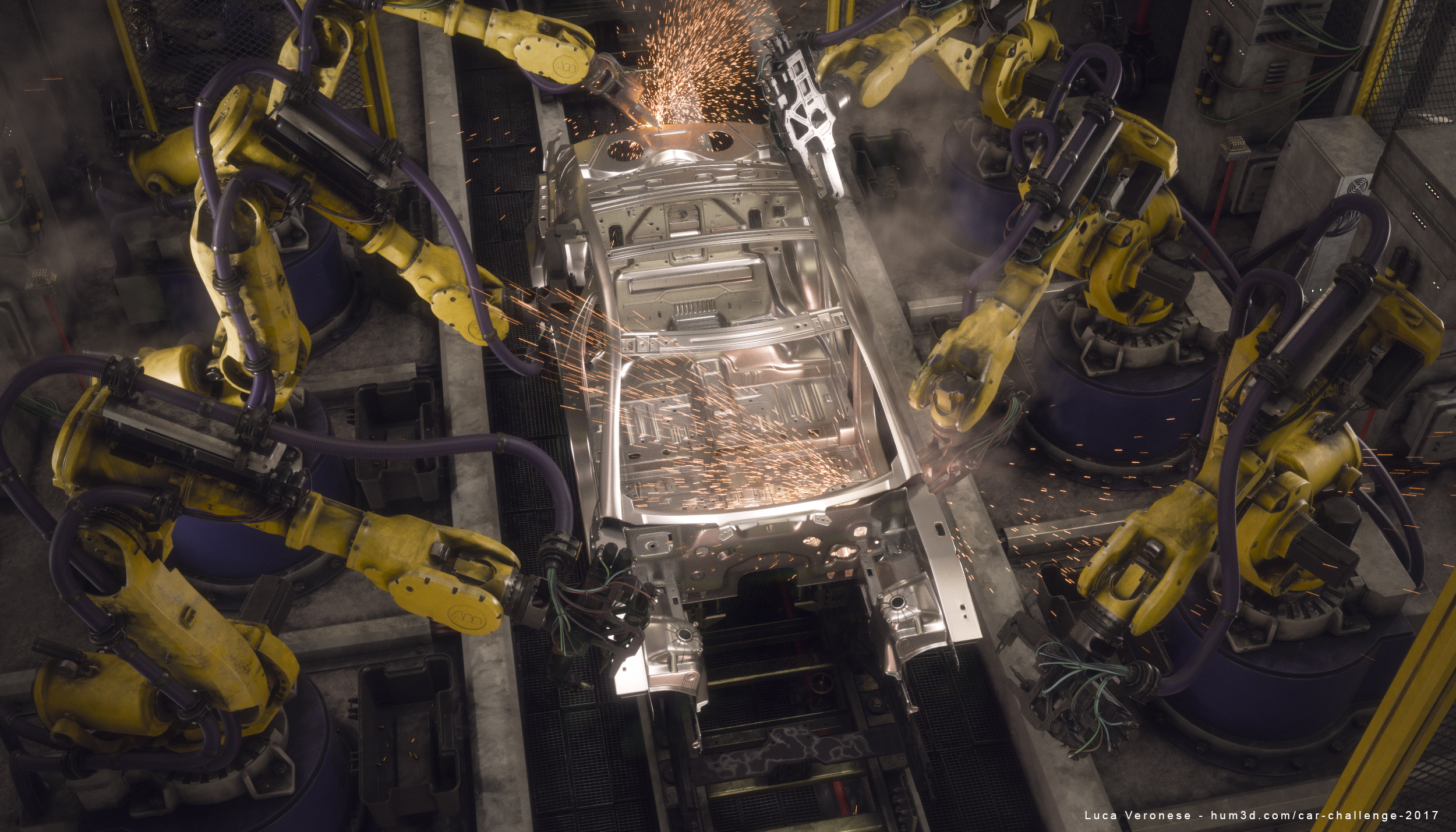 – Tell us a little bit about yourself.
I have always been passionate about 3d in general since I started university, I believe it is one of the most powerful tools available to a creative mind. I started as an Interior Designer but over time, especially in the last 3 years, I became more and more interested in CGI and photorealistic rendering. I love learning new software and techniques that helps me bringing as much realism as possible into my renders, photogrammetry or CAD for modeling or new texturing tools to add details.
Since I came to London 5 years ago I've spent most of my time trying to learn as much as I could about shading and rendering with the goal of becoming a CGI artist.
– Where did you find the inspiration for your latest entry?
The idea came to me when I was trying to create a welding sparks simulation.
The first thing I do at the beginning of every project is looking for photo references, and while I was creating my library I stumbled across a picture of robot arms welding a car frame. At the time I was testing a new method to add procedural dirt and dust and I thought a car factory was the perfect subject to test it.
– Could you please show us any additional images from the work process with a short description.
I would love to share more images, but because I'm working most of the time with interactive rendering, I tend to save very few images during the process.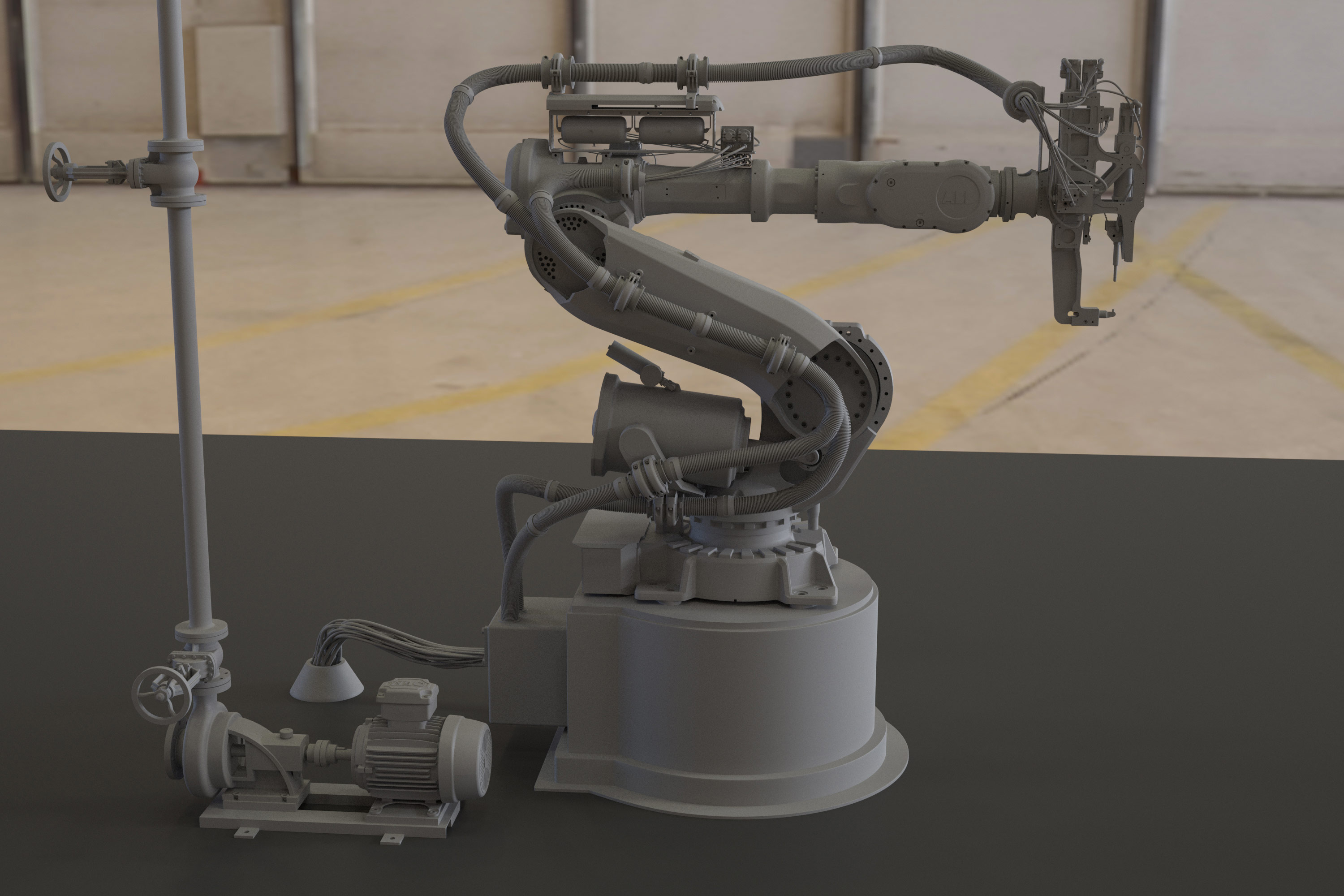 This is one of the latest test on the robot arm mesh before I started working on the materials.
One of the early tests, trying to find a good composition and testing the assets.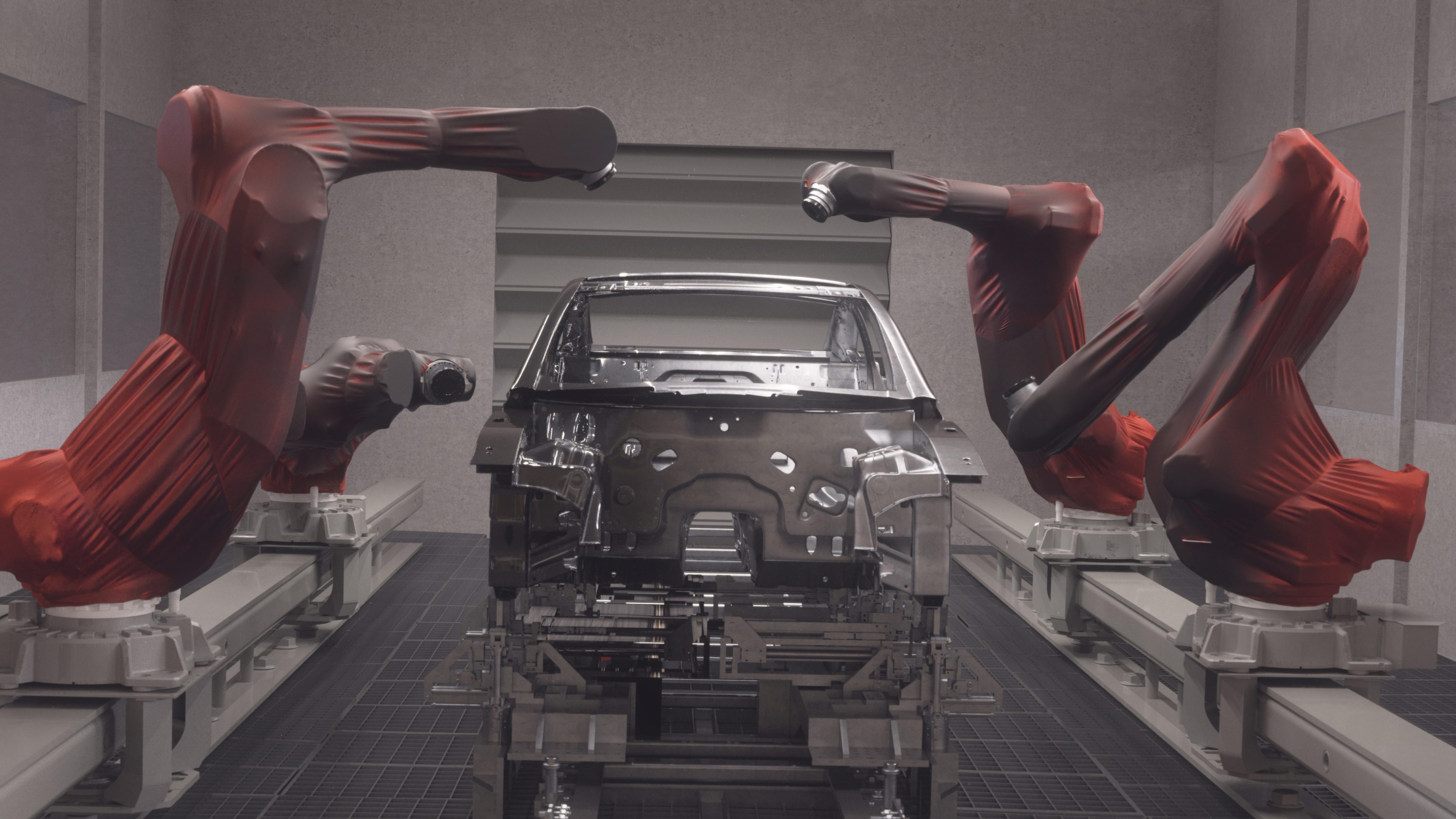 At some stage during the process I've tried experimenting with painting robots. I was struggling to get good looking welding sparks, but after a break to regroup my ideas, I decided to give it another try.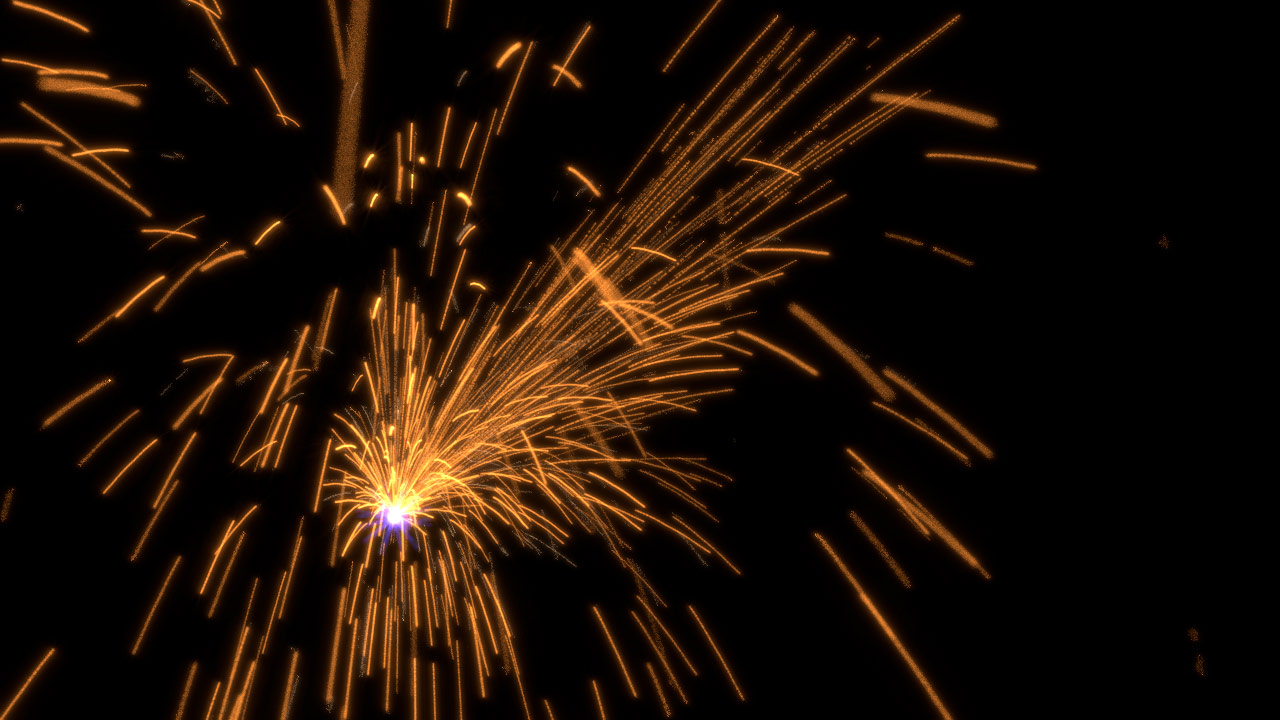 This is one of the tests for the welding sparks, created with particle flow. You can see a video:
– Please tell us your five short tips for creating realistic renders?
I think that knowing the technical aspects of the software you are using is a must, but I found that the features or limitations of the render engine are not the most important aspect.
1) As I mentioned before, tip n.1 is references.

I've been using 3d programs for more than a decade now and if I think of what really made a difference in improving my work, I can't think of something else. References are not simply a physical representation of materials and lights, I think they have a big impact on the whole idea behind every render. It's important to find a wide variety of images, but even more important is to study them in depth. When and if possible, a better solution will be to have the actual physical object in you hand.

2) Tip n.2: is real time feedback.

I personally love GPU rendering, but any tools and hardware that can offer fast and stable real time feedback can make a huge difference in my opinion.

Being able to see changes in real time helped me to better understand the software and gave me a lot more control over it, especially when is time to add details and you need to really fine tune every value.

3) Tip n.3: think like a photographer.

The physically based workflow of almost every render engine out there made this approach very easy for me. On top of all the references I can find online, I take a lot of pictures myself with my camera. The idea is simple, use your virtual camera in the same way you would use the real one. You don't need to be a professional photographer, I do not consider myself one, but understanding basic aspect like focal length, ISO and f/stop it's really improves the realism and helps keeping the results consistent.

4) Tip n.4: avoid repetition.

It's easy to add complexity in a scene, the difficult part for me is breaking the repetitions of the textures, especially when using a procedural workflow. The human brain is fine tuned to recognize and look for patterns, even the very subtle. High poly models and high res textures definitely helps, but I found that breaking up the patterns, especially on the high frequency detail maps, is one of the best way to trick the brain into thinking the image is real.

5) Tip n.5: feedback.

A couple of years ago I was watching a video with a teacher from The Gnomon Workshop explaining what makes a few students stand out above all the others. He was saying that their secret was simply asking for a lot of feedback on their projects. I've always been very scared of sharing my work, I was thinking it wasn't good enough and full of mistakes.

But in that moment I realized that, I was making the biggest mistake of all, the CGI community is full of amazing artist that are willing to help and share their knowledge. Receiving their feedback and critiques really helped me in bringing more realism into my renders. It might sound obvious but having some one pointing out something missing or something that can be improved is the easiest way to figure out what to do next.
– Could you please share more of your works? Which one is your favorite and why?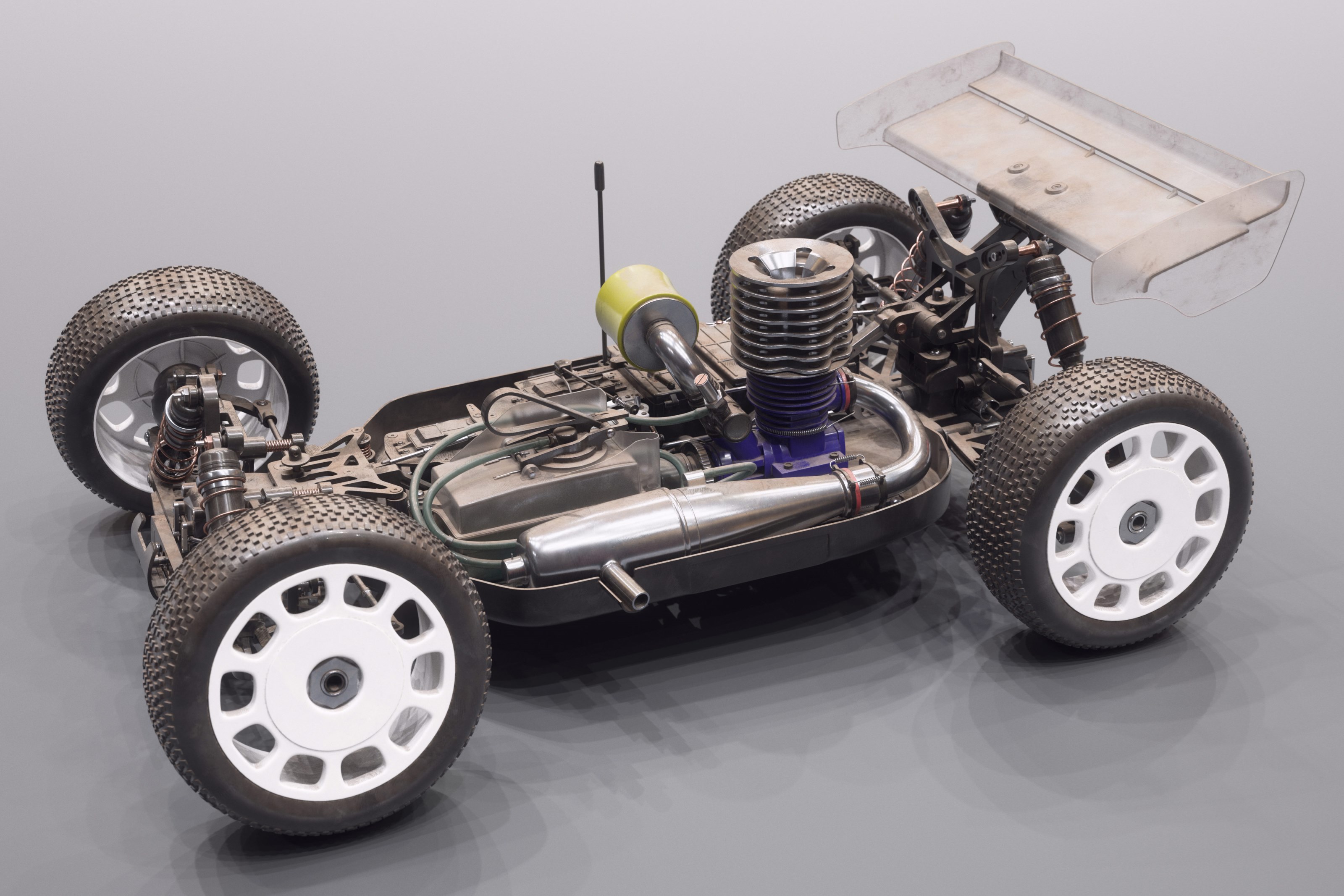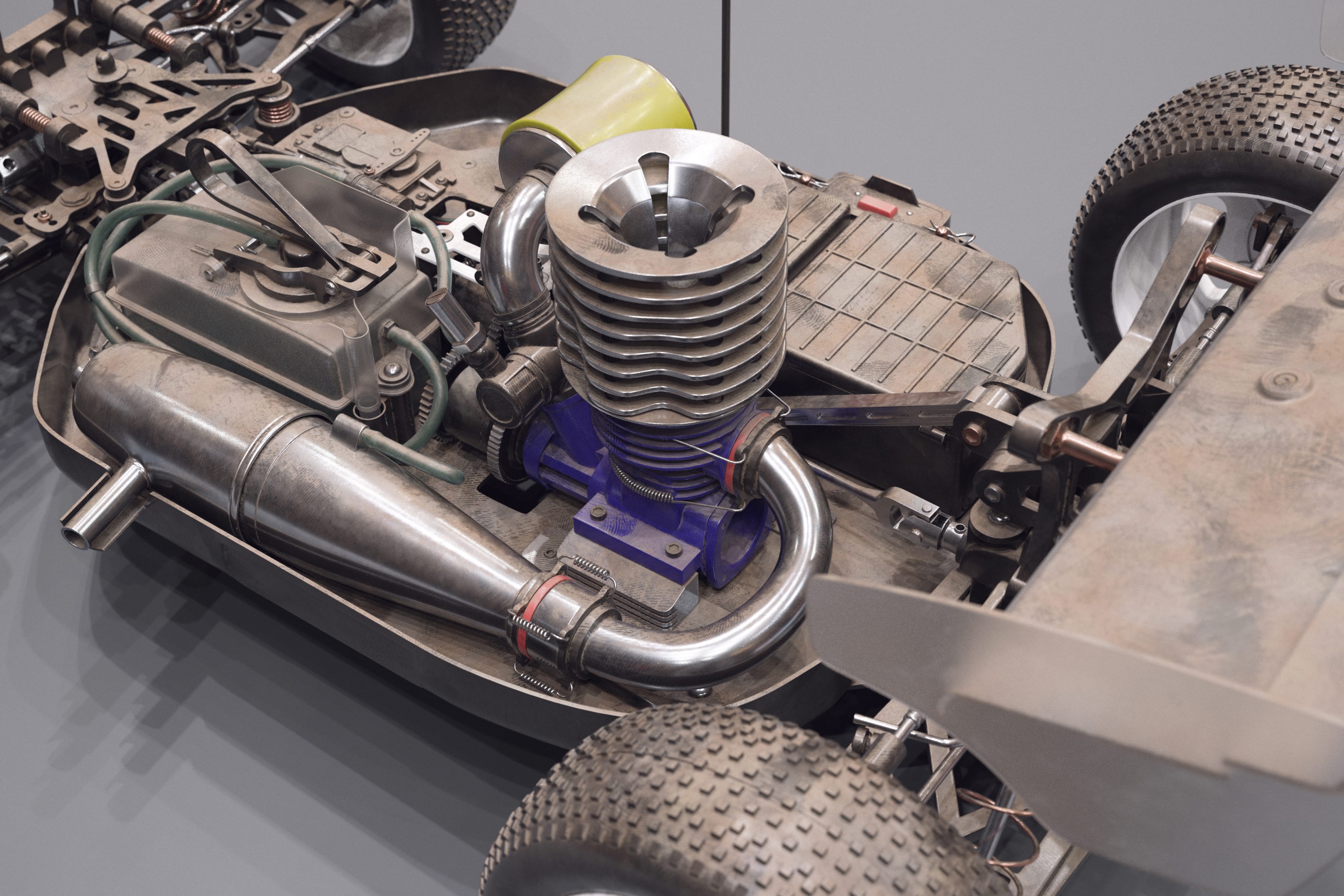 Absolutely, you can see my portfolio at Behance.
I guess you can see from the projects on my profile that I am a big fan of IRON MAN, he is being my test project for almost all of my experiments.
But my favorite project is the remote control car. It is the project where I could finally combine almost two years of testing and learning new workflows, and the first time I really felt in control. Looking at the final render I feel really happy to see that all the hard work I've done in the last couple of years it's finally starting to pay off, and I hope you don't mind me saying that it did payed off. This project made my dream come true, and now I can finally say that I am working as as CGI artist.
I really want say thanks to all the people working at Hum3D, for the amazing models and challenges, and for giving me the opportunity to share back some of the knowledge that I've learn from all the other artists in the CGI community.