Hi everyone!
We continue to please you with interesting making-ofs, sharing useful "how to make it nice" tips. We hope this information will help you! This time we are going to tell you the stages of drawing the work "Blue Crab" by Pavel Kondratenko. We'd like to thank the author for an interesting description.

The whole process is divided into seven steps:
1. Idea;
2. Modeling;
3. Texturing;
4. Composition;
5. Lighting and materials;
6. Render and post-processing;
7. Publication.
Let's go!
1. Idea
At the heart of any work initially lies an idea, but in this case it all started with a crab 3D model that had been created for an animation project. Unfortunately, it never finished, but the author resulted having a spare model of crab (without any prohibition to use it anywhere else) and a bunch of ideas to realize.
The final concept came up later, during vacation in Vietnam, where, according to Pavel, it was the first time he got on the surfboard and saw real blue crabs. It was unforgettable, he says.
Advice. Choosing the idea.
There is a plenty ideas springing up in our heads. And they may seem so cool that many of us hurry up to realize them, spending a lot of time, but then leaving it halfway. Because new ideas emerge and they better than the previous ones, which now makes no sense to finish.
To avoid this put your ideas in a piggy bank – write them down on a piece of paper ar keep them in mind, but don't e in a rush to realize them. As a good wine, they need to get matured. You will see, that some of them will fade and lose their relevance, but the other will acquire new details and stories or even transform in absolutely new ideas.
After such pause you won't have any doubts concerning your choice and you will find a truly good idea.
2. Modeling
There are no special features. We'll just show you the main stages of modeling.
First of all we find pictures and photos of blue crab on the Internet…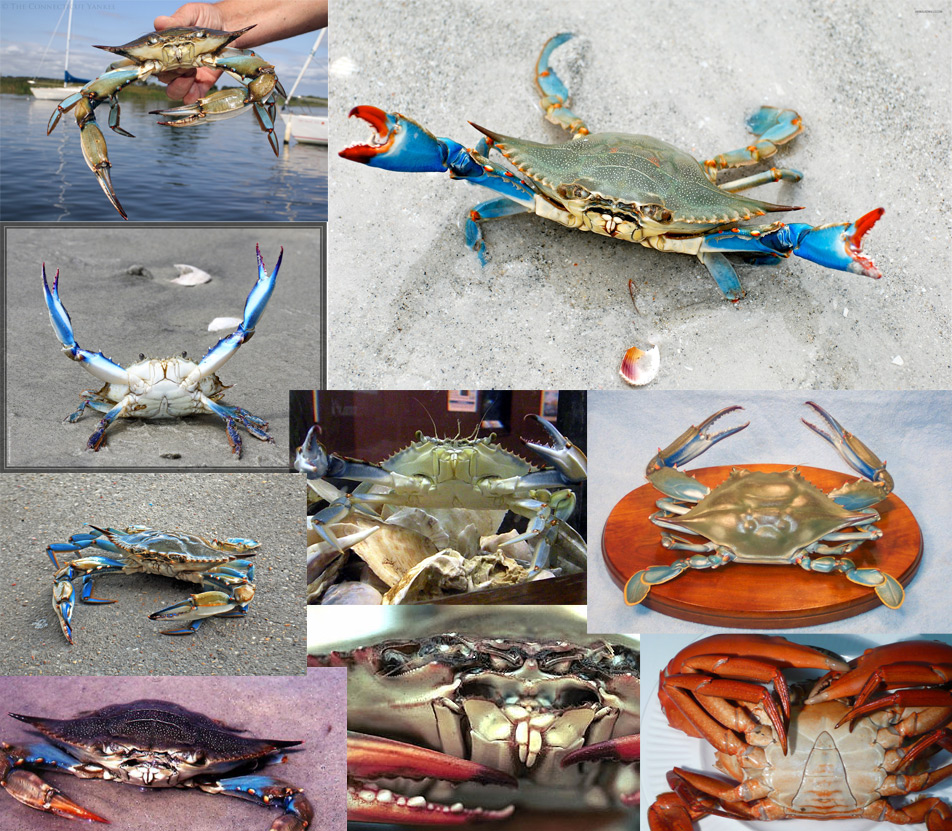 Using ZSphere we draw general outline of our crab.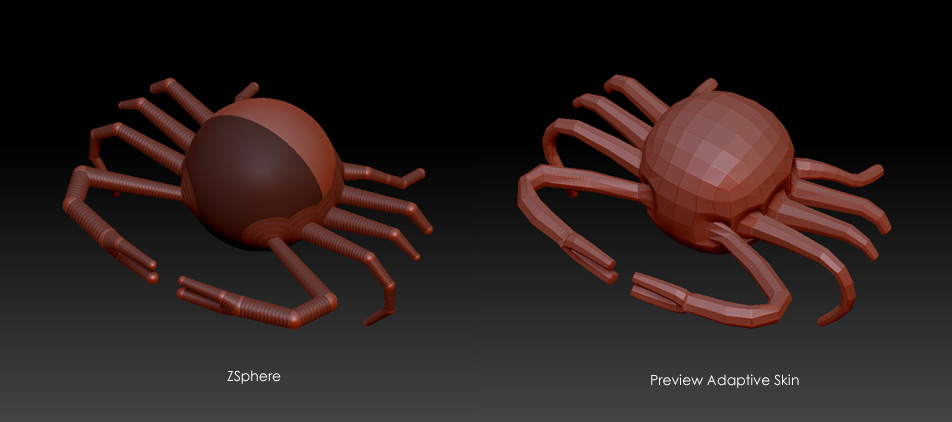 Next we create Image Plane of crab for Zbrush. Reproducing the crap it should be as precise as possible (in our case it is a top view). With the help of standard brushes we mould a general shape.
After the first sketch is ready we should divide it into separate parts. Pavel decided to do it with Topogun and then complete in 3Ds Max.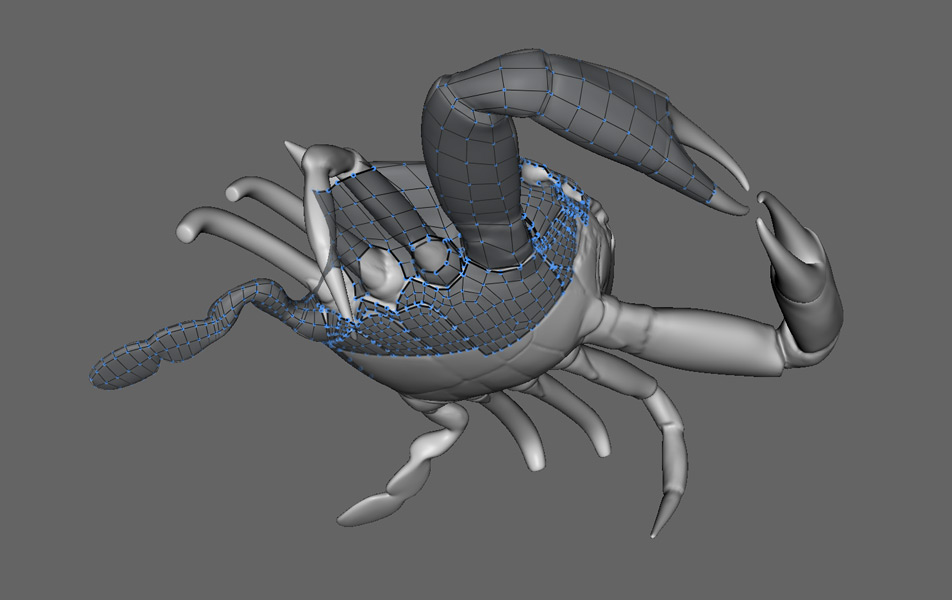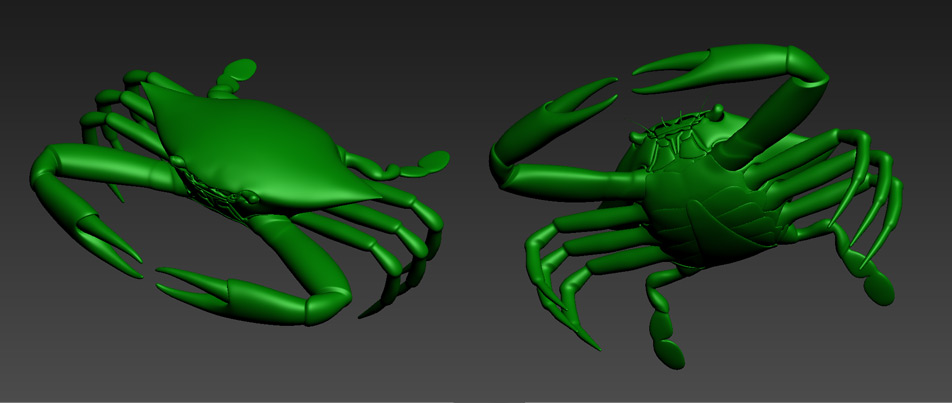 Next, we load all these pieces back into ZBrush, create another Image Plane, but now displaying all details. And we can start working on basic proportions and bigger parts.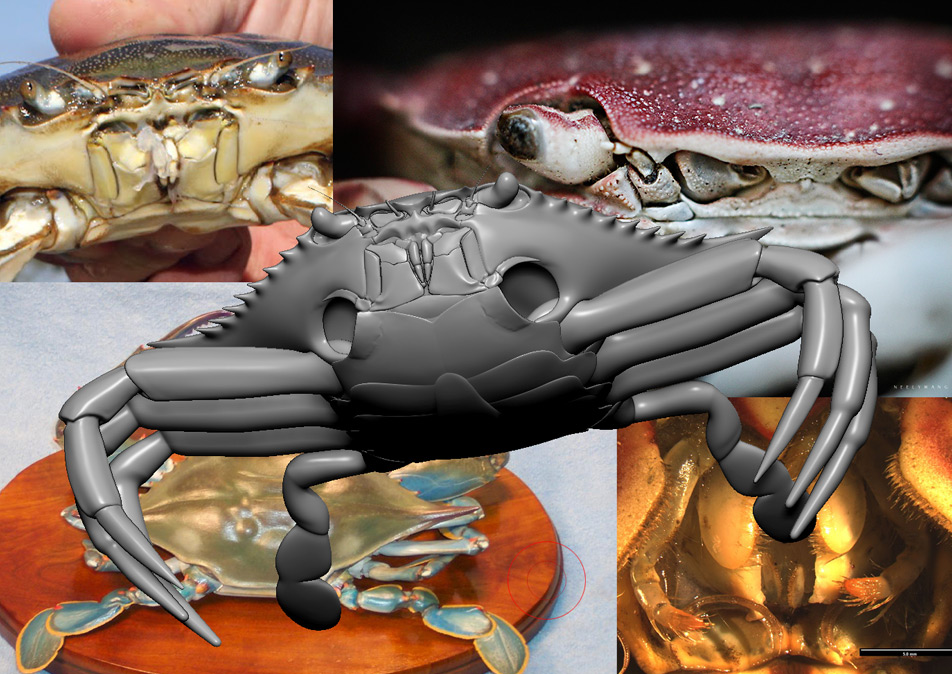 As soon as we are satisfied with the quality of the basic proportions and details, we can proceed to retopology of some parts which need it. Then «Projection», and we continue working on small details.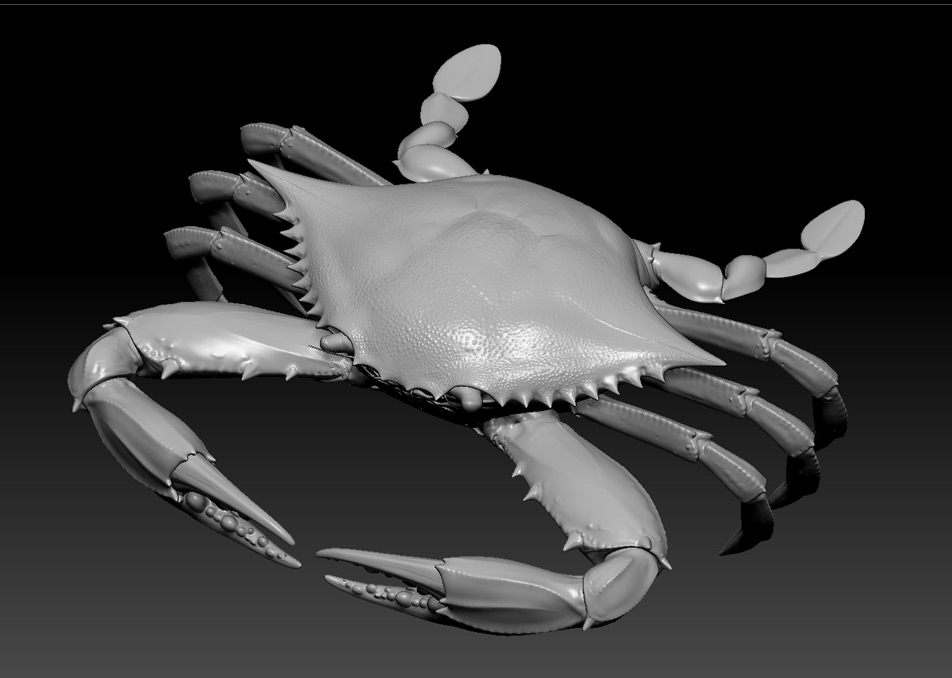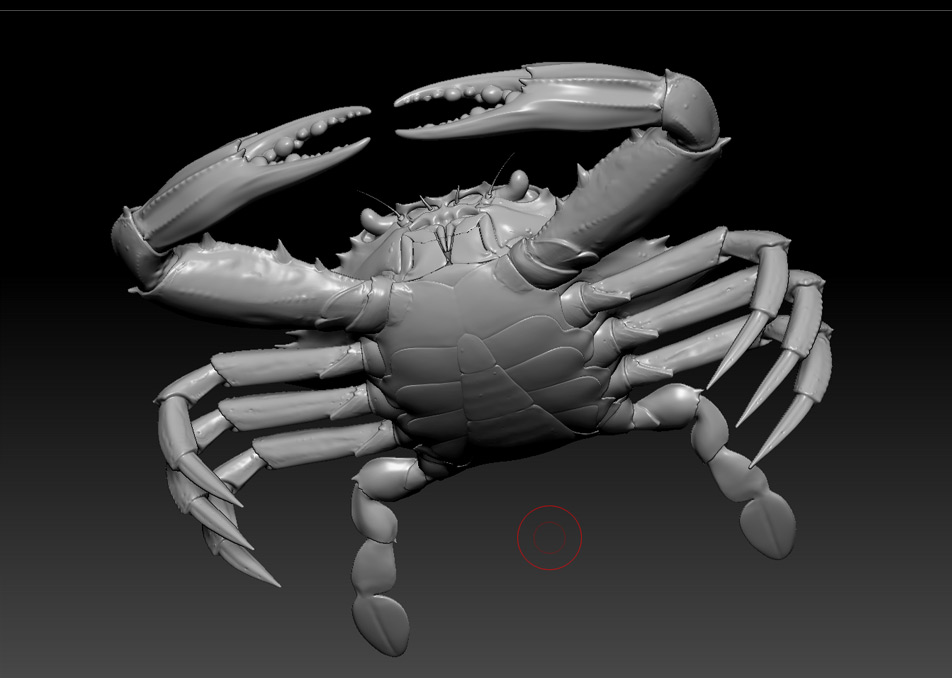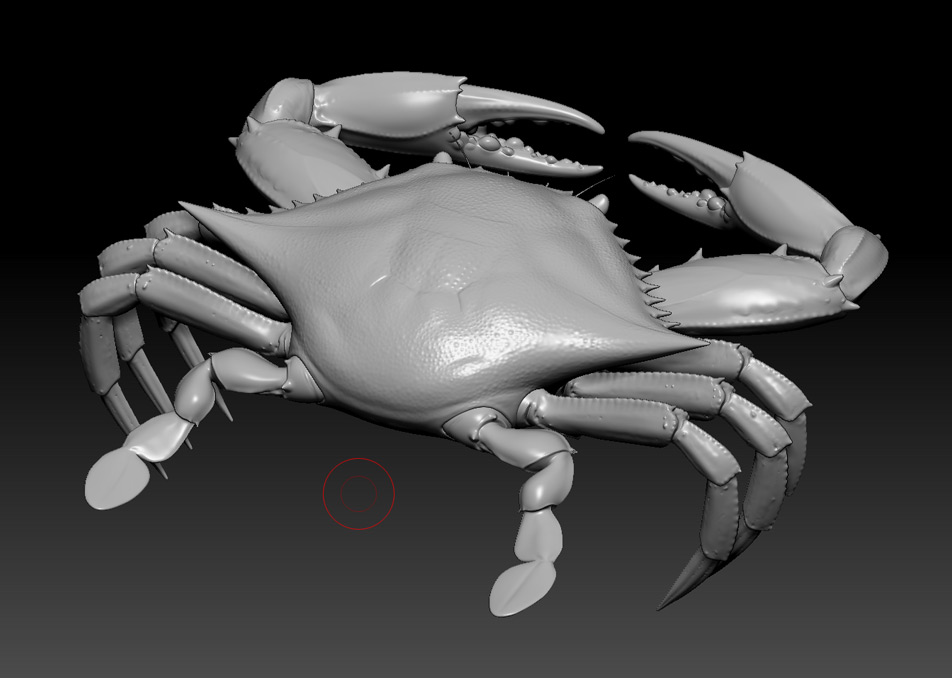 When the final geometry is ready we export all parts of the crab at low subdivision level in *.obj and make image dissection in Unfold 3D. We arrange dissection in 3Ds Max and export it back to ZBrush as *.obj.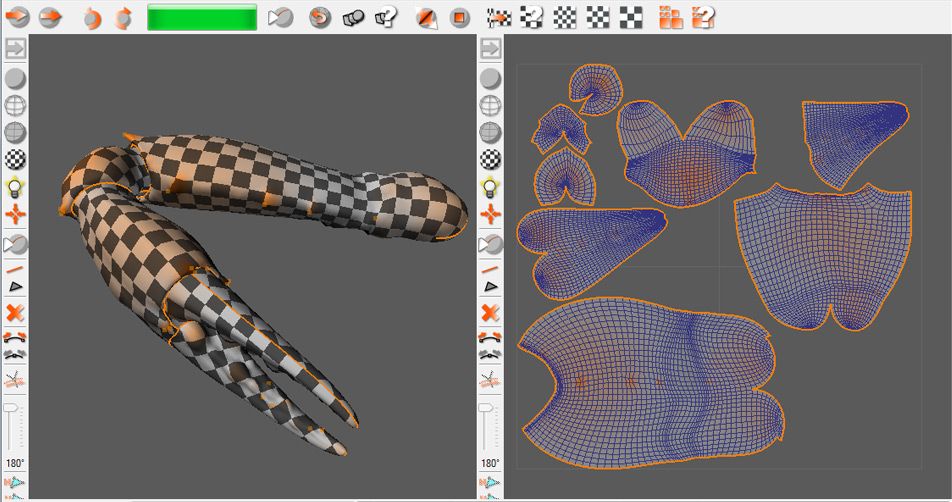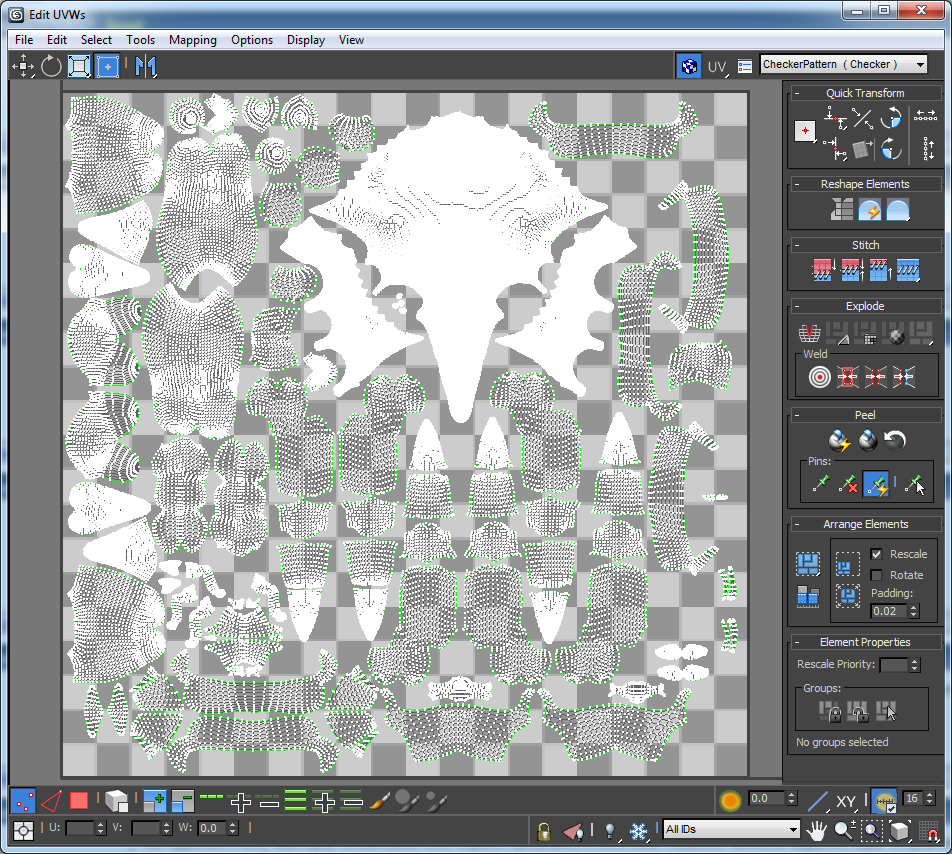 Comment.
If you performed image dissection in 3Ds Max, you couldn't replace "geometry without UV" by "geometry with UV" in ZBrush importing it in the file instead of old geometry. All polygons would be reflected in UV, and even locally. It would be correct to import geometry in Zbrush in a separate subtool, then through UV Master plugin we copy UV and transpost them to the geometry that contains subdivision level.
This bug has been noticed only in combination of ZBrush-> 3Ds Max-> ZBrush. There is no such problem in Maya, where you can import "UV geometry with coordinates" in the place of "geometry without UV" containing subdivision level.
Other obects – surfboard, surf leash, etc. – we draw in 3Ds Max with completion in ZBrush.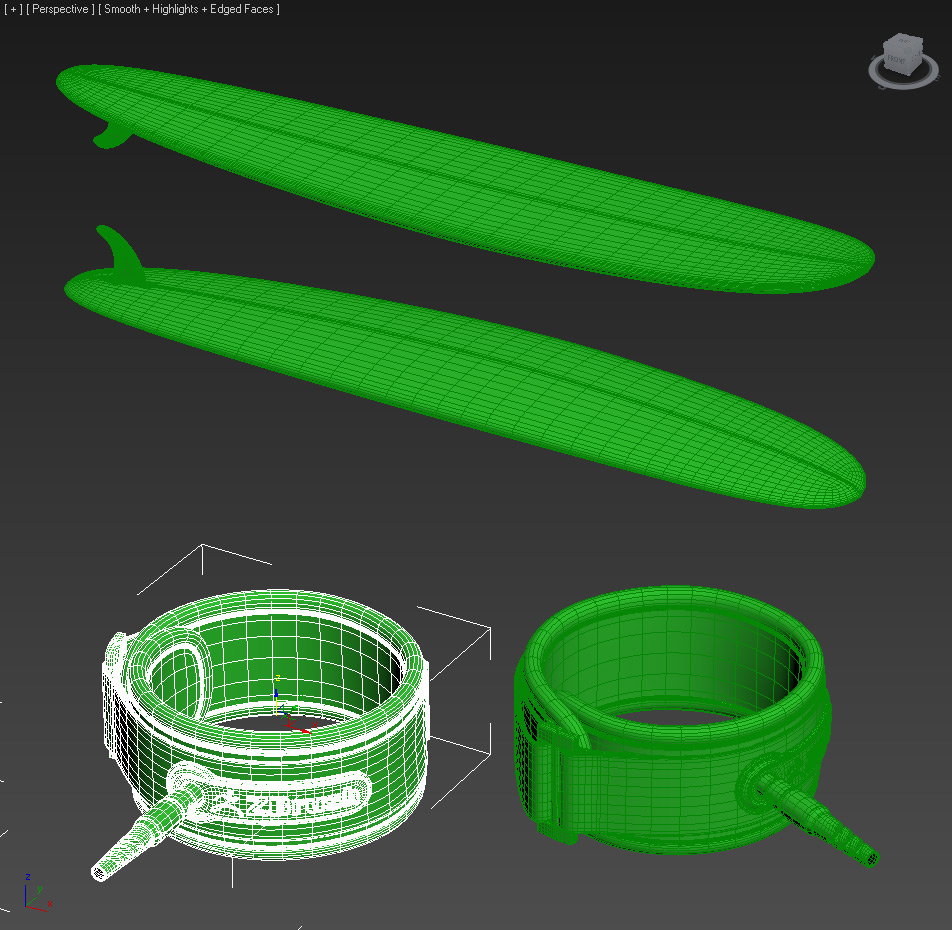 Since this model was oriented for Maya animation Pavel drew hair on the crab in Maya using Shave and Haircut plug-in. Having lost the sources in Maya he took polygon converted geometry in ZBrush.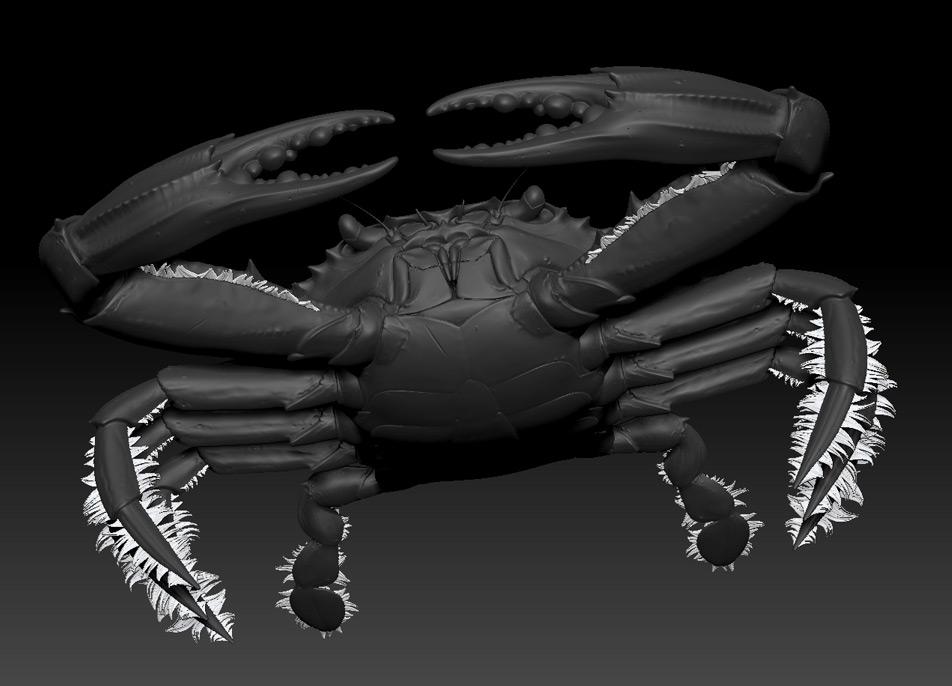 3. Texturing
For texturing we use ZBrush, applying there main colors, removing displacement and diffuse. 3Ds Max – for Ambient Occlusion.
Then, by mixing these textures, outlining over and adding some parts, we get the finished texture.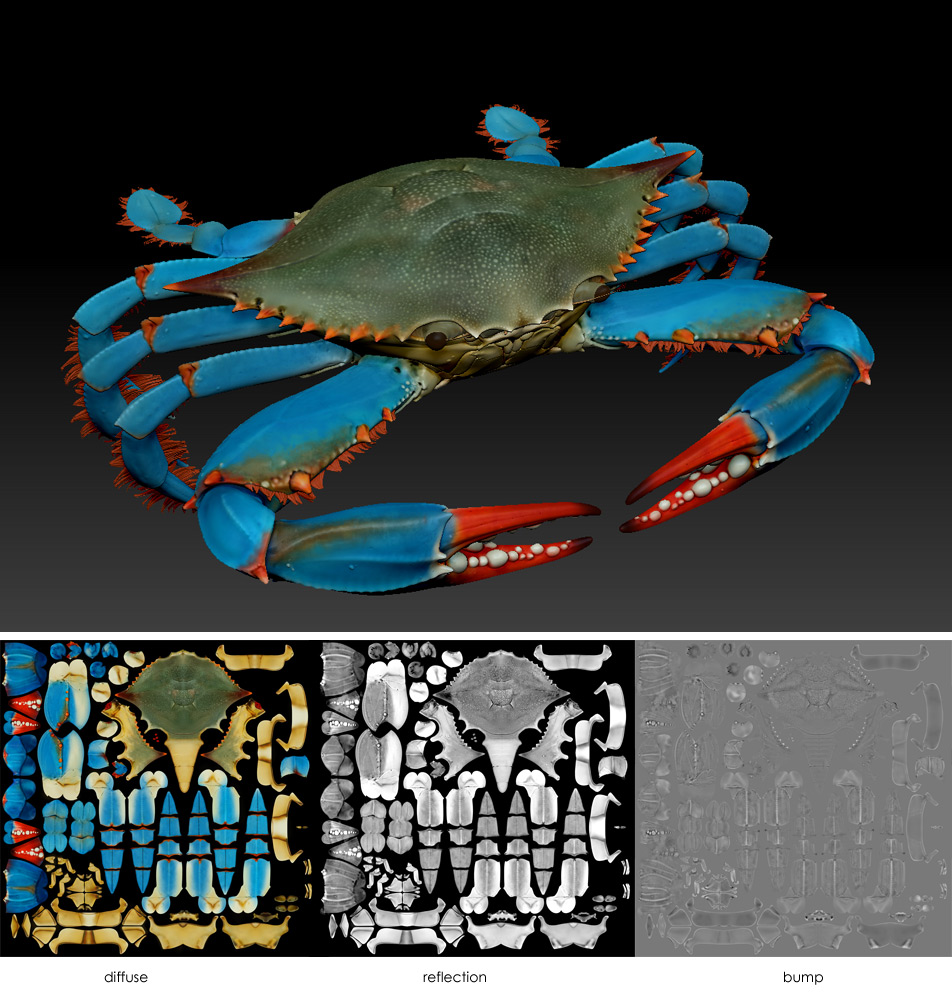 4. Composition
The author thinks that composition is the main stage when making a render. You can use it to show the history, convey mood and highlight key points. Composition can improve the most poor models and textures as well as make null and void months and months of tremendous work.
As for now you can try to imagine the story, describe what is happening in the scene. Then take models, camera, cubes, balls (simulating the missing items in the scene) and begin to move them in a way that would express as precise as possible the made up story. Pavel says in all his recent works he tries to use two or three dimensions in the scene with a shallow definition in depth as the most successful combination for the subject compositions in author's opinion.
At this stage we can open a HDRI in V-Ray environment and test it over and over again. Textures, details and other elements are not important here – only elements disposition and color perception. Now it's better to make a simple rig of our crab as well to give it some poses.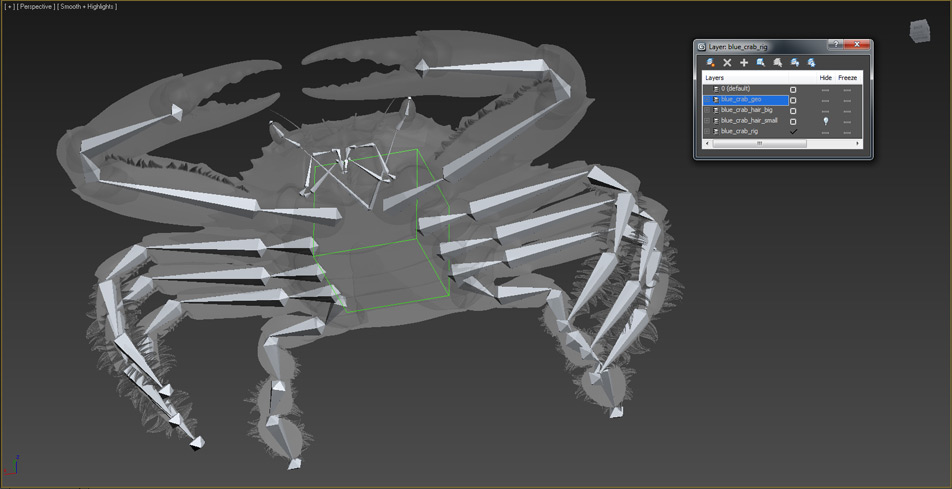 Below you can see test compositions.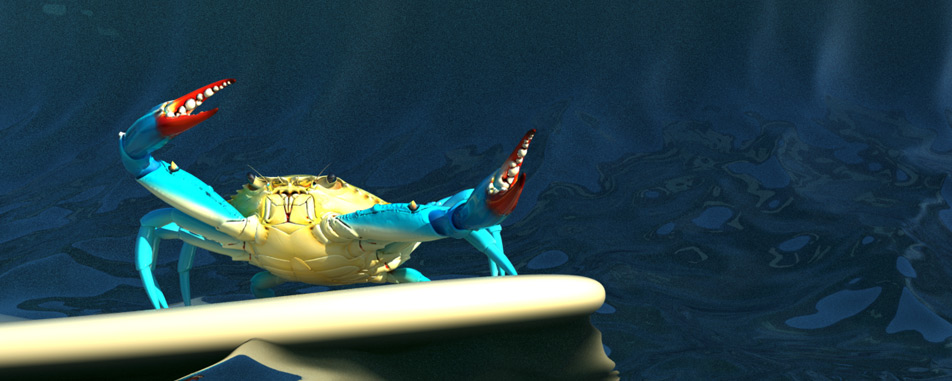 Composition #1. There should be a lot of fun on the wave, but we have too much water here.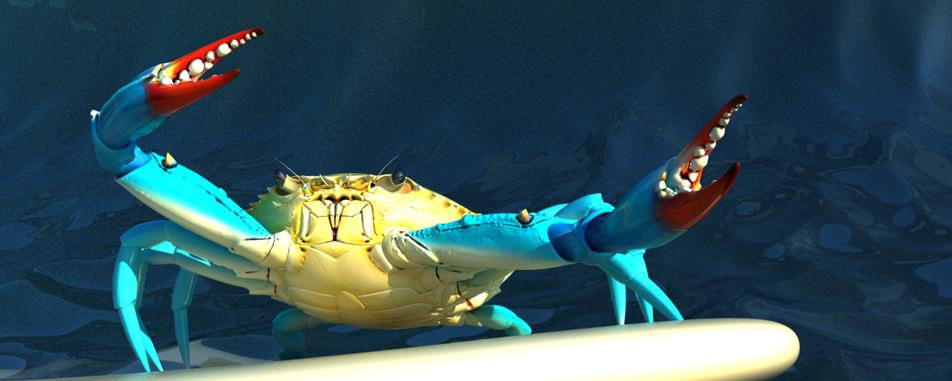 Composition #2. Little space on the edges.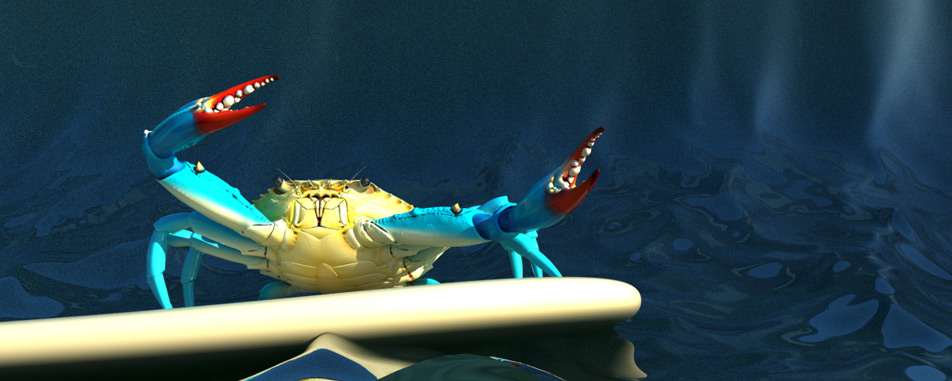 Composition #3. Again, water here is good.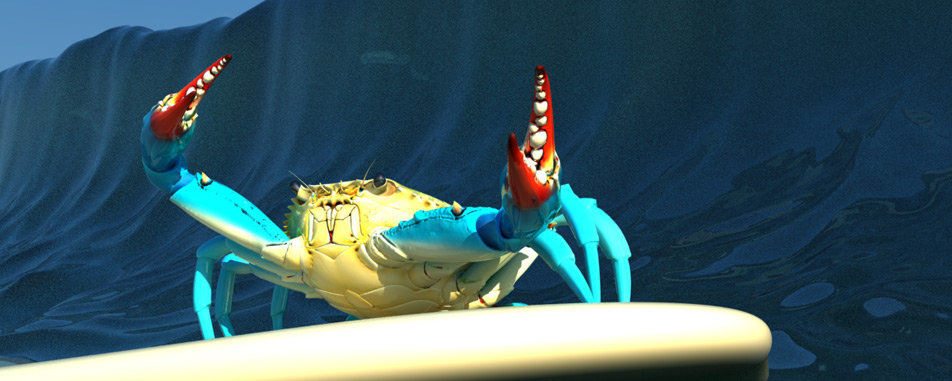 Composition #4. Waveform seems a little bit better, but now the location of the crab makes a mess. Let's move to the shore!

Composition #5. Not bad, but only few people will understand from this angle what is it.

Composition #6. Yes! And this can turn into a cool picture. Let's work on.
Composition #7. Sand looks nice. Subject to modifications.

Composition #8. Surf color depresses our crab. Here should be something neutral.

Composition #9. Again, too much attention to the serf. Let's remove the stripes. And we don't need that many clouds.
Composition #10. At last! That's exactly what we need. Now we are going to work on details, lighting and materials.
5. Lighting and materials
Once we are satisfied with camera position and location of basic parts, we can start to create additional elements in the scene, such as drops and flex, as well as set up lighting and materials. We may use PArray Particle System to perform drops on the crab.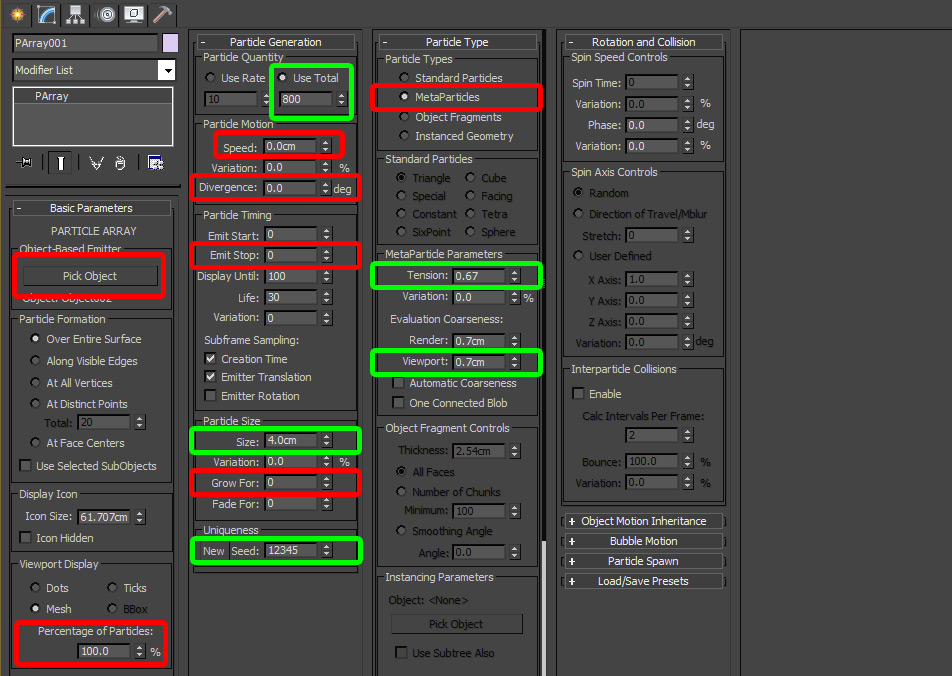 Those parameters we can experiment with are highlighted in green.
Then we open tools tab and select snapshot. The parameters must be as shown below.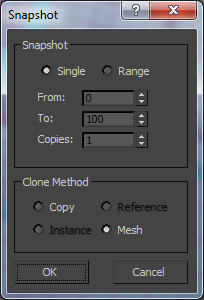 Then we get drops geometry, applying ProOptimizer modifier and TurboSmooth.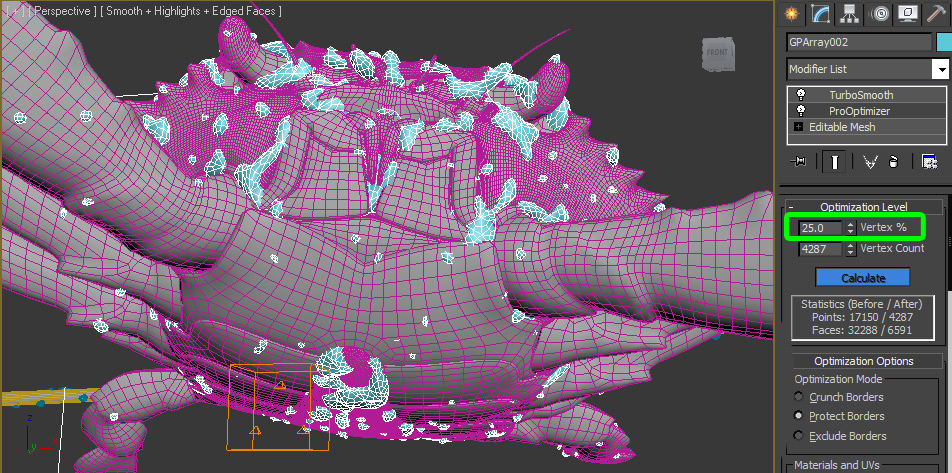 In Zbrush you may adjust the drops to your taste.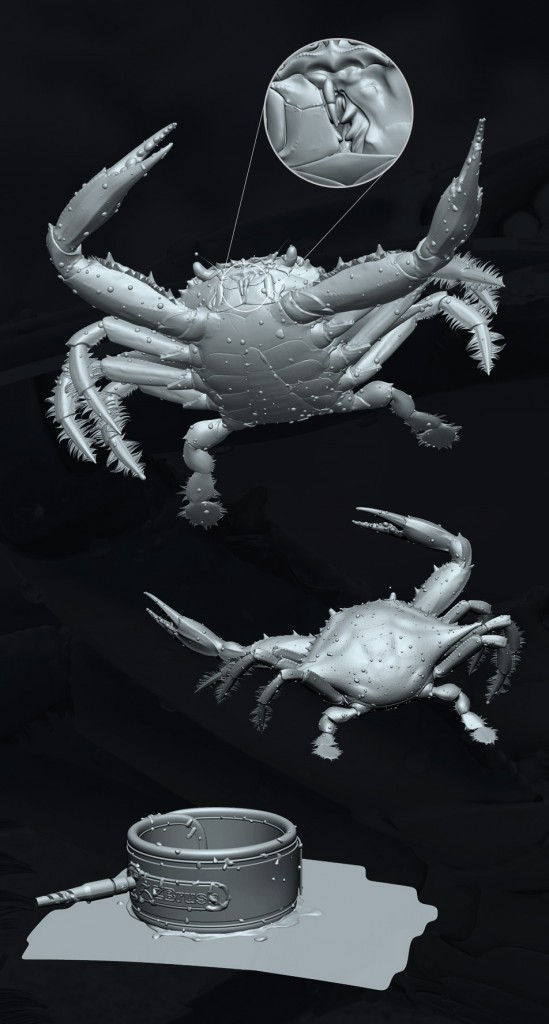 We're not going to try very hard with lighting. The author admits that in his own projects he usually makes an average render without any special illumination and darkening. And now we can try to perform color correction in Adobe Photoshop. Pavel thinks this is the best solution to create static images, because a slight change of lighting doesn't require rendering again the image.
Advice. Don't draw in 3D what you can draw in 2D.
This is the main rule (animation apart), which can help you to save a lot of time.
In 2D you may add dust, atmosphere, etc. – everything that gives a realistic view of the picture.
Search on the Internet for a picture with a similar atmosphere and pick up details that make this image vivid and genuine.
The scene with lighting looks like this. Plus HDRI in V-ray environment.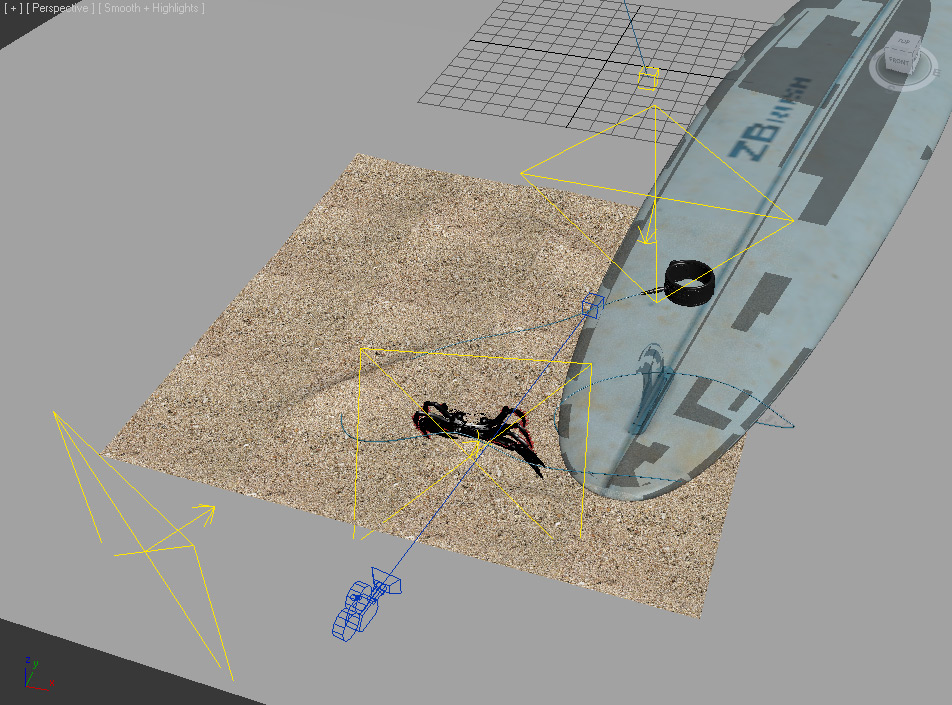 The materials are simple as well.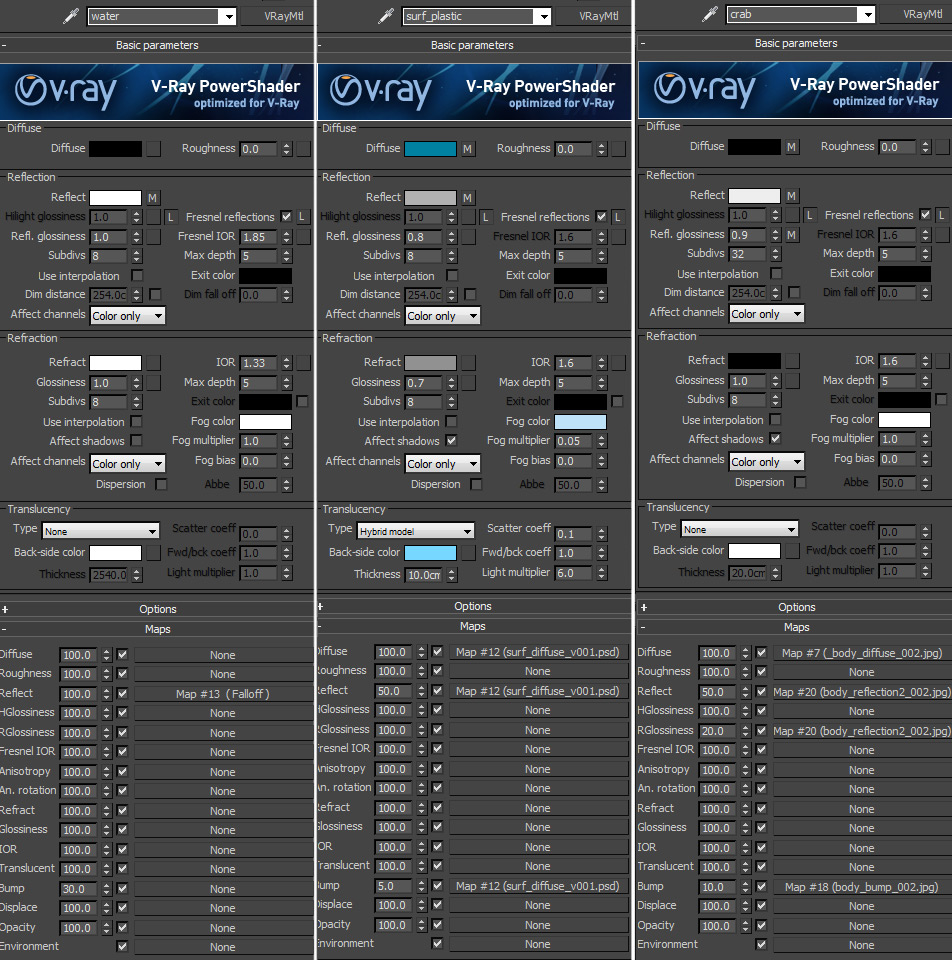 6. Render and post-processing
After all material and lighting settings are done we set the resolution higher (6000h2250px) and high render settings as well. As a result all images (the main one and passes) had been rendered for about 8 hours at 16 Core 2,4 GHz Xeon (R) with 24Gb of memory.
Below you can see all the passes:

Pass #1. The main render.

Pass #2. Global Illumination – used for rubbing the unnecessary glare and shadows.

Pass #3. Hair had been rendered with GI off.

Pass #4. Zdepth was used to adjust definition in depth.

Pass #5. Shadow was used to intensify falling shadows.

Pass #6. Mask for our crab.

Pass #7. Mask for the surf.
Then, using all these passes, we accomplish the most pleasant part of the work – gather in all in Adobe Photoshop. Here we can add particles flying in the air, make a color correction, draw some hair around the mouth and much more. As a result, we receive the final render.

7. Publication
After the work is done we shouldn't relax so far. Next comes a very important step – publication. And we should treat it as seriously as our main work.
Some artists either don't realize or don't care for this stage. Later they wonder why there are no views, no comments, no job offers, etc. – the render is good, it was made with diligence and took a lot of time. But no benefit at all (except experience, of course).
You should awake viewers' interest, show them details, additional camera angles, rich plans, pictures, etc.
Pavel says: "I've designed Blue Crab being guided by foregoing instructions and by comments to my previous works. What is the result? You be the judge!"
We hope this making-of will be helpful for you.
Thank all of you, good luck and have a nice render!
The author is grateful to Konstantin Korovin, Lukasz Krawczyk, Andrew Petsko, Ivan Sysuyev for their help when creating this render.
Don't forget to visit Pavel's personal website – www.texelstudio.com.