Hi everyone! We continue a series of short interviews with the best artists from Hum3D competitions.
Mohammad Mansouri, the author of great work "Travel to calm", which got Hum3D team choice on Car Render Challenge 2018, will answer on six questions and give us a look behind the scenes of his work.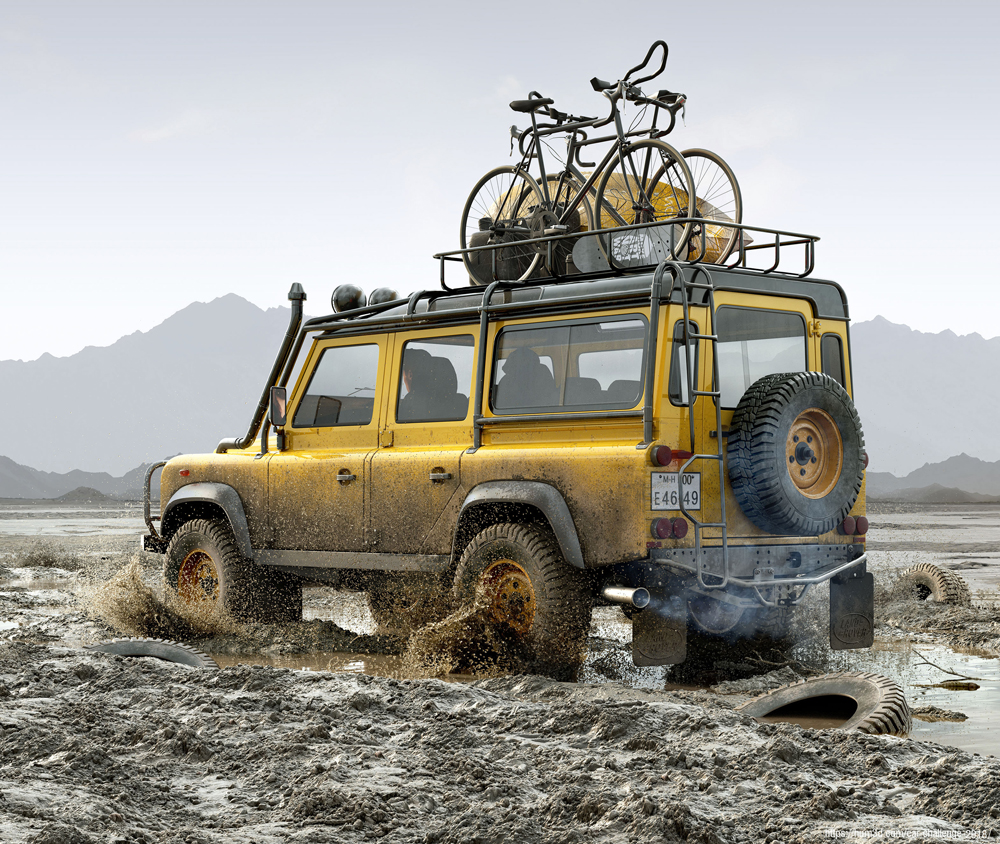 – Tell us a little bit about yourself. How did you become a 3D artist?
I'm Mohammad Mansouri, born in 1993 in Tabriz, Iran.
I used to like art when I was a child; and later I studied architecture because of my great interest in art. I started 3D 7 years ago using Autocad. Then I knew about 3D max which I tried to learn by a reading about the basics of the software in a book. But it was too complicated and formidable to me. So, I tried to find another software and I found Cinema 4d. It was then that I began to love 3D world since that software contained all the features that I was looking for. I learnt the basics on YouTube and master it on my own: I tried to figure it out for 2 years (12 hours a day).
– What's your favorite aspect of creating 3D art? Is there something you specialize in and enjoy the most?
I like modeling and designing humane characters (portraits). I equally like game development but haven't been able to afford enough time for that. My main expertise is architecture and I really enjoy it.
– What or who inspires you today?
No particular name comes to my mind but I usually get inspiration from great artists, sometimes great architects. Following and knowing about these artists greatly help me. I review lots of references whenever I am about to start a project.
– Please tell us your five short tips for creating realistic renders?
– The first point that I always consider in my work is modeling. In my opinion, modeling plays a crucial role in a realistic rendering. Attending to the details helps a work get more real.

– The second most important point is Lighting or illumination. A good lightning is a great factor in realistic render and I am particularly sensitive to this point.

– Third important point is material and UV texturing. A good and realistic material selection is always dependent on good lighting. Without a good lighting, a material cannot be realistic no matter how well physical it is made. Equally important is UV texturing which plays a great role in making a work realistic. Both material and UV texturing needs observing relevant references.

– The fourth point is scene setting and color blending. I usually pay a lot of attention to color blending. Setting scene is also very important in creating a realistic work. Both scene setting and color blending needs observing relevant references.

– Last but not least is framing. I always tried to be like a good photographer.
– Could you please show us any images from the work process with a short description.
I have developed a special interest in this part of my work. I believe that details and nuances (e.g. dirt, stain, rust, etc.) help create a more realistic rendering. I use Substance Painter for this purpose.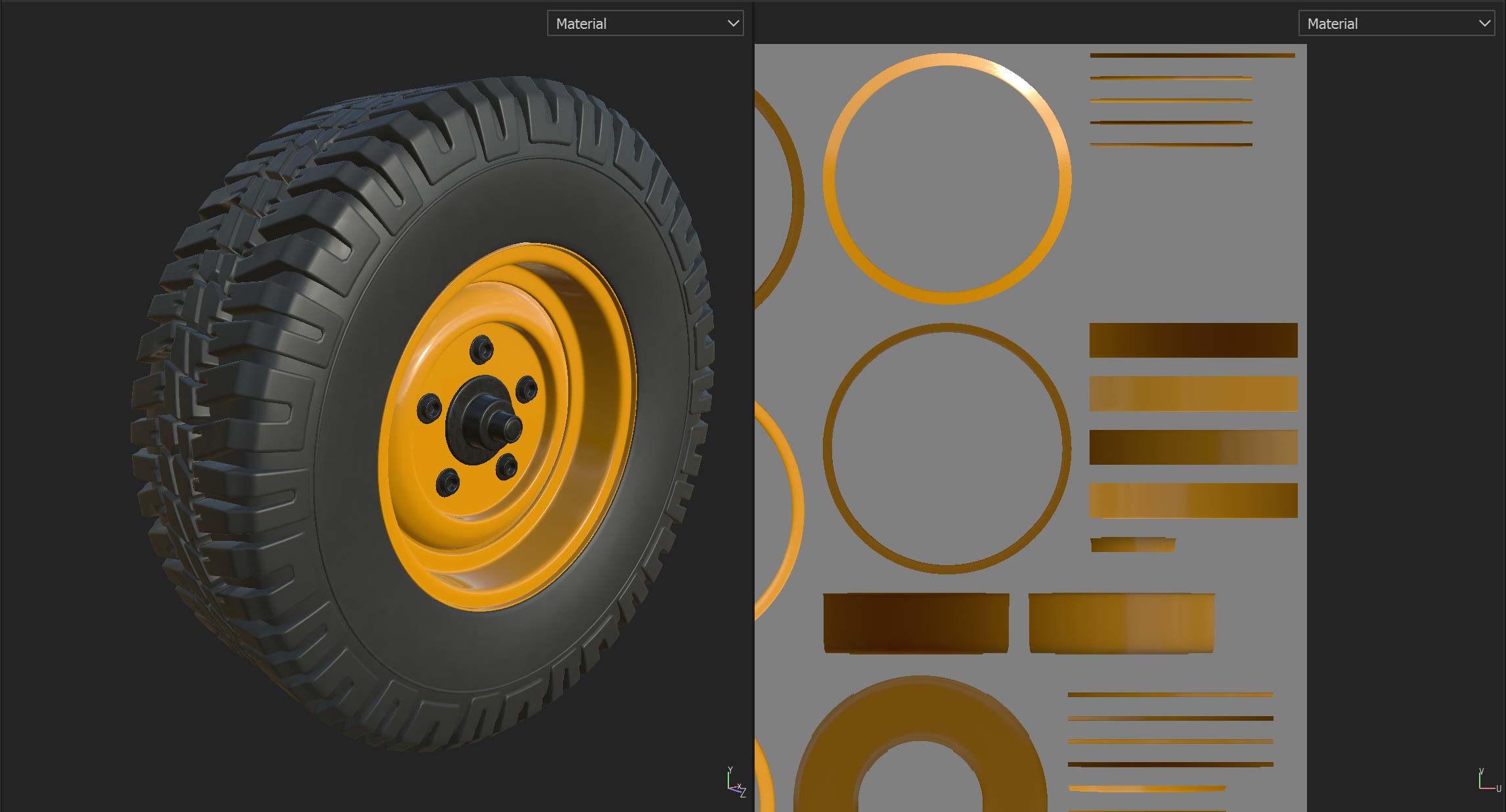 After applying the initial material on the model surfaces, I would work in some details such as dirt on the wheels and tire.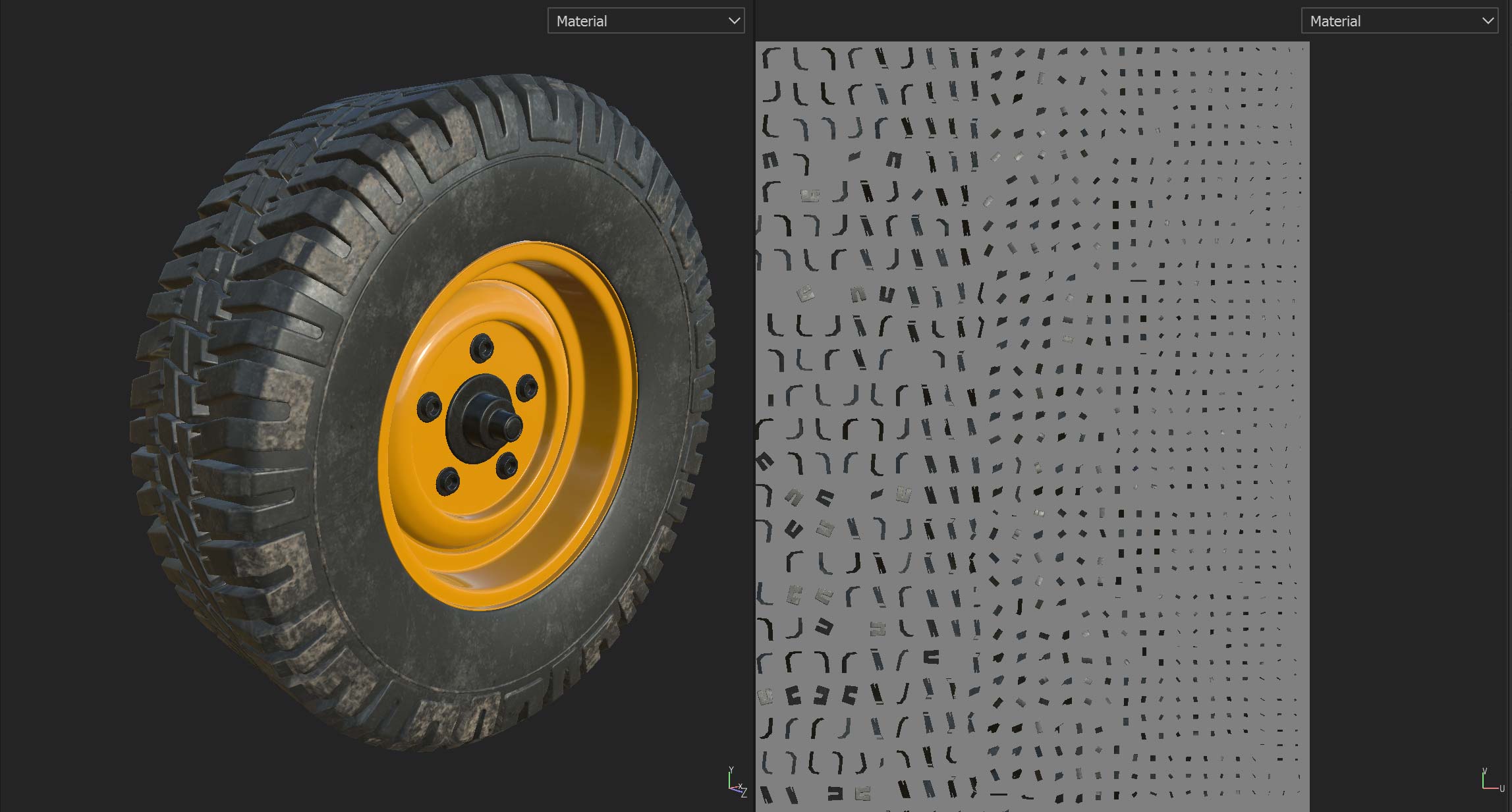 Here, I added a layer of dirt on the tire.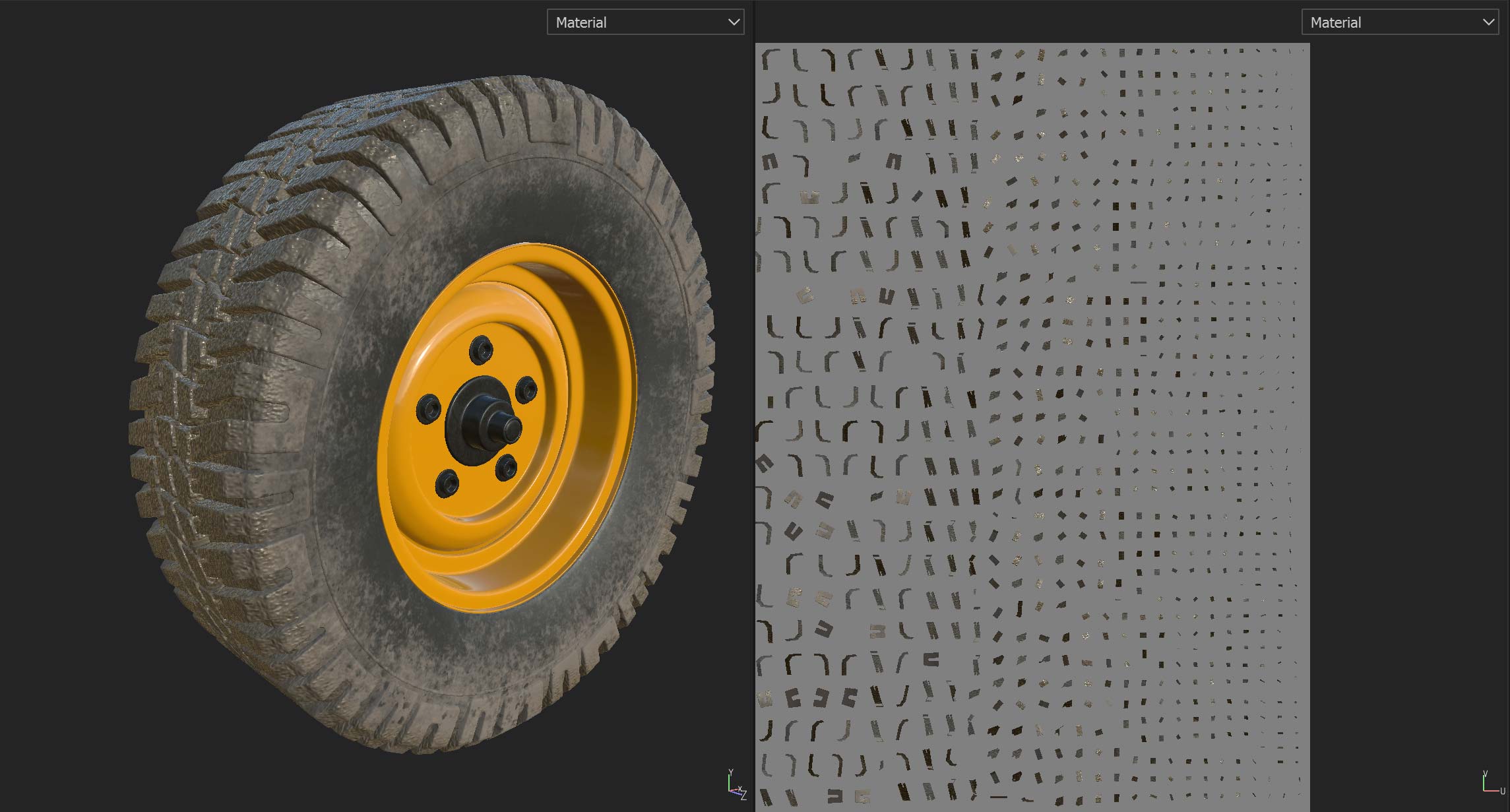 At this level, I completed dirts on surfaces tire.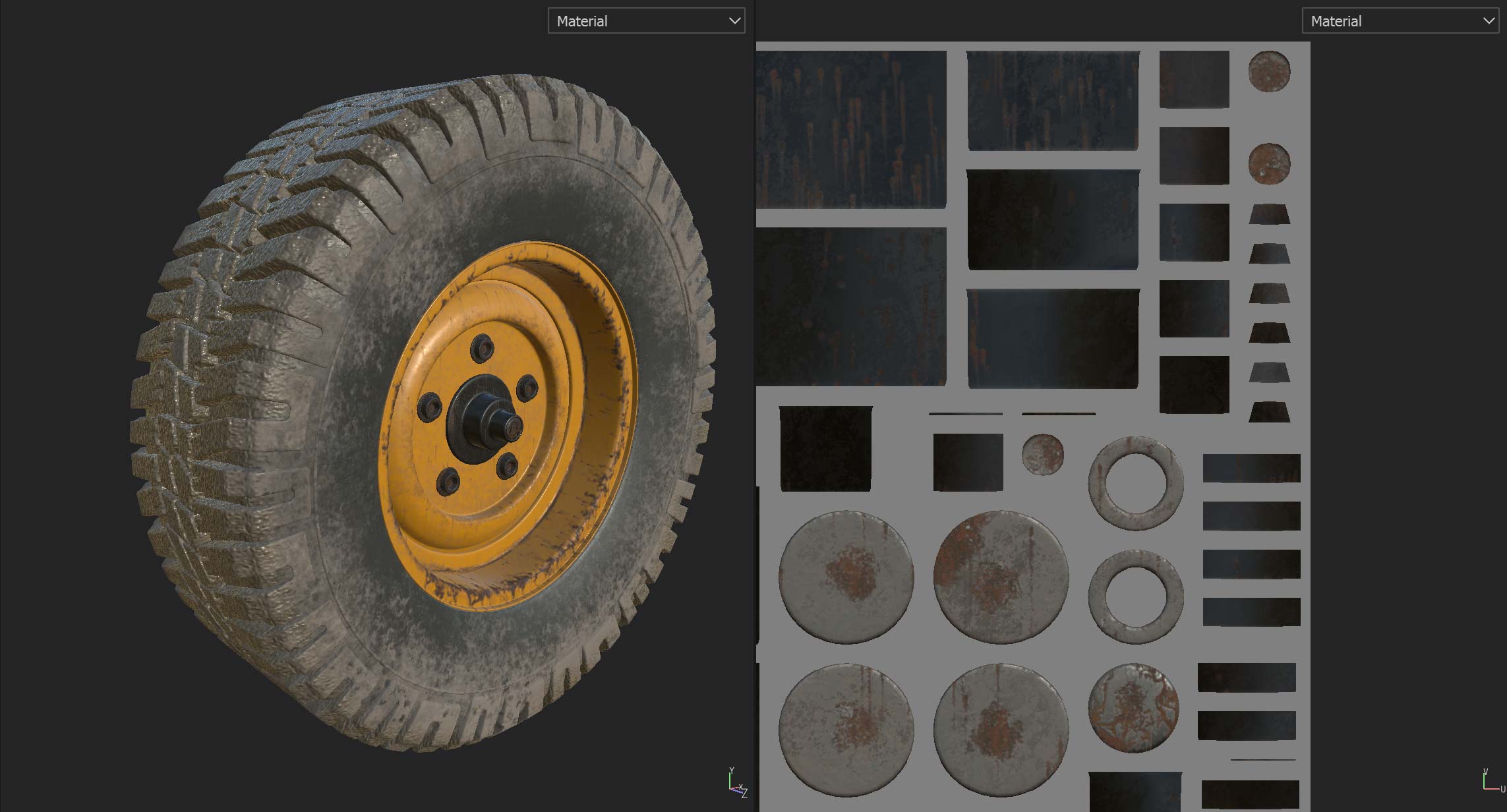 And finally refined these dirt patches further.
For me, working with Substance Painter is always the most pleasant part of the work.
– Which of your designs are you most proud of and why?
I particularly like designing the splash (water being splashed under car wheels) since I used to learn how to work with Realflow in modeling liquids. A pleasant experience for me.
Also, designing work field was appealing to me. These two cases stand as distinct experiences for me.