Hi everyone! We continue a series of short interviews with the best artists from Hum3D competitions.
Nicholas Lim, the author of work "Short Bow Carbine" will answer on six questions and give us a look behind the work.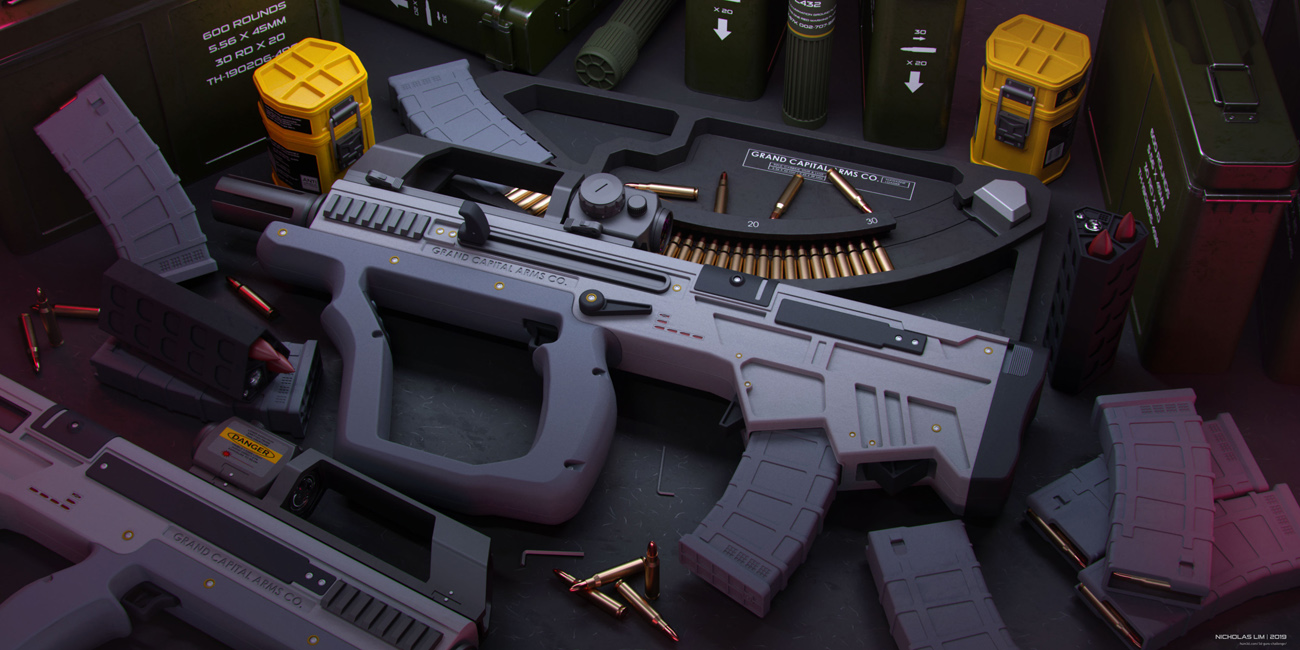 – Tell us a little bit about yourself. How did you become a 3D artist?
Greetings! I'm Nicholas Lim, and I provide concept design services. Although I trained and worked as a 2D concept designer, I got into 3D visualization in my spare time. I really started learning 3D programs like Fusion 360, Keyshot, MoI3d and Octane back in 2016 shortly after I returned to Malaysia.
– What's your favorite aspect of creating 3D art? Is there something you specialize in and enjoy the most?
I like the challenge of hard surface design, getting to grips with the finer details and how parts could move. Getting the object to work functionally and visually from different angles is satisfying. I love having control over materials, lighting, and shadows to enhance the look of my renders. Best of all is the ability to place things together in a scene and ensure that they all fit naturally. These days, it's even more fun use 3D, what with all the online resources available – texture packs, affordable tutorials and training, model and assets stores to facilitate my process.
– What or who inspires you today?
Real-life manufactured objects which have been carefully considered and designed. There's so much to learn in terms of solutions, materials, ergonomics, etc. Fighter jets, firearms, modern homes, these are especially fun to pore over. Our natural world is kind of a big deal as well! In terms of fellow artists I'm definitely inspired by people like Edon Guraziu, Paul Chadeisson, Jama Jurabaev and other such titans of the entertainment industry – the list simply goes on!
– Please tell us your five short tips for creating realistic renders?
– Proportions and scale of your models are big factors when it comes to any subject matter.

– Objects whether natural or man-made have a specific look to them – and most people can know at a glance if something is not quite right in terms of texture or materials.

– Mind the camera! While 3d software allows us to render from literally anywhere, it's good to imagine if a cameraman were to stand somewhere and snap a photo.

– Lighting. Have an initial idea and seek good reference for best results.

– Be methodical and don't feel overwhelmed! The process of realistic image making is always a daunting task. Entire teams of people are hired to handle lighting, textures, movies, photo shoots and CGI animated features. Although you've got to do it all on your own, just be patient and approach your renders methodically. Break down what you've got to do in steps then work your way through. Keep tweaking until you're satisfied!
– Could you please show us any images from the work process with a short description.
Here's my Shortbow, which was done for the recent Hum3D challenge. I sketched an idea of what I wanted and looked for reference images as a starting point.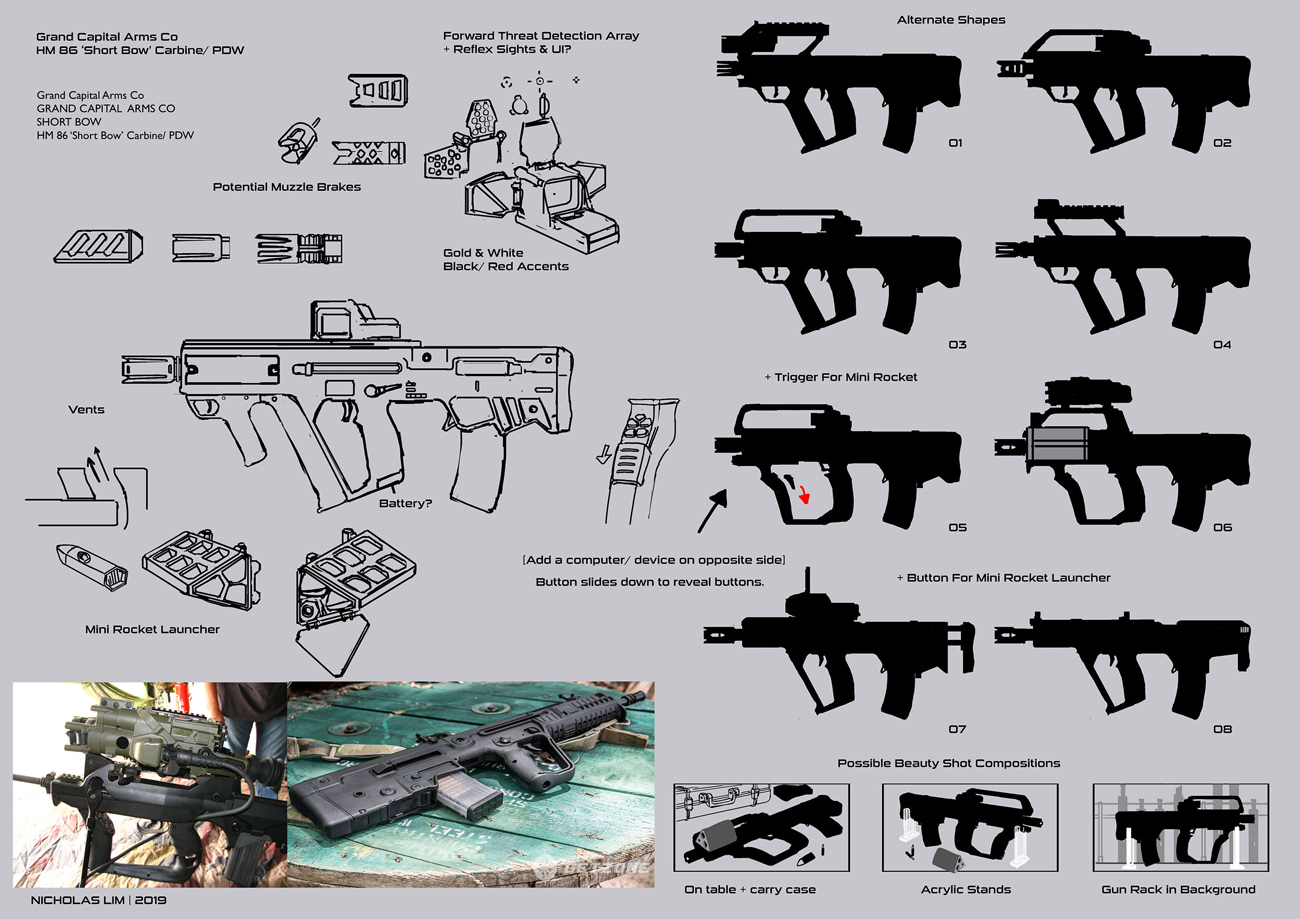 I modeled the design in MoI3D and sought more references as I encountered gaps in my knowledge.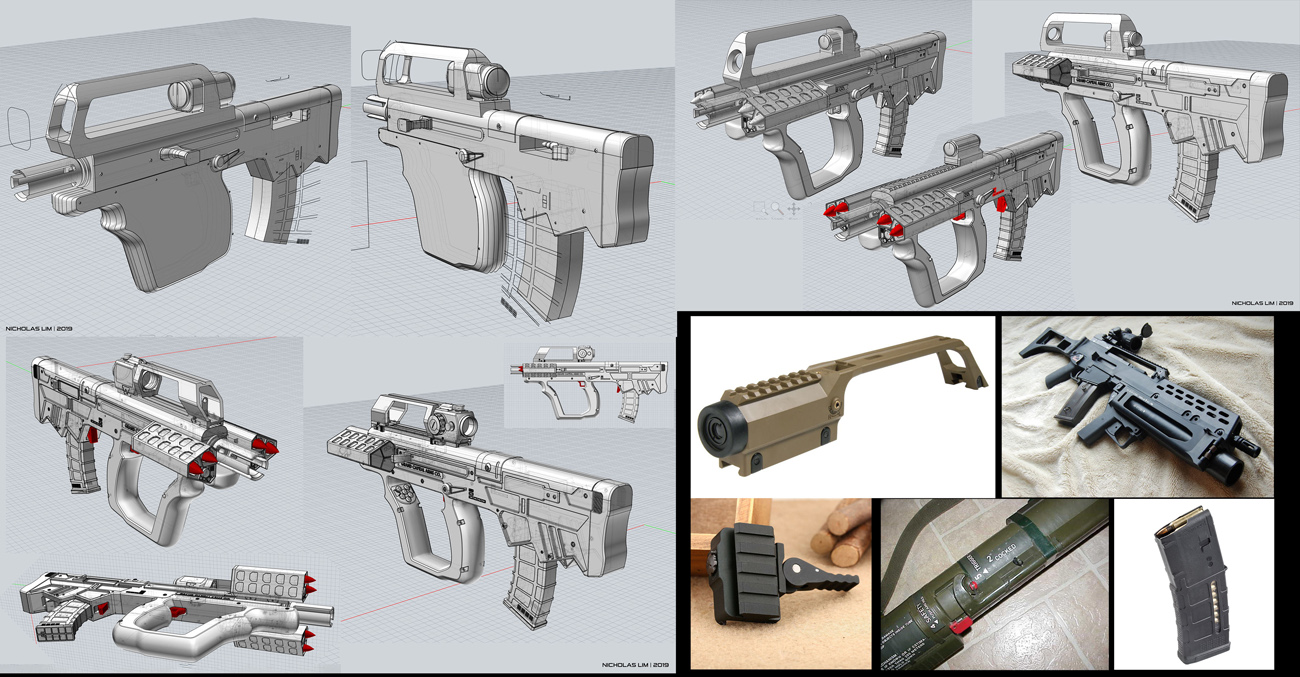 I also watched Youtube videos for how a similar looking gun functions. I followed through with modeling and lighting for final render – and took it into Photoshop for Chromatic Aberration, Levels adjustment and so on. Props were modeled and added accordingly as I needed them.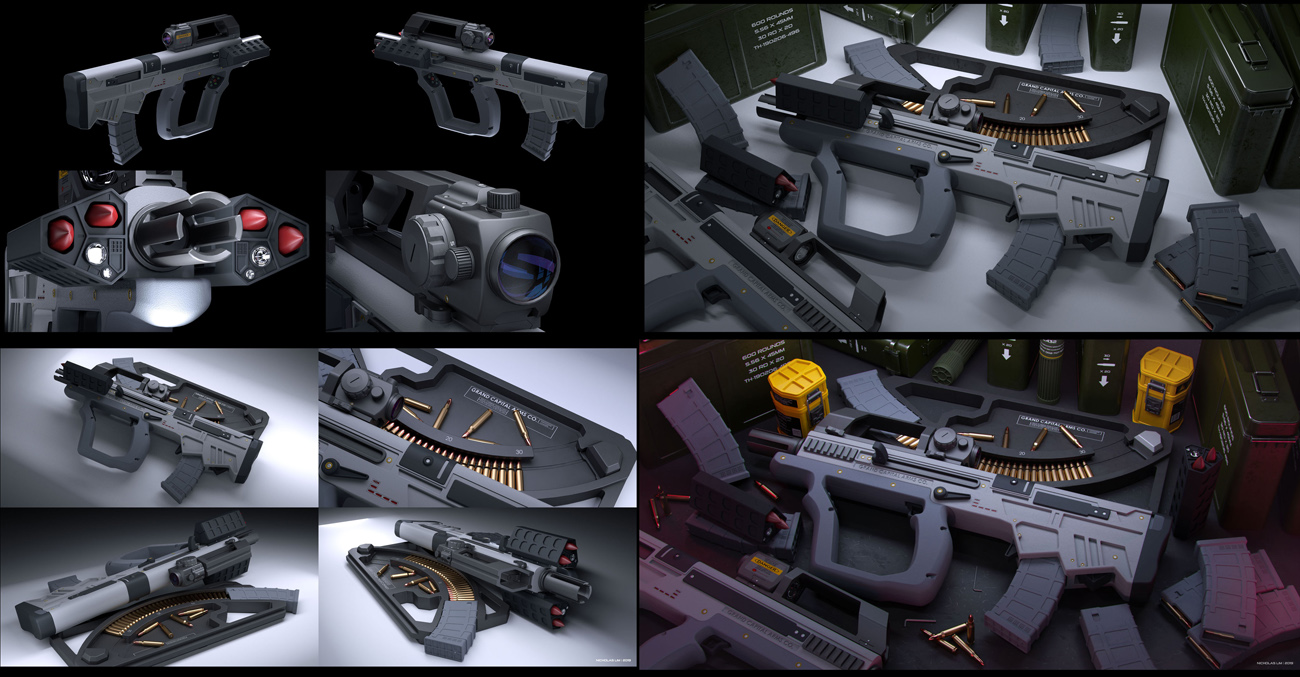 – Which of your designs are you most proud of and why?
That's tough! But I do like how my Shortbow Carbine turned out, as it's the culmination of my relatively recent journey into 3D and weapon design thus far. I liked doing the research and making the knowledge my own – turning my 2d side sketch into the fully modeled version. The props that populate the scene had to be considered, as I imagined a tank or mech pilot in between missions stocking up on ammo and other supplies. The process of designing and executing brought me a lot of joy! If you'd like to see it from different angles, do check it out here and here.