Today we will talk with the team of RebusFarm, the widely known popular render farm. Many large CG companies use their services. For many years, their logo always appears on every major CG event. Let's try to find out what makes this company number one in the industry, how it all began and what their plans are.
Hi, thanks, not too bad ;)
Well, we cannot report from clients projects as those are affected by confidentiality clauses.
But, we are always working on improvements in our user interface and in expanding the range of supported render engines. At the moment we monitor the development of GPU based rendering.
BTW: We are currently hiring employees. Render wranglers, help desk supporters, web-developers, administrators… all welcome!
Well, let's imagine that I'm an artist who would like to make use of your service captiously asking you about various details.

– I've never used render farms before. Please, tell me, how does it all work? Should I install any additional software?
It´s actually very simple. You just go to our website, register and download our software. Our software will install a plugin to your 3D software which you have to use to submit a render job. First it checks your scene for problems. After that it automatically gathers all resources of your scene and uploads it to our farm.
The render job will usually be queued for rendering automatically. Through the ControlCenter on our website or the mobile app, you can see the progress of your render jobs. You are also able to start, pause, resume or cancel them. The output of the job will automatically be downloaded to your hard drive.
We do offer a trial of 10 Renderpoints to every new user so they can try out our service for free. 1 Renderpoints valids 1 Euro. To redeem the free trial as a new user, just register and the points will automatically be uploaded to your account. Furthermore we´ve included a special voucher for 20 Renderpoints for all Humster 3D users. To redeem the Points you just need to login go to My Rebus > Payments insert the code "Humster3D" to Bonus Coupon Code /Voucher and confirm.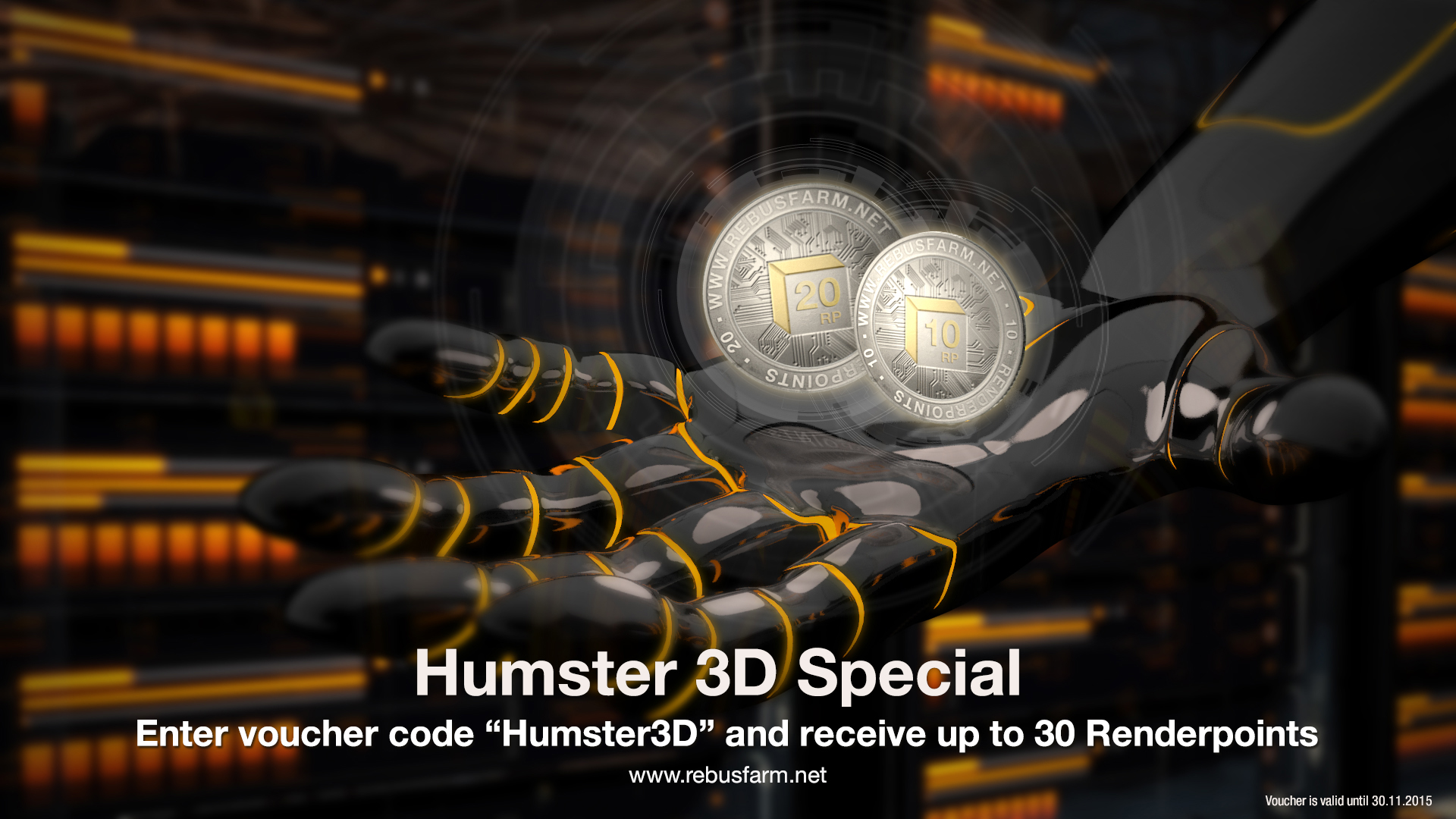 – Can I make changes to the render straight away during the rendering process? For example, I don't like the lighting in the scene. Or I should set all the features in advance, before rendering? In other words, do you have something like real-time rendering?
Well, as we do not offer real-time rendering until this point, you would have to make sure your scene is set correctly in advance.
The transfer of projects and output files is encrypted by default. If you delete a job from the ControlCenter, all of it's files are deleted from our server instantly. Rebus Render Farm will handle your projects with utmost discretion, and respect the confidentiality of all information received. We aim to treat you as we ourselves wish to be treated. Anyways, we are always more than happy to promote user work. So in case an artist is interested, we can always support his artwork on our social media channels, partner sites and blog.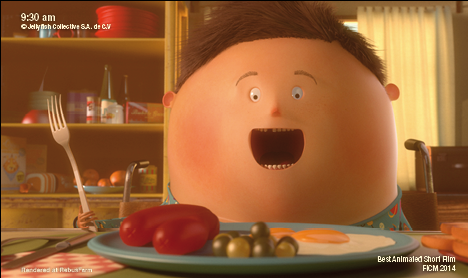 Thank you very much for your help! I'm sure that I will choose your service :)

– I suggest that we talk about the history of the company. Sure, this is a trivial question; still, please tell me, how did it all begin?
All started in 1994 when Ralph Huchtemann founded a small 3D animation studio in Cologne after his studies. As the company grew we had to expand our render farm continuously. But even with many machines, we never had enough. And most of the time those machines just stood around not being in use. So we decided to contact some other studios and leased them the machines for a few bucks when we did not need them.
One thing lead to another, the renting of the machines to other studios grew faster than our 3D Animation business, so we then began to focus on offering a render farm service. All started with just 20 machines or so in 2006.
Since then we have been able to double the number of machines every year. Nowadays we do have 3000 CPU´s which is quite impressive though.
Very early Ralph began to examine the process of Job submission from a local Computer to a render farm. In those days it was usual to collect all of your Render job files manually, pack them and send them by email to a render farm. He was thinking of a system were the 3D artist could send his render jobs to a farm in much the same way he does it locally.
So he got the idea of developing a plugin to use for all 3D softwares which would collect all the resources of a job, validate that the job is compatible with the render farm, and if not, simply give error messages or even better than that, perform tweaks to the job to make it compatible. The unbeatable advantage of the idea is that you will never send a job that renders locally at your desktop but fails at the render farm.
Also we further developed the management software, which is not our invention but we did include, for example, a feature that saves the final renderings to a directory on your local computer. Our aim is to come close to an experience where you cannot notice any difference between a local and a remote rendering.
It really varies, we have all kind of customers doing animations and visualizations: students, CG artists, architects, big and small studios, even game companies and freelancer are using our service.
We think the user friendly workflow, is something that is really important for our customers. Often they have tight deadlines and no time to prepare their scenes for rendering on a farm. Our software prepares everything automatically. Another important point for our customers is quick response times to support requests.
Since these points are important for our customers, they're important for us as well. But we don't stop here. Our team is always evaluating and discussing new ideas and improvements to our service. And we're also always happy to get feedback and suggestions for improvements from our customers.
You can watch more tutorial here.
– Probably, you'd like to increase the role of the company in CG-society, make it more significant? For example, you are an active participant of CG-community; your logo appears on every major CG events, SIGGRAPH in particular – is it a part of company's strategy or its philosophy?
We are always aiming higher. So, of course it is of most interest for us to be present, both in person on exhibitions like SIGGRAPH or with banners and articles on several CG-related websites. And, we are open to mostly every kind of sponsoring or partnership. We want to get in contact with our customers, discuss CG topics and become an indispensable player in the CG business.
We use social media and our blog as well as a monthly newsletter to keep our users worldwide updated. And, we have great interest in supporting our users. Therefore we´ve started the monthly contest "Artist of the Month" on our facebook page. The winner will be featured for a whole month in all our banners on partner sites, be interviewed for the blog and awarded 250 RenderPoints to spend on our farm.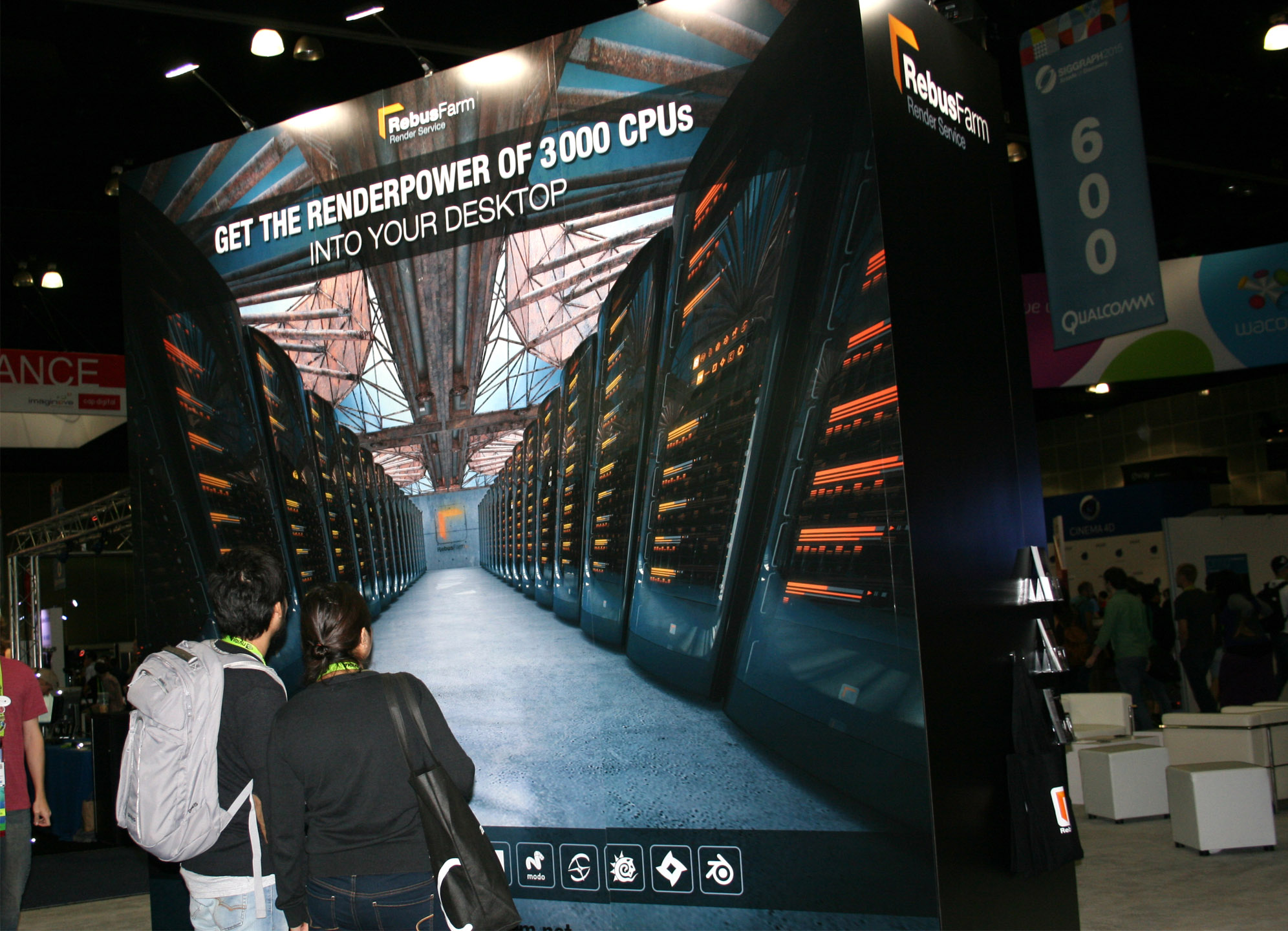 It´s very easy. You just have to go to our facebook page, post a picture that you´ve rendered, on our wall and send us a private message with your contacts. By the end of every month, we will then select the "Artist of the Month". On the first of every month the new "Artist of the Month" will be announced publicly.
We are all very interested in 3D art. Everyone working at RebusFarm is creative in his or her own way. Some are artists others are studying or did study 3D in the past.
Our major tasks are providing a good and faultless experience to our customers, maintaining round about 1500 render nodes with 3000 CPU's and keeping the complex software behind our service up to date and running. So most of the time we're responding support requests and keeping and eye on the render farm.
If there is something to discuss internally, for example a new feature request made by a user, everyone grabs a coffee and we talk about what is possible and how we can implement it. When the shift of one supporter ends, there's a quick briefing with the other supporters where we exchange important information about currently running jobs or open support requests.
I'd like to thank you for the interesting conversation and for excellent services you provide artists with.