Hello everyone, It's high time to sum up the Survival Car challenge.

First place is The Free Autonomous Republic of Dieselville by Federico Ciuffolini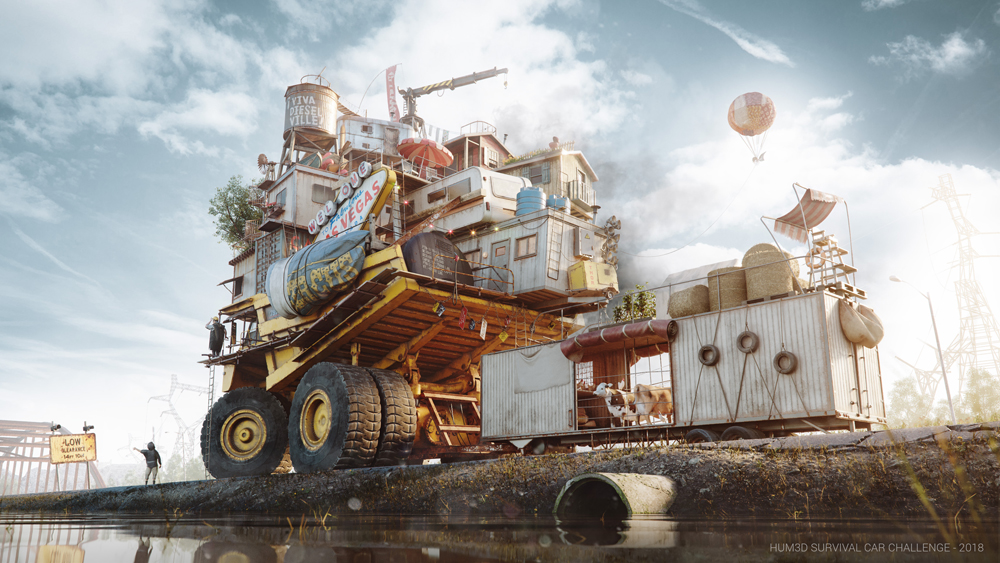 Also Federico gets Special prizes from FoxRenderfarm team, Corona Renderer, InstaLOD and from the RebusFarm for the most creative design.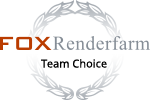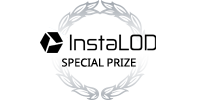 Made with using 3ds Max, Corona Renderer, Substance Designer and Photoshop.
Jonathan Holmes: "Great composition and lighting. A proper blend of realism and fantasy gives this work an ethereal feeling".
Yuriki Lebedev: "Excellent execution! There is a story and humor. Nice angle".
Carrie Mok: "I like how much has been crammed into this one vehicle to really make it into something unique – a whole republic! There's so much to see and I keep finding more tiny details every time I look at it. Lovely story and overall mood".
Jeremie Noguer: "I especially liked the mood, lighting and detailed material work".
Fernando Tella: "For the imaginative idea, perfectly executed till the last detail, funny and awesome at the same time; the sight gets trapped on every corner; even the making of is nice to see".
Guilherme Henrique: "Nice idea, great execution.The long hours put into this work can't be overlooked! Despite the multitude of elements on screen, it still reads quite well as a whole, crazy ideas are not easy to pull off, but this one did it. Great job".
Jim Thacker: "This was a clear winner for me. It has such a wealth of detail, a real sense of humour, and everything is beautifully rendered".
Tom Grimes: "As always, I love images that tell a story. This one won me over with the chaotic mix of random elements such as the Circus sign, the Las Vegas sign, summer parasol, Christmas lights etc. – it gave it a surreal feel that I loved, an almost comedic feel that contrasts with what is obviously a harsh and hard existence for the people that live in this traveling ramshackle village!".
Jan Tománek: "Nice idea and very detailed modeling".
Kirill Tokarev: "Outstanding exercise in creativity and design".
Fox Renderfarm: "There is definitely a very strong feeling for the topic "Survival Car", the whole design is very creative and the details are pretty awesome. We do feel the spirit of surviving in this artwork".
Quick interview with Federico:
– How long have you been into 3D modeling? Please, tell us about yourself.
3D has been my passion for almost 15 years, and I'm proud to say that it has become my job. I've been doing photorealistic renderings for 7 years, and right now I'm working on interactive applications, augmented and virtual reality.
– How much time did it take you to create your work? Did you face any difficulties?
I'd say between 100 and 150 hours, it has been quite a challenging project for me. The most complex parts have been cloth simulations and shading. 99% of all the rust, grime and dirt were added procedurally, using layered materials and ambient occlusion maps for masking. Most of the models are not even unwrapped!
– Do you have any advice for future participants in the competition?
Take your time to think of a good idea. It's a fundamental phase and you don't want to rush it. Don't settle on the first concept and don't be afraid of wasting time. Search for references, watch movies, check out how other artists have tackled the same subject. Inspiration will come naturally.
Once you are done, prepare a rough time schedule. These works can get pretty huge and without a proper timing you might have to trade off a lot of quality to respect the deadline. Be smart and plan! :)

Second place is Second chance by Anton Hurinov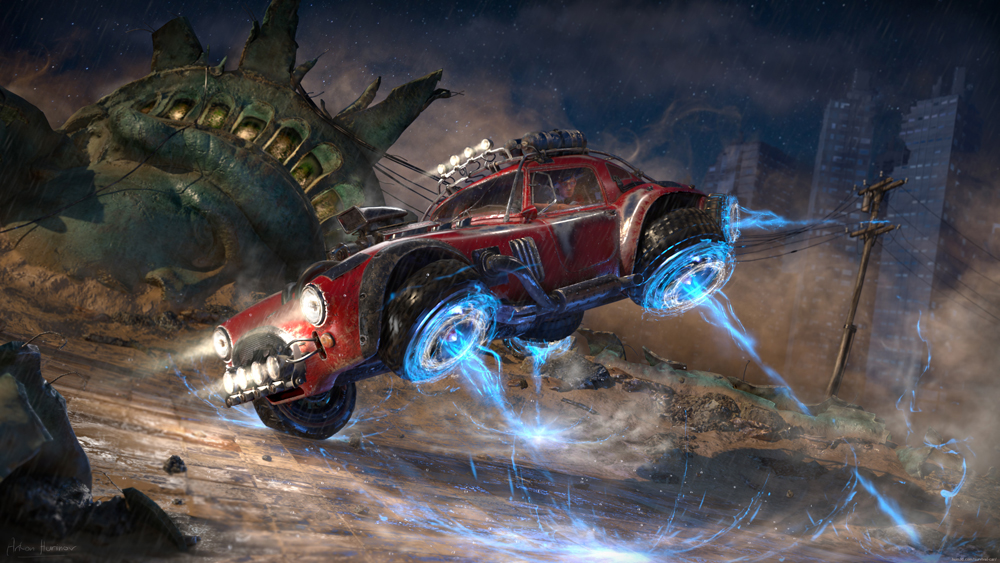 Made with using 3ds Max, Houdini FX, Corona render, Substance painter, Zbrush, Unfold3d and Photoshop.
Yuriki Lebedev: "This is very unique work with very cool RGB color decision! Nice details everywhere and cool VFX".
Carrie Mok: "I was drawn to this one because of the idea of fuel source and energy driving the dystopian world and the car itself. You can really see this becoming some kind of film or short film one day."
Arseniy Korablev: "Dynamic and futuristic, it reflects theme of contest. I like blue glow and design of the machine which not overloaded with details. Lack of work is the background, especially buildings looks too simple".
Jeremie Noguer: "Detailled background and nice execution on the blue "reactors"".
Andrew Krivulya: "Very atmospheric work. Reminds me of some awesome cartoons. I like these lights, the currents of the wind. It feels right that a full kick ass has come to this world".
Fernando Tella: "Very dynamic composition and nicely executed with a good combination of techniques".
Quick interview with Anton:
– How long have you been into 3D modeling? Please, tell us about yourself.
I work in the game industry more than 10 years, and the first part of this period I was a 3d animator, I like the process of animation and creating rigs and I try to practice this as often as possible, but beyond that I love a little bit more complex tasks, I can even say more global tasks with a big part of different detail. Thank God the industry is fully capable of satisfying my interests.
– How much time did it take you to create your work? Did you face any difficulties?
At the moment I work with the Gameloft company in a position lead 3d artist. In spite of the fact that I'm completely occupied by work, thanks to the favorable environment in the company, I managed to allocate a little more than an hour per day for one and a half months to realize my idea.
Throughout the whole period, I was tormented by only one problem, this is that I made a mistake and made an incorrect estimate and could be late with the publication of the render.
– Do you have any advice for future participants in the competition?
Oh sure.
Divide the task in terms of priorities, try to identify points that you could integrate into the event of completion of the main tasks ahead of time, plan your time correctly and be consistent in implementing the idea.

Third place is Lightage by Florian Renner
Made with using Cinema4d, Octane, SubstancePainter, 3DCoat and WorldCreator.
Yuriki Lebedev: "I like this icy filling with purple sky and detailed snow".
Carrie Mok: "Love the vibrancy, and the environment is a lovely different, unique take on the theme. The addition of the bones to the roof of this sleek Alfa Romero adds a great story to the car".
Jeremie Noguer: "Nice colors and composition, original setting and good material work with the snow and frost on the car".
Andrew Krivulya: "Nice picture. Well-chosen colors and composition".
Michael Bitsakis: "You just cant catch a cold with such a hot ride".
Guilherme Henrique: "Striking composition! The color choices are excellent, everything flows so well together it's a pleasure to look at if for quite some time. Hard to resist a good composition, and this one ticks all the boxes for a great one. Beautiful work".
Jan Tománek: "Very nice use of colors".
Quick interview with Florian:
– How long have you been into 3D modeling? Please, tell us about yourself.
I am actually a graphic designer and have been using Cinema4d as support (for perspectives etc) for my illustrations since 2007, besides my permanent position. Later working with Cinema4d was so much fun that I started my own business in 2011. Since then I try to specialize my work in 3D visualizations and animation. I like trying out new 3D programs and have used the contest to learn software like 3D-Coat, Substance Painter and World Creator.
– How much time did it take you to create your work? Did you face any difficulties?
The Picture took me about one week working time. But many objects I rejected later. For example I textured the interior of the car because I had initially left out the doors. But at the end the car looked better with doors…so the interior wasn't visible and I wasted the time for it :-)
Also, I have spent a lot of time for the 3D environment (desert, ice, mountains, etc.) that time could had been saved with better sketches or concept.
We congratulate the winners!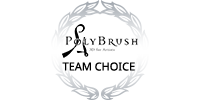 AND

Special prizes from the Polybrush team for the most detailed, unusual and "dangerous" vehicle and from the Exlevel team for the best environment gets "Abandoned Hope" by Tomasz Żero.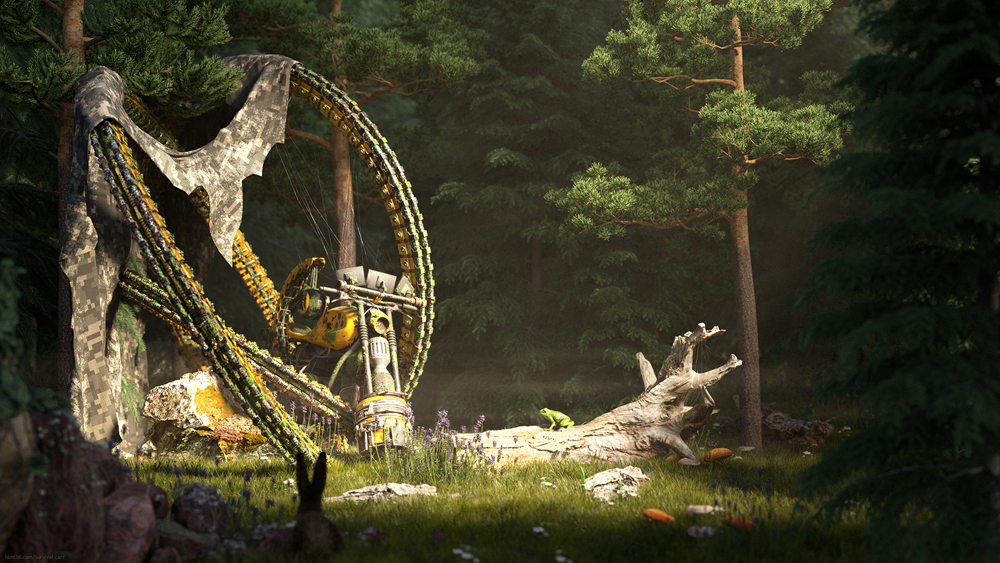 Arseniy Korablev: "In my opinion, just obvious – is the best work in the competition. I'm glad to see something like this, I was waiting for such works. It's a finished composition with the plot, looks very pleasant and interesting".
Yuriki Lebedev: "Work with some intrigue".
Fernando Tella: "Very nice atmosphere and original concept. An oasis of calm in the chaos and noise of other proposals".
Kirill Tokarev: "Very beautiful and artistic piece with a beautiful design and an amazing background. Amazing stuff!".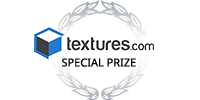 Special prize for best use of materials gets "Muddy Hell" by Hossam Tarek.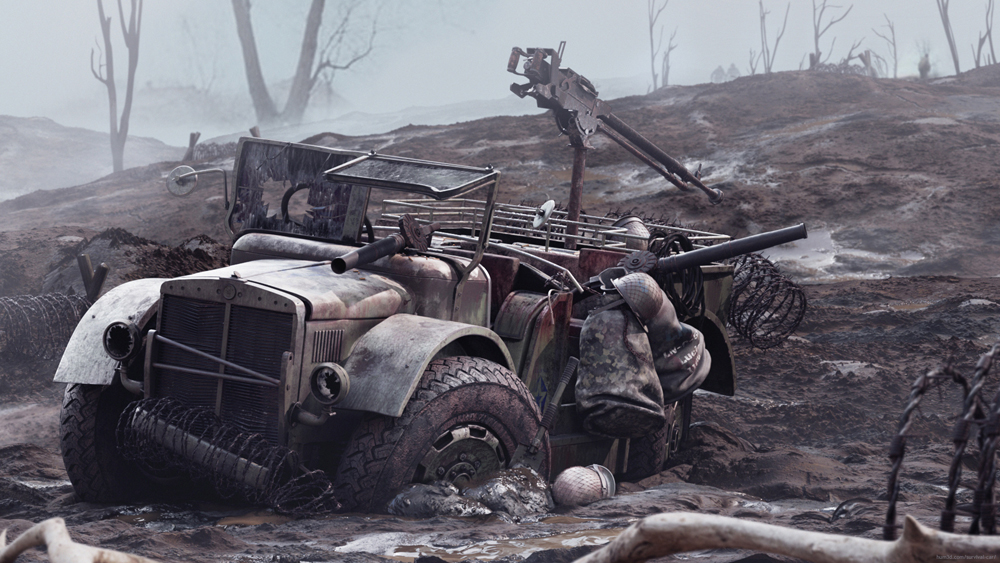 Guilherme Henrique: "Nice environment! The effort put into the ground paid off, the mud looks convincing with the dry and wet spots, and the car model looks very consistent. Everything is assembled to leave the viewer's wondering "what happened there?". And I'm wondering. So great job! :)".
Arseniy Korablev: "Good, high-quality and realistic work. It's also interesting to consider plot of the picture. Make car from past is a good idea, but this car isn't unusual enough. This is almost an ordinary military machine.".
Fernando Tella: "Very nice composition that gets you in the mood and the mud; awesome positioning of the model that gives a feeling of reality and credibility.".
Tom Grimes: "Amongst all the "future apocalypse" renders, this one stood out as it does not look forward in time, but back, reminding us that we have already had terrible things in our history, and that we have to be on our guard to avoid repeating tragedies. Suffering and loss on this scale is something that only human beings can cause, and only we can avoid repeating it".
Kirill Tokarev: "Nice atmosphere and great modeling".
In addition, we'd like to point out the works of other finalists, which we can't just ignore and slide round.

"Memories" by Dmitriy Bolotov.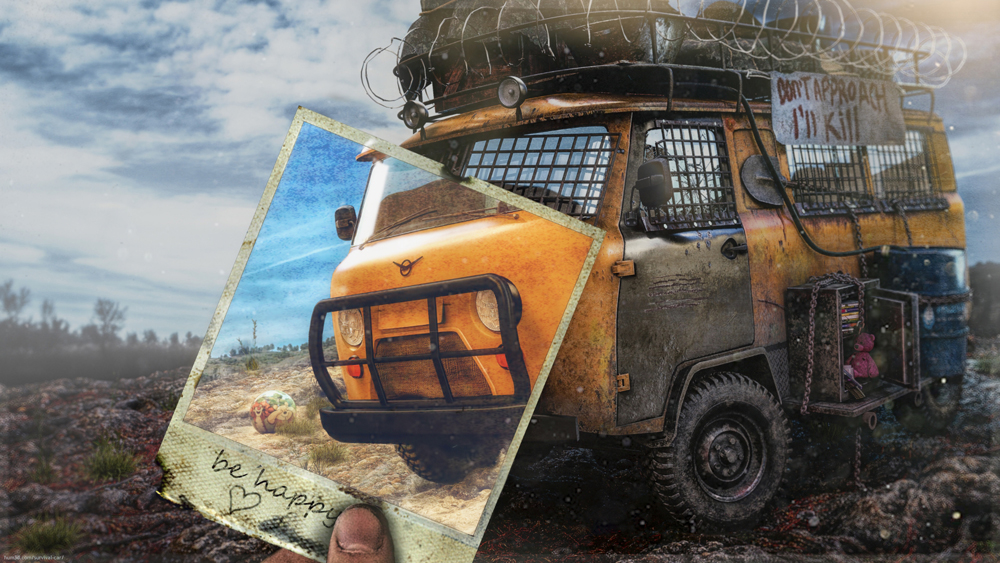 Jeremie Noguer: "Original idea, good execution".
Andrew Krivulya: "Very sincere work which was done with love. The atmosphere and spirit are also transferred. Work on the details and nature – everything is done 100%. For some reason, I immediately remembered the game STALKER".
Michael Bitsakis: "Be happy or kill em all, post apocalyptic insanity".
Tom Grimes: "Again, the story sold me on this one – here is a standard thing we see in photography, an older photograph placed inside the shot of a newer photo; only this time it has a sad tale to tell, comparing the carefree old times against the harshness of the new world. The fact that the image does not line up exactly is great, and the appearance of the teddy bear in the safe at the side just completes that sense of loss of innocence.".
"Double Decker" by Serhan Dereli.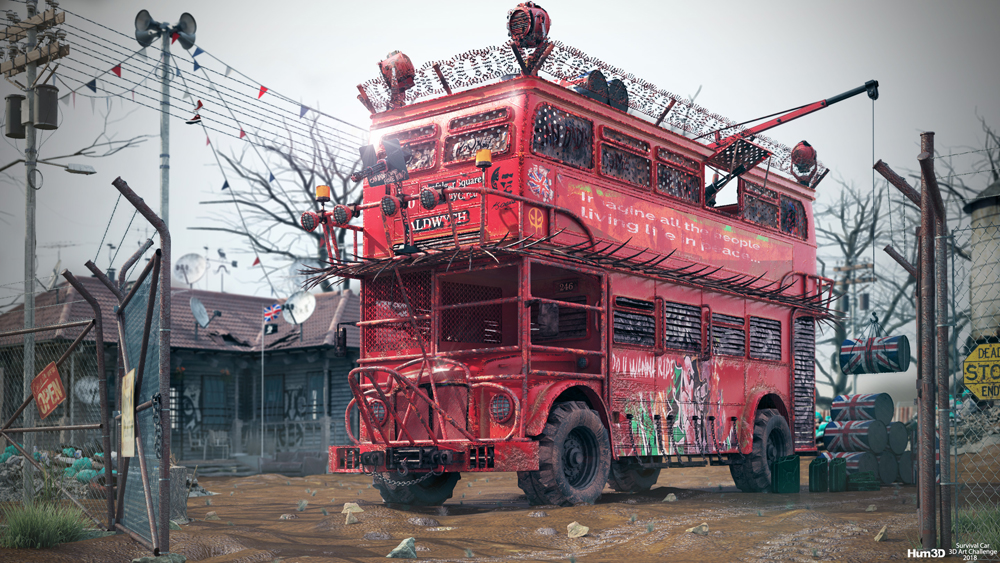 Jim Thacker: "As a Brit, I may be biased, but this is an engagingly offbeat design with a lot of attention to detail".
Jan Tománek: "Nice and funny idea".
Kirill Tokarev: "Beautiful original design shows a lot of promise and interesting artistic vision".
"Already in Apocalypse" by Stanislav Teslenko.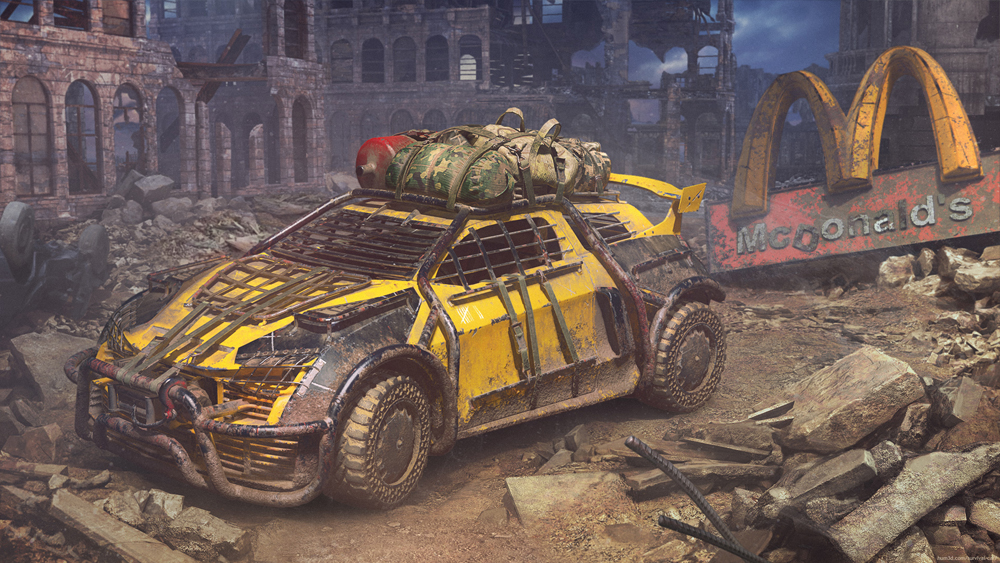 Jeremie Noguer: "A lot of work went through the background, the material work on the car stands out".
Andrew Krivulya: "In this work I like everything insanely. Spirit, atmosphere, detailing, perspective, frame, dirt, color combination and composition. I would even play the game with this location".
Jan Tománek: "Love Mc'Donald like this… ;-)".
"Milk and Money" by Dennis Mabuka.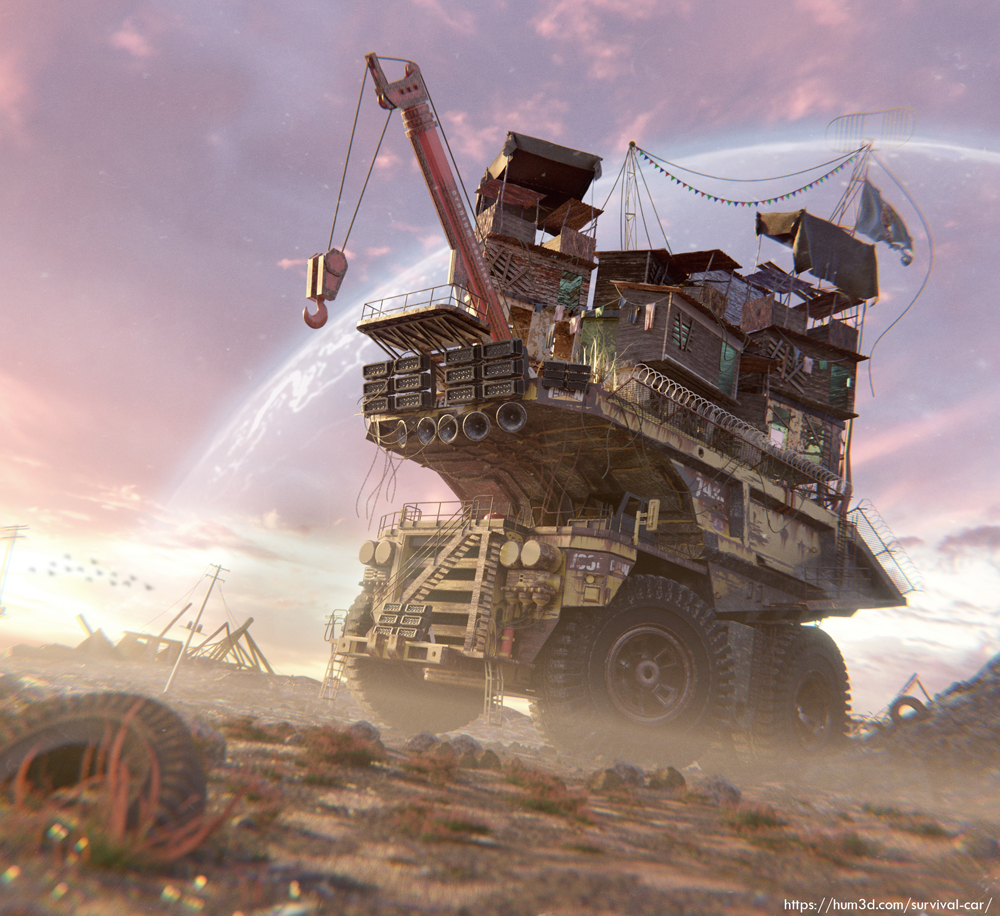 Carrie Mok: "You can see the Mad Max inspirations here, good idea for a vehicle and well composed".
Jim Thacker: "An atmospheric image, and a nicely balanced composition. Also, one of the few entries to situate the vehicle somewhere other than Earth".
Tom Grimes: "The second appearance of the great concept of a "shanty town that can move", and I do think that is a great concept! It was "pipped at the post" as to me it told a bit less of a story and had less of a surreal sense of humor than the other similar image".
"The Blue Bus" by Dante Metaphor.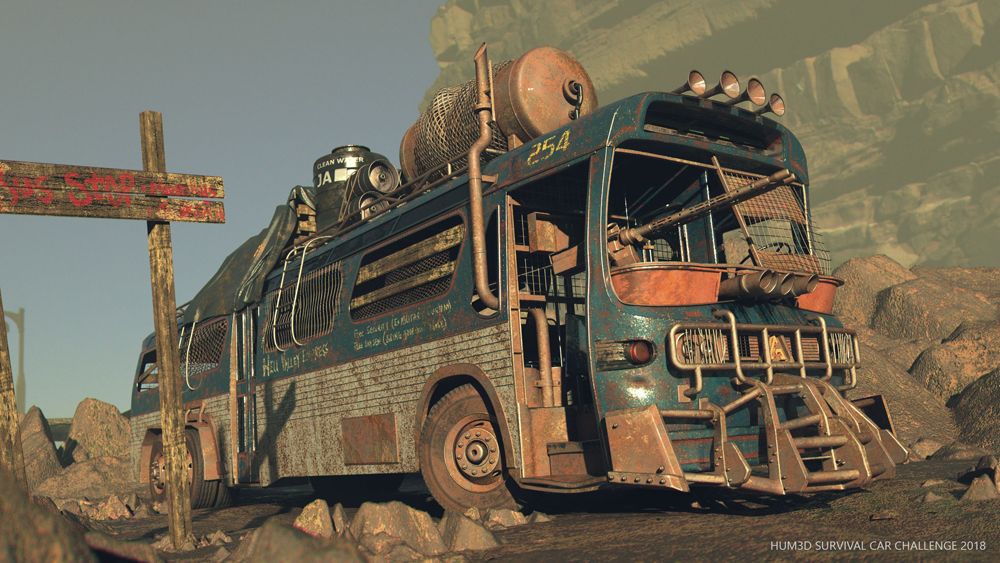 Jonathan Holmes: "Realistic, dirty, but still recognizable. Hits all the notes for post-apocalyptic design and iterates on it just enough to make it feel like fanart of Vigilante 8".
Arseniy Korablev: "Not overloaded with unnecessary details, nice colors, I can look at work for a long time. Also bus gives impression that it works and could go. Lack of work – composition. Maybe it was worthwhile to put the camera further, add people and make a more complete picture, not just one bus".
"Road to Nowhere" by Rémy Trappier.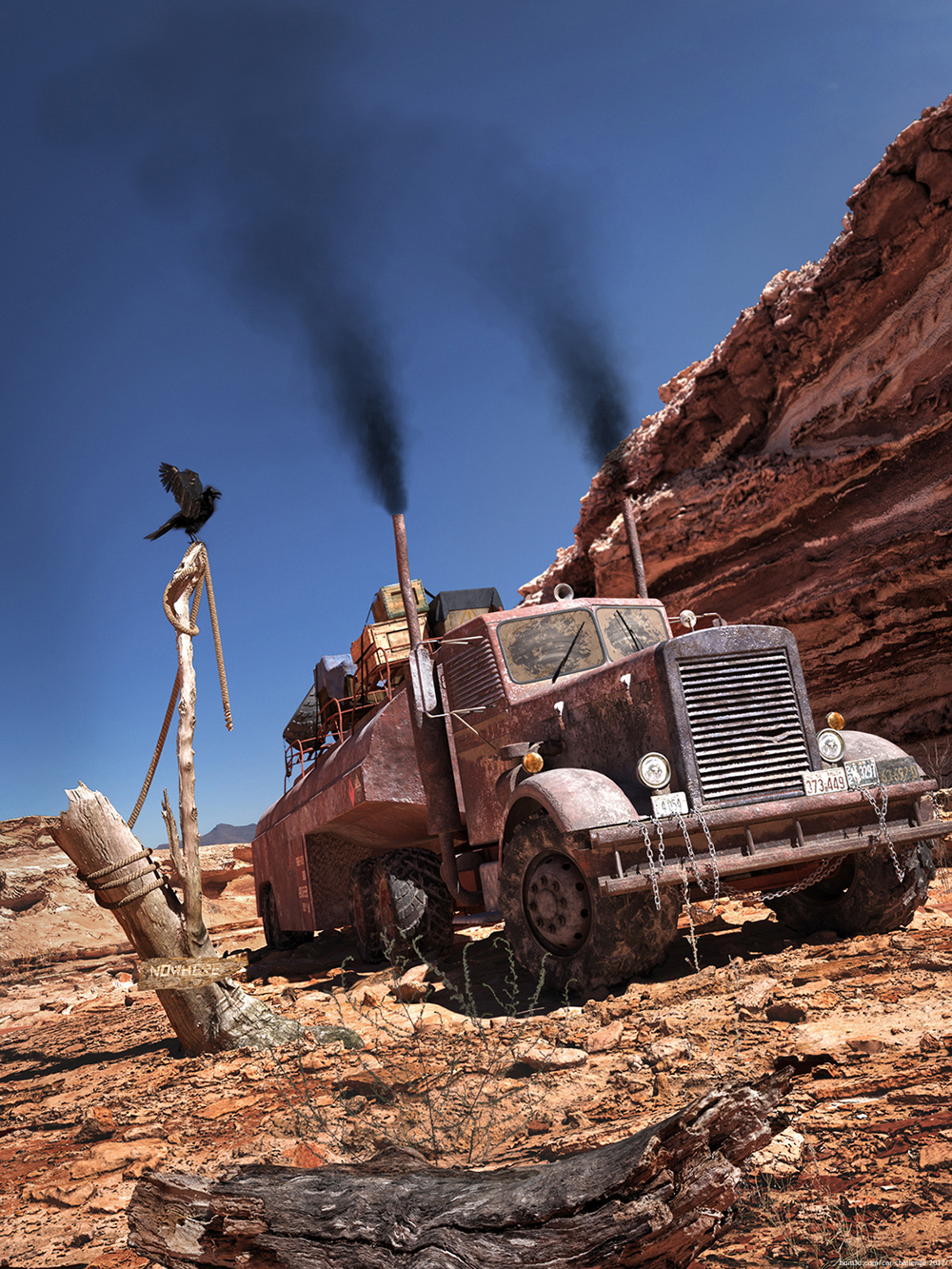 Arseniy Korablev: "I think that in such competitions it's very important to make finished composition as a whole. I like atmosphere of the wild west in this work. The disadvantage is low detailzation and small problems in quality, crows for example".
Michael Bitsakis: "This one could easily be a real post apocalyptic vehicle, good job".
"Hopeless" by Vadim Shigapov.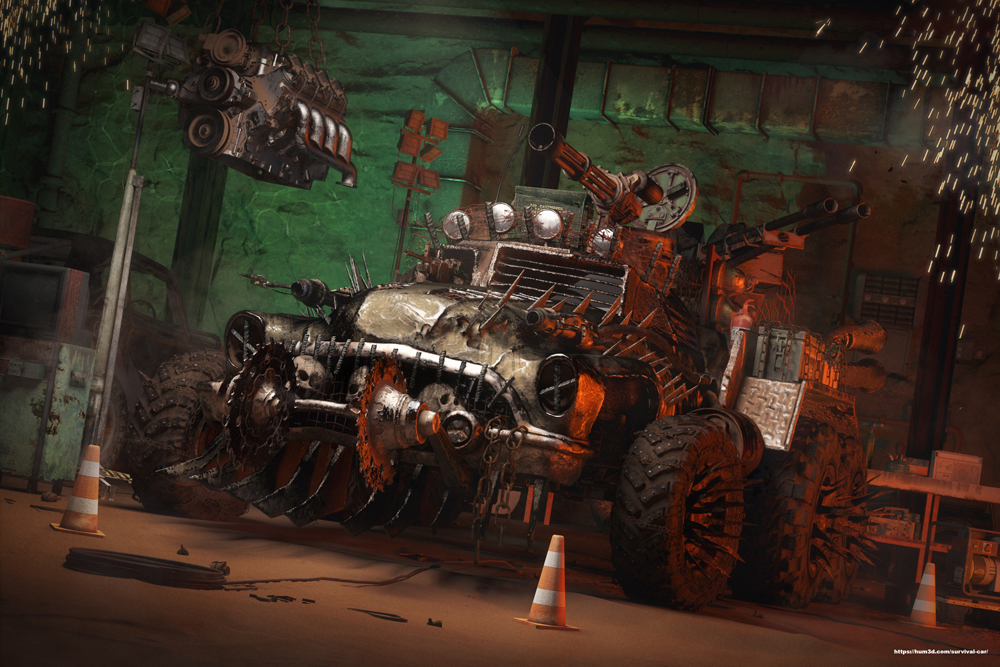 Guilherme Henrique: "Mad Max been there! Cool design choices here, the details on the car are very balanced, with enough room for the eyes to rest, which is very important for a killing machine like that. The lighting choices are also very clever, key to add depth and separation between elements. Bonus points for readability".
"The attack of the Killer Tomatoes" by Luis Lara.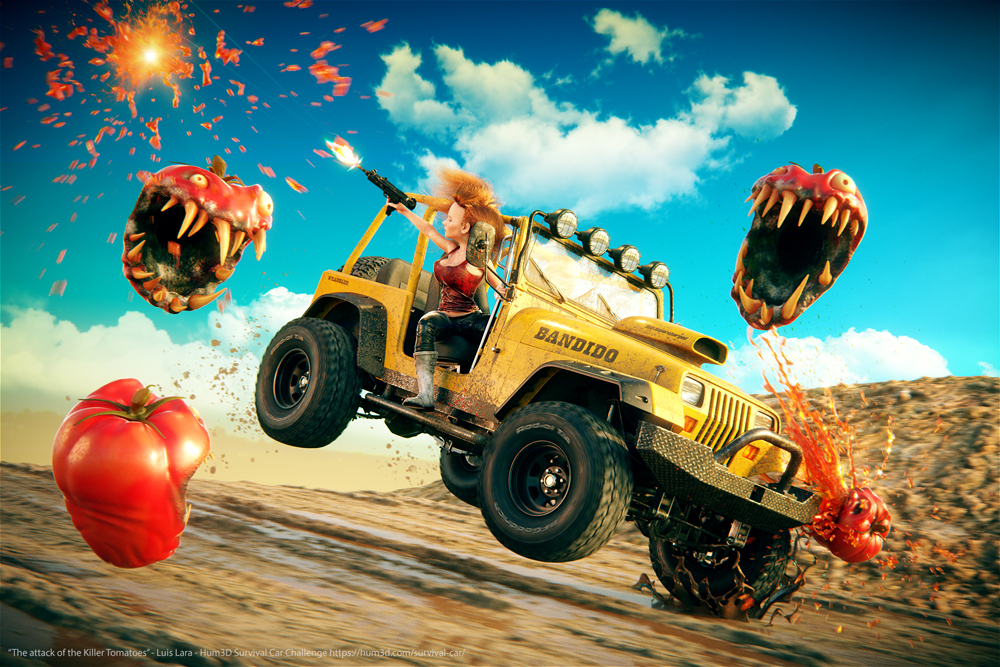 Carrie Mok: "Great humour in this! Lovely fluid work too".
Fernando Tella: "Original idea, very nice detail on the car; good use of several techniques and man, those tomatoes are awesome!".
"Survivor" by Batjin.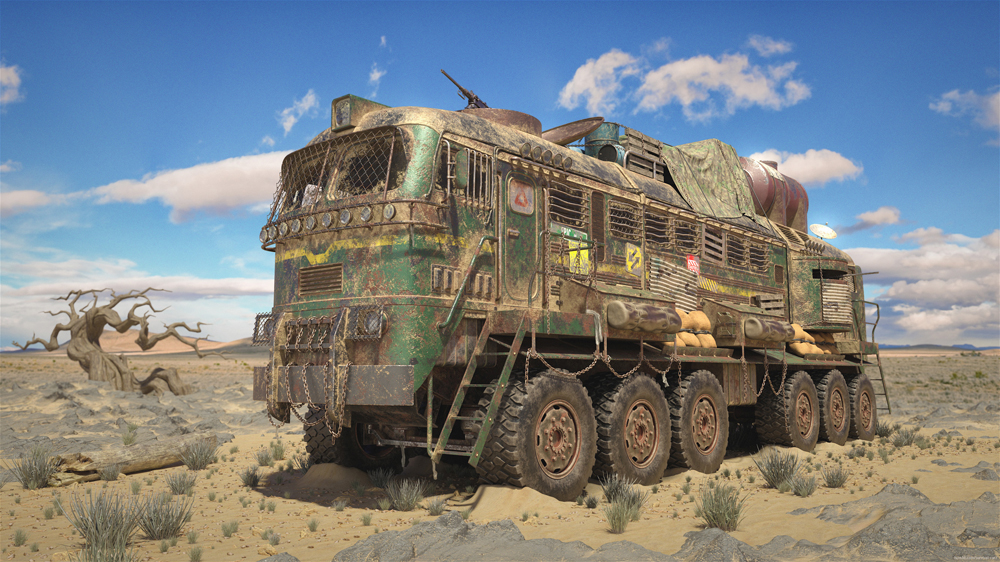 Related searches: unimog 3d model, dodge ram 3d model, off-road vehicle 3d model.
Special thanks to the sponsors who support our event and help 3D artists to create their masterpieces. Each of them is the best in their field. You can always count on their quality service, and so we are happy to recommend you their products.
Would be great to see your comments and thank you all for amazing challenge.