Hello everyone, It's high time to sum up our car render challenge. 182 artists took part in this competition; there was a bunch of awesome works, a lot of well known names and night modeling. The contest came out really creative.
As always, the burden of choice fell on the shoulders of the jury. It was difficult for them as never before to come to a decision. Each work carries a lot of time and effort, so it was very painful to realize that there are only three prizes:)
We are deeply grateful to everyone who supported our participants.
Well, let's go!

First place is Mercedes AMG GT 2080 by
Colorsponge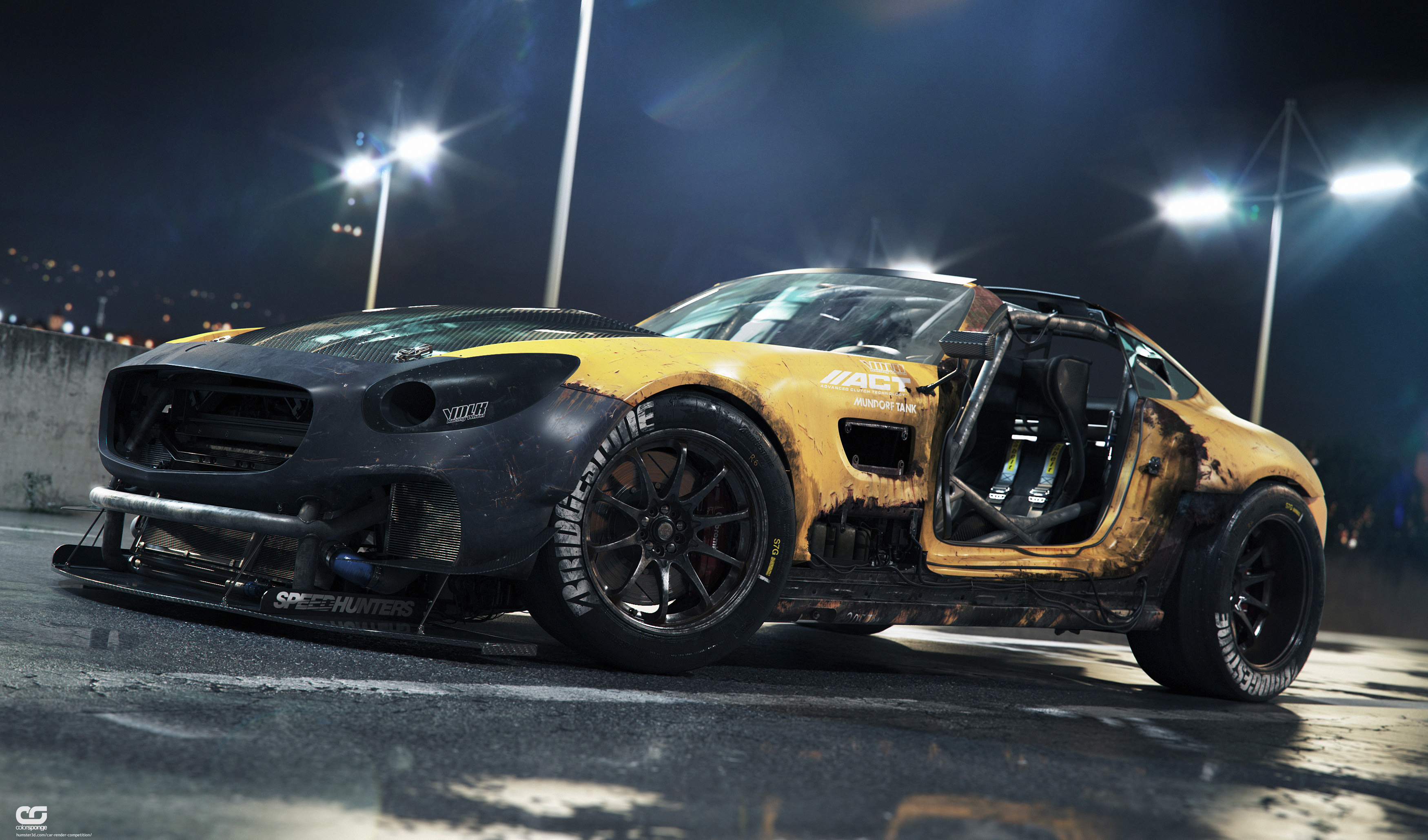 Amazing work with huge amount of modeling work. The author used 3ds max, V-ray and Photoshop.
Quick interview with Carlos:
– How long have you been into 3D modeling? Please, tell us about yourself.
My name is Carlos Pecino, I have been working in the 3D world for 12 years consisting of 3d architecture, graphic design, illustration, advertising…
Currently I am a freelancer for different advertising companies. The companies that represents me are «Mushroom company» in Spain, «Lamanufacture Paris» in France and «Photographersm Ilano » in Italy.
In my spare time, I like to portray everything related to motor world. Modeling, texturing and illuminating is basically what I do. I like to challenge myself and carry out from scratch and always looking for a special approach.
Honestly I'm not entirely sure how long it took me. This is because it was a recycled job from many months ago even before the contest. As soon as I knew about it, I went over my hard drive to recycle old models or items to reuse (wheels, tires, brake discs, textures). In this case I had a Mercedes Benz AMG half done barely detailed.
– How much time did it take you to create your work? Did you face any difficulties?
One of the hardest thing for me was to find references of racing car pieces. Thanks to the amount of photos in speedHunters and competitions forums, I retrieved a lot of information and I started modeling.
The second difficulty I found was to find the appropriate light. Decide what kind of light, it's not just to set a 'Vraylight' and done, the lights tell us a story, providing hue and enhancing the «shaders».
– Do you have any advice for future participants in the competition?
My advise for new participants it's to try to make a solid idea, not just make a car with a nice background and cool tires. For me it has to have a meaning and development. You need to find the realism overall the picture. The picture it self has to tell you why the car is old, dirty or pink. hahaha
And of course hard work will be always rewarded.

Second place is Sick Bastards by
Sergey Smereka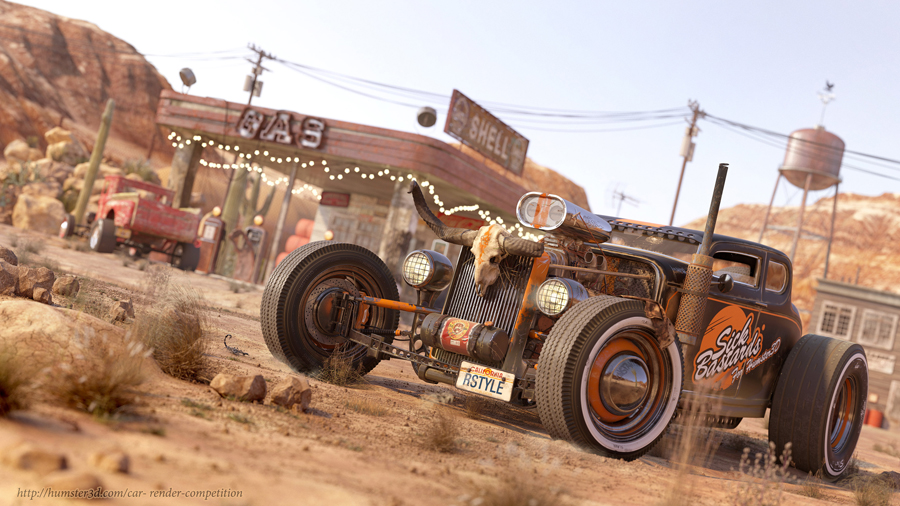 Enormous amount of work, a lot of little details done well and render looks great. The author used 3ds max, Corona, Zbrush and Photoshop.
Quick interview with Sergey:
– How long have you been into 3D modeling? Please, tell us about yourself.
My name is Sergey Smereka, I'm a painter, tattoo master and CGI Artist. I have been in 3D modeling professionally for over 2 years. Thanks to a RStyle 3D team, I have grown my skills very fast doing amazing projects all over the world. While working in tight deadlines on real world architectural projects and trying to deliver always the best quality, you learn much quicker! Nowadays there are so many talented artists, that you have to be on the edge of new tools and technologies and learn something new every day! But also you have to search for your own style in every aspect of the image, and find a way to stand out and be noticed.
– How much time did it take you to create your work? Did you face any difficulties?
The final image took more than a month, mostly in the evenings. The main difficulty was to find time and model all the details. As a painter I prefer to spend more time on texturing, painting and postproduction of the final rendering. Every single shader and material had a few different layers like – diffuse, reflection, opacity, bump… Most of the scratches, dirt maps were done separately for different parts of the scene. If you study closely my image, you will find all the names of our RStyle team. I wanted to show them my respect, because I have learned and keep learning so much from them every day!)
– Do you have any advice for future participants in the competition?
1) Do something that you would be proud of!
2) Spend enough time to find a perfect composition of the shot! It has to be well balanced and point to the main subject of the story. It's so sad to see beautifully modeled and textured scenes, that fall apart and ruin the whole impression because of the poor composition!
3) Before diving into technics, do the studies, watch beautiful photography and paintings! You can learn so much from them!
4) God is in details, so do your best on little details and foreground.
Good luck to all the participants! It is a pleasure to be a part of such talented community! Thank you, Humster3D!

Third place is The last batch by
Piotr Tatar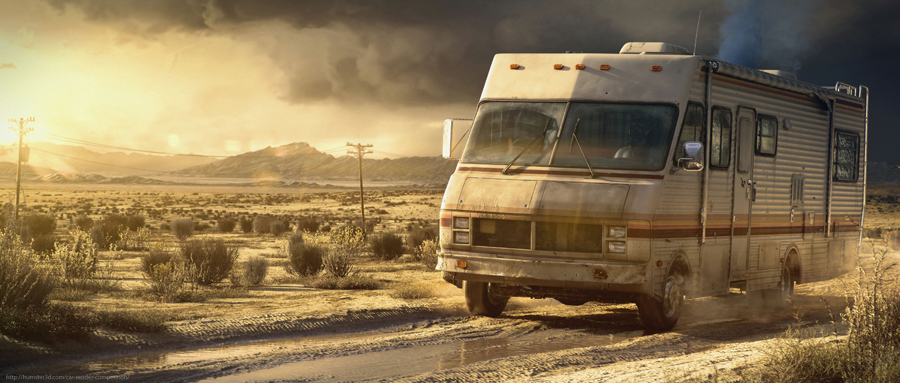 All is 3D, even terrain. Amazing mood, concept and result. The author used 3ds max, Vray, Nuke, Fume fx, Marvelous designer, PS, Mari and Speedtree.
Quick interview with Piotr:
– How long have you been into 3D modeling? Please, tell us about yourself.
I'm currently working at Platige Image studio as a rendering artist, but I rather consider myself a 3d generalist. I like to be part of the project from the very beginning, from modelling to the final renders and compositing. So I thought this challange would be a perfect opportunity to verify my skills. I started my adventure with 3d graphics almost 10 years ago with 3ds max and V-ray. Now I'm trying to follow cg trends by testing new renderers and other softwares.
– How much time did it take you to create your work? Did you face any difficulties?
I started my project right after announcing the challenge. I knew that if I want to finish it I need to spend many of my evenings and weekends. So I think the deadline was the quite big problem for me. Also I challenged myself and wanted to do as many as I can in 3d including whole environment and simulation. I had to learn some new plugins, for instance fume fx – to render smoke and dust.
But I think the main difficulty was a car for itself. I knew from the beginning which car I will model but because of its inelegant nature I had huge problem to find a proper composition at frame. I still think it's far from perfection but I might learn something with this one. Although a lot of texturing and shading I really like this part of the project.
– Do you have any advice for future participants in the competition?
What can I say… don't put yourself in situation when software block your idea. You have so many tutorials and people sharing their knowledge that software shouldn't be an obstacle. Also there is many ways to achieve the same result, try different things.
We all know that rendering is time consuming so don't be afraid of making some tweaks in compositing where you can get same result much faster. I always try to render some additional passes to experiment in postproduction. You never know what's gonna happen.
We congratulate our winners and will get in contact with them very soon to hand over the prizes and take the information which is necessary for the publication in the magazine.
Special prizes gets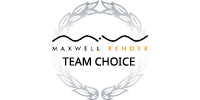 Desert Runner by Radu Teodorescu.

For its nice atmosphere and lighting, awesome design job, and crazy attention to detail both in modelling and texturing.

Misty Morning by Dusan Kovic – for the best environment.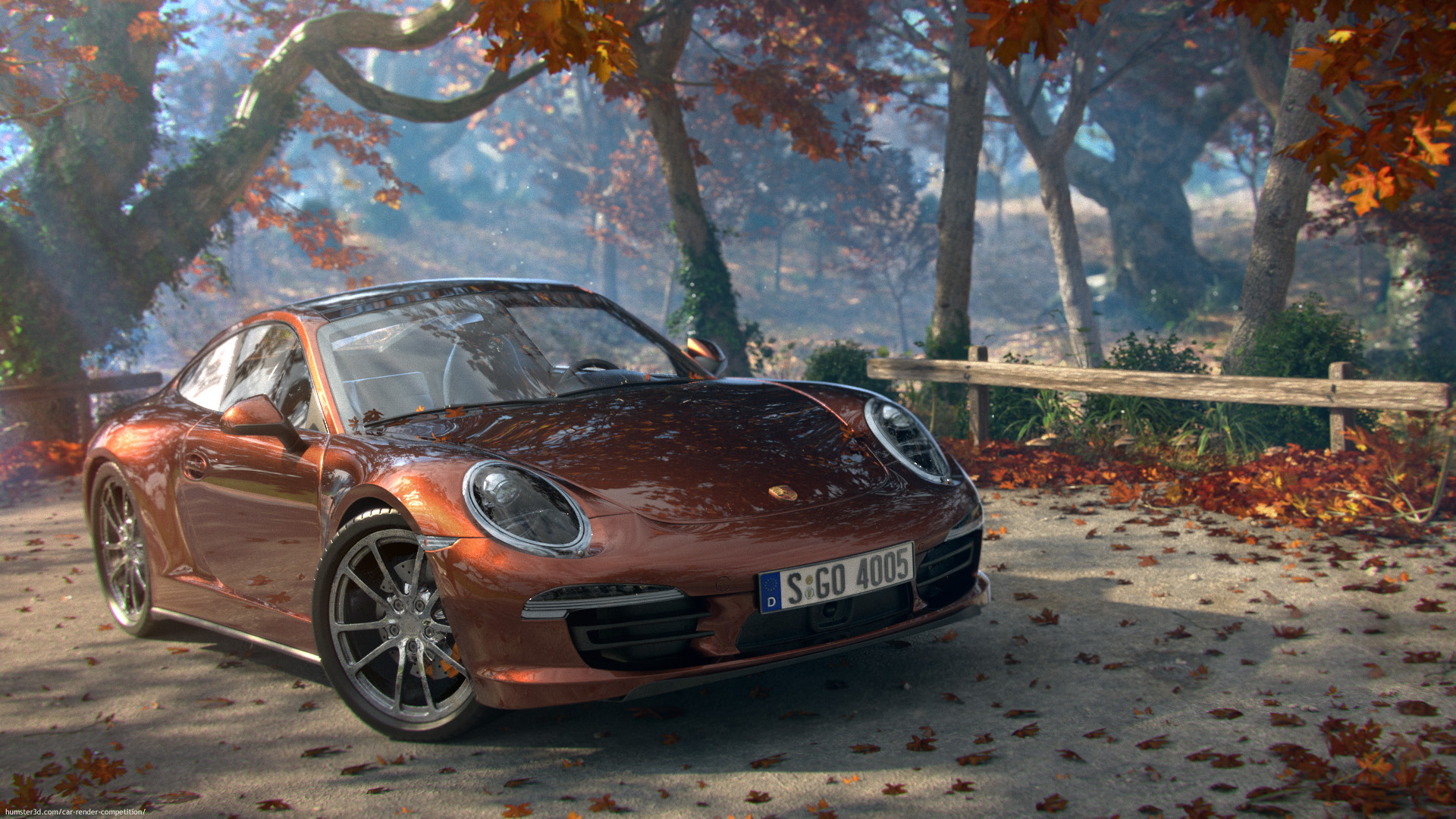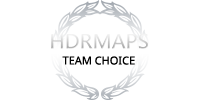 Cobra by Grigorii Kliver.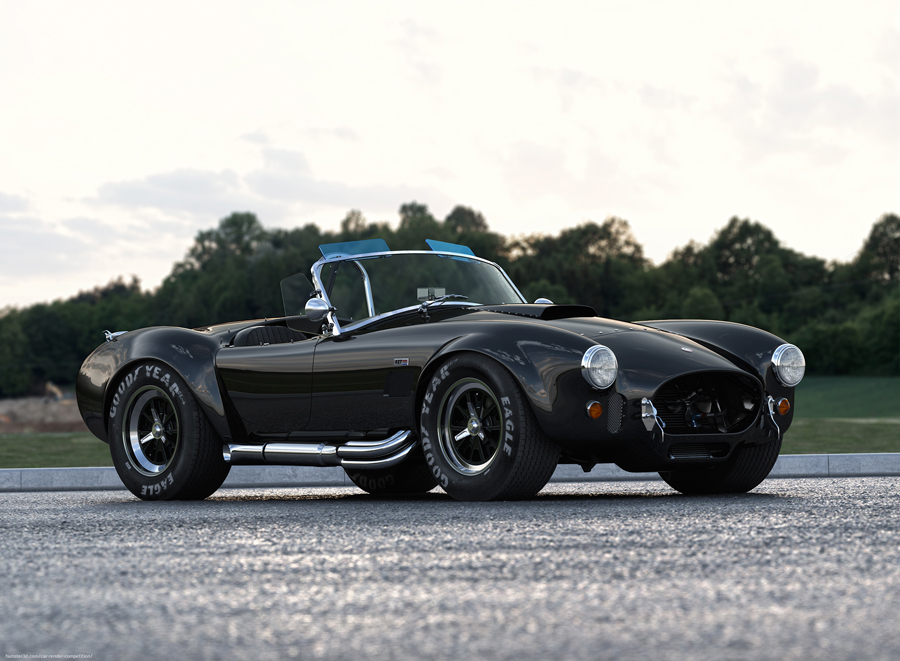 Very good use of HDR Ligh Studio and perfect setup.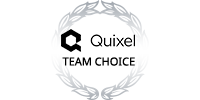 McFly by Vyacheslav Stadnyk.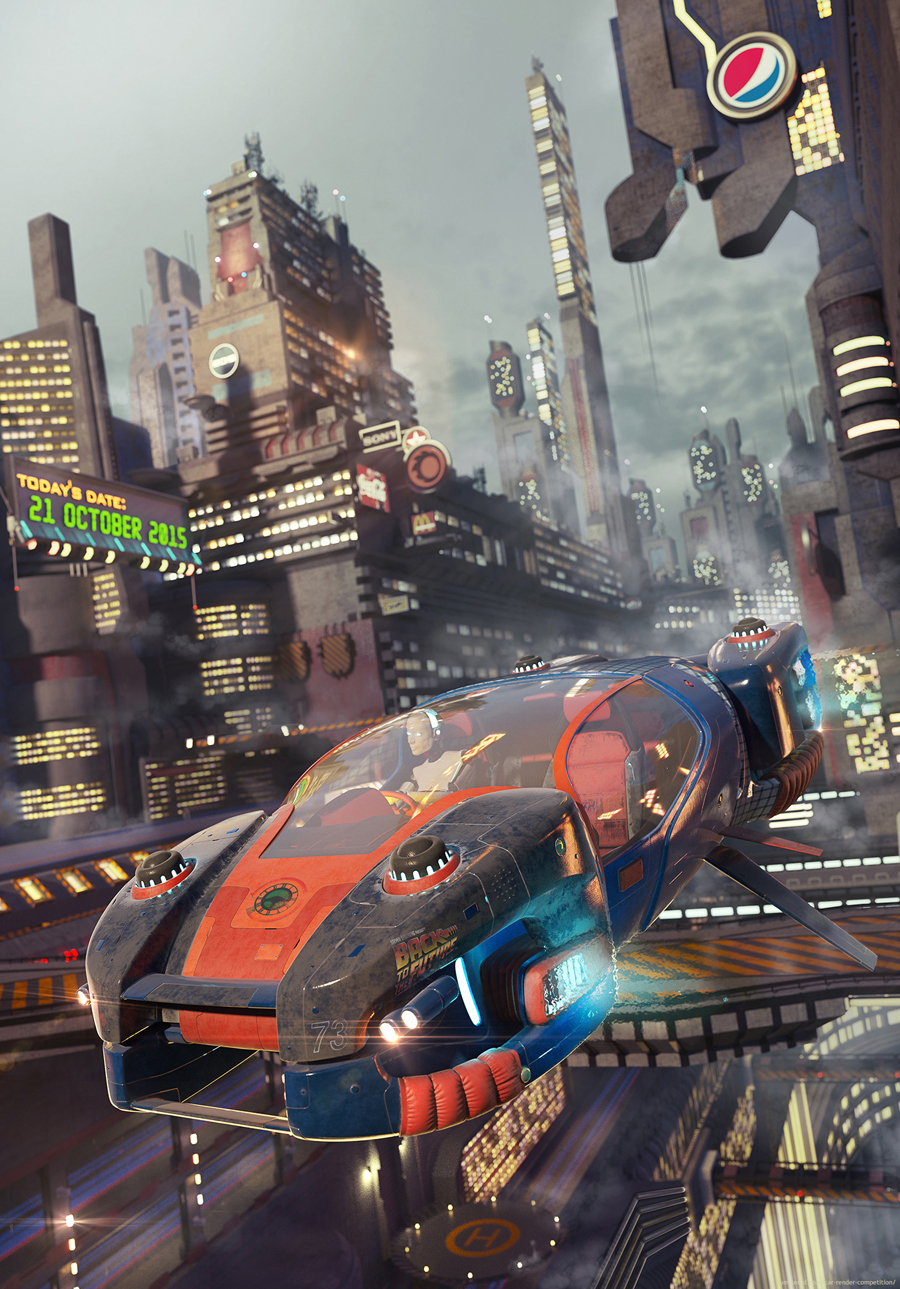 In addition, we'd like to point out the works of other participants, which we can't just ignore and slide round. They are arranged in random order; therefore don't think that it's a kind of top or anything like that.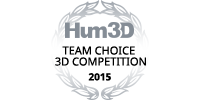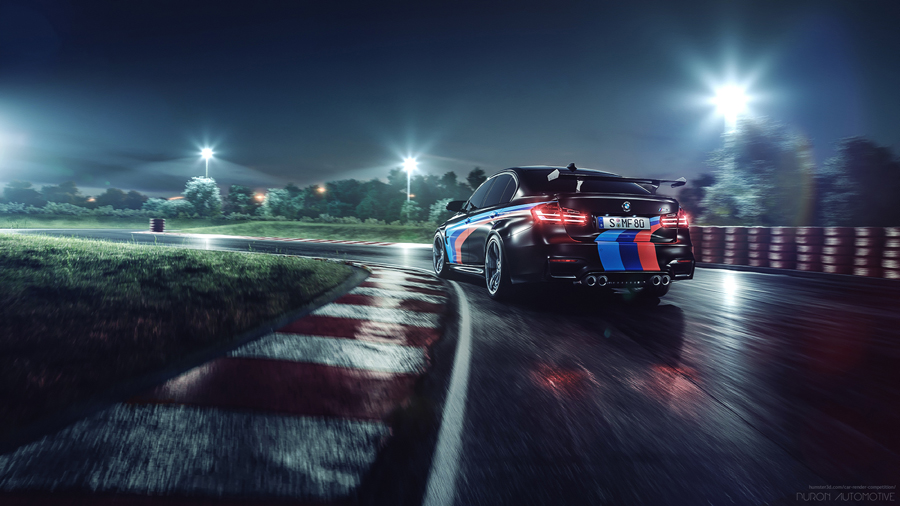 BMW M3 F80 (GTS replica) | Full-CG Circuit by Onur Dursun.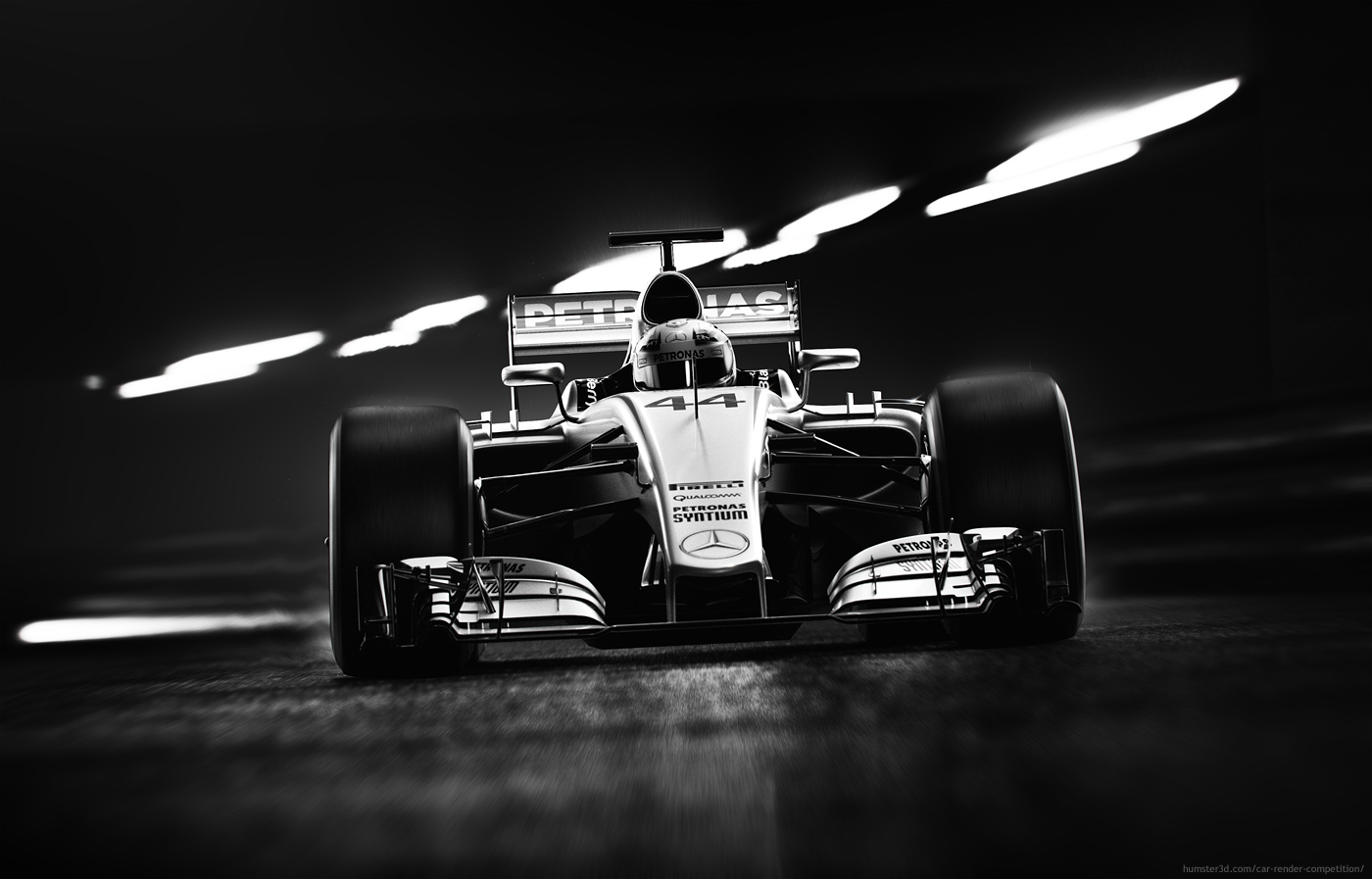 Monaco by Maciej Ptaszynski.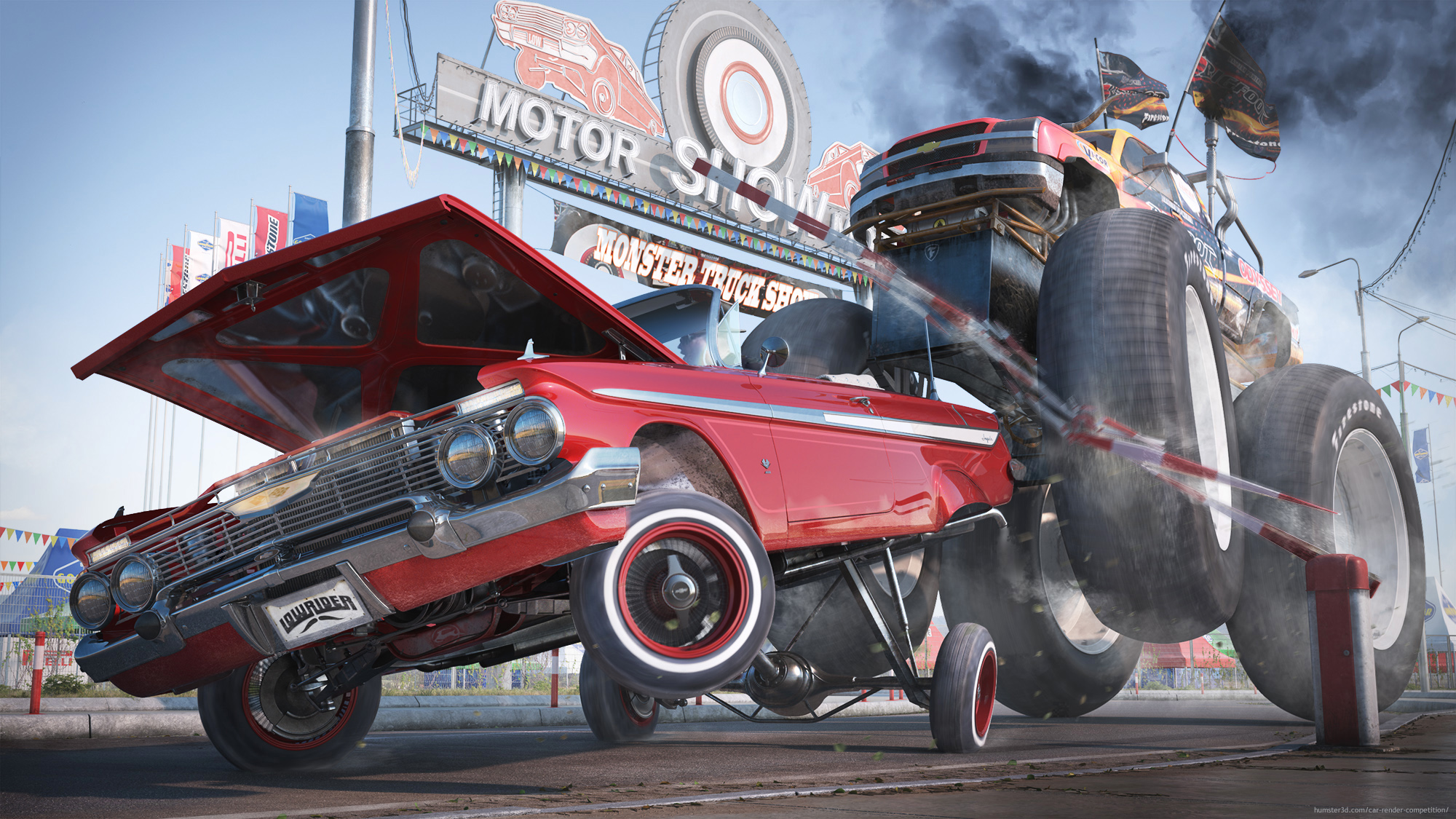 Different opinions by Shatohin Evgeniy.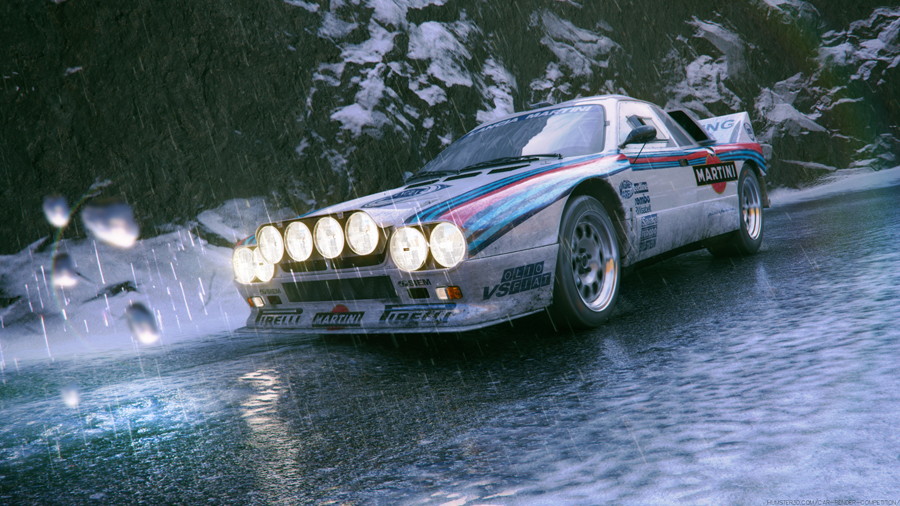 Lancia 037 by Marcos Tonda.
Justicialista Sport by Adrián Scolari.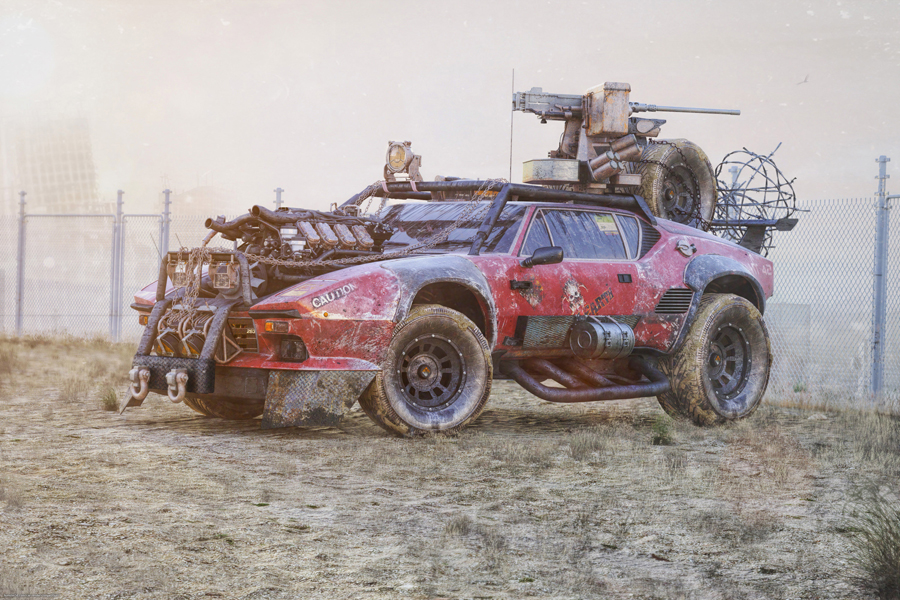 Post Apocalyptic Zombie Hunter by Humam Munir.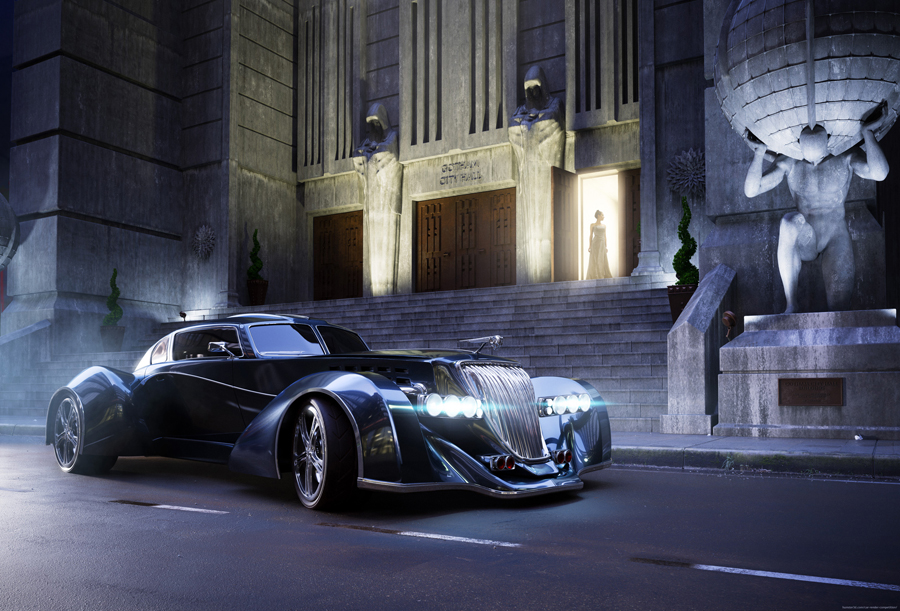 A Time Not Forgotten by Mike Heath.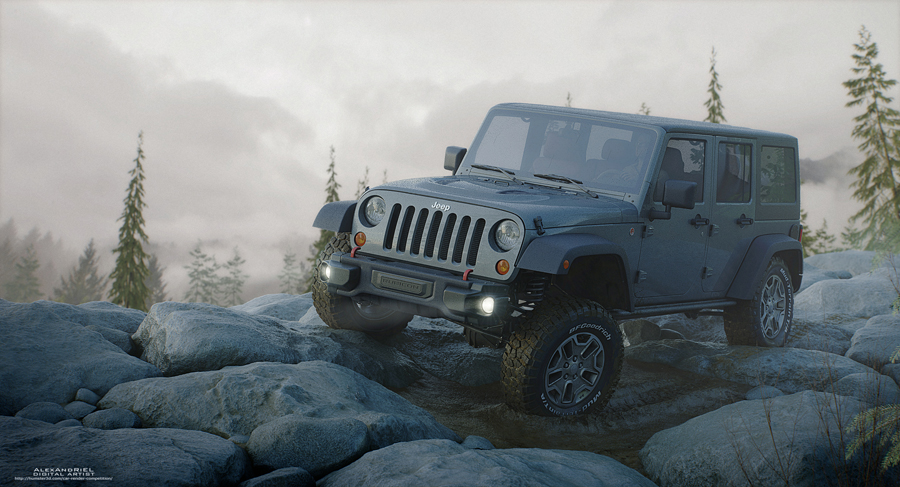 Jeep Rubicon 10th Anniversary by Alex Koryshev.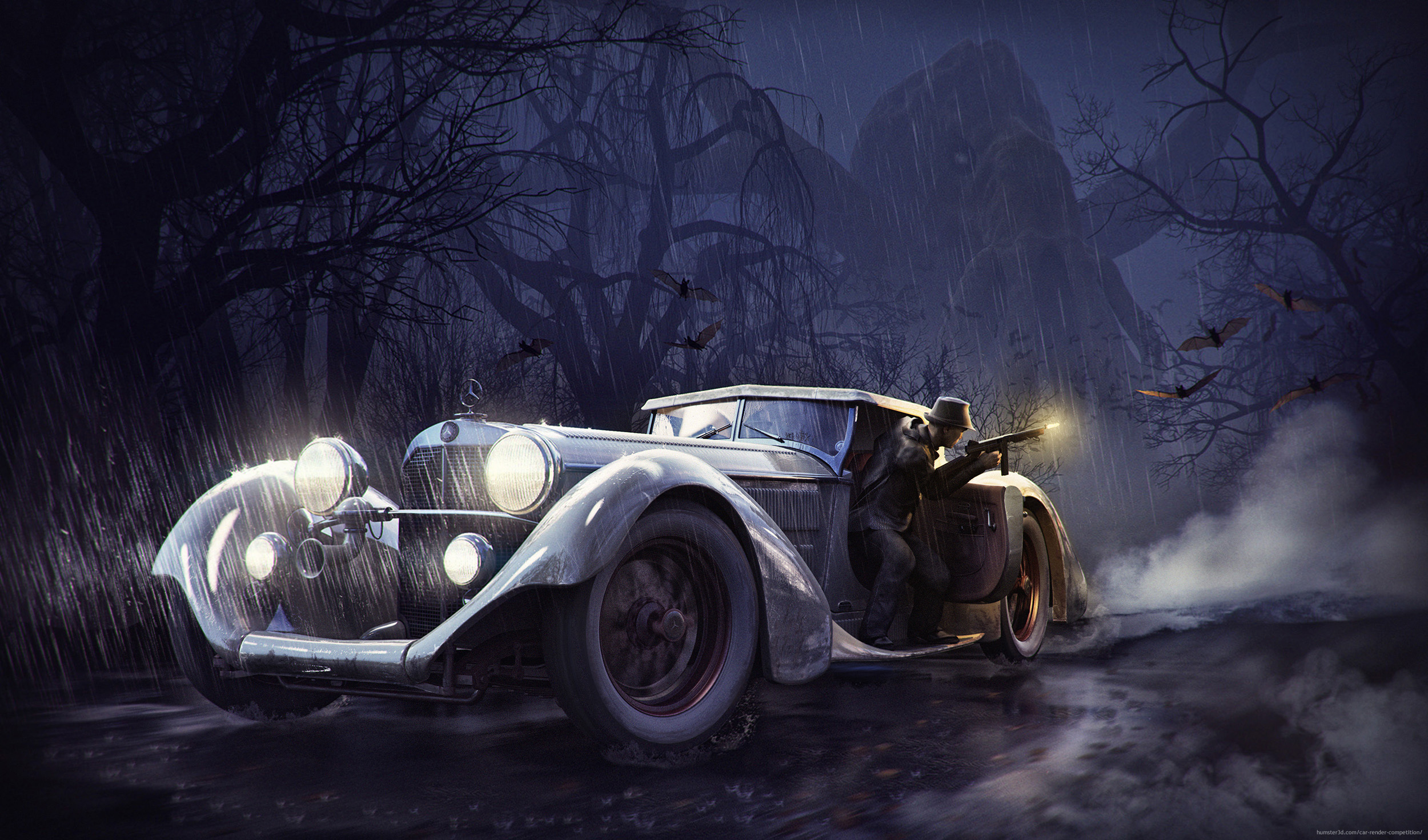 Mr Benz and The Bulking Shape by Bartosz Domiczek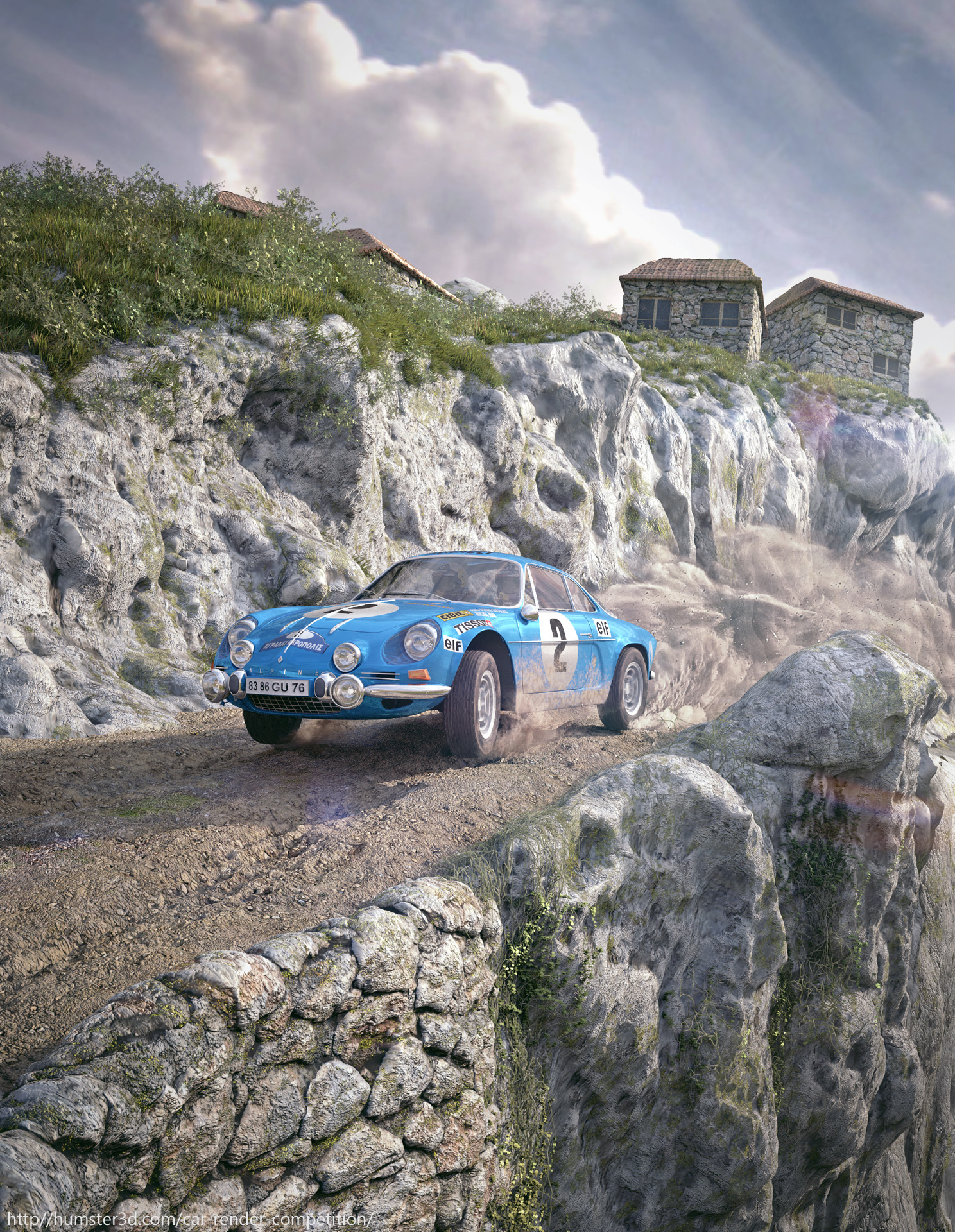 Renault Alpine 1971 Rally Acropolis by Antoni Dendrou.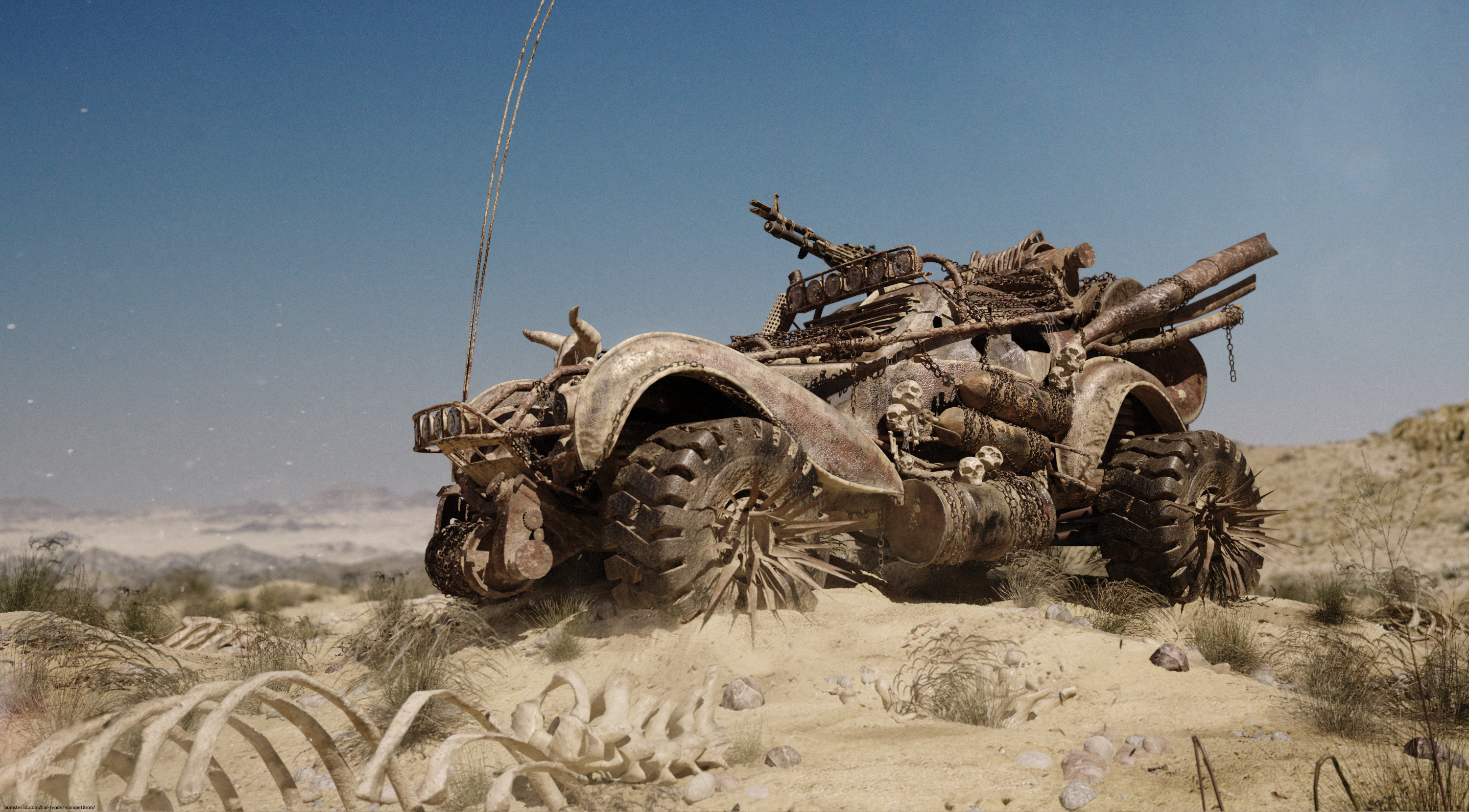 Evil Machine by Chamishka Gamage
Each participant is a talented 3D artist. We have nothing to say but "guys, you are awesome".
Special thanks to the sponsors who support our event and help 3D artists to create their masterpieces. Each of them is the best in their field. You can always count on their quality service, and so we are happy to recommend you their products.
For those who like statistics: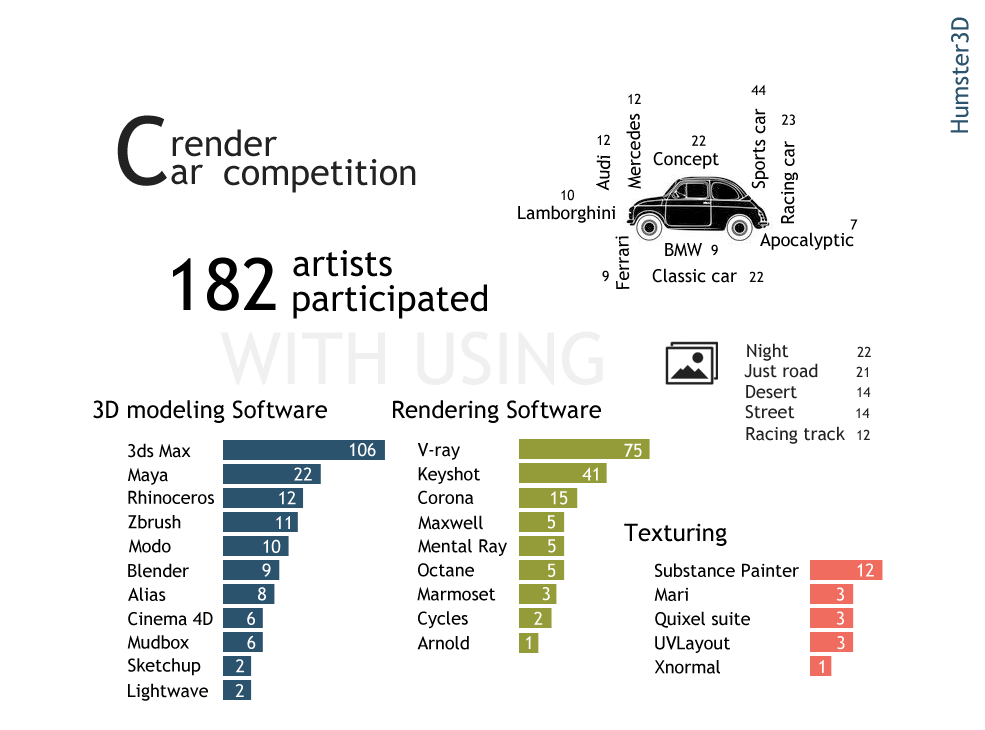 Enjoy, comment, post…
And have a nice render!