Here is a "Making of" my work named "Blessed by the Gods". It was modeled in Maya, sculpted in Zbrush, rendered with V-ray and composed in Photoshop. Completed in 2 months time, spending on this project 2-4 hours at workday evenings and 16hours per weekend.
Pre concept
After competition start was announced – it took me about a week of thinking process about such a great theme as Ancient Rome. At that time I had fount cool OST track of game "Rome Total War" and been listening to it for a week already. So I felt like it is like a sign, that in subconsciousness I was ready for this competition, but it was necessary to find out the good idea. As we all know – ancient Rome itself is a gigantic theme to cover. So I thought of different scenes, like dramatic assassination attempt of emperor, huge bas-relief which shows all the popular buildings, sculptures, some historical moments we associate with Rome in that time period. But everything felt kind of small, not covering the magnificence of theme or to complicated to make it in time. So after week of pros and cons of different ideas I finally decided, that I want to make "wow" type wide scene shot, with pivotal moment – which is blessing of the new emperor – put it up in the heights at temple above city, make as more dramatic sky as possible and blasty it with god rays, so you got that feeling, like in spring – when sun shutters the sky – we got those "magic" areal looks.
Concept process
Approach was chosen to "push as far as I can". All possible "merging with theme" approaches was made. I watched couple of times "Gladiator" movie, special thanks to Hanz Zimmer for epic soundtrack which kept me into ancient Rome feeling/mood for all this time, also handy was "Spartacus" TV series and old good "Spartacus" movie from 60's. As the project was massive, it was important through process not to lose the touch with feeling of that time. So the motion pictures was seen, music has sounded, references was collected and the process has begun.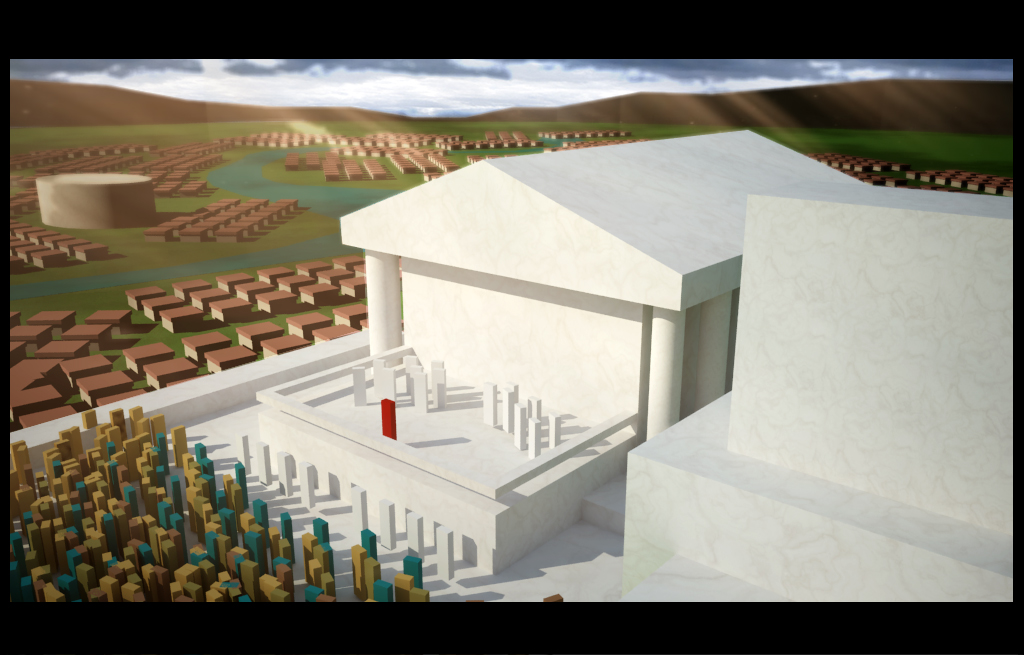 Balancing the shot
As the main character of the scene was emperor, it was important to maintain composition – this time I choose golden ratio and put him in one of the cross-points. It was tricky manipulating the camera angle, to get temple not too huge, good city view, sky and horse rider statue in right sizes and proportions, so the shot looks good weighted and no object over-dominated other or looked out of place.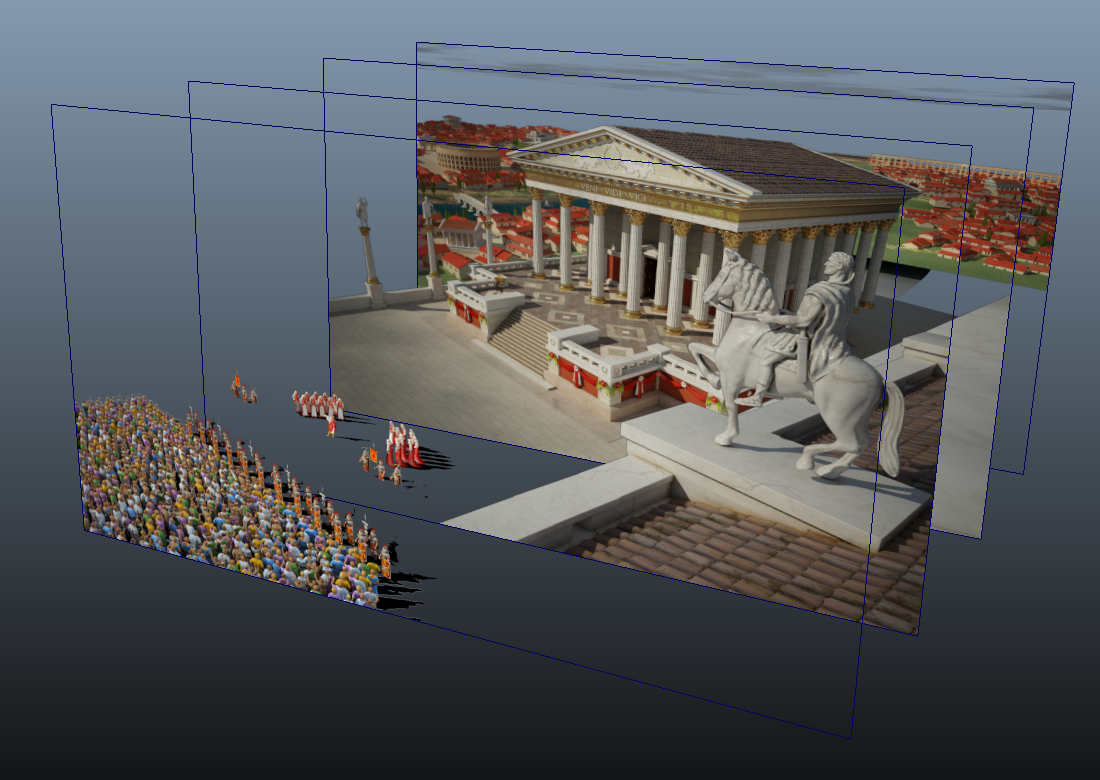 Modeling
Modeling started pretty fast and smooth. It was fun playing little bit with proportions and adding some imaginary elements, because there was not certain photography of whole ancient Rome look and I felt free to improvise.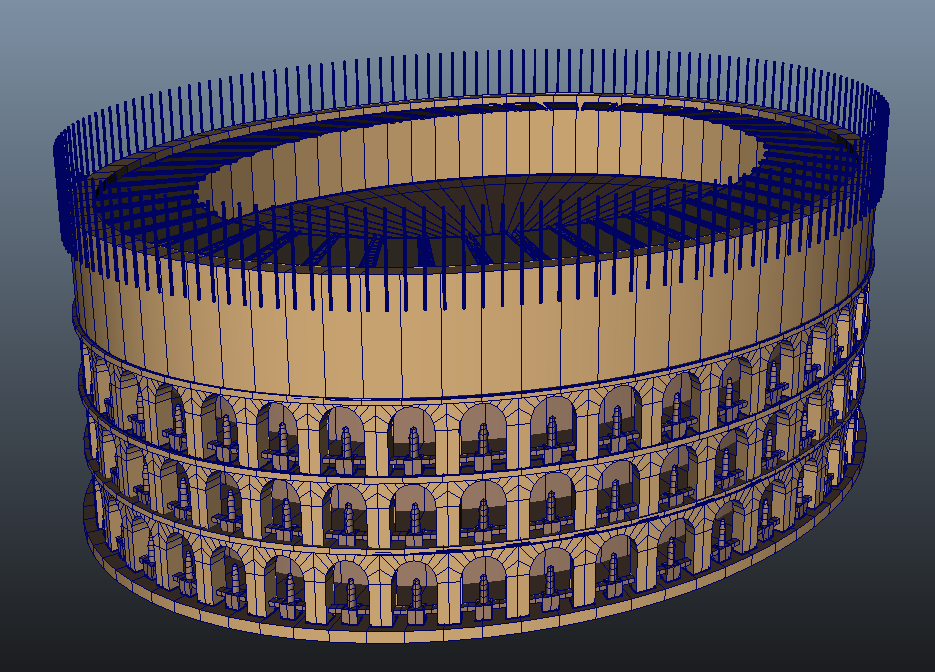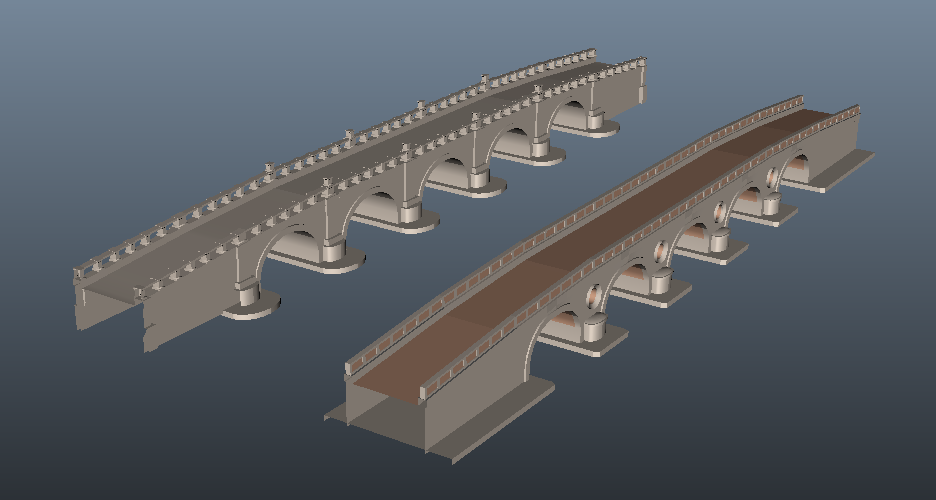 But at some point I hit the wall, the modeling amount felt so vast – that I realized, project is becoming too huge and I need to go clever – not making any unnecessary effort, that will not be seen as a final result in shot. So all I modeled was directly tested in quick render – to see which details is seen and which just disappear, for example – I modeled people with faces (mouth, eyes, etc.), but in final shot eyes didn't got even a pixel for each.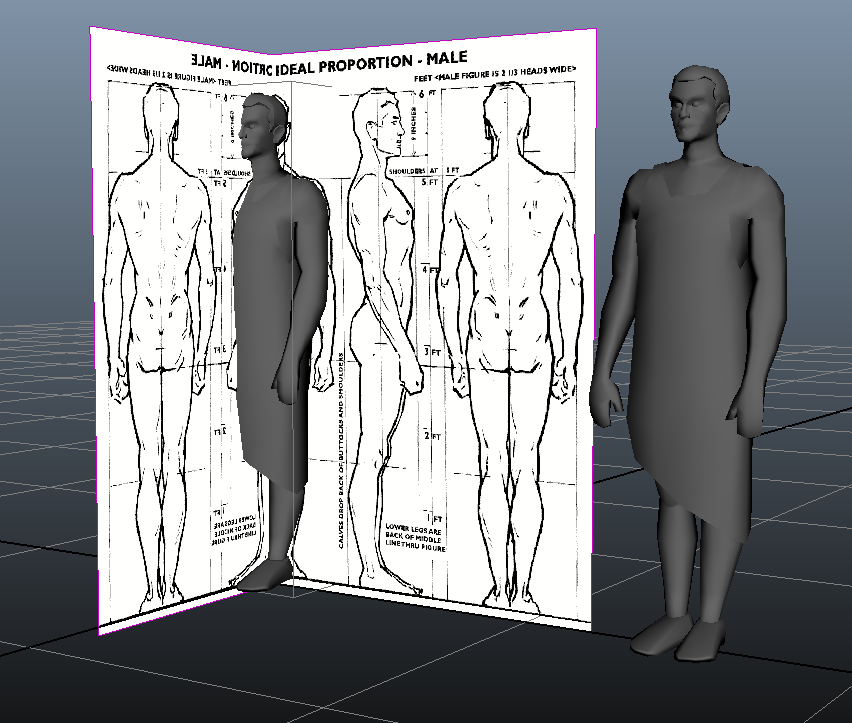 I was lucky to start checking on geometry details in shot early, so after couple of models with mistakes, I finally got it all the right way. So the geometry was growing in polycount, and the scene was starting to become gigantic – so I finally came to the point, where I separated it into 5 different scenes (rooftop with statue front plane, temple middle plane, characters, city back plane, hills with clouds). But all this "clever" modeling didn't got me flying high, after I modeled the mob (in ancient Rome called crowd – citizens of Rome), ancient gods demanded me to buy extra 8Gb of RAM so I can handle 500 noble Roman citizens in separate scene – so it loads up at least at normal speed and it is possible to work with it at least slow, not with 10 minute breaks on each camera turn.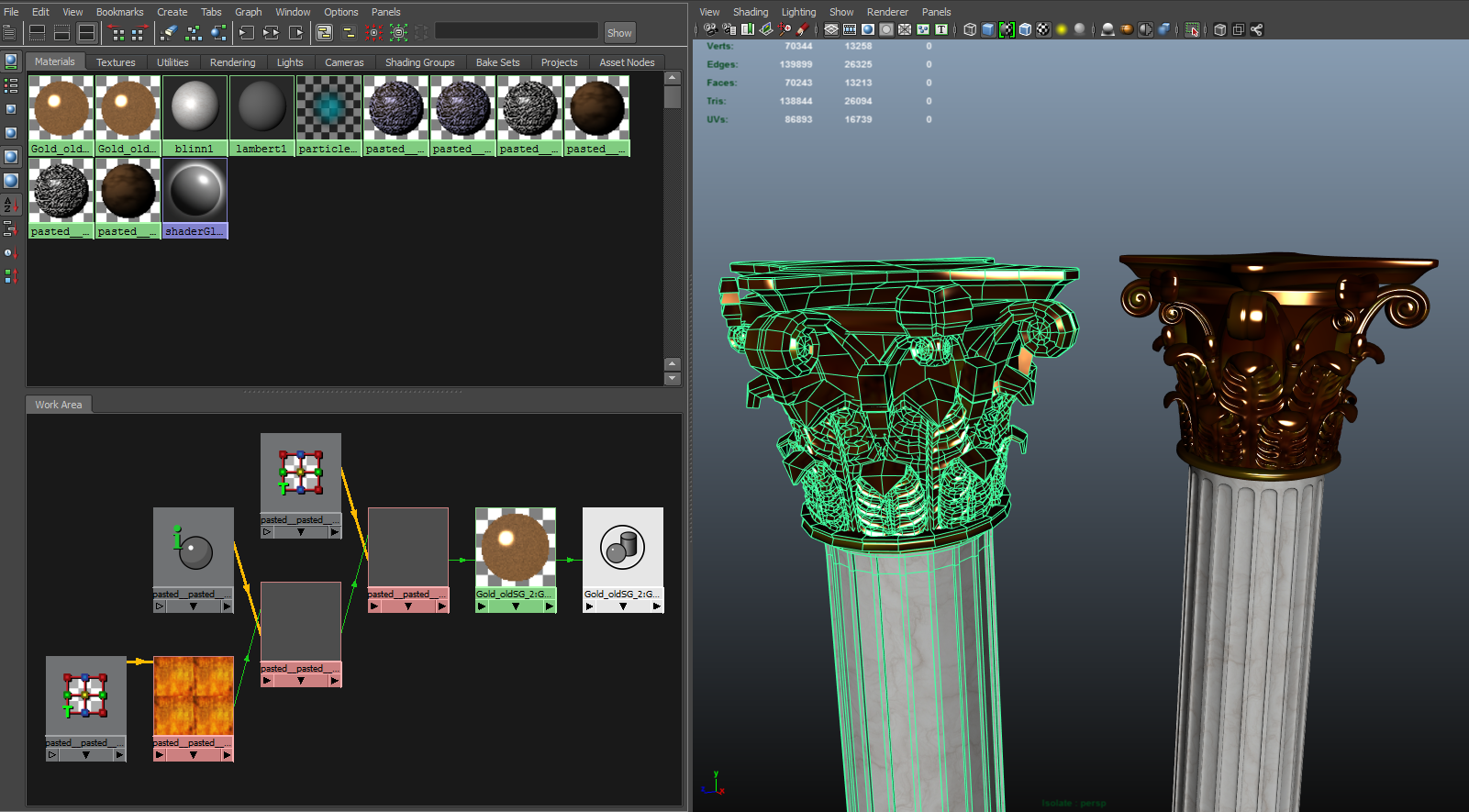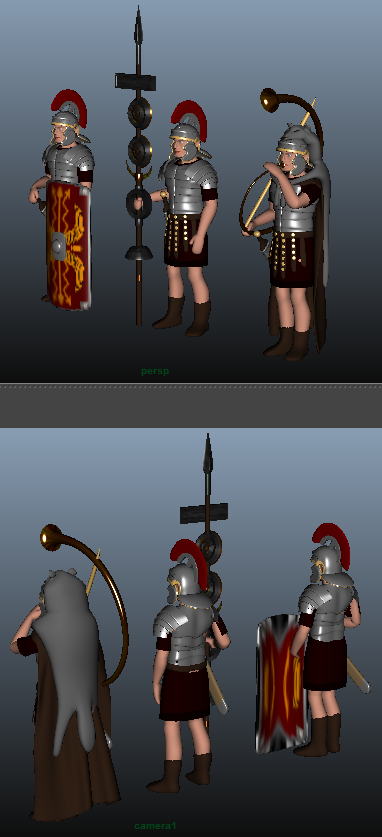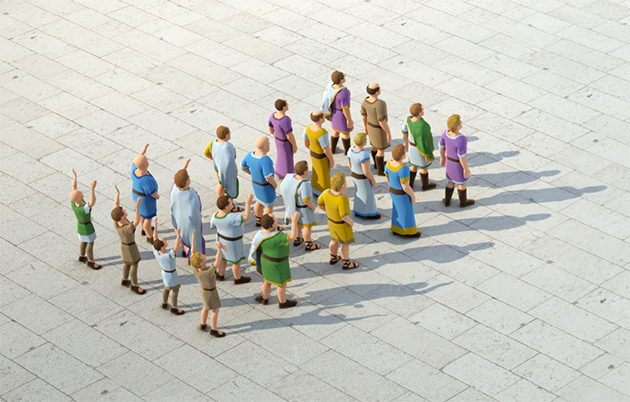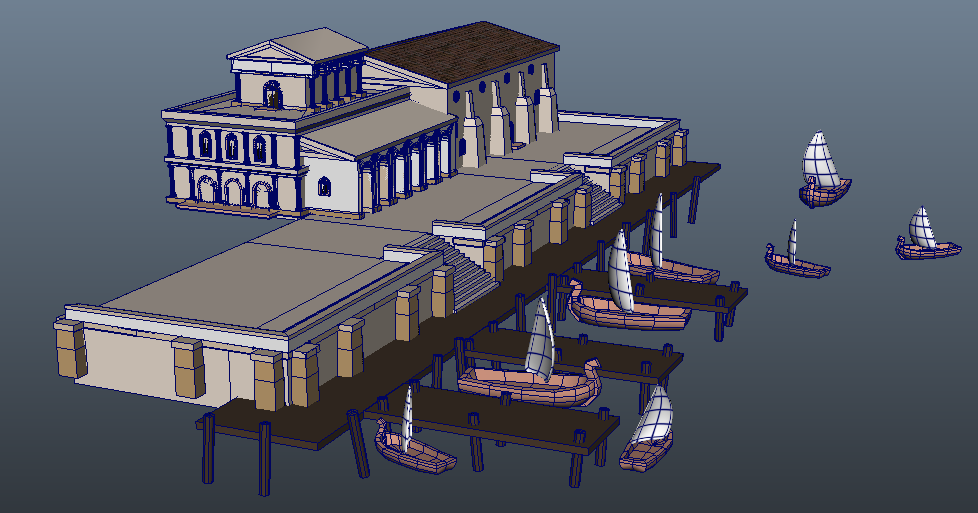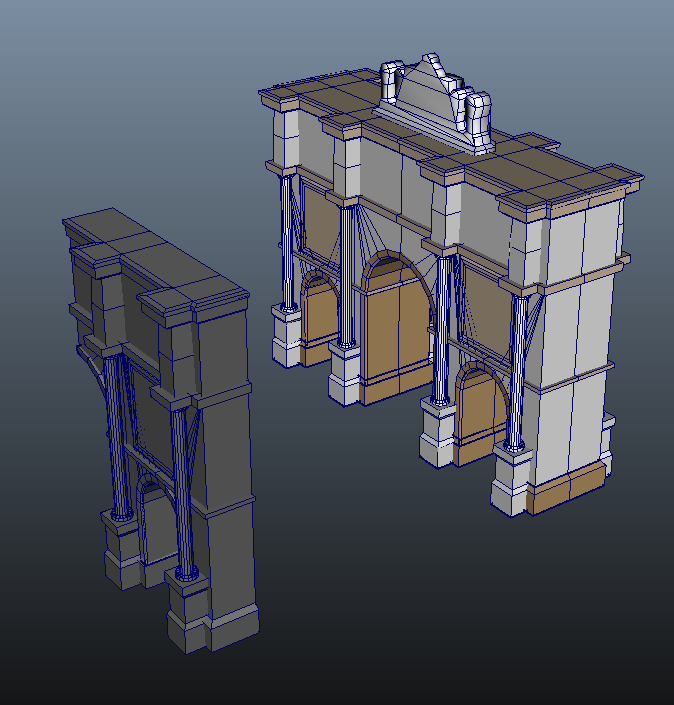 Sculpting
I started with horse rider sculpture – modeled it in Maya – that was worst model in my life. I felt like I was back in 90'ties, it was time when learning modeling I spent much time figuring out – how it works and results was far from Roman statues. Rushing the modeling process, cutting polys like a ninja, just to get right shape and proportions, didn't got me the right topology for high poly mesh-smoothed model. After that I felt ashamed, lost some steam, couldn't touch it for a couple of weeks. So I came later to take different approach – make it right, like it should have been from the start – retopology and sculpt it up in Zbrush. After success with this approach, I decided to add bas relief in temple's roof front plane, sculpting it up and then importing it into maya and rendering using displacement – the same way I did with horse rider statue.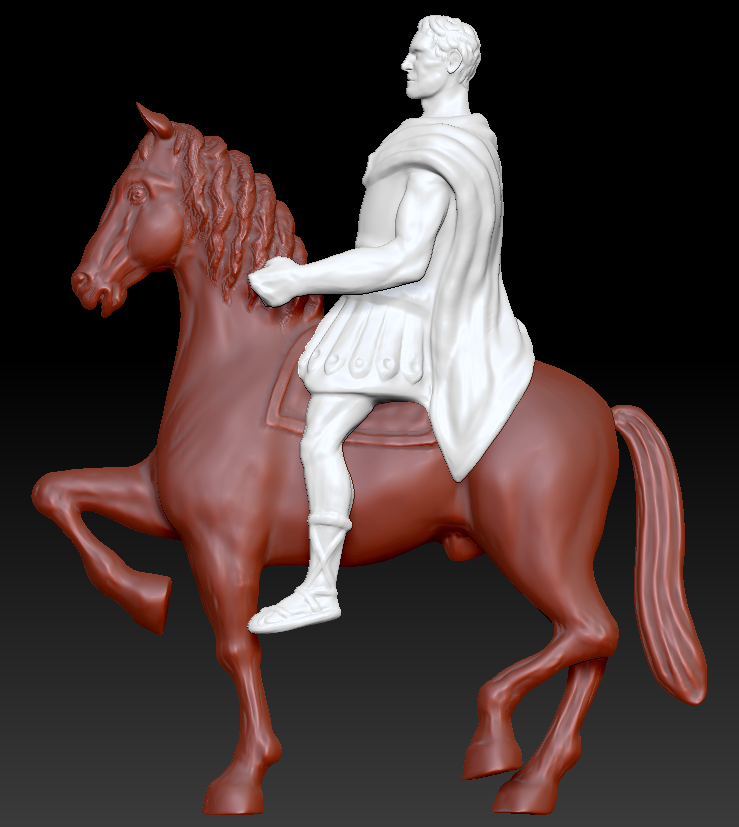 Rendering
As test renders and test composition in Photoshop seemed too cartoon looking, it took some work with material setup and tiled photo-realistic texture preparation to get more realistic final render look. However, in development process, I came across some magnificent paintings of ancient Rome and Greece, and it felt to me, that getting style – more like canvas oil painting look – was more suiting my taste, than perfect per pixel – sterile CG reneder look. So I went rendering out layer after layer from each part of the scene using great V-Ray render, using high render settings and sharpening filter Catmull-Rom (which is just perfect for architecture).
For marble, gold, cloth, skin, rooftops – there was used Vray standard material with different texture and texture utility "trees" with alphas, masks, gradients and color correction nodes. Subsurface scatter material was used for marble.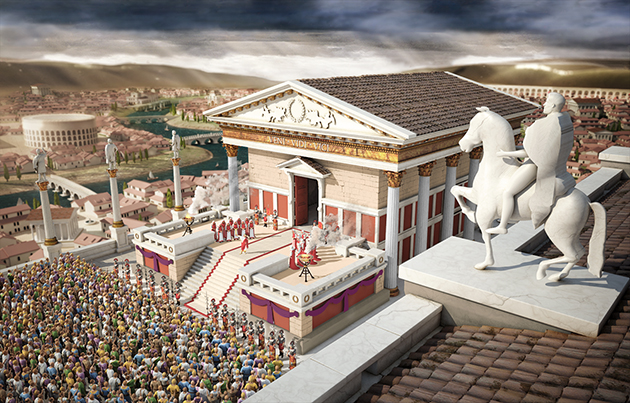 Finishing (post-processing)
Final composing in Photoshop gathered large stack of layers within layers to put all rendered parts with alpha masks right, make some color correction, to get more yellow in light and blue in shadows. Added fake depth of the field effects, glow and smoke effects. Some post processing were added to make emperor "pop-up", as the final scene got so many details, it was not easy to get spectators attention to the right place.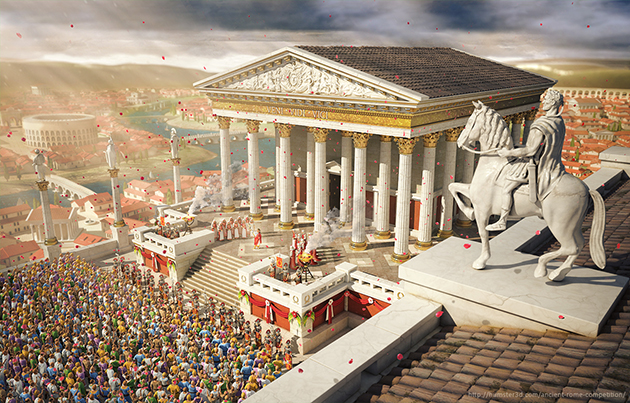 Resume
In the end project came out pretty huge and demanding, despite the fact that I am work in mobile game industry as 3d artist and my daily tasks are solving design questions when making game art – in other words, doing what I love the most. I like that there was many interesting competitor works – that made me sweat at some moment, made me review my work more critically and there was lot to learn from. But now, looking back after some time I can tell, that I loved every minute of it and I surely love competition, it makes go beyond comfort zone and this is where the talent is spreading it's wings.
Thanks everybody for a good sport and see you on the next competition.
Best regards
Oskars Dzenis