Excellent! Our team together with the jury and Humster3D community has decided on the winners in this competition. We'd like to thank everyone who sent his or her work to us. You're awesome and, if we were able to, we would have given first places to each of you. Every render has a big deal of participant's efforts and pains and we feel sorry that there are only three awards in our contest. Guys, you are all great!
We know that you can't wait to learn the names of the winners and many have already quitted reading and scrolled the description. Nevertheless we'd like remind you at first those ones who have supported this event: 3D Artist – one of the best magazines on 3D graphics, which we recommend to all of you; our studio favorite renders Keyshot and Marmoset Toolbag 2, which allow excellent results to be obtained; the best solutions for working with textures – Allegorithmic and Topogun; by the way, you can buy ready-made textures at gametextures.com; also one of our favorite plug-ins Element3D by VideoCopilot – if you didn't try it before be sure to try; and the best render farm – which we, as always, recommend to all of you – RebusFarm (these guys are not afraid of any number of polygons).
And a little bit more of statistics. 127 3D artists participated in the competition! Keyshot and Marmoset Toolbag 2 were the most common rendering software among the participants (well, it is not a big surprise). 3Ds Max was used as a program for modeling (at a larger scale than Maya, by the way). Surprisingly, one of the most popular themes for weapon 3D models is lightsaber from Star Wars. The second most popular weapon is AK47 (it's easy to guess, we suppose).
So, let's proceed to the winners. First place and the hearts of our jury are given to Tyler Gibbons and his work Evening Forgetfulness.

First place is Evening Forgetfulness by Tyler Gibbons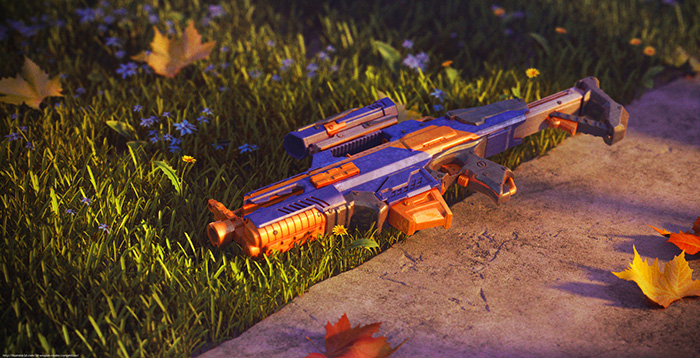 The author used 3Ds max and Photoshop.
And as a prize he gets:
License of KeyShot render;
Full license of Marmoset Toolbag 2;
Publication in in 3DArtist magazine;
License of TopoGun;
Substance Designer (Indie Licens) from Allegorithmic;
Ultimate 3D Bundle from Videocopilot;
500 RenderPoints for RebusFarm;
A free year membership on GameTextures.com;
And $150 in cash by Humster3D;
And a short interview with our winner:
-How long have you been into 3D modeling? Please, tell us about yourself.
Thanks! I'm Tyler. I'm 27, and I've been into 3D modeling ever since around 12 or 13 years old when my parents were looking to build a house and I got a hold of the primitive CAD program my dad was using to browse house plans. I fell in love with it, creating whatever I could think of from boxes, spheres, and cones, which eventually turned into a passion for modeling for animation and video game art. I studied animation production at DigiPen Institute of Technology near Seattle and met some of the most talented artists I've ever known both there and during my following internship and contract work at ArenaNet making props for Guild Wars 2. I'm now in South Dakota studying motion graphics, while practicing 3D modeling and animation simply as a hobby for the most part, until I decide where to go from here.
– Why did you choose this gun and these tools?
I spent a couple weeks sketching and brainstorming different weapons to make for this competition. Since most of the submitted works were beautiful and extremely skillful renderings of guns, I thought I'd have a better chance to flex some creativity and make a weapon that truly stands out as ambiguous to even define as a weapon, like a variation Dr. Octopus' robotic tentacles from Spiderman, or Midna's hand from Zelda: Twilight Princess. However, I was browsing the action figures and superhero toys at a local Wal-Mart for ideas when I came across the coolest NERF gun I've ever seen: the RapidStrike CS-18! After playing with a few ideas for what kind of final picture to make of it, I decided on a calm late summer evening with a cute little story to it.
– Do you have any advice to the future participants of this competition?
Haha, give advice? I'm the one who needs advice! There were so many amazing submissions in this competition! I just looked at them every day and thought, "Wow, I'll never be that good…" Oh man, I love it! But a definite weakness, generally speaking across the entire competition, is that for a "weapon" competition, few of us strayed from just displaying a nice gun. The stories, especially to a weapons-illiterate viewer like myself, are often simply, "Here is a gun," with no meaningful environment, story-revealing details, or much to break the mold and take advantage of the beautiful and amazingly huge realm of "weapon". I tried to tell a story with mine, but even with that in mind I didn't stray far from just a picture of a gun, and while I'm happy with my final work, the more I think about it the more I feel like I missed an opportunity to really make something memorable. Of course, there's nothing wrong with a good rendering of a detailed gun – precision can often tell a compelling story – but it's just my personal preference that whenever a guideline is set, a truly creative artist will gravitate toward the periphery of that label instead of just working safely in the middle of it.
Second place goes to a terrific work THE WAR by Sanjaya Senarath Karalliyadda.

Second place is THE WAR by Sanjaya Senarath Karalliyadda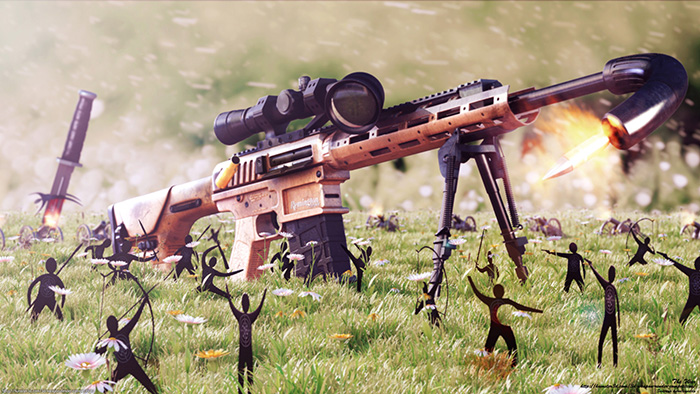 The author used 3D studio max 2011, V-Ray Adv 2.00.02, Mudbox, Photoshop and After effect.
And as a prize he gets:
License of KeyShot render;
Full license of Marmoset Toolbag 2;
Publication in 3DArtist magazine;
License of TopoGun;
Bitmap 2 Material (Indie Licens) from Allegorithmic;
3D Architecture Bundle from Videocopilot;
300 RenderPoints for RebusFarm;
And $100 in cash by Humster3D;

Third place is Energy Pistol by Liu Zinan
The author used Maya 2014, Substance Designer, Octane Render and Photoshop CC.
And as a prize he gets:
Full license of Marmoset Toolbag 2;
Publication in 3DArtist magazine;
Substance Painter (Indie Licens) from Allegorithmic;
City Bundle from Videocopilot;
100 RenderPoints for RebusFarm;
And $50 in cash;
Quick interview with Liu:
-How long have you been into 3D modeling? Please, tell us about yourself.
I am 20 years old, currently a second year animation student at Emily Carr University. I am very interested in sci-fi and future related things and have been producing a lot of works using 2D programs and traditional mediums. I was first introduced to 3D in August 2013 when our school began teaching Maya, and I immediately fell in love with it. Since then, I went on to learn Octane Render, Zbrush, Mudbox and Substance Designer during my free time.
– Why did you choose this gun and these tools?
I chose to design my own weapon because I wanted to take this opportunity to test my own skills and see if I was able to make use of everything I learnt throughout the years, from early concept stage to the final render. I used these tools because they are the ones I am most comfortable using and very well fits my workflow, providing the highest work efficiency.
– Do you have any advice to the future participants of this competition?
Give yourself a challenge, set a goal that is slightly out of reach. Because even if you don't reach the goal, the final outcome should still be pretty good.
We congratulate our winners and will get in contact with them very soon to hand over the prizes and take the information which is necessary for the publication in the magazine.
In addition, we'd like to point out the works of other participants, which we can't just ignore and slide round. They are arranged in random order; therefore don't think that it's a kind of top or anything like that.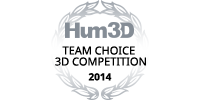 Katana by Dmitriy with using 3d max, V-ray and Photohop.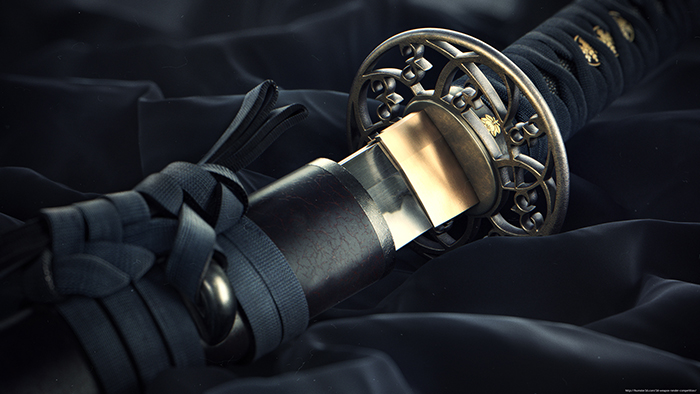 MPD-X1985 by Elijah McNeal with using 3DS Max, Zbrush, Keyshot and Photoshop.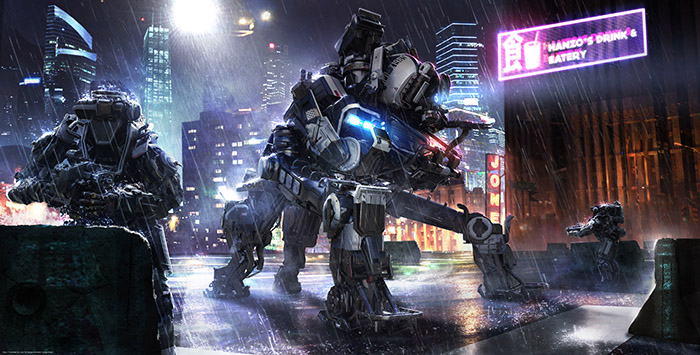 MTAR X95 by Eran Ashraf with using Maya, Mental Ray, MudBox, Photoshop and After Effects.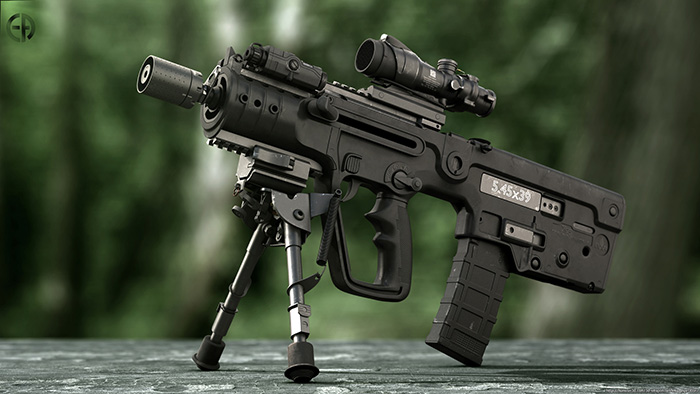 The Old Faithful by Anssi Karppinen with using Blender and Photoshop.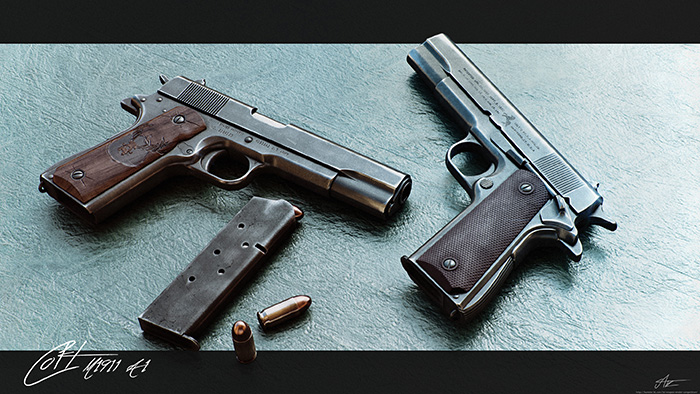 TSA ALPHA01 by Vang Cki with using 3dsmax, Keyshot, Photoshop, Canon for take picture environment for background.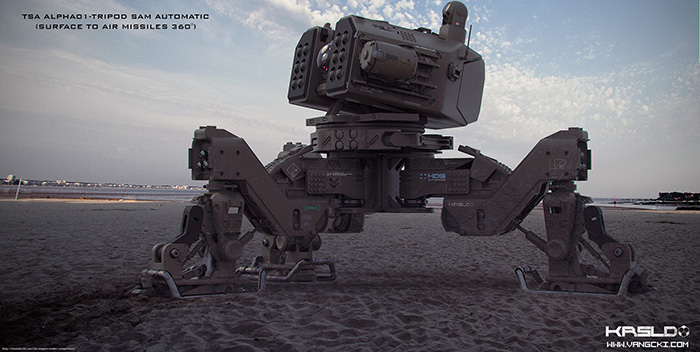 Twin Tri-Shot Hornet Pistols by Kevin Boulton with using 3Ds Max, Mental Ray and Photoshop.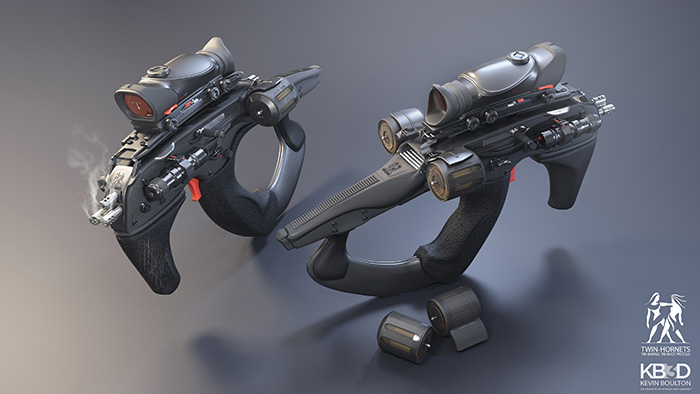 See you this fall, at our next competition!