We are very happy to announce the winners of the Car Render Challenge 2022.
Participants were to create a car 3D model, add 3D environment and then create a beautiful 3D render. Jury paid attention to the idea, the quality of performance, time and efforts spent on the modeling, and to the overall impression created by the work.

First place is The glory of youth by Ruming Cao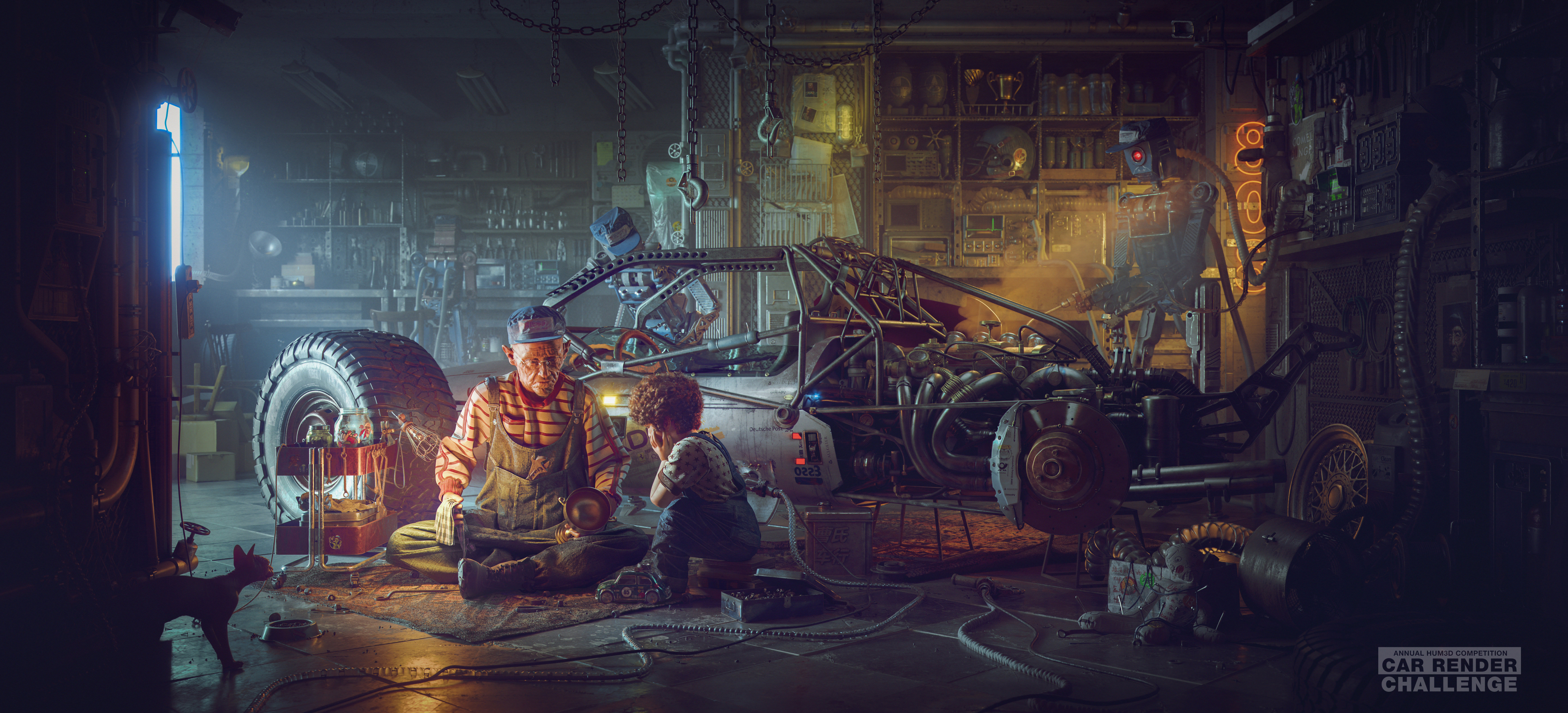 Made with using 3Ds Max, Corona, Mari, Photoshop, Substance painter, Zbrush, RizomUV, Marvelous designer and Fusion360.
Also he gets the Chaos Corona and RebusFarm team choices.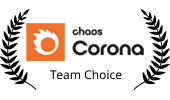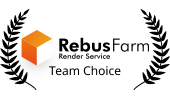 Chaos Corona team: "While this one retains an artistic or rendered look, rather than the appearance of a photograph, that all works well in the service to the main focus of this image, which is storytelling. The old and the new are reflected not just in the grandpa talking to the grandkid, but in the contrast of the old tools with the robots bustling about in the background".
What the jury says:
Laurens Corijn: "Wow, amazing work on this scene, the attention to detail is impeccable, and the characters are well integrated and tell a story".
Pierre Maheut: "Love the storytelling of the scene. In one image you have a full story".
Jacob Norris: "There are so many story elements in this scene. The longer you look at the environment, you find more and more fun little props, characters, and beautiful parts you can find that make up this incredible Car Render scene. It makes me want to know what is written on the trophy he is holding! I am so invested in this story already haha".
Michal Horba: "No need to say anything; you just nailed it! You did some crazy work here. Great composition, mood, color balance, and some story with it. I love the level of detail in this work; every inch of it is an eye candy. I noticed the detailed background and some cool props there- that makes it a powerful image. Shaders are good looking especially in this old-school cold/warm lighting. I like your idea of contrast in this story – at least I find it this way; old guy-kid/old garage-robots. I wonder what glory stories the old man has to say? I bet he has some. Congratulations on your skill!".
Martin Krasemann: "Love the warm mood and the tons of details everywhere".
Calvin Bacon: "This piece creates a fantastic mood with its composition and lighting and has a lot of detail. Great showcase of successful storytelling in a single image".
Samuel Winter: "This is a fantastic image. The attention to detail not only in regards to the semi-built vehicle but in the environment is stunning. The lighting finds a balance with the cool blues entering from the left, and the warm orange glows peppered throughout the scene, all falling on what can only be described as lovingly crafted materials".
Rosanna Mataloni: "The scene conveys an emotion that evokes poignant feelings, past and present. love and serenity. Awesome!".
Alessandro Maniscalco: "Details, atmosphere, color, framing, absolutely amazing post-nuclear war sci-fi concept. Nothing to say more about, I'm falling in love with this picture".
Jarosław Dzedzej: "I really love the amount of detail, great cinematic lighting, use of colors, and an emotionally moving story. There is a lot of heart put into this artwork, and it is really beautiful".
Jim Thacker: "Immaculately detailed. Beautifully lit. And heartwarming, in a Norman Rockwell kinda way, if Norman Rockwell had lived in a multicultural future in which robots pumped your gas".
Emanuele Serra: "This work captured me immediately, making me feel like a child again, the atmosphere of this garage is incredible. An explosion of particulars and details, my eye bounced from right to left with the curiosity to understand all the various details that the author has included in this work, from the cat's silhouette to the child's toy car, to the car under construction, up to to get to the robots behind, this scene is fine quality work".
Quick interview with Ruming Cao:
– How long have you been into 3D modeling? Please, tell us about yourself.
My name is Cao ruming. I am from a small city near Ma'anshan in Eastern China. I've been doing 3D modeling for ten years.
– How much time did it take you to create your work? Did you face any difficulties?
It took me about one month. The biggest difficulty was that I suffered from depression during this period.
– Do you have any advice for future participants in the competition?
My advice is, the sense of story, the skill is good enough, and you're done. Beyond that, you need to love life and love 3d!

Second place is Lamborghini Team by Mohammad Ghadimi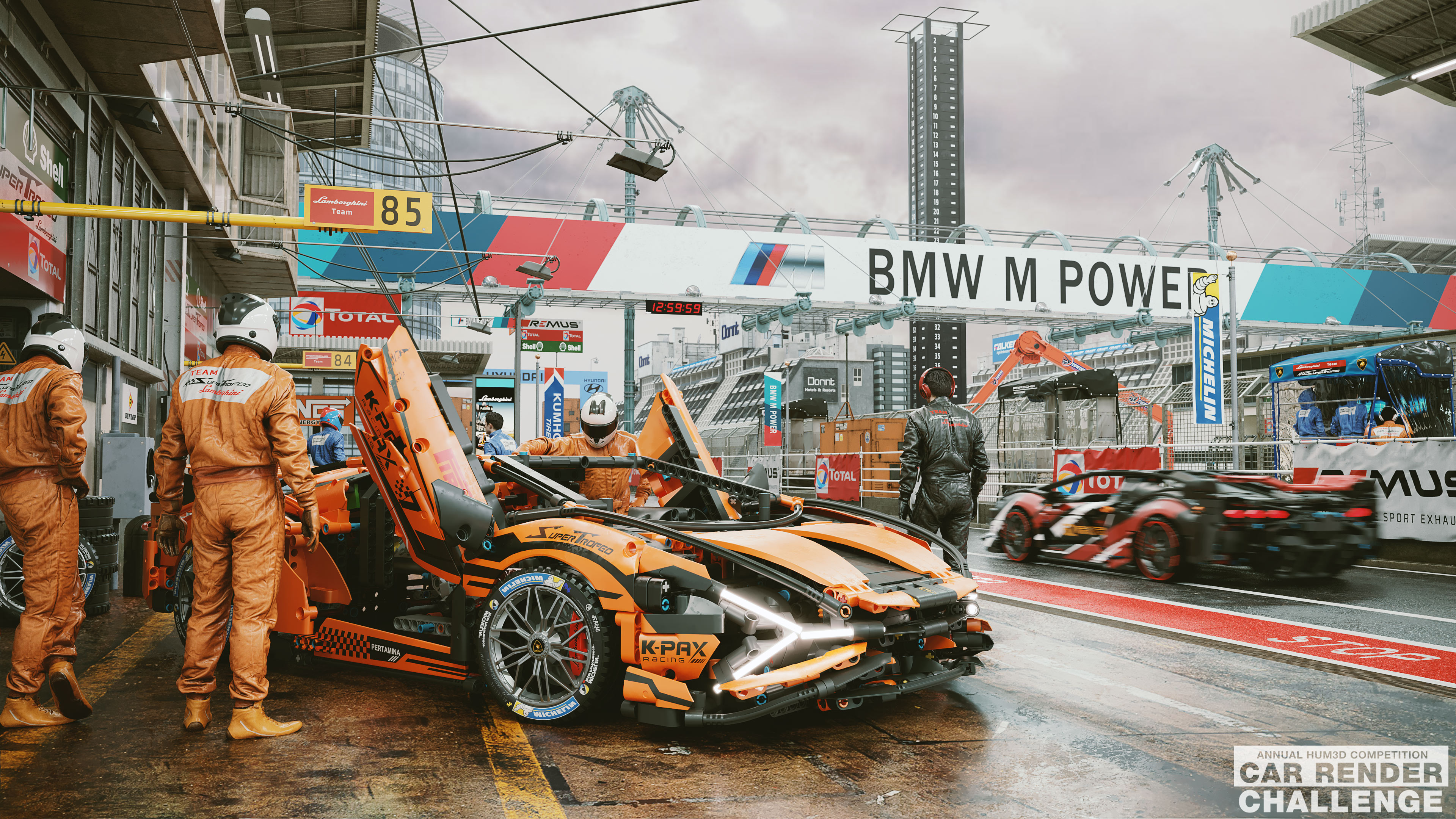 Made with using 3ds max, Corona Renderer, Substance Painter, Zbrush, Xnormal and Mixamo.
Also Mohammad gets the Special prize from InstaLOD team for the most detailed model.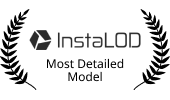 InstaLOD team: "Instantly the rush of the racetrack and the roar of the crowd flood the ears as our top pick Lamborghini Team sizzles the senses with immaculate detail, captivating composition, and a serious sense of speed".
What our jury says:
Michal Horba: "As far as I like automotive stuff I enjoy Lego :) Great idea to mix this with a real-deal racing track. Stunning work; The Lego Lambo is super made as the whole scene is. Photorealism is blinking its eye at this lego team ;). The level of detail you presented here is stunning; especially the Lambo caught my eye but the orange figures did also. They are made very precise and that shows it all. The shading is looking so good – track asphalt/concrete is juicy- I Love it. Congratulations on being so talented!".
Martin Krasemann: "Mixing a toy car in a real environment is really what caught my eyes. Really clever".
Jarosław Dzedzej: "Once I saw this picture I was sure it will be in the top 5 as it is a strikingly beautiful and realistic render. Then at a second glance, I noticed the thing that made it my no.1 The sports car is made out of 'Lego Technic' blocks! That was the creative surprise that was the cherry on top and with this creative twist, it made my day. The visuals and technical level of it are also very strong. I love the overcast weather and lighting contrasting with the bright saturated oranges and blues. The image strikes as something realistic and a bit 'mundane' and yet is very artistically curated. It is a great image on a lot of layers. Top-notch work!".
Laurens Corijn: "Very nice work integrating lego into a realistic environment, I have a hard time telling if the background is based on a photo or full 3D. I love the details like the lego tires in the back".
Atanas Tudzharov: "I like the atmosphere and the fact that the car is the star of the artwork. This is a car render challenge after all and I love the idea to make it a lego car while still keeping things looking realistic".
Pierre Maheut: "Love the concept of Scale 1 "toy". Amazing lighting and atmosphere. Crazy texturing in Substance Painter too! Great work on the character too with great usage of Mixamo!".
Jacob Norris: "It took me a moment to realize that the entire Lamborghini was made out of K'Nex or Legos toys. It is so well done and designed in such a creative way to fit these elements into a vehicle like this! That, alongside the highly detailed, colorful, and incredibly realistic environment made this Car Render an easy contender for the top spot in this challenge".
Samuel Winter: "I love the tone of this render. The overcast sky and soft shadows work really well in contrast to the vibrant colors of the cars and the pit crew. The toy-like details of the focus vehicle are interesting, and the blurred vehicle on the right injects a sense of motion".
Alessandro Maniscalco: "In this scene, there is a lot of details, great human models, textures, and shading. Beautiful picture and great LEGO technics concept".
Roberto Kai Hegeler: "The amount of detail and perfectionism in this image is striking, And by detail, I not just mean the detail of each part, but also the sheer amount of parts and their details. You would expect Chaos but you get a harmonious result. Also, it tells a vibrant story like a picture taken at a race track, without adding any drama. Calm… Quite amazing".
Jim Thacker: "A wet day in the pit lane has never looked more enticing".
Stephanie Schenck: "A classic time for showing off cars, we like the detail in this one as well as the track texture, the realistic gathering of mechanics around the car, and the little inner details of the car peeking out".
Emanuele Serra: "This too is another incredible work, in the attention to detail, the 3d modeling, and shading lighting, truly an excellent job. The atmosphere of the track, the driver, and the technicians along their stations are all incredibly perfect around a Lego-style supercar model… what can I say… great job!".
Tom Grimes: "Modeling, textures, lighting etc. are all great, with a great sense of realism. I like the "clutter" of the scene being so busy, capturing the feel of everyone bustling about in the pits. I like the choice of grey wet weather, more of a challenge to light and texture, but gives more drama and mood to the result".
Quick interview with Mohammad:
My name is Mohammad Ghadimi and I am a CG Generalist with 18 years of experience working on various projects such as TVCs, animations, movie VFX, and music videos. My expertise lies in 3D modeling, texturing, lighting, and rendering, and I primarily use 3ds max with Corona render as my favorite rendering engine due to its speed and ease of use.
I initially had no idea what car to create for the competition and wasn't interested in creating a normal car like others. However, while searching on Pinterest, I came across Lamborghini Lego ads and realized that this was the perfect car for me to create. The challenge for me was in making all the parts, and the hardest part was putting them all together, which took me 2 weeks.
The next challenge was deciding on the final image for my render scene. I tried making several different scenes, but ultimately wasn't satisfied and almost gave up. It wasn't until after searching for ideas repeatedly that I was finally able to come up with a suitable image for my render scene, which took an additional week to complete. In total, it took me 3 weeks to complete this project.

Third place is Edogawa Run by Swiz.prod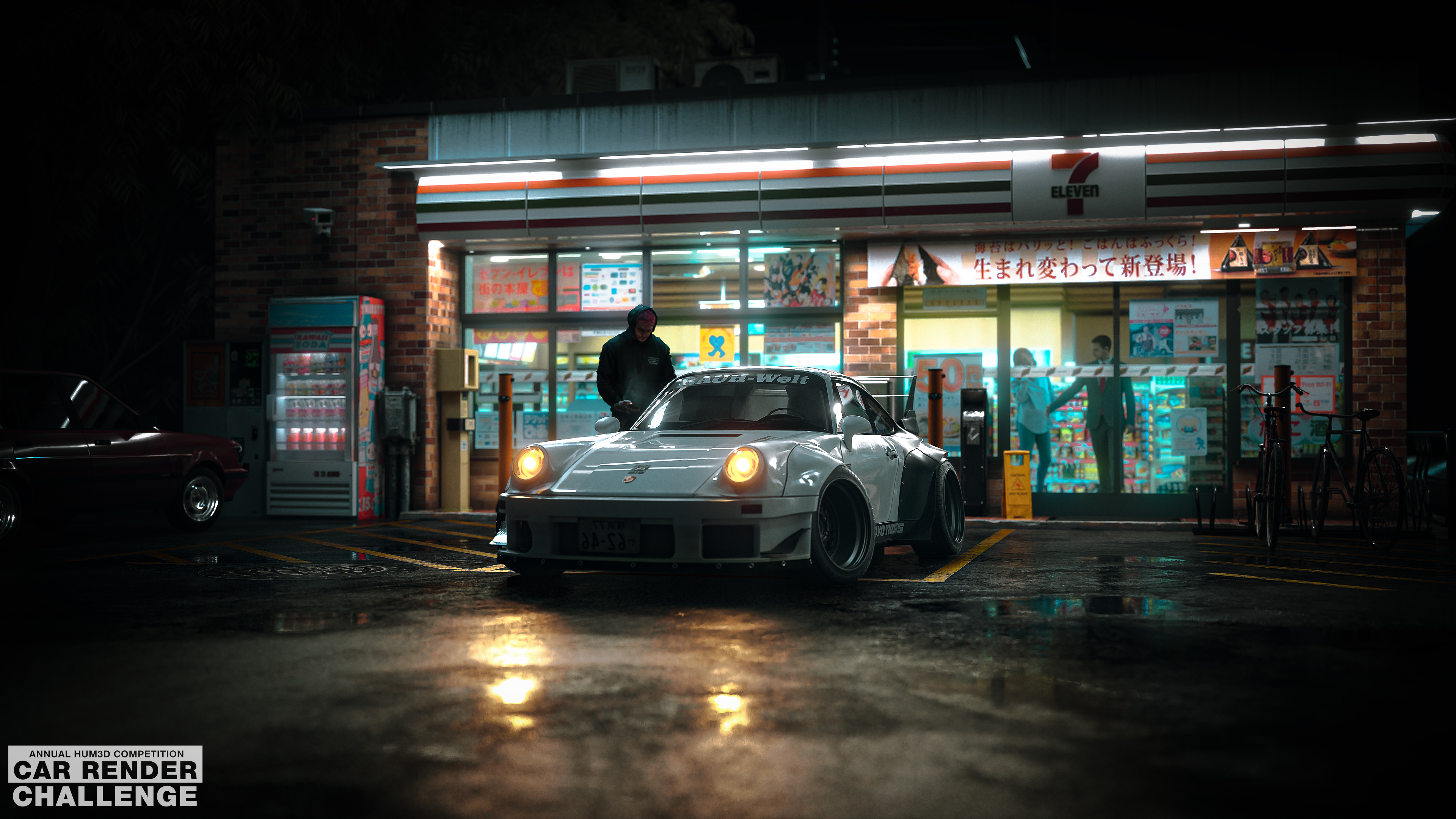 Made with using Cinema 4D, Octane Renderer, Substance Painter, After Effect and Photoshop.
Also he gets the Special prize from OTOY team for the best work made with OctaneRender.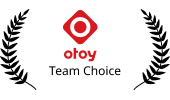 OTOY team: "The mood, attention to detail, overall balance, and render quality is solid. It's a great example of a piece that has a lot going on around the main character that still works nicely together".
What our jury says:
Jacob Norris: "The theme and setting for this car render in a Japanese 7-Eleven parking lot caught my attention instantly. The car is very well done by itself already, but the lighting, puddles, and colors in the space make the white car pop even more in this setting. The colors were expertly chosen and the render came out top-notch from a skilled artist".
Laurens Corijn: "I love the atmosphere, materials are great, good detail and care put into the background, lighting is great".
Jim Thacker: "It's the little details that intrigue in this image. Why is the license plate on the car reversed? What's up with that couple inside the 7-Eleven? Is 'Kawaii Soda' actually a real brand of drinks?".
Martin Krasemann: "Night & rainy night always works like a charm!".
Calvin Bacon: "Great mood of a JDM scene with some good storytelling. Overall good composition".
Alessandro Maniscalco: "I love so much the dark atmosphere here, seems to watch a single frame from a movie. Nothing to say more, I can hear music playing in the background from a Hollywood motion picture. Great texturing and models".
Leonard Mieg: "Edogawa Run brings a dark and moody atmosphere to a familiar late-night scene. The ambiance of the fluorescent lights and reflective puddles complement the vehicle with its surroundings. With layers of detail from inside and out, it's our well-deserved second pick".
Roberto Kai Hegeler: "Again the quality and detail of the render are amazing. And all this in a rather mundane environment, still creating a powerful image. That is skill and understanding of the contemporary moment of our time".
Quick interview with Swiz.prod:
– How long have you been into 3D modeling? Please, tell us about yourself.
I have worked in 3D for the past 3 years, started my journey working on video games, have done some freelance work and now I'm back to working on games for a bit. I have always loved cars, especially everything surrounding the JDM culture, and would love to apply my 3D skills in the automotive industry someday.
– How much time did it take you to create your work? Did you face any difficulties?
This artwork took me about a month to complete, it's a long time and I had to scale things down a bit. I couldn't work on this full-time because of work. Because my computer is really bad I had to endure so many crashes and couldn't render the scene on my machine so had to come up with a few solutions. This was a very stressful process but loved coming up with solutions for every small problem.
– Do you have any advice for future participants in the competition?
If I could give any advice to future participants it would be to plan everything ahead of time, make sure you gather references, and have your final image (or something close to it) in mind before starting. This helps streamline the creation process and ensures you have time to complete everything on time.
We congratulate the winners!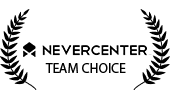 Special prize from Nevercenter team gets "We Got One" by Flavio Valenzi.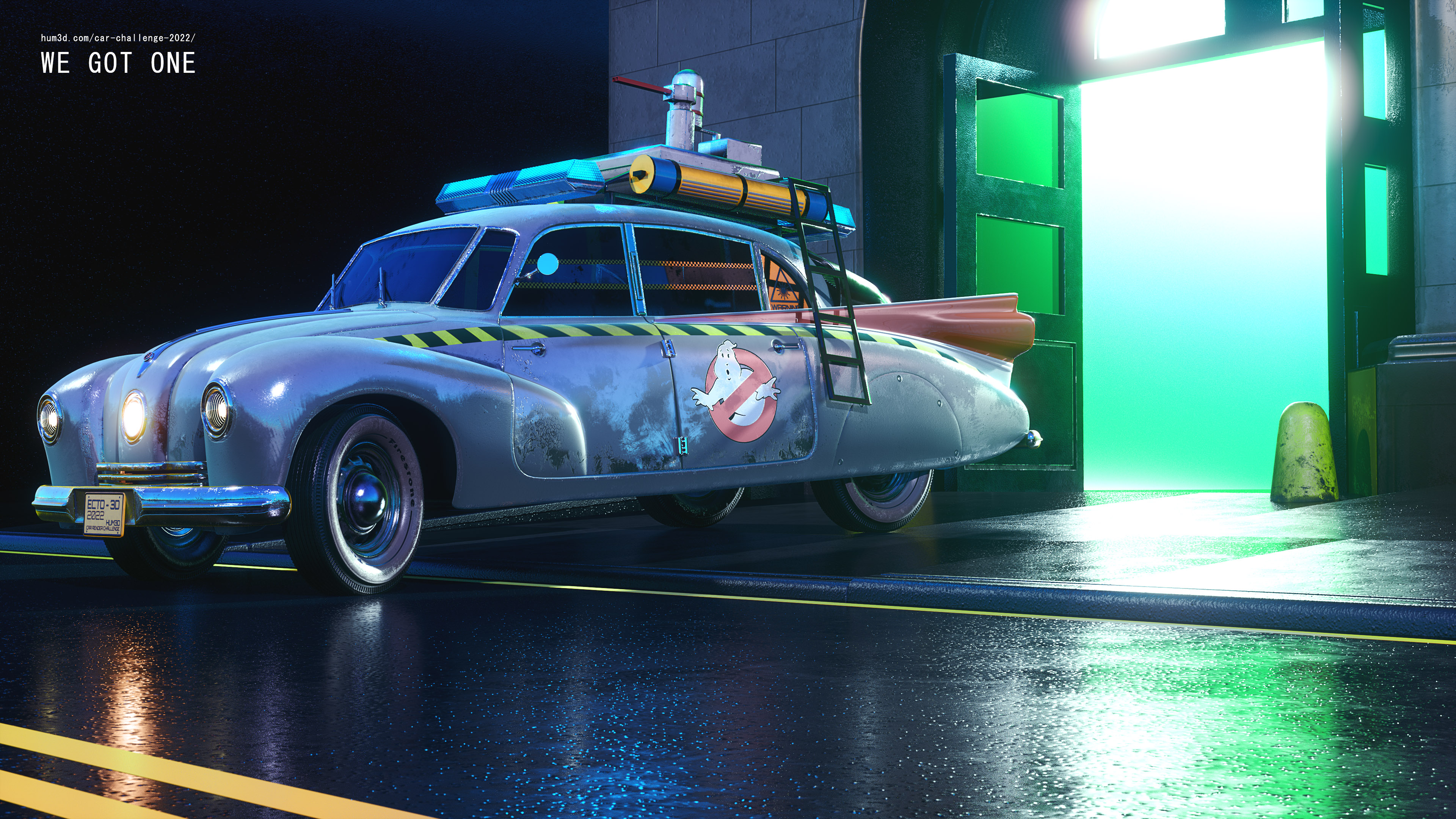 Nevercenter team: "The nostalgia got us with this one. We couldn't resist a nice design and render that's a nod to the classic film.".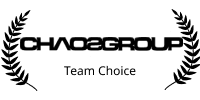 Special prize from Chaos team for the "Best render that made with using V-ray" gets "The Honeybee Queen" by David Lee Quinn.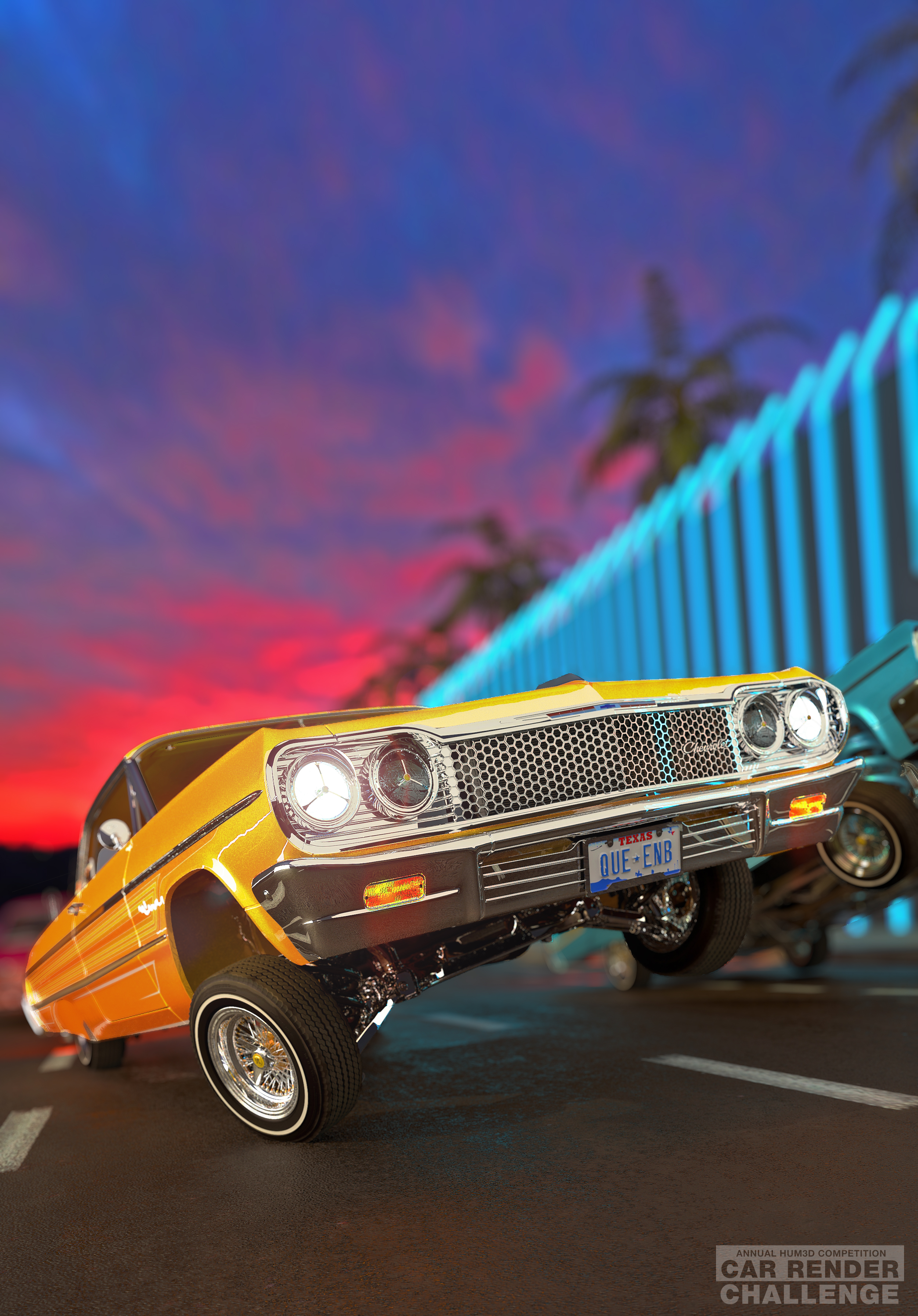 Chaos team: "We love the composition. We think it is bold and well executed so we are rewording that. All other aspects of the image are up to standard".
In addition, we'd like to point out the works which were chosen by Hum3D team.

"Justice" by Vahid Montazeri.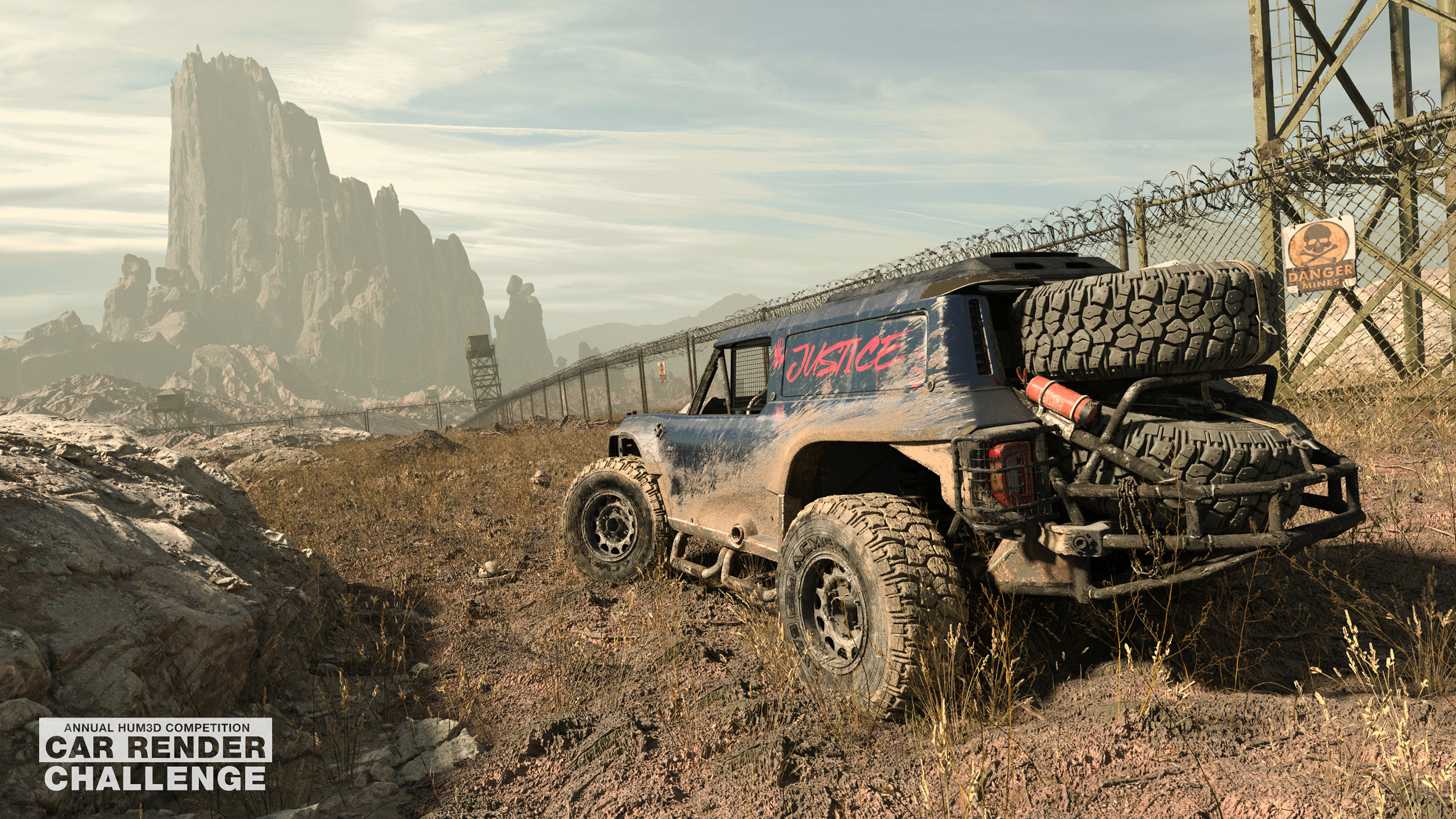 "Leaving Bikini Bottom" by Samer Abu Sham.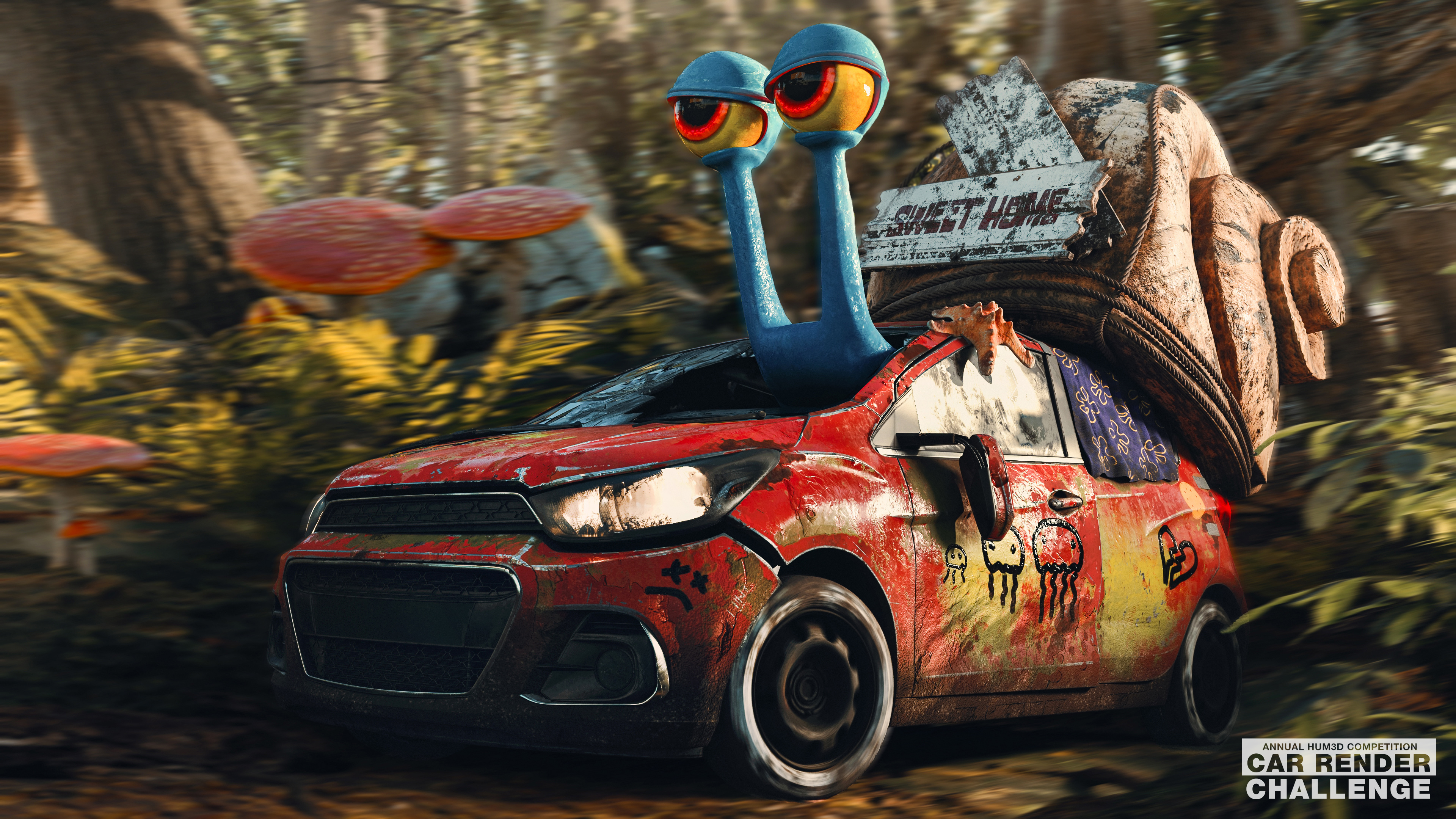 "Sometimes" by Malchus.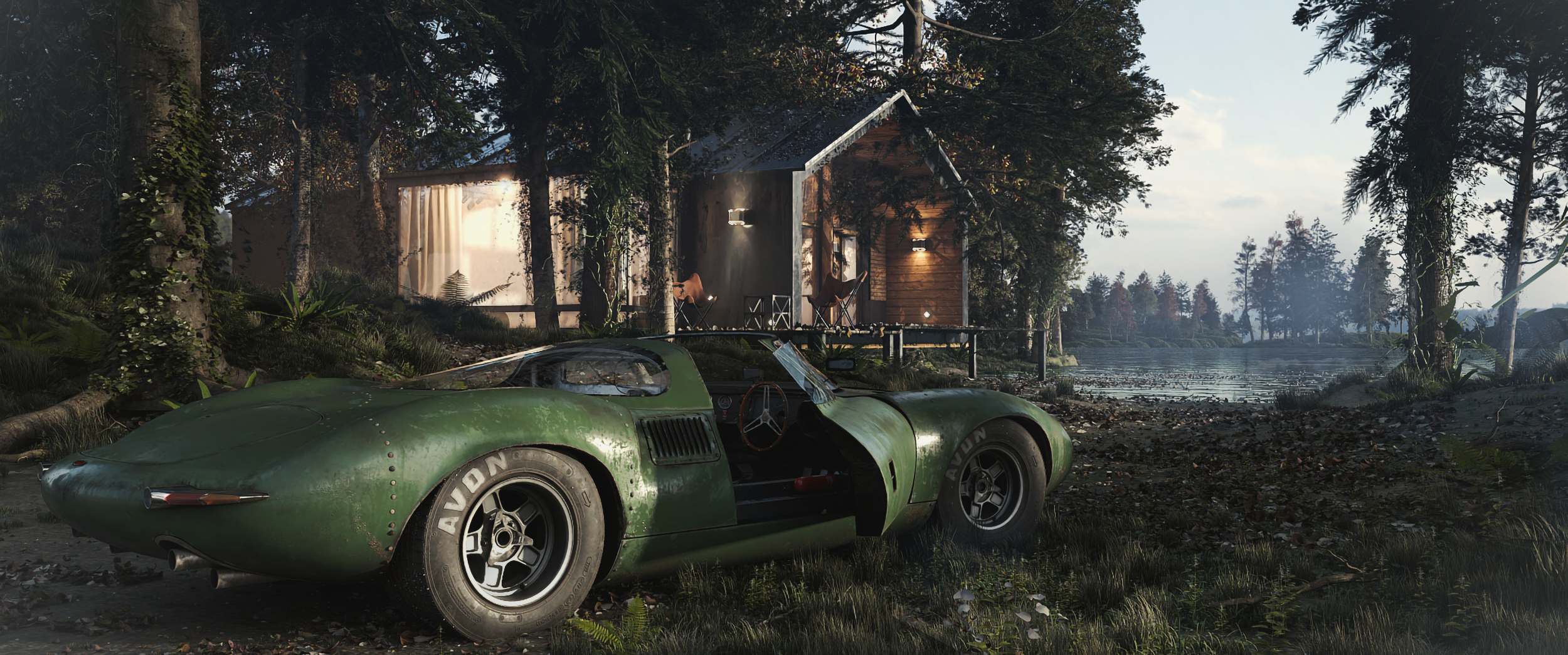 "Small garden" by Suqinlee.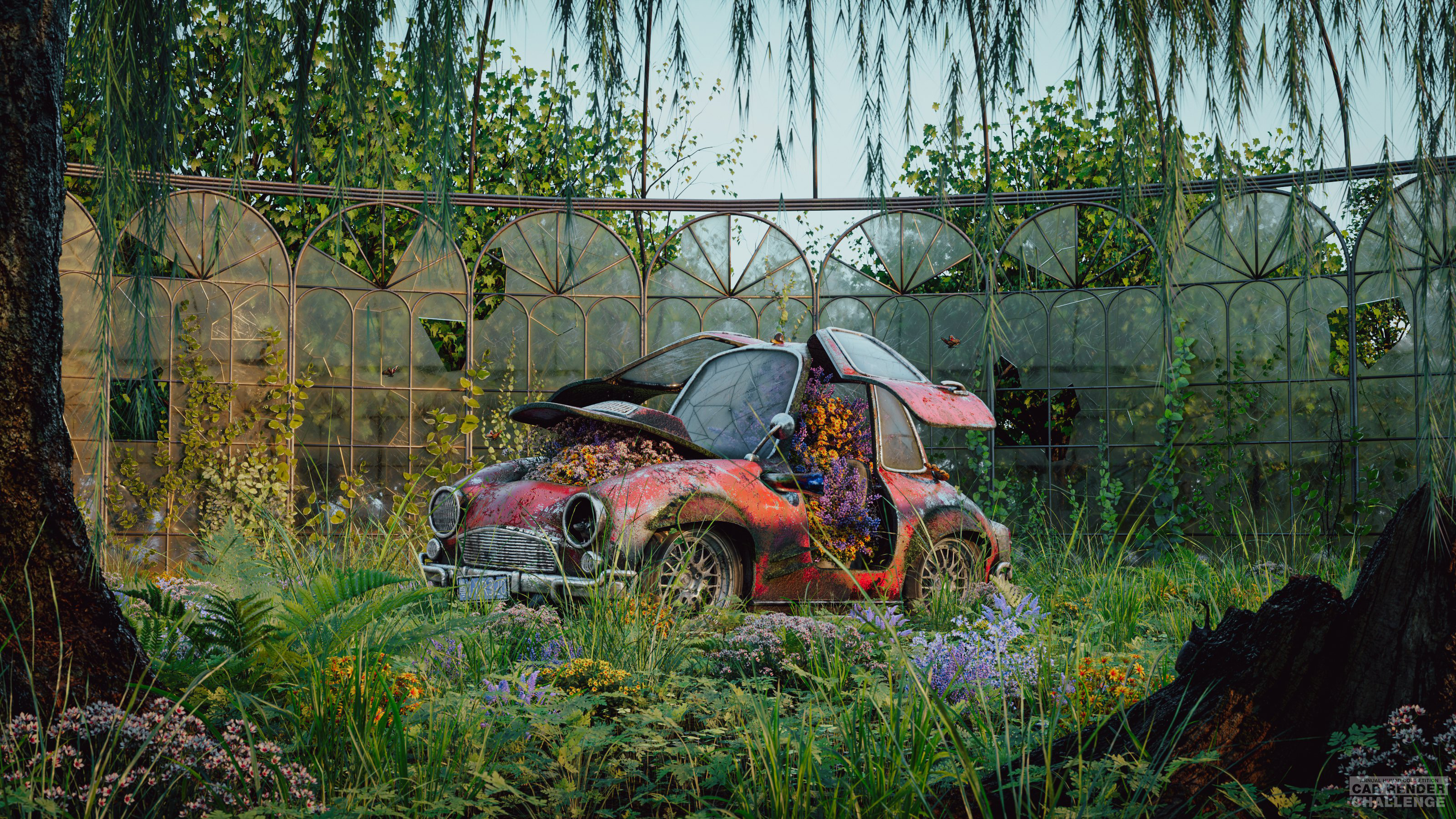 "Life" by Qiantailong Shi.
"Big Wheels" by Erik Barrón Vargas.
"Three times fun" by Krzysztof Fendryk.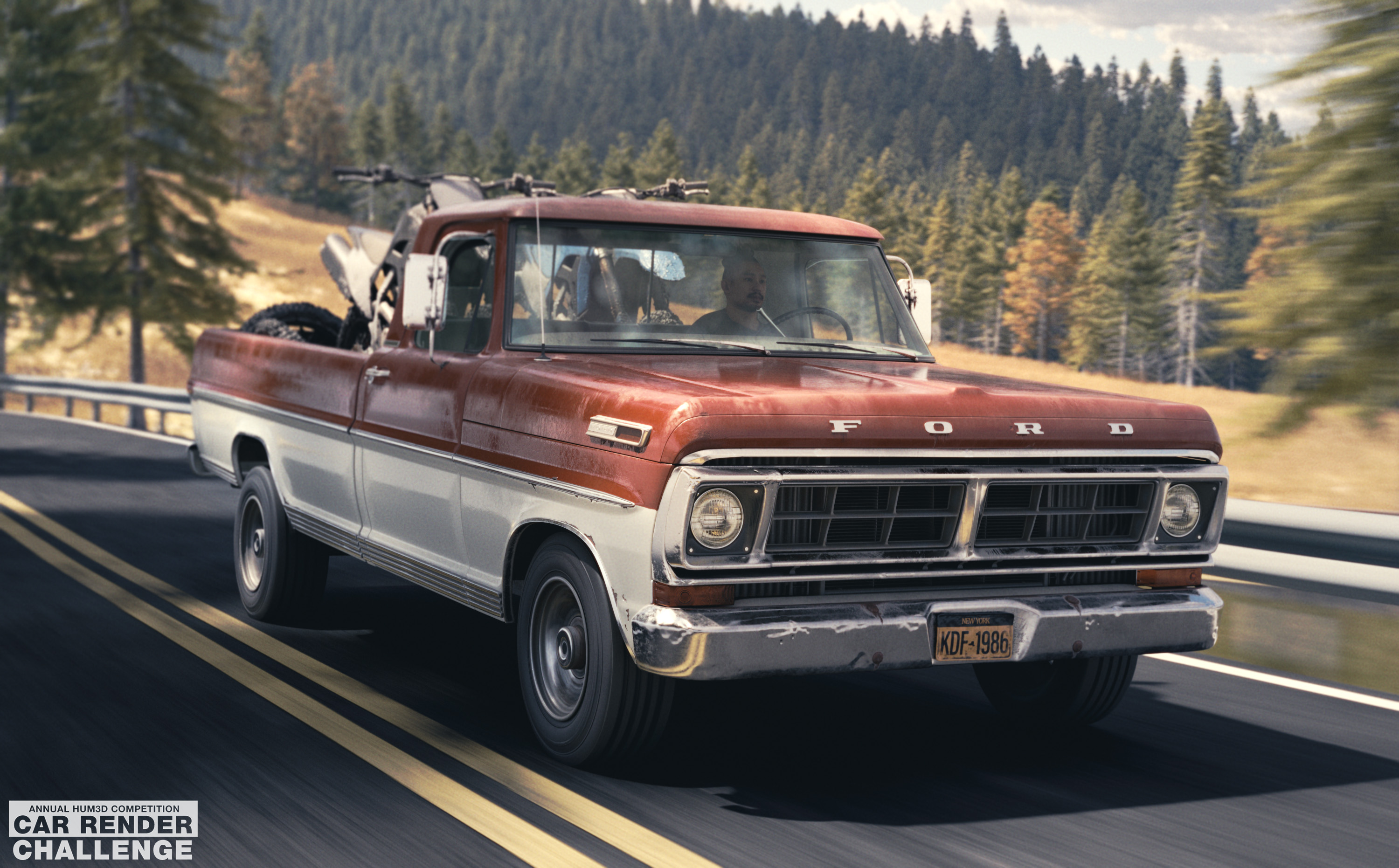 For those who like statistics:
72 artists took part in the competition. Twenty six members of jury had different views on the top-five – twenty nine renders got votes (each place in top-five gives special amount of points: first place – five points, fifth place – one point. All points/votes are sum-up).
Special thanks to the sponsors who support our event and help 3D artists to create their masterpieces. Each of them is the best in their field. You can always count on their quality service, and so we are happy to recommend you their products.
Would be great to see your comments and thank you all for amazing challenge.