Hi everyone! We continue a series of short interviews with the best artists from Hum3D competitions.
Arbez Maxime, author of the "Traditional Thai Tuktuk Spirit", will answer on six questions and give us a look behind the scenes of his work.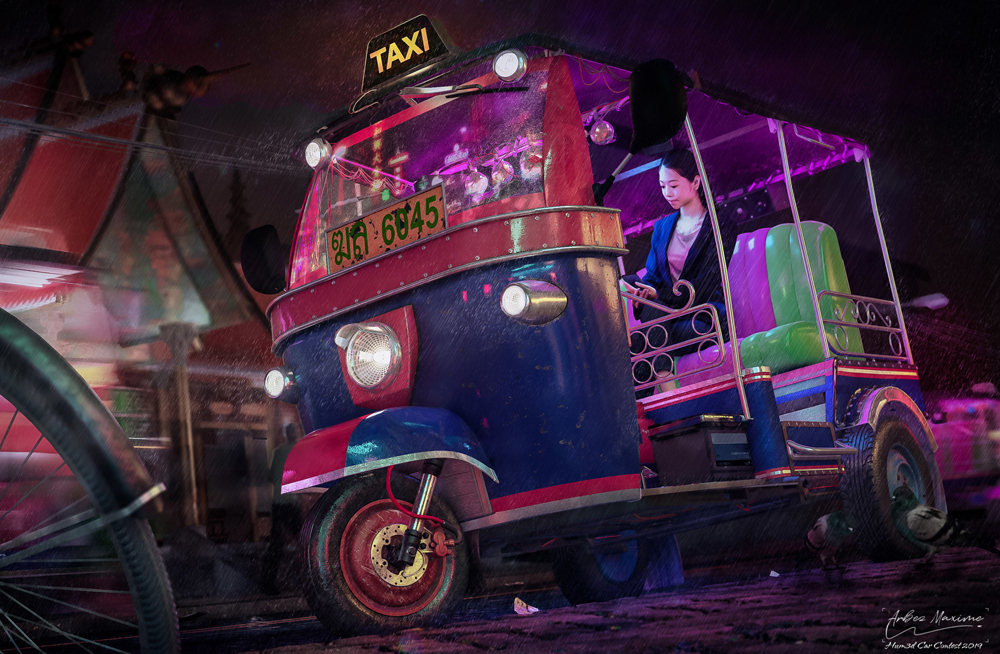 – Tell us a little bit about yourself. What do you do and how did you become a 3D artist?
When I was a child, I didn't like school.. at all. I find the French education system absurd. After compulsory education, I began my studies to become a cabinetmaker, a job that I love for its authenticity, its accuracy and its history.
After obtaining my diploma I wanted to develop my creative side in a very good graphic design school in Annecy: BRASSART Annecy (Formerly named: Aries Annecy). I wanted to orient myself towards web design but after the first 3D lesson, I fell in love with this infinite world.
– What's your favorite aspect of creating 3D art? Is there something you specialize in and enjoy the most?
I love the world of 3d mainly because you have to know every aspect of image creation, framing, modeling, texturing, lighting, rendering, post-production etc … You improve all these skills with each project no matter the subject.
– What or who inspires you today? Are you a member of any art communities? Any favorite hashtags you check on a daily basis?
I am a big fan of mechanical machines (cyborg included), more specifically the world of aviation. I would only quote the artist Romain Hugault who inspires me enormously in the framing of these metal birds.
Concerning other subjects (architectural, Character design, design packaging, etc …) I am open-minded so I use Hashtag a lot on social networks.
I look a lot at the Behance or Artstation sites, it allows you to discover artists who share their working methods and their advice all around the world.
– Please tell us your five short tips for creating 3D art.
– Do you have trouble with the camera setting? One day go out with a camera with the manual mode. You will learn how to use F-number, Shutter speed and / or ISO setting.

– Make a provisional schedule, it allows you to prepare your mind for work.

– Check out the YouTube channel for the third-party modules, you will be surprised what you can do by viewing the tutorials from the development teams.

– White page syndrome? go out in a bar or a restaurant with your family or a friend (even if they're not a graphic designer) and explain your project to them. You will be surprised at the ideas they can give you.

– Watch out your measure unit, check this BEFORE starting modeling.
– Could you please show us any images from the latest work process with a short description. Where did the idea come from? Did you learn something new?
I can redirect you on this link you will find the Work in progress of my last project step by step.
I learned to make an Asian style temple with typical ornament, sculpture, materials, etc … And this is my first project made of 100% homemade PBR Texture.
– Which of your designs/part of scene/model are you most like and why?
I create all my projects with the heart. It's difficult for me to choose a project that I like the most. I would choose the project of my first participation in the Hum3d Annual car challenge competition for these personal reasons:
It's been 2 years now that I can't find a job here in Geneva and the cities of Switzerland the market is blocked. I sacrificed a lot to do this job that I love. I am entering a period of doubt and depression. I almost stopped this job many times.
But I never gave up. I learned again with tutorials from YouTube and Arstation, finding new mentors who advised me. This Phaeton Excalibur project is the first in applying the advice I gave you above. I restart the project 3 times. But now I want to maintain this level of quality … it is with this project that I found my graphic signature.